Procurement route
Introduction
Procurement is the process of purchasing goods or services. There are many different routes by which the design and construction of a building can be procured. The selected route should follow a strategy which fits the long-term objectives of the client's business plan. Considerations are likely to include:

In 2012, an RIBA member's survey suggested that procurement routes commonly used by respondents were:
A range of possible procurement routes, and short descriptions of them are presented below, along with links to more detailed information.
Admeasurement contracts are commonly used on civil engineering projects. Rates are provided in the contractor's tender, either as part of the priced bill of quantities, or within a schedule of rates. Then the actual quantities of work carried out are measured and the rates are applied to those quantities. As a result, the quantities paid for may vary from the original estimate.
See Admeasurement contract for more information.
Construction management is a procurement route in which the works are constructed by a number of different trade contractors. These trade contractors are contracted to the client but managed by a construction manager. The construction manager acts as an agent for the client, administering and co-ordinating the works contracts.
The construction manager is generally appointed early in the design process so that their experience can be used to improve the buildability and packaging of proposals as they develop.
For more information see: Construction management.
Contractors provide a design team to develop a concept design as proposals for the tendering process, typically leading to two teams proceeding to Stage 3. During stage 3, assessments are finalised, and one construction team is appointed preferred bidder.
For more information see: Contractor led procurement route.
Custom-build homes are a less 'hands-on' variation of self building in which the prospective home owner works with a developer that can take on the design and construction of the home on their behalf and may help find and acquire a site and arrange finance.
See Custom-build home for more information.
Design and build is a procurement route in which the main contractor is appointed to design and construct the works. Design and build can be attractive to clients as it gives a single point of responsibility for delivering the project.
Design and build projects can follow either a single-stage or two-stage tender process.
For more information, see Design and build.
'Develop and construct' is a variation on design and build, in which most of the design is completed before the contractor is appointed. This avoids some of the potential problems of design and build, but also misses some of the opportunities.
For more information, see Design and build - pros and cons.
A single contractor (perhaps a special purpose vehicle (SPV), with design, construction and facilities management expertise as well as funding capability) is appointed to design and build the project and then to operate it for a period of time. The contractor finances the project and leases it to the client for an agreed period (perhaps 30 years) after which the development reverts to the client.
Variations include: Design Build Operate (DBO), Build, own, operate and transfer (BOOT) or Build Operate Transfer (BOT) and Renovate, Operate, Transfer (ROT)
For more information see Design build operate (DBO), Build, own, operate and transfer (BOOT) and Build operate transfer BOT.
An example of a design build finance and operate procurement route is Public Private Partnership (PPP), the most common form of which is the Private Finance Initiative (PFI).
For more information see: Design Build Finance and Operate, PFI and PPP, Design Build Finance Transfer (DBFT), Design, build, finance, maintain DBFM, Design Build Finance Operate Maintain DBFOM and Design construct manage finance DCMF.
An emerging cost (Time and Materials or T&M) contract is a management contract for works and services where the management contractor is paid direct costs identified in an 'estimate of project costs'. It is often applied over a certain period of time. This means that design and workmanship should give greater consideration to long-term performance issues.
Emerging cost contracts are often used on projects such as railway infrastructure contracts. They provide for sophisticated management services along with sub-contracting the construction of the works.
For more information see: Emerging cost contract.
EPC contracts, sometimes called turnkey contracts are similar to design and build contracts, in that there is a single contract for the design and construction of the project, but generally with an EPC contract, the client has less say over the design of the project and the contractor takes more risk.
Generally, EPC contracts are used on engineering and infrastructure projects, where the aesthetics of design might be considered less important than performance and cost certainty.
For more information see: Engineering procurement and construction contract.
EPCM contracts are similar to EPC contracts (see above), but the client employs the necessary trade contractors to construct the works. The 'contractor' acts as a construction manager, managing the trade contractors. Effectively they are performing the role of a consultant during the construction phase.
For more information see: Engineering procurement and construction management contract.
Typically associated with construction management and management contract projects, fast-track construction overlaps project tasks (such as design and construction) to reduce the overall project duration.
For more information see: Fast-track construction.
FF&E refers to the procurement of Furniture, Fixtures and Equipment. This might be procured separately to the main construction contract, particularly by clients that may already have systems in place for procuring fixed and loose furniture, fittings and equipment, for example schools or hospitals.
It is very important under such circumstances to define which contract every element of FF&E is within. It is also important to ensure that any building work required for installation is identified and procured, that any services required are identified and that installation is properly integrated into the main contract.
For additional information see: Furniture Fixtures and Equipment.
Clients that are continuously commissioning construction work might want to reduce timescales, learning curves and other risks by using framework agreements. Such arrangements allow the client to invite tenders from contracts to be carried out over a period of time on a call off basis as and when required.
For more information see: Framework contract.
A guaranteed maximum price (GMP) is a form of agreement with a contractor in which it is agreed that the contract sum will not exceed an specified maximum. Typically this is a mechanism used on design and build contracts where the contractor has responsibility for completing the client's design and for carrying out the construction works, so they are in a good position to control costs.
For more information see: Guaranteed maximum price.
A lump sum contract is the traditional means of procuring construction, and still the most common form of construction contract. Under a lump sum contract, a single 'lump sum' price for all of the works is agreed before the works begin. It is generally appropriate where the project is already well defined when tenders are sought and changes are unlikely. A lump sum contract is not a fixed price. There is more certainty over the final cost, but there are still mechanisms that allow the contract sum to change.
For more information see: Lump sum contract.
A management contract is one where the works are constructed by a number of different works contractors who are contracted to and managed by a management contractor. A management contract structure is similar to a traditional contract, however, instead of taking the risk associated with a fixed price, the management contractor is reimbursed the amounts paid to works contractors, and is paid a fee usually in the form of a percentage.
For more information see: Management contractor.
Measured term contracts are used where the client has a regular programme of works that they would like to be undertaken by a single contractor. They are generally used for minor works or for maintenance work.
For more information see: Measured term contract.
Measurement contracts (sometimes called 're-measurement' or 'measure and value' contracts) can be used where the design, or type of works can be described in reasonable detail, but the amount cannot. For example, excavation, where the quantity required is difficult to assess until after the works have begun. The contract sum cannot be determined when the contract is entered into, but instead is calculated on completion based on 're-measurement' of the work carried out.
For more information see: Measurement contract.
Partnering arrangements are intended to enable full integration of design, construction and operation. Partnering arrangements are linked by bi-party contracts and can include contractors, suppliers and specialist designers. Collective and individual incentive schemes for delivery can be included in cost reimbursement and fee payments. Partnering requires heavy involvement from the client acting as employer and adjudicator of disputes.
For more information see: Partnering.
Prime cost contracts are sometimes called cost plus contracts or cost reimbursable contracts. They might be used where the nature or scope of the work to be carried out cannot be properly defined at the outset, and the risks associated with the works are high. They are often used where an immediate start on site is required, for example for urgent alteration or repair work. Tendering proceeds based on an outline specification, any drawings and an estimate of costs. The Contractor is paid the prime cost (the actual cost of labour, plant and materials) and a fee for overheads and profit.
For more information see: Prime cost contract and Cost reimbursable contract.
Prime contracting is a form of procurement in which the client enters into a long-term relationship with a contractor who provides a single point of contact (prime contract) for a supply chain to deliver one or more projects. This is one of the three procurement routes recommended by Government Construction Strategy for publicly-funded projects (where it is described as prime-type contracting).
For more information see: Prime contract.
The Common Minimum Standards, referred to in the Government Construction Strategy, state that '... Procurement routes should be limited to those which support integrated team working (PPP/PFI, Design & Build, the Prime-type Contracting approach and framework arrangements...).'
Under each of these, the client appoints a single integrated supply team (including designers, contractors, suppliers and perhaps facilities managers) based on an output-based specification before design commences.
Public projects or publicly-subsidised projects may be subject to OJEU procurement procedures.
For more information see: Public procurement, OJEU, PFI, Private developer scheme and Crown build.
This form of contract is normally used when the nature of work is known but cannot be quantified, or if continuity of programme cannot be determined. In the absence of an estimate, tenderers quote unit rates against a document that is intended to cover all likely activities that might form part of the works. Indicative quantities may or may not be given to tenderers but do not form part of the contract.
For more information see: Schedule of rates term contract.
Self building is an alternative to the traditional model of house building in the UK. Traditionally, houses are built speculatively by a developer, and then people buy them and move in. With self building, the prospective home owner instigates the development of the home themselves, whether by purchasing a kit house, employing a design and build contractor, employing consultants (such as an architect) and a contractor, or managing the entire process and ordering all the goods and services required themselves.
See Self-build home for more information.
Single-stage tendering is the traditional route for procuring in the construction industry. It is used when all the information necessary to calculate a realistic price is available when tendering commences and so the complete contract can be awarded based on tenders received.
For more information see: Single-stage tender and Two-stage tender.
The 'traditional' procurement route (sometimes referred to as design-bid-build) is a single-stage, fully designed project where the design is developed in detail by a consultant teamworking for the client and a contractor is then appointed under a lump-sum construction contract which includes penalties for late completion. The contractor may have no responsibility for any design other than temporary works.
For more information, see Traditional contract.
See also: Traditional contract - pros and cons.
Two-stage tendering is used to allow early appointment of a contractor, prior to the completion of all the information required to enable them to offer a fixed price. In the first stage, a limited appointment is agreed allowing the contractor to begin work and in the second stage, when more detail is available, a fixed price is negotiated for the rest of the contract.
It can be used to appoint the main contractor early, or more commonly as a mechanism for early appointment of a specialist contractor such as a cladding contractor. It may also be adopted on a design and build project.
For more information see: Two-stage tender.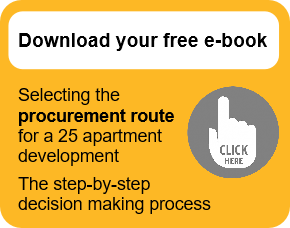 BIM Directory
---
[edit] Information Requirements
---
[edit] Information Models
---
[edit] Collaborative Practices
---
[edit] Standards
---
[edit] Levels of BIM
---
[edit] Glossary
---
[edit] Guide to BIM Level 2