IHBC NewsBlog
IHBC's HESPR pick: Heritage Impact Assessments sought for Northampton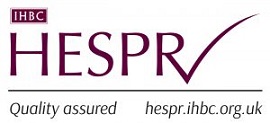 The HESPR top pick for this week features a call for three Heritage Impact Assessments in Northampton, closing 16/09.
---
England's Heritage Open Days celebrates 25 years!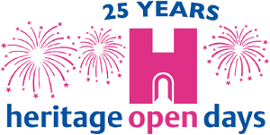 England's Heritage Open Days celebrates it's 25th year with 25 new places opening their doors. Take advantage of a huge range of regular and one-off opportunities!
---
The incredible list of London Underground stations that never opened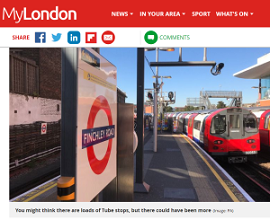 You may think there are quite a few London Underground stations, and you'd be right as there are 270 stations in total on the network, yet there could have been many many more yet there are so many that never saw the light of day.
---
Famous Bowie Bandstand in Bromley wins listed status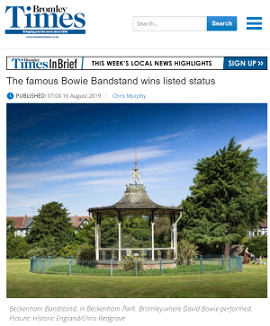 Known to almost everyone as the Bowie Bandstand, The Bromley Times applauds its recent listing as 'it should be protected forever'.
---
Out of Context and from 'Building Services': Lighting standards, World Heritage, and Bath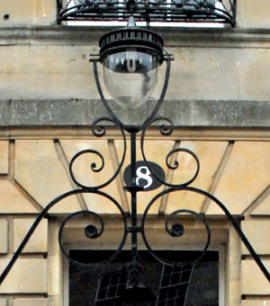 The city of Bath is well known for its stunning architecture and beautiful stone, but few might consider the everyday details like lighting.
---
Company fined £20,000 for unauthorised work on listed building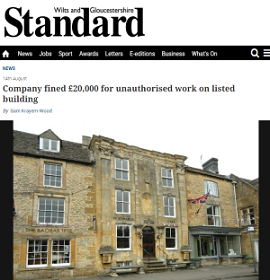 A property company has been ordered to pay £25,000 following unauthorised work on a listed building following a prosecution by Cotswold District Council.
---
New guidance on land sensitivity assessment from Natural England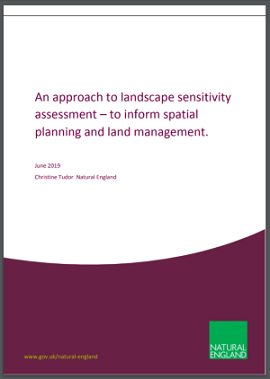 New guidance from Natural England has been published on how to create a landscape sensitivity assessment to inform decisions on the planning and management of land use change which influence spatial planning.
---
Construction workers given Moodbeam devices to wear for mental health monitoring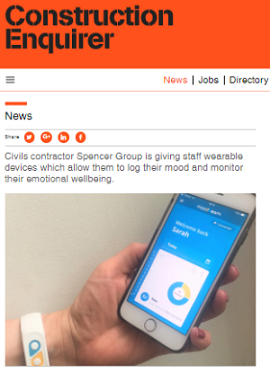 Civil contractor Spencer Group is giving staff wearable devices that allow them to log their mood and monitor their emotional wellbeing.
---
The system for recognising EU qualified architects in the UK if there is no Brexit deal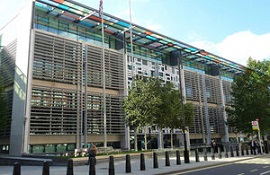 The (MRPQ) will no longer apply if there's a no-deal Brexit, and the UK government will maintain a system of recognition for architects with an approved qualification from an European Economic Area (EEA) state or Switzerland.
---
---
---
Featured articles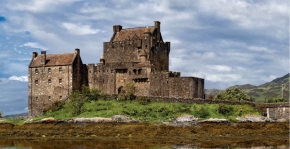 Rich opportunities lie in the jigsaw of the Highlands and Islands.
---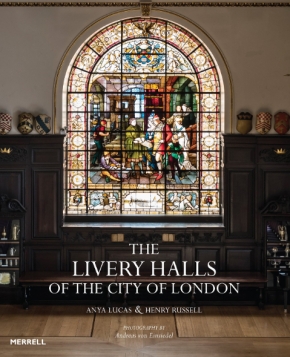 Their survival against the odds is a remarkable feature of the City's history.
---
Conservation in the Highlands and Islands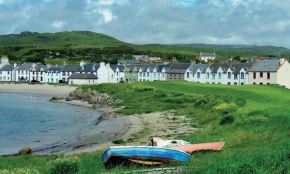 Immersed, charmed and inspired on conservation's front line.
---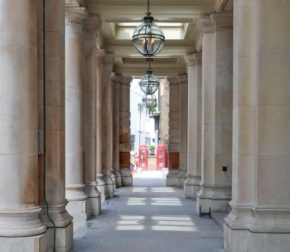 The art of reconnection at 6 Burlington Gardens.
---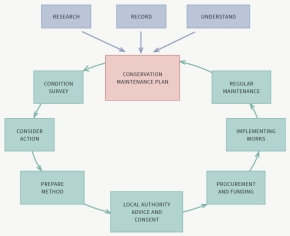 Ensuring memorials are presentable and inscriptions legible.
---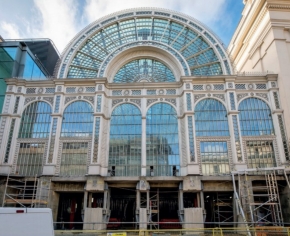 Opening up the space below the former Floral Hall.
---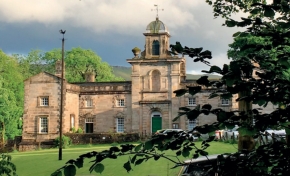 Why was the Fountaine Hospital Almshouse built in such a sophisticated style?
---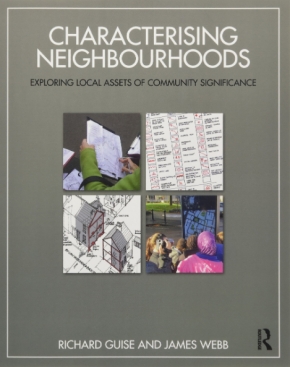 Exploring local assets of community significance. Book review.
---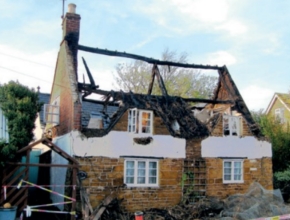 Wood-burning stoves should not be used in thatch-roofed buildings.
---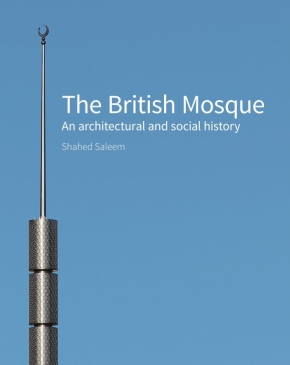 Book review of an architectural and social history.
---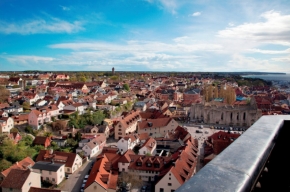 Conservation and sustainability on the island of Gotland in Sweden.
---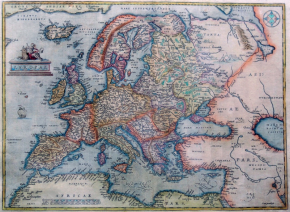 Re-imagining a community and achieving reconciliation.
---
Conservation of Architectural Ironwork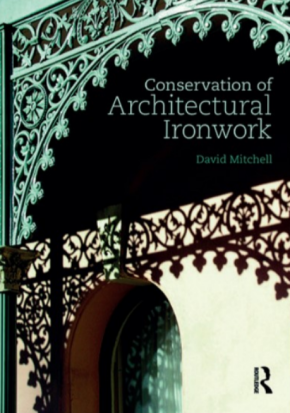 A well-thumbed copy should be on the shelves of all conservation practitioners.
---
Great Yarmouth Preservation Trust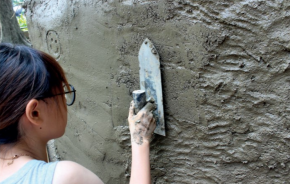 Training through partnerships on practical projects.
---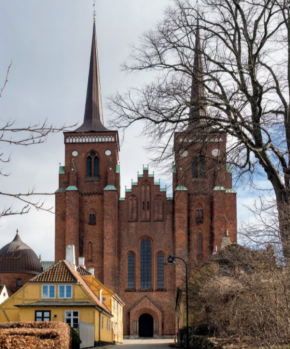 The world heritage list has evolved to embrace built, cultural and natural heritage.
---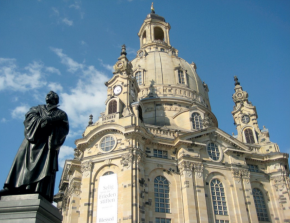 Whilst apparently confusing, German conservation is actually not that different.
---
About IHBC
Historic places attract people, activity and investment, giving new life to their communities and helping make places more competitive. They play a central role in regenerating towns, cities and rural areas all around the UK, in particular, helping to repopulate inner-city areas.
The Institute of Historic Building Conservation (IHBC) is the professional body for building conservation practitioners and historic environment experts working in the United Kingdom. It exists to establish, develop and maintain the highest standards of conservation practice, to support the effective protection and enhancement of the historic environment, and to promote heritage-led regeneration and access to the historic environment for all. It has a network of regional and national branches around the UK.
IHBC members come from a range of professional disciplines in the public, private and voluntary sectors, including conservation officers, planners, architects, regeneration practitioners and academics. The work of members varies from overseeing small-scale traditional repairs to managing multi-million pound area regeneration projects.
Using internationally-recognised standards, IHBC assesses and regulates conservation practitioners. It works to provide regular training, continuing professional development (CPD) and education events, as well as lobbying at international, national, regional and local levels.
For more information, see the IHBC's website.
---
IHBC is passionate about making knowledge freely-available. This helps defragment the industry, spread best practice, promote innovation and prevent mistakes.
Conservation Wiki has been created to further this ambition and IHBC is calling on its members, and others to contribute to this valuable and growing resource for the benefit of all.
---
[edit] About Conservation Wiki
---
Conservation Wiki is part of the Designing Buildings Wiki platform created to make construction industry knowledge freely available to everyone. Anyone can create articles about subjects they know and find articles about subjects they don't.
Conservation Wiki is operated by the Institute of Historic Building Conservation. It provides a platform for sharing knowledge about the conservation of the built and historic environment, from the restoration of cathedrals to the management of conservation areas and retrofitting period, traditional and modern properties to improve their performance.
---
Where there are articles on Conservation Wiki that are owned and maintained by the IHBC, they are protected from editing and linked to their original source on the IHBC website. Comments on these articles can be emailed to IHBC's Support Officer Carla Pianese, at [email protected]. Other articles on Conservation Wiki do not necessarily reflect IHBC policy or practice.
Conservation Wiki is a publicly accessible service and the IHBC encourages practitioners to populate it with relevant content as well as to contribute to the development of existing articles. Where appropriate these contributions may be used to inform IHBC policy and practice.
---
Click here to see a list of all the articles on Conservation Wiki.
---
To find an article, just type your subject into the search box. Conservation articles will appear first in the search results, then related articles form the rest of Designing Buildings Wiki.
To create an article, first register, then click 'Create an article'. To add your article to Conservation Wiki, tick the 'Conservation' category at the end of the article before you save it. To add your profile to articles you write, just insert your signature.
You can also edit and improve existing articles by clicking 'Edit this article'. If 'Edit this article' does not appear above an article, you may have reached your 5-edits-a-day limit, in which case, just register or log in to continue, or the article may have been protected by its author.
If you want to comment on an article, click 'Add a comment' at the end of the article, or email Carla Pianese, at [email protected].
---
For more information have a look at the Designing Buildings Wiki quick start guide, or go to the Designing Buildings Wiki help page.
---