IHBC NewsBlog
IHBC Jobs etc - latest skills review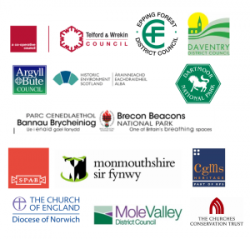 If you have career interests in heritage see IHBC's latest 'Jobs etc.' skills review.
---
Fire at Nottingham Cattle Market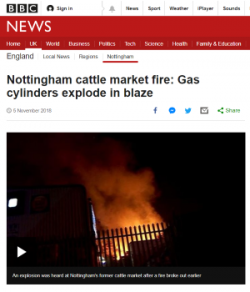 More sad context in the host city for IHBC's 2019 Annual School 'Heritage, Risk & Resilience'.
---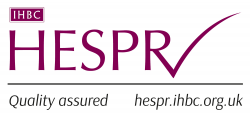 From £55K+ costed work this week: Historic England seeks Surveys and Statements for HAZ-related Bishop Auckland buildings, closing 29/11, £13-15K value.
---
Welsh Government publishes - Priorities for the Historic Environment of Wales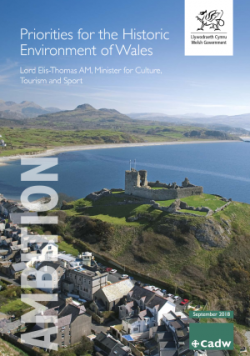 ---
Builders spend 2½ years driving their van new research reveals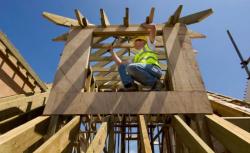 Plus almost one year trying to locate a particular tool...
---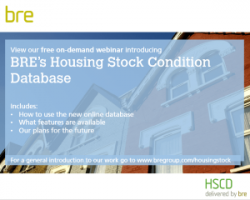 BRE webinar on Housing Stock Condition Database – and suggestions for more also sought!
---

In every issue of Context, we have a round up of a selection of some of the latest publications which are relevant to historic building conservation.
---
IHBC welcomes £55M heritage-specific funding for high streets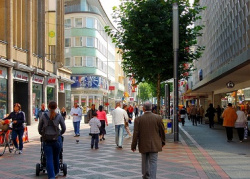 However it highlights how holistic benefits merit more investment as 'healthy high streets mean healthy – and happy – people'!
---
IHBC - Heritage from the House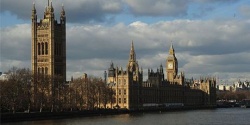 So what do MPs think of 'beauty and the built environment' – As Vaizey asks 'Could a heritage listing be given to some of our great cities and towns, to preserve them?'!
---
HE welcomes £40M in the Budget to work with LPAs on successful HAZ initiatives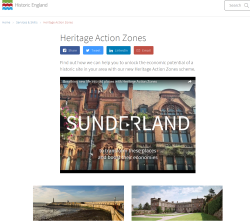 The boost in budget will help work with Local Planning Authorities in the regeneration of historic high streets that are struggling with economic and social pressures.
---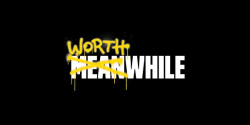 DBW reports on U+i take on empty London properties: 2,700 hectares with permission to build and no construction commenced.
---
Welsh Gov Climate Change consultation – Closes 7 Dec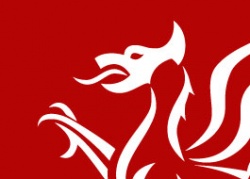 The Historic Environment Group is launching a consultation on their draft Historic Environment & Climate Change: Sector Adaptation Plan.
---
Cadw - Understanding Listing in Wales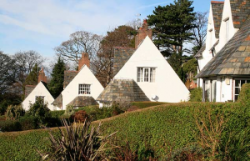 Understanding why and how buildings are listed this provides an introduction for owners, occupiers and agents about what listing means for them.
---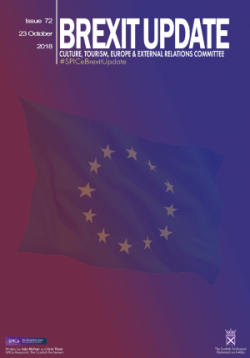 The Scottish Parliament's SPICe update on Brexit, from its Culture, Tourism, Europe and External Relations Committee is now out.
---
Parliamentary HCLG Committee reports on Land Value Capture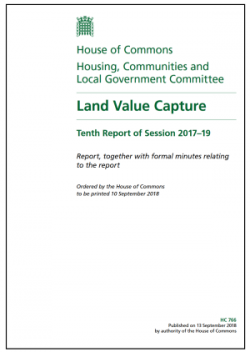 'Reform taxes and charges to claim more' and consider 'Local Infrastructure Tariff'.
---
First picture of the great glass elevator planned at Battersea Power Station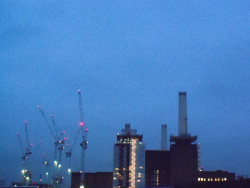 The first images of how the cylindrical lift will look when it launches in 2021 were released by the developers of the £9 billion regeneration scheme.
---
New commission announced to champion beauty in the built environment in England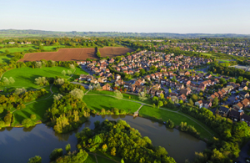 The commission to promote better design and style of homes is to be chaired by conservative philosopher and author Sir Roger Scruton.
---
Public to have say on new National Parks for England - closes 18/12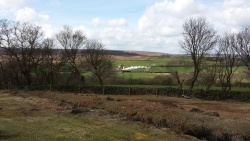 The Government is inviting views on how England's 10 National Parks and 34 Areas of Outstanding Natural Beauty (AONBs) meet the nation's needs.
---
Pathways into Construction - reaching out to under-represented groups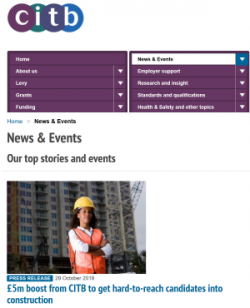 £5M boost from CITB to get hard-to-reach candidates into construction with new Pathways into Construction.
---
Introducing Pugin and his vision of a Gothic England to a younger audience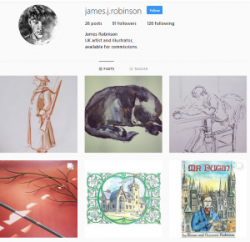 Pugin Society: Illustrator of children's book inspired by Pugin's Gothic vision – 'Bringing Pugin to a younger readership'.
Featured articles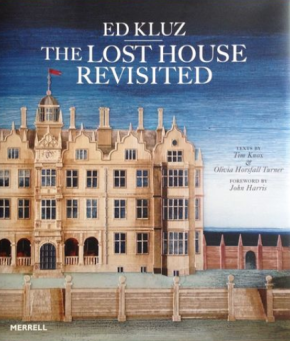 An artist finds ruined and decaying buildings a source of inspiration for his work. Book review.
---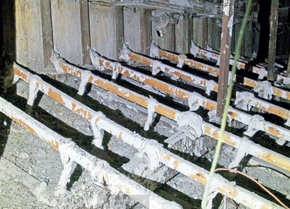 How the risk of collapse of fibrous plaster ceilings is being addressed in theatres.
---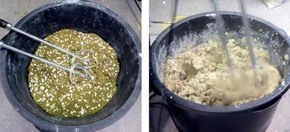 The last few years have seen renewed interest in traditional mortars and hot mixing.
---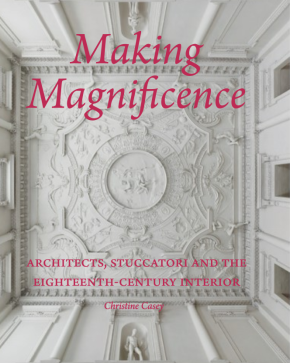 Architects, stuccatori and the eighteenth-century interior. IHBC book review.
---
Mortar analysis for specifiers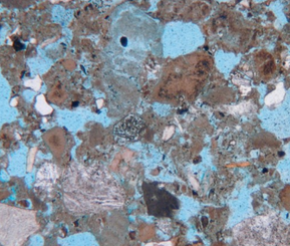 Analysis can help develop a specification, but must not lead to inappropriate specifications being accepted.
---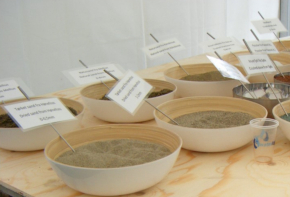 The focus is generally on the lime binder, but the aggregate is actually the most significant element.
---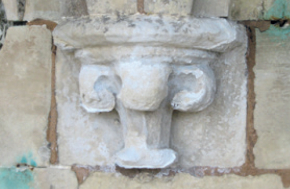 Consolidating weathered stone can be a frustrating exercise of hope over experience.
---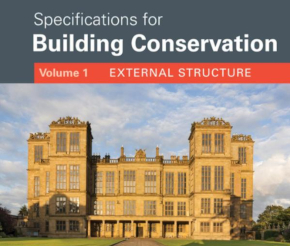 Specifications for Building Conservation - External Structure. A valuable technical handbook.
---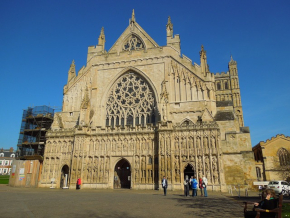 Two historic quarries in environmentally sensitive areas were reopened to repair Exeter Cathedral.
---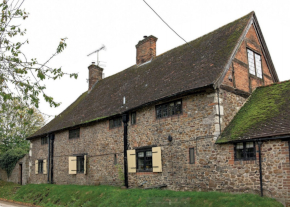 How do you find the right stone to conserve historic buildings?
---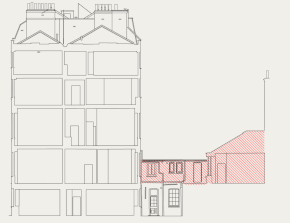 Do you know when works to listed buildings are alterations rather than demolition?
---
100 Sustainable Scottish Buildings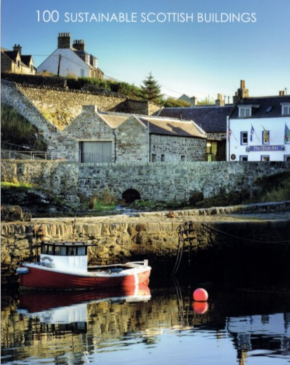 Thoughtful responses to social, economic and environmental sustainability. Book review.
---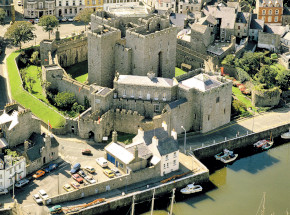 Restoring and finding a new use for a significant site in front of Castle Rushen.
---
About IHBC
Historic places attract people, activity and investment, giving new life to their communities and helping make places more competitive. They play a central role in regenerating towns, cities and rural areas all around the UK, in particular, helping to repopulate inner-city areas.
The Institute of Historic Building Conservation (IHBC) is the professional body for building conservation practitioners and historic environment experts working in the United Kingdom. It exists to establish, develop and maintain the highest standards of conservation practice, to support the effective protection and enhancement of the historic environment, and to promote heritage-led regeneration and access to the historic environment for all. It has a network of regional and national branches around the UK.
IHBC members come from a range of professional disciplines in the public, private and voluntary sectors, including conservation officers, planners, architects, regeneration practitioners and academics. The work of members varies from overseeing small-scale traditional repairs to managing multi-million pound area regeneration projects.
Using internationally-recognised standards, IHBC assesses and regulates conservation practitioners. It works to provide regular training, continuing professional development (CPD) and education events, as well as lobbying at international, national, regional and local levels.
For more information, see the IHBC's website.
---
IHBC is passionate about making knowledge freely-available. This helps defragment the industry, spread best practice, promote innovation and prevent mistakes.
Conservation Wiki has been created to further this ambition and IHBC is calling on its members, and others to contribute to this valuable and growing resource for the benefit of all.
---
[edit] About Conservation Wiki
---
Conservation Wiki is part of the Designing Buildings Wiki platform created to make construction industry knowledge freely available to everyone. Anyone can create articles about subjects they know and find articles about subjects they don't.
Conservation Wiki is operated by the Institute of Historic Building Conservation. It provides a platform for sharing knowledge about the conservation of the built and historic environment, from the restoration of cathedrals to the management of conservation areas and retrofitting period, traditional and modern properties to improve their performance.
---
Where there are articles on Conservation Wiki that are owned and maintained by the IHBC, they are protected from editing and linked to their original source on the IHBC website. Comments on these articles can be emailed to IHBC's Support Officer Carla Pianese, at [email protected]. Other articles on Conservation Wiki do not necessarily reflect IHBC policy or practice.
Conservation Wiki is a publicly accessible service and the IHBC encourages practitioners to populate it with relevant content as well as to contribute to the development of existing articles. Where appropriate these contributions may be used to inform IHBC policy and practice.
---
Click here to see a list of all the articles on Conservation Wiki.
---
To find an article, just type your subject into the search box. Conservation articles will appear first in the search results, then related articles form the rest of Designing Buildings Wiki.
To create an article, first register, then click 'Create an article'. To add your article to Conservation Wiki, tick the 'Conservation' category at the end of the article before you save it. To add your profile to articles you write, just insert your signature.
You can also edit and improve existing articles by clicking 'Edit this article'. If 'Edit this article' does not appear above an article, you may have reached your 5-edits-a-day limit, in which case, just register or log in to continue, or the article may have been protected by its author.
If you want to comment on an article, click 'Add a comment' at the end of the article, or email Carla Pianese, at [email protected].
---
For more information have a look at the Designing Buildings Wiki quick start guide, or go to the Designing Buildings Wiki help page.
---