Energy-related retrofits of buildings and urban areas, a comparison between Germany and the UK
While the energy performance challenges in Germany and the UK are similar, policy approaches and their implementations differ significantly between the two countries.
---
The energy inefficiency of older buildings, compared to today's new-built, has long been recognised as a contributor to anthropogenic climate change, for example in the form of carbon dioxide emissions, and socioeconomic problems, such as fuel poverty. At a European level, these issues were addressed more seriously in 2003 with the Energy Performance of Buildings Directive (EPBD), implemented into national laws by 2006. A recast of the directive in 2010 required European Union member states to make further improvements. But what does this mean in practice for the retrofit of historic buildings and historic urban areas?
Let's take a look at some governmental policies and associated implementation activities in the UK and Germany, aimed at incentivising energy-related retrofits of buildings and urban areas. Although retrofit measures suitable for historic buildings are readily available on the market, their uptake is slow. The challenge today is less about developing new technologies and rather to better understand the impacts of retrofit measures, especially their side effects, in order to choose a retrofit measure appropriate in a specific situation, and to create suitable market conditions to support their implementation.
Improving the energy performance of historic building fabric is a complex undertaking. The Responsible Retrofit Guidance Wheel, developed with UK government funding by the Sustainable Traditional Buildings Alliance, displays this complexity well, highlighting the challenges in traditional building retrofit because of the uncertainty of existing data and research, the complexity of interactions, and possible conflicting priorities and values. The wheel was born from concerns that governmental policies to implement the EPBD in the UK, foremost the Green Deal, were potentially damaging to historic buildings.
The UK government introduced the Green Deal in 2012 as a financial instrument 'designed to improve energy efficiency in... homes at no upfront cost to householders' by allowing them 'to pay for [energy-efficiency] improvements through savings on their energy bills' [1]. To establish which retrofit measures were eligible under the Green Deal and appropriate for a specific building, and to estimate the energy savings these measures would achieve, certified Green Deal assessors were trained to act as advisors to utility companies that were implementing Green Deal retrofits through government-provided loans. Following a change of government in 2015, the Green Deal was discontinued after only three and a half years, without replacement. (In January of this year, the remains of the Green Deal were sold to a private investment company.)
To become a Green Deal advisor accredited for assessments of domestic buildings, existing qualified domestic energy assessors were required to take a three day training course. For new entrants to the industry, without construction experience, the course, which also qualifies participants to produce energy performance certificates, was eight days long. Specific training for the assessment of historic buildings was not required. The short lifespan of the Green Deal, the short duration of assessor training courses and the fact that no specialist historic building training was needed indicate the level of expertise and experience of retrofit professionals generally, and highlight why tools such as the wheel are of particular importance in the UK.
Let's take a look at related policies in Germany. The contrast to training requirements for building energy assessors is stark. Accreditation, available only to architects, engineers and master craftsmen, requires successful completion of a course of 240 hours. (In Germany the roles of building or quantity surveyor are still largely part of the architect's job.) The specialist training as building energy advisor for monuments is an additional 54 hours. Competency levels of building energy advisors in Germany, therefore, are generally higher than in the UK. Perhaps a Retrofit Guidance Wheel is less urgently needed (although a German version would certainly be good to have also).
As with the Green Deal, assessors' accreditation is required for projects seeking specific public funding support. The German government has created, through the government-owned bank KfW, a programme of grants and loans, called KfW Efficiency House, to 'promote the refurbishment of houses if after refurbishment they do not exceed a specific energy requirement for a comparable new house'. [2] Loans are offered at market-competitive rates with early repayment subsidies. 'In order to meet the high energy standard of a KfW Efficiency House, extensive investments such as the renewal of heating systems, thermal insulation and replacement of windows, are usually required.'[3]
Acknowledging, however, that retrofitting historic properties without destroying their special character is challenging, a specific programme has been created for historic buildings: KfW Efficiency House Monument. The applicability of the monument programme is not limited to listed buildings, but also covers other 'especially preservation-worthy building fabric', such as buildings in monument groups, conservation areas, townscape statues areas and listed historic city centres or buildings deemed otherwise preservation-worthy by local governments.
To be generally eligible for KfW Efficiency House Monument funding, a retrofitted building generally needs to achieve at least a benchmark annual primary energy consumption of 160 per cent and a transmission heat loss of 175 per cent when compared to a calculated reference building. Similar to the use of the calculation method in the UK, the reference building is a virtual new-built identical to the existing building in terms of geometry, orientation and floor area, but with a building envelope and technical building system achieving the energy performance values prescribed by current legislation. Funding, though, can also be made available for building retrofits which, for conservation reasons, can not achieve the minimum requirements. It is not limited to building retrofit measures and can also be used for urban infrastructure improvements.
Where building retrofits cannot achieve the targeted savings of carbon dioxide emissions, decarbonisation of energy sources, possibly off-site, can be an option. This strategy is being considered, for example, in Ludwigsburg, a city in Baden-Württemberg, for its baroque city centre. As appropriately retrofitting the historic buildings in the city centre is costly and difficult, the municipal government works on extending its communal heat distribution network further into the centre, in order to connect more historic buildings. Powered by a wood-fired, low-emission plant, the primary-energy consumption associated with the network is so small that historic buildings connecting to it can achieve the funding conditions of KfW Energy House Monument with only limited improvements made to the historic building fabric.
Similar opportunities exist in other German cities. The heat distribution network in Hamburg, for example, serves many of the harbour warehouses, which were inscribed as UNESCO world heritage in 2016. (The installation of a heat distribution network in the world heritage site Hanseatic Town of Visby, on the Swedish island of Gotland, featured in the July 2016 issue of Context.)
Energy generation off-site, however, always results in transmission losses. The development of ever-smaller, less-costly and more-efficient plants makes their installation in historic areas more feasible, especially where renewable energy sources can be used, such as air-source heat pumps, geothermal energy technology and solar photovoltaic systems. Installing such technologies in a historic setting often has an adverse visual impact on culturally significant building or urban elements,[4] but careful design can help to mitigate this.
A pilot project in Edinburgh's world heritage site demonstrated, for example, how panels for solar water heating can be installed on the twinned double-pitched roofs of Georgian tenement buildings without a visual impact by mounting the panels in the central roof valley.5 Where hiding is not an option, careful aesthetic and technical design becomes more important. The National Trust installed conventional in-line photovoltaic panels and mini-panels, mimicking slates, at the stables block of Morden Hall in south London to compare the technologies in practice. The importance of aesthetic design has also been highlighted by the Campaign to Protect Rural England, describing in a guide for place responsive design how, through sensitive detailing and positioning, and the selection of appropriate shapes, colours, textures and so on, photovoltaic panels can be integrated in culturally sensitive settings.[6]
Similar guidance has been published in Germany. The Bavarian State Office of Monument Care, for example, has produced a booklet on solar energy and monument care, acknowledging that the three-step process of energy consumption reduction, energy efficiency improvements and renewable energy use applies to historic buildings, and the installation of photovoltaic panels can be acceptable, depending on context and detailing. [7] To support owners of (historic) buildings where photovoltaics installation is not considered acceptable or feasible, regional Bavarian governments have created virtual solar area markets, where building owners without roof areas suitable for photovoltaics can find owners with such areas, so that both can make best use of their shared interest. The Bavarian government is supporting this by integrating the identification of solar areas into long-term master planning. Solar areas are assessed and listed in the land registry. In historic areas, the cultural impact is included in the assessment. This means that an owner of a historic building knows at an early stage if the installation of photovoltaics on the buildings is acceptable and, if it is not, where to find suitable areas nearby. Together, the cadastre and exchange tools will help historic building owners to benefit from the sun.
This communal approach and the active engagement of German governments at national, regional and municipal levels to investing and providing tools specifically useful for historic building owners makes larger reductions in carbon dioxide emissions possible than mere technical upgrades of singular buildings ever could. The UK certainly has a good track record of publishing policies and advice, such as the Retrofit Guidance Wheel and best practice guides. Without more infrastructural investment and better financial and master planning tools, particularly at local and regional levels, achieving ever-greater reductions in carbon dioxide emissions seems unlikely, especially if a more communal approach is not achieved.
---
This article originally appeared in IHBC's Context 149, published in May 2017. It was written by Carsten Hermann who works for Historic Environment Scotland as advisor and researcher on sustainable building conservation.
--Institute of Historic Building Conservation
External references
[1] Palmer, J, and Cooper, I (2014) United Kingdom housing energy fact file: 2013, Department of Energy and Climate Change.
[2] KfW (2016) Existing properties: housing, home modernisation and energy conservation: energy-efficient refurbishment.
[3] ibid.
[4] Hermann, C, and Rodwell, D (2014) EFFESUS methodology for assessing impacts on energy-related retrofit measures on heritage significance, The Historic Environment, 5(2).
[5] Changeworks (2009) Renewable heritage: a guide to microgeneration in traditional and historic homes, Changeworks, Edinburgh.
[6] Williams, J, and Hagen, K (2016) Ensuring place responsive design for solar photovoltaics on buildings: good practice guide for designers, manufacturers and installers, Campaign to Protect Rural England in association with the BRE, London.
[7] Bayerisches Landesamt für Denkmalpflege (2012) Solarenergie und Denkmalpflege.
IHBC NewsBlog
BRE/BEIS project to modernise home energy rating scheme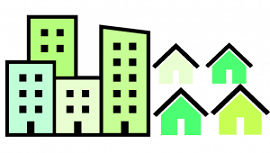 The Building Research Establishment (BRE) has announced a new project with the Department for Business, Energy and Industrial Strategy (BEIS) to improve and modernise the home energy rating scheme used to measure the energy and environmental performance of UK homes.
---
Interdisciplinary IHBC accreditation recognised by CSCS for PQP Cards

Sector lead the Construction Skills Certification Scheme (CSCS) has recognised the IHBC's professional accreditation and support (CPD etc.) in awarding its PQP (Professionally Qualified Person) cards.
---
IHBC Heritage Marketplace provides learning-led virtual engagement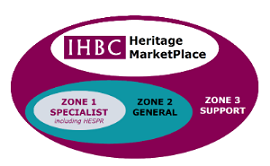 The IHBC's 2022 Aberdeen School Heritage MarketPlace (4.30-7.30PM, 15 June) is designed to extend the scope of a traditional IHBC School exhibition floor.
---
Unearthing the history of Gloucester's 'the Fleece' Hotel starts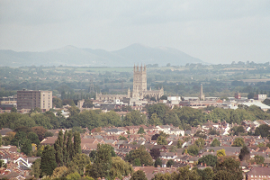 Work to repair a fire-hit medieval hotel in Gloucester is underway as crews have started work to strip back some of the modern trappings and reveal the historic framework.
---
Booking Open for IHBC Annual School: Aberdeen, 16-18 June 2022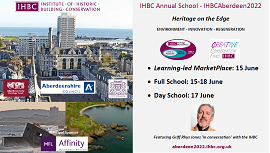 Options for in-person and virtual delegates to explore 'heritage on the edge' across up to 4 days of IHBC engagement & learning.
---
European Heritage Heads Forum statement on Ukraine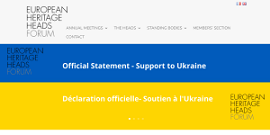 The Secretariat to the European Heritage Heads Forum has has coordinated its declaration of solidarity and support for Ukraine's cultural heritage institutions.
---
Welcome to #IHBC25 – 25 years since we turned professional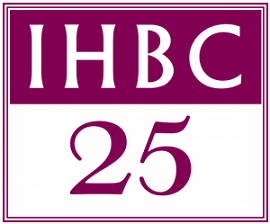 2022 will see the IHBC mark a quarter of a century since our incorporation as a professional body supporting and accrediting built and historic environment conservation specialists. We're kick-starting it by inviting your ideas on how to mark this special year!
---
IHBC launches new Guidance Note on 'Design sources for historic building conservation'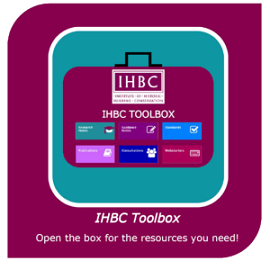 The IHBC's latest Guidance Note adds to the institute's open-access, online practitioner's Toolbox.
---
England's communities empowered to shape design of neighbourhoods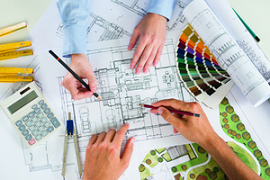 Twenty-five areas in England from Bournemouth to Carlisle have been awarded a share of £3 million to help them set their own standards for design locally. "move from a vicious circle of generic development to a virtuous circle of regenerative development".
---
IHBC at COP26 - Conserving our Places Conserves our Planet - Podcast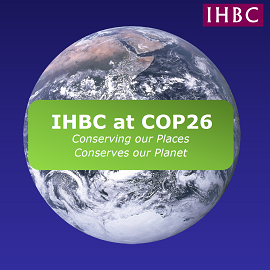 The IHBC seeks to raise awareness and understanding of how building conservation philosophy and practice contributes towards meeting the challenge of climate change.