Renovation v refurbishment v retrofit
The terms renovation, refurbishment and retrofit are often taken to mean the same thing, or used as if they are interchangeable. However, they have different specific meanings:
Retrofitting means "providing something with a component or feature not fitted during manufacture or adding something that it did not have when first constructed" (Ref Retrofit 2050: Critical challenges for urban transitions). It is often used in relation to the installation of new building systems, such as heating systems, but it might also refer to the fabric of a building, for example, retrofitting insulation or double glazing.
Refurbishment on the other hand implies a process of improvement by cleaning, decorating, and re-equipping. It may include elements of retrofitting.
The term 'renovation' refers to the process of returning something to a good state of repair.
A single project may include elements of retrofitting, refurbishment and renovation.
NB Maintenance is the process of keeping something in good condition, whilst restoration refers to the process of returning something to a previous state, in particular in relation to heritage buildings.
[edit]
External references.
Featured articles and news
IHBC Gus Astley Student Award 2017 now open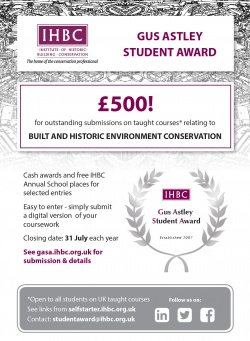 Send in your coursework on a taught course by 31 July for a chance to win a prize and attend the IHBC's Annual School in Belfast in June 2018.
---
Can Wellington (NZ) save its heritage buildings before it's too late?

---
Local military heritage at risk
The Daily Telegraph reports that many small regimental museums are to lose Ministry of Defence (MoD) funding by the end of next decade.
---
Heritage Open Days festival 2016 attended by millions
The Heritage Open Days (HODs) 2016 Impact Report shows an estimated 3 million visitors attending 5293 events with £10m for local economies.
---
International News - Cultural Protection Fund projects announced
The British Council has announced the initial projects to be supported by the Cultural Protection Fund, which will protect heritage overseas.