Listed buildings
[edit]
Introduction
The Planning (Listed Building and Conservation Areas) Act 1990 creates special controls for the demolition, alteration or extension of buildings, objects or structures of particular architectural or historic interest. Listed building controls apply in addition to normal planning controls.
Listed buildings are added to a register called the List of Buildings of Special Architectural or Historic Interest. Historic England administers the listing system, but listing decisions are made by the Secretary of State for Culture, Media and Sport.
Buildings may be listed for a number of reasons:
Architectural interest (such as design, decoration or craftsmanship).
Historic interest (for example, if the building is representative of a particular type).
Historic association (association with nationally important people or events).
Group value (part of a larger ensemble).
There are three categories of listing in England and Wales:
Grade I: Buildings of exceptional importance.
Grade II*: Buildings of more than special interest.
Grade II: Buildings of special interest.
In Scotland the equivalent categories are Grade A, Grade B and Grade C(s). In Northern Ireland the equivalent categories are Grade A, Grade B+ and Grade B.
There are approximately 375,000 listed buildings in England, of which more than 90% are grade II listed.
[edit]
Procedures
Listing can protect the interior and exterior of the building, as well as object or structures fixed to it, and any object or structure within the curtilage of the building which has formed part of the land since before 1 July 1948. Following the introduction of the Enterprise and Regulatory Reform Act (ERR) 2013, it is possible when making a new listing to declare that specific features of the building, or specific buildings or structures attached to, or within the curtilage of the listed building are not of special interest.
Demolition, alteration or extension of a listed building in a way that is likely to affect its special architectural or historical interest is only allowed with the consent of the local planning authority or the Secretary of State.
There are no general rules about what can and cannot be done, as each building is unique and will have been listed for reasons particular to that building. A local authority conservation officer can establish whether proposals are likely to affect a building's architectural or historical interest and therefore whether listed building consent is required. Listed building consent must then be obtained from the local planning authority. Decisions will generally take 8 to 13 weeks, and appeals can be submitted to the Secretary of State within 6 months. It is not possible to make outline applications for listed building consent.
It is a criminal offence to alter listed buildings without listed buildings consent and the local planning authority can have works reversed if they do not have consent.
Listing is not intended as a preservation order, it simply identifies buildings of interest. Decisions relating to listed building consents should balance historic interest against practical issues such as its function, condition or viability.
An application can be made to Historic England to have a building de-listed by submitting a Listing and designation application form. A decision is then made by the Secretary of State.
An application for a Certificate of Immunity can be made for developments affecting buildings that may be eligible for listing. This can give developers reassurance that the development will not be prevented by a building becoming listed.
Conversely, Building Preservation Notices (BPN) can be used to prevent un-listed buildings from being demolished or altered whilst an application to list them is considered. See Building Preservation Notice for more information.
Planning permission is separate to listed building consent. It is not always required alongside listed building consent. For some works, both planning permission and listed building consent will be required. It is advisable to contact the local authority Conservation Officer as a first stage to determine whether consent is required.
[edit]
Other controlled sites
Other controlled sites for which special permissions may be required include:
Scheduled ancient monuments.
Registered historic parks and gardens.
Registered historic battlefields.
Designated wrecks.
[edit]
Reform
The Enterprise and Regulatory Reform Act (ERR) 2013 introduced changes to the Planning (Listed Building and Conservation Areas) Act 1990. Culture Minister Ed Vaizey said, 'Listed buildings are a rich part of this country's heritage and it is only right that we try to help those in charge of looking after them. These new measures will uphold levels of existing heritage protection, whilst also simplifying the process so that those within the heritage sector and owners are not bogged down in bureaucracy.'
The changes include:
For more information see Enterprise and Regulatory Reform Act 2013 and listed buildings.
[edit]
External references
Featured articles and news
IHBC NewsBlogs now open for comments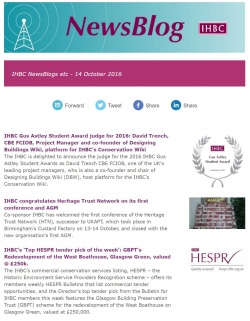 The IHBC has now opened its celebrated NewsBlog service to user comments, so members and users can open, join and extend the discussions around our news items.
---
IHBC HESPR tender pick of the week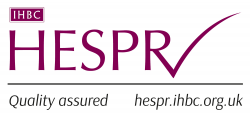 This week's Director's top pick for IHBC members features a call from Fenland District Council for archaeology, building investigation and community engagement.
---
IHBC Context CPD tale of two traumas - The importance of conservation expertise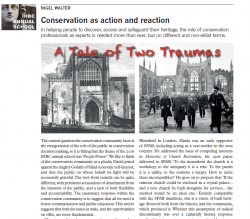 In helping people to discover, access and safeguard their heritage, the role of conservation professionals as experts is needed more than ever, says Nigel Walter.
---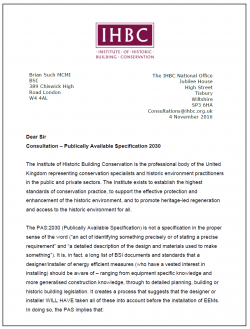 The BSI consulted on two Publically Available Specifications on energy efficiency measure (EEM) installation.
---
Churchill Barriers to be listed

Second World War structures at Scapa Flow have been recognised as being of national importance by Historic Environment Scotland.
---
Neighbourhood Planning Bill 2016 - 2017 – Committee Stage amendments
The Bill was amended during its Committee stage in the House of Commons, and a number of Government new clauses were added in relation to local plan making.
---
Complete Historic Environment Scotland survey
Historic Environment Scotland (HES) has announced a national campaign to find out what heritage means to the people of Scotland as part of the 2017 Year of History, Heritage and Archaeology.
---
Heating and energy-related reports for retro-fit projects
The UK government has published several reports on retro-fit issues for historic buildings.
---
US Embassy scheme receives conditional planning permission
Qatari-backed hotel scheme for the Grade II listed building in Mayfair will include 137 bedrooms, additional restaurants, retail and events space.
---
The pros and cons of crowdfunding architectural projects
A CLAD magazine feature discusses how crowdfunding can help get projects started and allow architects to be proactive.
---
Hidden paintings found at the Guild Chapel in Stratford upon Avon
Conservators have conclude it is one of the few places in Europe to have an almost complete medieval decorative scheme still in situ.
---
ebulletin&utm_campaign=c19f6a8b87-EMAIL_CAMPAIGN_2016_11_16&utm_medium=email&utm_term=0_56a3992b07-c19f6a8b87-129752081 Scottish Civic Trust calls for entries to My Place Awards
Community groups have been asked to nominate favourite new buildings, conservation projects and people in its annual awards (closing date 31 January 2017).
---
The Design Museum - regenerating a 1960s architectural icon
Museums Heritage says that after almost five years of restoration and refurbishment, the Grade II* Design Museum has been transformed into a modern multi-purpose space.
---
Property Flood Resilience Action Plan out
An independent report has been issued relating to flood protection, aiming to help with flood resilience.