Listed buildings insurance
[edit]
Introduction
England has nearly 500,000 listed buildings and their owners must protect them for the benefit of current and future generations. Ensuring a listed building is insured against accident or other damage is as important, if not more so, than that for a non-listed building.
Insurance is critical as damage to the property may need to be repaired by skilled craftsmen using specialist materials and techniques – which can be costly. This in turn can mean that insurance premiums may be higher than for standard properties. In addition, the likelihood of unforeseen problems can be greater for a listed building than a standard one.
Standard building insurance for domestic, commercial and public property is unlikely to offer the degree of protection that a specialist listed building policy can offer.
Just like a standard homes policy, a listed building can be insured for both 'buildings' and 'contents'.
The building is normally covered for costs that result from fire, subsidence, theft, flood, burst pipes and accidental damage. Fire continues to be the biggest risk to listed buildings, but recent years have seen greater threats from storms, extreme rainfall and flooding which may demand more adaptation, protection and insurance.
If damage occurs, planning legislation may require 'like-for-like' reinstatement which can require a more comprehensive and therefore costly level of insurance cover compared to properties of modern construction. Properties that are licensed for public use may attract additional statutory duties, such as public and employer's liability insurance
Unique risks which typically apply to listed buildings include things like thatched roof fire. If the policy does not extend to cover outbuildings, gardens and patios, a separate policy may be possible with a different insurance provider. Other risks that may require special consideration include heave and subsidence (sometimes not included in standard policies), and unoccupied insurance which covers properties left unoccupied for extended periods – usually longer than a month.
[edit]
Contents
Contents cover can include the cost of repairs or replacement for items such as furniture, paintings, ceramics and clothing. Other extras may extend cover to include personal belongings (such as jewellery and mobile phones).
[edit]
Listed for a reason
A listed building is listed for a reason. When considering the type of insurance to choose therefore, it is important to understand the building's most important features, whether from an architectural or historic point of view. This will enable a proper and realistic valuation to be given which, in turn, will determine the correct premium.
Owners and their agents should be aware that they may face legal action if they knowingly under-insure a listed building (declaring the value of the building or its contents to the insurer to be lower than it is so as to pay a lower premium.)
Historic England's key issues to consider when insuring historic buildings are set out below:
What is the extent of insurance cover needed?
What needs insuring?
Are there ancillary structures or special contents that should be included?
What type of cover is needed?
Assessing the reinstatement cost
Does the 'declared sum' in the policy reflect the reinstatement cost assessment?
Is professional help required to assess reinstatement costs?
Have reinstatement costs been updated every year?
Reducing the risks
[edit]
External references
IHBC NewsBlog
New Online Course in "Energy Efficiency Measures for Older and Traditional Buildings"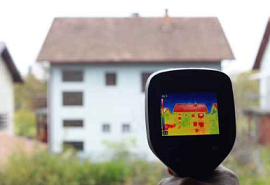 Welsh company The Environment Study Centre (ESC) has released a new online course for professionals seeking a qualification in dealing with the retrofitting of older and traditional buildings.
---
Looking for a Qualified Conservation Professional?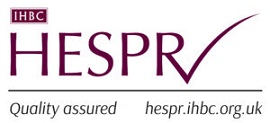 Use the IHBC's HESPR register of businesses that work to the high conservation and service standards expected by the IHBC.
---
Futurism, manifest in the '70s!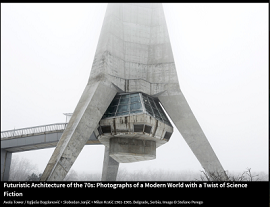 The photographic essay 'Futuristic Architecture of the 70s: Photographs of a Modern World with a Twist of Science Fiction', with images by Stefano Perego, from Arch Daily.
---
Warwick planners failed to properly consider impact of development on wildlife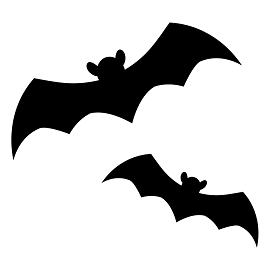 Warwick District Council is to pay a local wildlife group £1,000 and provide new hibernation boxes for bats said Local Government and Social Care Ombudsman.
---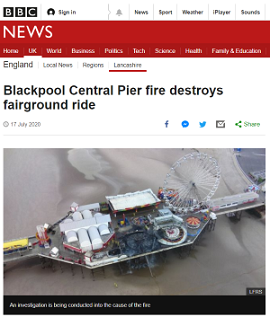 Some 50 firefighters have been tackling a blaze on Blackpool's Central Pier, built in 1868 and containing a 33m-high (108ft) Ferris wheel known as the Big Wheel installed in 1990.
---
Chancellor announces £2bn Green Homes Grant, part of £3Bn package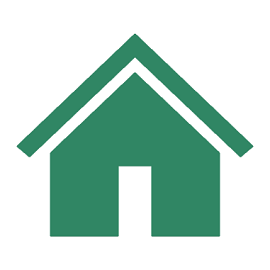 Chancellor Rishi Sunak has unveiled a new £2bn Green Homes Grant to retrofit homes and buildings across the country, part of a £3bn green investment package.
---
IHBC's first Virtual School a Marked Success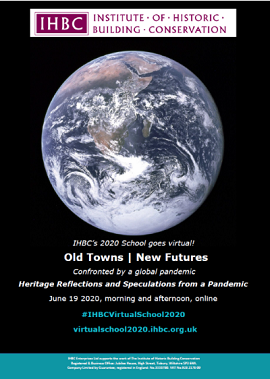 The first 'Virtual School' hosted by the IHBC was launched on 19 June with lead speakers covering pandemic-related topics shaping valued places over two sessions.
---
Take a Tour of Scotland in 3D, courtesy of HES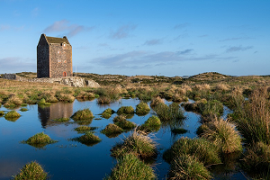 Anyone can immerse themselves in Scotland's history from home by exploring the interactive 3D models of towers, tombs, brochs and standing stones from Historic Environment Scotland (HES).
---
Two towers become one in Australian architectural first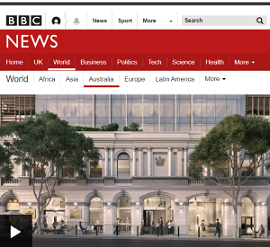 Two Brisbane skyscrapers are being stitched together to create a new 'green' building, the BBC has reported.
---
MPs are Asked for Views on £4bn Parliament Restoration Plan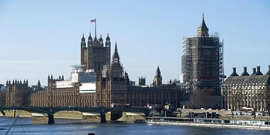 MPs and peers are being asked for their views on the planned restoration and renewal of the Houses of Parliament.
---