Listed buildings insurance
[edit]
Introduction
England has nearly 500,000 listed buildings and their owners must protect them for the benefit of current and future generations. Ensuring a listed building is insured against accident or other damage is as important, if not more so, than that for a non-listed building.
Insurance is critical as damage to the property may need to be repaired by skilled craftsmen using specialist materials and techniques – which can be costly. This in turn can mean that insurance premiums may be higher than for standard properties. In addition, the likelihood of unforeseen problems can be greater for a listed building than a standard one.
Standard building insurance for domestic, commercial and public property is unlikely to offer the degree of protection that a specialist listed building policy can offer.
Just like a standard homes policy, a listed building can be insured for both 'buildings' and 'contents'.
The building is normally covered for costs that result from fire, subsidence, theft, flood, burst pipes and accidental damage. Fire continues to be the biggest risk to listed buildings, but recent years have seen greater threats from storms, extreme rainfall and flooding which may demand more adaptation, protection and insurance.
If damage occurs, planning legislation may require 'like-for-like' reinstatement which can require a more comprehensive and therefore costly level of insurance cover compared to properties of modern construction. Properties that are licensed for public use may attract additional statutory duties, such as public and employer's liability insurance
Unique risks which typically apply to listed buildings include things like thatched roof fire. If the policy does not extend to cover outbuildings, gardens and patios, a separate policy may be possible with a different insurance provider. Other risks that may require special consideration include heave and subsidence (sometimes not included in standard policies), and unoccupied insurance which covers properties left unoccupied for extended periods – usually longer than a month.
[edit]
Contents
Contents cover can include the cost of repairs or replacement for items such as furniture, paintings, ceramics and clothing. Other extras may extend cover to include personal belongings (such as jewellery and mobile phones).
[edit]
Listed for a reason
A listed building is listed for a reason. When considering the type of insurance to choose therefore, it is important to understand the building's most important features, whether from an architectural or historic point of view. This will enable a proper and realistic valuation to be given which, in turn, will determine the correct premium.
Owners and their agents should be aware that they may face legal action if they knowingly under-insure a listed building (declaring the value of the building or its contents to the insurer to be lower than it is so as to pay a lower premium.)
Historic England's key issues to consider when insuring historic buildings are set out below:
What is the extent of insurance cover needed?
What needs insuring?
Are there ancillary structures or special contents that should be included?
What type of cover is needed?
Assessing the reinstatement cost
Does the 'declared sum' in the policy reflect the reinstatement cost assessment?
Is professional help required to assess reinstatement costs?
Have reinstatement costs been updated every year?
Reducing the risks
[edit]
External references
IHBC NewsBlog
Mapping tool for unused construction materials launched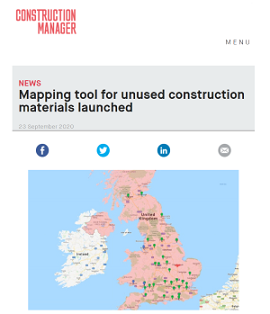 A mapping tool that provides contractors and their suppliers with a central database of local Materials Exchange Platform (MEP) projects to help cut waste by finding a home for unused materials has been launched.
---
'Unusual' WW2 sites listed and upgraded to mark 80th anniversary of Battle of Britain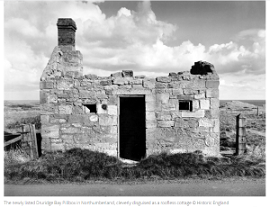 An air raid shelter, a pillbox cleverly disguised as a roofless cottage, a rare Chain Home radar defence tower, and a war memorial have been granted protection.
---
Derby City Council plans to knock down the 43-year old Assembly Rooms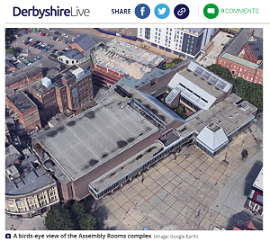 A planning application has been submitted by Derby City Council to knock down the Assembly Rooms – which has played host to the likes of Elton John, Iron Maiden, Take That, etc.
---
RIBA launches new contracts for the provision of conservation architectural services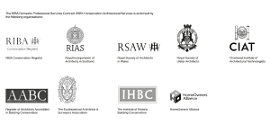 Specifically tailored for conservation projects, the Royal Institute of British Architects (RIBA) has launched two brand new professional services contracts.
---
Liverpool Mayor blocks £5m zip wire plan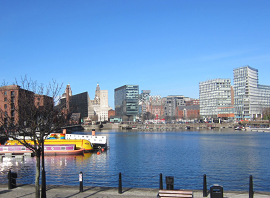 Liverpool Mayor Joe Anderson has made a dramatic intervention into the zip wire row which has divided people, politicians and businesses in the city.
---
Big Ben's roof is revealed as conservation work continues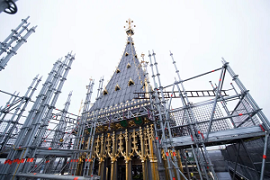 The roof of the Elizabeth Tower (also known as Big Ben) is slowly becoming visible again from 28 September 2020, as part of the scaffolding is removed.
---
Discover webinars, lectures, training, and other events via IHBC's CPD Circular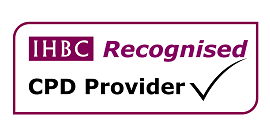 The IHBC lists quality providers of education and learning in the historic built environment, and emails a monthly recap of their upcoming events.
---
Denmark's 300-year-old homes of the future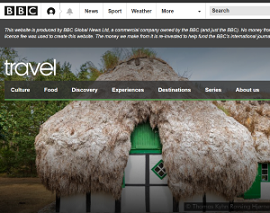 On Læsø, houses are thatched with thick, heavy bundles of silvery seaweed that have the potential to be a contemporary building material around the world.
---
Upcoming Heritage Open Days to feature in-person and online events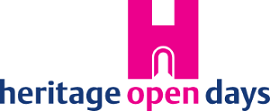 For the first time in its history, England's largest festival of heritage and culture will feature online events as well as in-person activities. Heritage Open Days (HODs) returns in September, thanks to support from players of People's Postcode Lottery.
---
RSA report 'Heritage for inclusive growth' published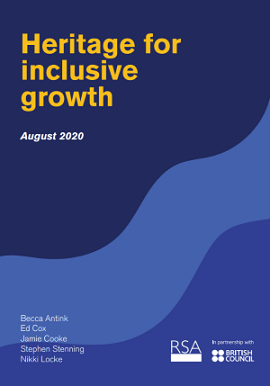 The Royal Society for the encouragement of Arts, Manufactures and Commerce (RSA) shows the scale of the 'missed opportunity' if we continue to separate heritage policymaking and economic policymaking.
---