Cautions or formal warnings in relation to potential listed building offences in England and Wales
This article was created by The Institute of Historic Building Conservation (IHBC). It was written by Bob Kindred MBE BA IHBC MRTPI and published in January 2016. You can see the original article on the IHBC website.
---
This short guidance note aims to clarify uncertainty about the current status of simple cautions or formal warnings in relation to potential listed building offences in England and Wales.
When it is evident that unauthorised work to a listed building may have taken place, one of the options open to the local authority is to issue a warning to the suspect. There may be uncertainty with potential listed building offences about the potential deterrent value (if publicised) and may not be appropriate in some circumstances.
It should be noted that formal cautions should only be used where the tests set out in the decision to prosecute are met. Cautions are not an appropriate tool in cases where evidential reasons would prevent a case from proceeding to court. Cautions form an admission of guilt and should therefore only be used where the defendant has admitted guilt, or states being prepared to do so.
The use of a caution has always been a non-statutory procedure [1] and the principles set out in 2006 in DCLG best practice guidance on prosecutions remain sound. [2] Cautions continue to be available as has been the case in the past.
The power to administer a caution is limited to the police and has no statutory basis, being a discretionary procedure based on successive Home Office guidance. The key point about a simple caution is that it may be disclosed in court and can be taken into account in sentencing for any future offence for which the recipient of the caution is subsequently prosecuted. [3]
A local authority can warn someone as to their future conduct but this is not a simple caution and cannot and does not have the same effect as one administered by the police, nor does it have the same effect in relation to sentencing for future offences. There is currently no national database of such warnings.
Although the Home Office Circular 30/2005 [4] dealing with the use and practical administration of simple cautions [5] has been cancelled - some of its general principles might be worth outlining for conservation professionals when considering what action to take.
If a local authority officer follows the rules relating to simple cautions that person must be satisfied that there is enough evidence to prosecute; the defendant would have to be prepared to admit guilt; there would need to be an evaluation of whether there were any mitigating factors; and the officer would have to be satisfied that, notwithstanding an admission, it is not in the public interest to prosecute.
Local authorities have discretion whether to prosecute listed building offences in any particular case, or issue a warning to an offender, and while there may be circumstances in which prosecution is not appropriate, the following questions need to be carefully considered:
Did the officer have sufficient delegated authority to take the decision not to prosecute? [6]
What were the officer's reasons for concluding that it was not in the public interest to prosecute?
Was the officer aware that the 'caution' had no legal effect at all and was simply an admonition saying in effect 'don't do it again'?
For listed building offences a properly documented record should be made of an admission that an offence may have been committed with the details recorded by, for example, a PACE compliant tape recorded interview.
It is unlikely but not unknown for suspects to have received other reprimands for earlier similar offences elsewhere. Accordingly any other national or locally held records [7] [8] may need to be checked before a warning is given as this may determine if more formal proceedings should otherwise be instituted. If the suspect has previously received a relatively recent warning a further formal warning may not be appropriate. It would be necessary to decide whether the lapse of time had been sufficient to suggest whether or not a previous warning has had any deterrent effect.
The full implications of a warning should be explained to the suspect in writing once approved by the local authority. It should be administered by a suitably trained person within the authority being one to whom delegated powers have been granted (usually someone from the local authority's legal service).
Local Planning Authorities should note that while Section 17 of the Criminal Justice and Courts Act 2015 merely restricts the circumstances in which a police constable can issue a caution – none of which are relevant to listed buildings – the Act is silent on the use of cautions by prosecuting authorities other than constables. The new guidance from the Ministry of Justice [9] explains how the police can use cautions but is silent as to their use by others - therefore it is considered that cautions remain a potentially useful tool for minor planning and heritage offences.
---
This is one of a series of occasional Guidance Notes published by The Institute of Historic Building Conservation (IHBC). The Notes necessarily reflect knowledge and practice at the time they were developed, while the [email protected]IHBC always welcomes new case examples, feedback and comment to research@ihbc.org.uk for future revisions and updates.
Thanks for assistance in the compilation of this guidance are due to the IHBC Legal Panel, especially Nigel Hewitson, Dr Charles Mynors and John Campbell QC.
--Institute of Historic Building Conservation 07:53, 12 Jun 2016 (BST)
Notes and references
Featured articles and news
IHBC NewsBlogs now open for comments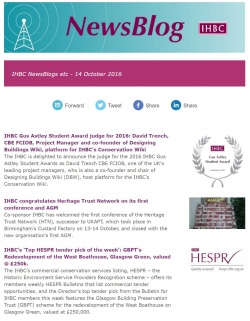 The IHBC has now opened its celebrated NewsBlog service to user comments, so members and users can open, join and extend the discussions around our news items.
---
IHBC HESPR tender pick of the week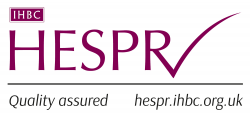 This week's Director's top pick for IHBC members features a call from Fenland District Council for archaeology, building investigation and community engagement.
---
IHBC Context CPD tale of two traumas - The importance of conservation expertise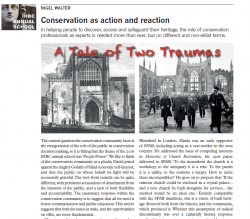 In helping people to discover, access and safeguard their heritage, the role of conservation professionals as experts is needed more than ever, says Nigel Walter.
---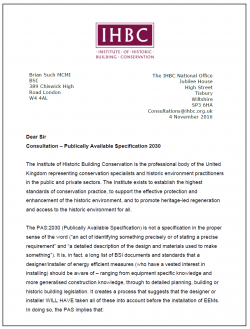 The BSI consulted on two Publically Available Specifications on energy efficiency measure (EEM) installation.
---
Churchill Barriers to be listed

Second World War structures at Scapa Flow have been recognised as being of national importance by Historic Environment Scotland.
---
Neighbourhood Planning Bill 2016 - 2017 – Committee Stage amendments
The Bill was amended during its Committee stage in the House of Commons, and a number of Government new clauses were added in relation to local plan making.
---
Complete Historic Environment Scotland survey
Historic Environment Scotland (HES) has announced a national campaign to find out what heritage means to the people of Scotland as part of the 2017 Year of History, Heritage and Archaeology.
---
Heating and energy-related reports for retro-fit projects
The UK government has published several reports on retro-fit issues for historic buildings.
---
US Embassy scheme receives conditional planning permission
Qatari-backed hotel scheme for the Grade II listed building in Mayfair will include 137 bedrooms, additional restaurants, retail and events space.
---
The pros and cons of crowdfunding architectural projects
A CLAD magazine feature discusses how crowdfunding can help get projects started and allow architects to be proactive.
---
Hidden paintings found at the Guild Chapel in Stratford upon Avon
Conservators have conclude it is one of the few places in Europe to have an almost complete medieval decorative scheme still in situ.
---
ebulletin&utm_campaign=c19f6a8b87-EMAIL_CAMPAIGN_2016_11_16&utm_medium=email&utm_term=0_56a3992b07-c19f6a8b87-129752081 Scottish Civic Trust calls for entries to My Place Awards
Community groups have been asked to nominate favourite new buildings, conservation projects and people in its annual awards (closing date 31 January 2017).
---
The Design Museum - regenerating a 1960s architectural icon
Museums Heritage says that after almost five years of restoration and refurbishment, the Grade II* Design Museum has been transformed into a modern multi-purpose space.
---
Property Flood Resilience Action Plan out
An independent report has been issued relating to flood protection, aiming to help with flood resilience.