Conservation officer
To help develop this article, click 'Edit this article' above.
---
Local planning authorities generally employ, or retain the services of, a conservation officer. Sometimes this role may be combined with that of archaeological officer, although they are very different, albeit related, functions.
The conservation officer's role is to ensure the heritage assets of the local authority are preserved, managed, enhanced and promoted.
The involvement of local authority conservation officers in development proposals might include:
Managed intelligently the conservation of heritage assets need not disrupt developments. However, this often requires engagement with the local planning authority's conservation officer as soon as possible if it is suspected that proposals may affect heritage assets. This will help identify the procedures that must be followed and avoid abortive work.
Other activities undertaken by a local authority conservation officer might include:
The activities of conservation officers are most effective when they are embedded in the local planning authority, rather than being seen as an add on.
NB Conservation officers may also be employed by non-departmental public bodies or charitable trusts such as English Nature, the Countryside Agency, English Heritage, Historic England, the National Trust and so on, as well as by central government and by private consultancies.
[edit]
External references.
Featured articles and news
IHBC seeks perspectives on Brexit planning for conservation
We would like to hear from members with ideas on these matters, and/or any interest in joining an IHBC European Special Interest Group.
---
IHBC Reminder: Marsh Awards close end March 2017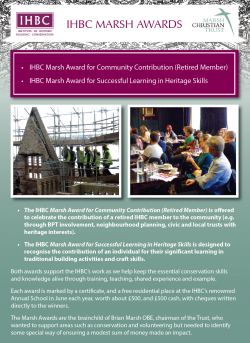 The 2nd IHBC Marsh Awards celebrating retired members and successful learners is now open - prizes include £500 and a free place at the IHBC's Annual School.
---
IHBC HESPR tender pick of the week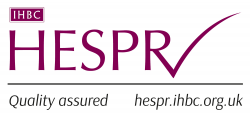 Director's top pick features a call from Blaenau Gwent County Borough Council for a specialist consultant to develop Town Centre Strategies.
---
IHBC CPD boost - How Business Improvement Districts impact on urban regeneration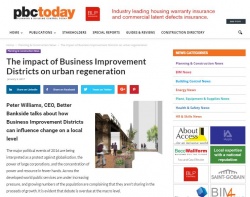 Peter Williams, CEO of Better Bankside in London, talks about how these can influence change on a local level in Planning & Building Control Today.
---
Scotland's Conservation Crisis No 2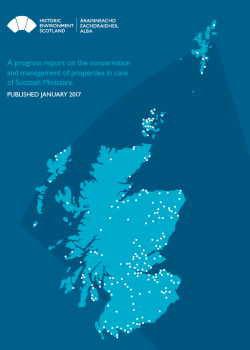 More than half of heritage sites and monuments managed by Historic Environment Scotland (HES) are at risk, according to a recent report.
---
Scoping for limited VAT review
The review will consider if the system is working appropriately in today's economy and identify simplification opportunities.
---
New Health and Work Strategy launched
Health and Safety Executive (HSE) concludes there is a role to play for everyone who has a stake or interest in improving health and safety in the workplace.
---
Apps will allow European online heritage curation
New social platform and smartphone applications (apps) will be developed by a European consortium to aid the documentation of Europe's cultural heritage.
---
Lord Prior appointed as new construction minister
Lord Prior of Brampton replaces Jesse Norman, who has become energy minister after just six months in the construction role.
---
Scarborough Futurist Theatre demolition approved
Plans to demolish a 1920s theatre have been approved by councillors amid an angry protest by more than 100 campaigners, according to the BBC.