Scheduled monuments
[edit]
Introduction
Nationally important sites and monuments can be placed on a schedule by the Secretary of State for Culture, Media and Sport in order to give them legal protection. A schedule has existed since 1882, but the power to schedule is currently provided for by the Ancient Monuments and Archaeological Areas Act 1979.
There are more than 200 different classes of monuments. Monuments can include; standing stones, castles, abandoned villages, collieries and so on together with the land in which they are situated or rely on for support and preservation. They will not always be visible.
There are now around 30,000 sites on the schedule, which can be searched at The National Heritage List for England.
It is a criminal offence to:
Scheduling does not create any new rights of public access and it does not impose an obligation to undertake additional management of the monument. However, owners are encouraged to keep monuments in good condition and there are a range of grant incentive schemes available.
Scheduled monuments can include:
But not:
Monuments can only be scheduled if they are deliberately created structures, features or remains of national importance, and if scheduling is the best means of protection (rather than local planning controls or listing). Historic England have produced detailed guidance for scheduling of different types of monument in different situations.
[edit]
The scheduling process
Historic England identifies potential sites in England (the public can make nominations). They then make an assessment of the site and carry out a consultation process, although if there is thought to be a substantial risk of imminent damage or destruction, then a recommendation can be made without consultation.
Recommendations for scheduling are made to the Secretary of State for Culture, Media and Sport who decides whether or not to add the site to the schedule.
Decisions are based on:
Prior written permission (Scheduled Monument Consent or SMC) is required from the Secretary of State to carry out work, either above or below ground to scheduled monuments. Works may also require planning permission but this does not remove the need for Scheduled Monument Consent. Listed buildings will not also require listed building consent.
Consent must be obtained from the Secretary of State for Culture, Media and Sport for:
Development affecting the setting of a scheduled monument is a planning matter and does not require Scheduled Monument Consent.
Some works, such as works urgently necessary for safety or health are deemed to have consent under the terms of the Ancient Monuments (Class Consents) Order 1994.
The consent system is administered by Historic England, who advise the Secretary of State on applications. Advice can be obtained by applicants from a local Historic England team and applications should be sent to the local Historic England office. It is advisable to discuss possible works with the Historic England as early as possible, to obtain guidance on the process for application avoid the possibility of unlawful works and avoid delays.
[edit]
External references:
Featured articles and news
IHBC NewsBlogs now open for comments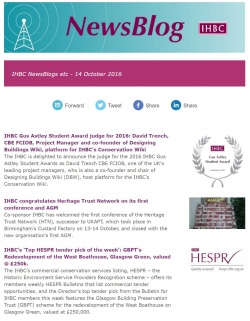 The IHBC has now opened its celebrated NewsBlog service to user comments, so members and users can open, join and extend the discussions around our news items.
---
IHBC HESPR tender pick of the week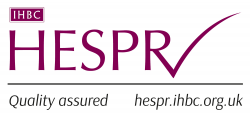 This week's Director's top pick for IHBC members features a call from Fenland District Council for archaeology, building investigation and community engagement.
---
IHBC Context CPD tale of two traumas - The importance of conservation expertise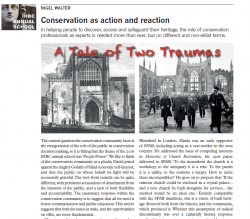 In helping people to discover, access and safeguard their heritage, the role of conservation professionals as experts is needed more than ever, says Nigel Walter.
---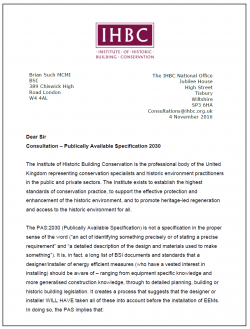 The BSI consulted on two Publically Available Specifications on energy efficiency measure (EEM) installation.
---
Churchill Barriers to be listed

Second World War structures at Scapa Flow have been recognised as being of national importance by Historic Environment Scotland.
---
Neighbourhood Planning Bill 2016 - 2017 – Committee Stage amendments
The Bill was amended during its Committee stage in the House of Commons, and a number of Government new clauses were added in relation to local plan making.
---
Complete Historic Environment Scotland survey
Historic Environment Scotland (HES) has announced a national campaign to find out what heritage means to the people of Scotland as part of the 2017 Year of History, Heritage and Archaeology.
---
Heating and energy-related reports for retro-fit projects
The UK government has published several reports on retro-fit issues for historic buildings.
---
US Embassy scheme receives conditional planning permission
Qatari-backed hotel scheme for the Grade II listed building in Mayfair will include 137 bedrooms, additional restaurants, retail and events space.
---
The pros and cons of crowdfunding architectural projects
A CLAD magazine feature discusses how crowdfunding can help get projects started and allow architects to be proactive.
---
Hidden paintings found at the Guild Chapel in Stratford upon Avon
Conservators have conclude it is one of the few places in Europe to have an almost complete medieval decorative scheme still in situ.
---
ebulletin&utm_campaign=c19f6a8b87-EMAIL_CAMPAIGN_2016_11_16&utm_medium=email&utm_term=0_56a3992b07-c19f6a8b87-129752081 Scottish Civic Trust calls for entries to My Place Awards
Community groups have been asked to nominate favourite new buildings, conservation projects and people in its annual awards (closing date 31 January 2017).
---
The Design Museum - regenerating a 1960s architectural icon
Museums Heritage says that after almost five years of restoration and refurbishment, the Grade II* Design Museum has been transformed into a modern multi-purpose space.
---
Property Flood Resilience Action Plan out
An independent report has been issued relating to flood protection, aiming to help with flood resilience.