Scheduled monuments
[edit]
Introduction
Nationally important sites and monuments can be placed on a schedule by the Secretary of State for Culture, Media and Sport in order to give them legal protection. A schedule has existed since 1882, but the power to schedule is currently provided for by the Ancient Monuments and Archaeological Areas Act 1979.
There are more than 200 different classes of monuments. Monuments can include; standing stones, castles, abandoned villages, collieries and so on together with the land in which they are situated or rely on for support and preservation. They will not always be visible.
There are now around 30,000 sites on the schedule, which can be searched at The National Heritage List for England.
It is a criminal offence to:
Scheduling does not create any new rights of public access and it does not impose an obligation to undertake additional management of the monument. However, owners are encouraged to keep monuments in good condition and there are a range of grant incentive schemes available.
Scheduled monuments can include:
But not:
Monuments can only be scheduled if they are deliberately created structures, features or remains of national importance, and if scheduling is the best means of protection (rather than local planning controls or listing). Historic England have produced detailed guidance for scheduling of different types of monument in different situations.
[edit]
The scheduling process
Historic England identifies potential sites in England (the public can make nominations). They then make an assessment of the site and carry out a consultation process, although if there is thought to be a substantial risk of imminent damage or destruction, then a recommendation can be made without consultation.
Recommendations for scheduling are made to the Secretary of State for Culture, Media and Sport who decides whether or not to add the site to the schedule.
Decisions are based on:
Extent of survival.
Current condition.
Rarity.
Representivity.
Importance of the period to which the monument dates.
Fragility.
Connection to other monuments, or group value.
Potential to contribute to information, understanding and appreciation.
Extent of documentation enhancing the monument's significance.
Prior written permission (Scheduled Monument Consent or SMC) is required from the Secretary of State to carry out work, either above or below ground to scheduled monuments. Works may also require planning permission but this does not remove the need for Scheduled Monument Consent. Listed buildings will not also require listed building consent.
Consent must be obtained from the Secretary of State for Culture, Media and Sport for:
Works resulting in the demolition or destruction or any damage to a scheduled monument.
Works for the purpose of removing, repairing, adding to or altering a scheduled monument.
Flooding or tipping operations on land in, on or under which there is a scheduled monument.
Development affecting the setting of a scheduled monument is a planning matter and does not require Scheduled Monument Consent.
Some works, such as works urgently necessary for safety or health are deemed to have consent under the terms of the Ancient Monuments (Class Consents) Order 1994.
The consent system is administered by Historic England, who advise the Secretary of State on applications. Advice can be obtained by applicants from a local Historic England team and applications should be sent to the local Historic England office. It is advisable to discuss possible works with the Historic England as early as possible, to obtain guidance on the process for application avoid the possibility of unlawful works and avoid delays.
[edit]
External references:
IHBC NewsBlog
IHBC's first Virtual School a Marked Success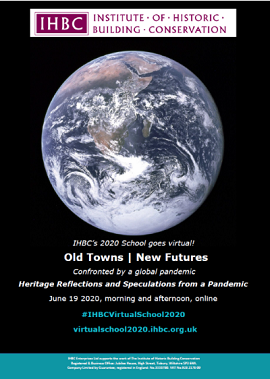 The first 'Virtual School' hosted by the IHBC was launched on 19 June with lead speakers covering pandemic-related topics shaping valued places over two sessions.
---
MPs are Asked for Views on £4bn Parliament Restoration Plan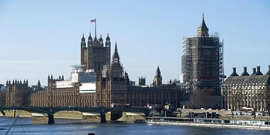 MPs and peers are being asked for their views on the planned restoration and renewal of the Houses of Parliament.
---
Ireland National Heritage Week: 15-23 August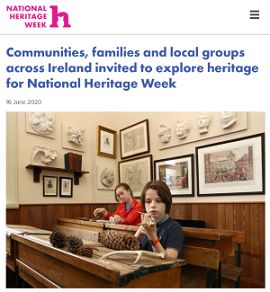 Plans are in place for a modified National Heritage Week for Ireland, which take into account ongoing restrictions on events and gatherings due to COVID-19.
---
Grimsby's historic Ice Factory thrown new survival lifeline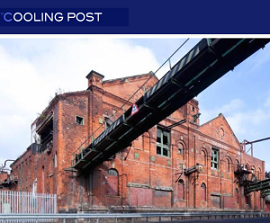 Opened in 1901, and derelict for the last 30 years, the Grimsby Ice Factory is the earliest and largest known surviving ice factory in the world. It still contains an array of historic ice making equipment including four J&E Hall ammonia compressors installed in 1931.
---
Risk Assessments and Contractual Impact from CIAT

A note on contractual obligations under the current COVID-19 pandemic has been issued by The Chartered Institute of Architectural Technologists(CIAT).
---
RTPI calls on government to issue planning guidance to prevent development delays

The Royal Town Planning Institute (RTPI) has called on the government to urgently issue planning guidance to prevent unnecessary delays to development from the pandemic.
---
How to Enjoy Heritage from Home, from the Heritage Fund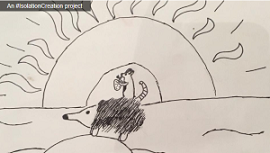 The Heritage Fund has put together a list of heritage-inspired activities to be done from home.
---
Listed Property Owners Club's Spring Checklist for Buildings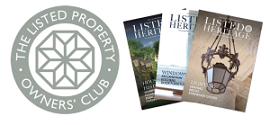 Spring is a good time to stand back and consider any building repairs that are required over the next 12 months, notes the LPOC, and regular inspection and maintenance is the key to keeping homes in good repair, as per its accessible step-by-step guidance.
---
Firefighters tackle blaze at converted Grade II listed former mill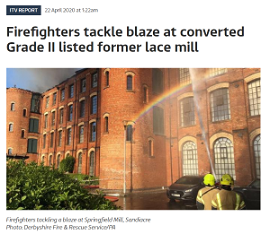 Derbyshire Fire and Rescue Service said "rapid and effective firefighting" had saved three quarters of the mill – which is now apartments.
---
Thieves take advantage of lockdown to steal lead from church roof in Halsham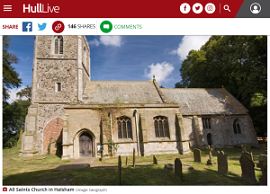 Police have appealed for witnesses after thieves stole lead from the roof of All Saints Church in Halsham near Hedon during the coronavirus lockdown.
---
IHBC's CPD Circular provides info on digital CPD opportunities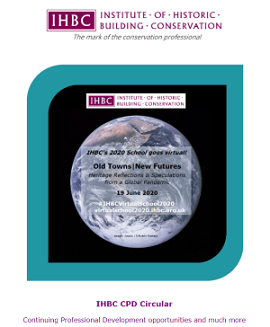 The regular newsletter showcases the IHBC's own Continuing Professional Development (CPD) content as well as online opportunities from 'IHBC Recognised CPD Providers' and other conservation related training and events.
---
Frank Lloyd Wright houses offer virtual tours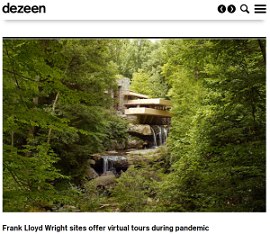 To make sure the public still has access to twelve of those famous works, #WrightVirtualVisits has been launched, which offers virtual tours of 12 iconic houses.
---