VAT - Protected Buildings
Note: From 1 October 2012, zero rating has been withdrawn for work undertaken to protected buildings.
To mitigate the impact of this change, a transitional relief will apply until 30 September 2015. Zero-rating will continue to apply where a 'relevant consent' was applied for before 21 March 2012 or a contract was entered into before 21 March 2012. This included contracts already underway on 21 March 2012. For more information see HMRC, Buildings and construction.
[edit]
Introduction
Work on certain types of building may be zero-rated. This means that that no VAT is payable on such work.
For these rules to apply the building in question must be a 'protected building', a 'listed building' or a 'scheduled monument'. And for such works on these types of building, the works themselves are subjected to a variety of tests as to whether they are considered 'approved alterations'.
There are clear definitions which apply to each of these categories of building.
Consultants' fees associated with such works are not, however, zero-rated although some consultants services which are supplied via, for example, a design and build contract may be zero-rated depending upon the nature of such services and the contractual arrangement under which they are supplied.
Your services can be zero-rated when all of the following conditions are met:
[edit] What is a 'protected' building?
A building is a 'protected' building when the following conditions are met:
A listed building is one included in a statutory list of buildings of special architectural or historic interest compiled by the Secretary of State for National Heritage in England and by the Secretaries of State for Scotland, Wales and Northern Ireland.
In England and Wales there are three categories of listed building, Grade I, Grade II*, and Grade II. In Scotland the equivalent categories are Grade A, Grade B and Grade C(s). In Northern Ireland the equivalent categories are Grade A, Grade B+ and Grade B.
Buildings within the curtilage of a listed building such as outhouses or garages which, although not fixed to the building, form part of the land and have done so since before 1 July 1948 (for example, an outhouse) are treated for planning purposes as part of the listed building.
Unlisted buildings in conservation areas, or buildings included in a local authority's non-statutory list of buildings of local interest, which used to be known as Grade III buildings, are not 'protected' buildings for VAT purposes.
See Listed buildings for more information.
A scheduled monument is one included in a statutory schedule of monuments of national importance as defined in the Ancient Monuments and Archaeological Areas Act 1979 or the Historic Monuments and Archaeological Object (Northern Ireland) Order 1995.
You can only zero-rate an approved alteration to a scheduled monument if it is a building that meets the certain tests set out by HM Revenue and Customs.
The underlying purpose of these provisions is to facilitate the repair and protection of nationally important buildings as well as to make the provision of certain types of dwelling easier and less financially demanding than would otherwise be the case.
However, at the time of writing, these zero-rating rules are being reviewed by HM Government and it may be the case that this favourable treatment is removed for approved alterations to approved buildings.
[edit]
External references
IHBC NewsBlog
IHBC's first Virtual School a Marked Success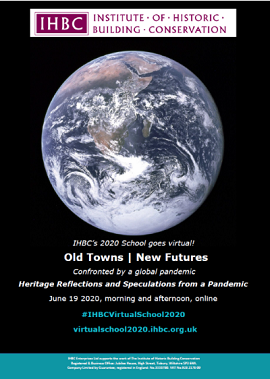 The first 'Virtual School' hosted by the IHBC was launched on 19 June with lead speakers covering pandemic-related topics shaping valued places over two sessions.
---
Ireland National Heritage Week: 15-23 August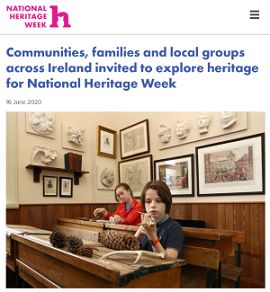 Plans are in place for a modified National Heritage Week for Ireland, which take into account ongoing restrictions on events and gatherings due to COVID-19.
---
Grimsby's historic Ice Factory thrown new survival lifeline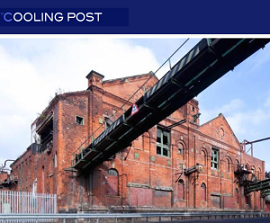 Opened in 1901, and derelict for the last 30 years, the Grimsby Ice Factory is the earliest and largest known surviving ice factory in the world. It still contains an array of historic ice making equipment including four J&E Hall ammonia compressors installed in 1931.
---
Risk Assessments and Contractual Impact from CIAT

A note on contractual obligations under the current COVID-19 pandemic has been issued by The Chartered Institute of Architectural Technologists(CIAT).
---
RTPI calls on government to issue planning guidance to prevent development delays

The Royal Town Planning Institute (RTPI) has called on the government to urgently issue planning guidance to prevent unnecessary delays to development from the pandemic.
---
How to Enjoy Heritage from Home, from the Heritage Fund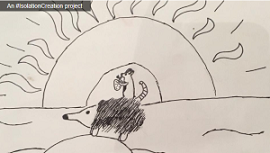 The Heritage Fund has put together a list of heritage-inspired activities to be done from home.
---
Listed Property Owners Club's Spring Checklist for Buildings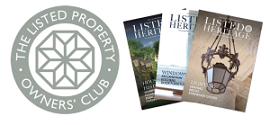 Spring is a good time to stand back and consider any building repairs that are required over the next 12 months, notes the LPOC, and regular inspection and maintenance is the key to keeping homes in good repair, as per its accessible step-by-step guidance.
---
Firefighters tackle blaze at converted Grade II listed former mill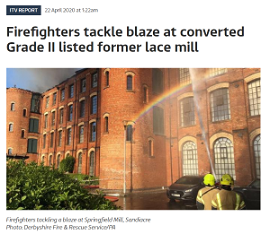 Derbyshire Fire and Rescue Service said "rapid and effective firefighting" had saved three quarters of the mill – which is now apartments.
---
Thieves take advantage of lockdown to steal lead from church roof in Halsham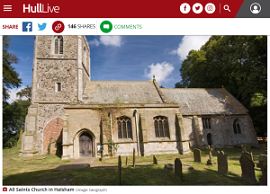 Police have appealed for witnesses after thieves stole lead from the roof of All Saints Church in Halsham near Hedon during the coronavirus lockdown.
---
IHBC's CPD Circular provides info on digital CPD opportunities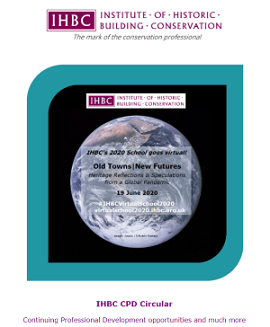 The regular newsletter showcases the IHBC's own Continuing Professional Development (CPD) content as well as online opportunities from 'IHBC Recognised CPD Providers' and other conservation related training and events.
---
Frank Lloyd Wright houses offer virtual tours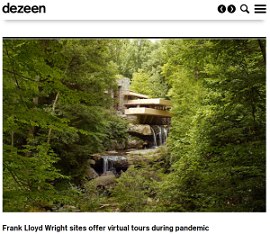 To make sure the public still has access to twelve of those famous works, #WrightVirtualVisits has been launched, which offers virtual tours of 12 iconic houses.
---
CIC's Coronavirus Digest review and survey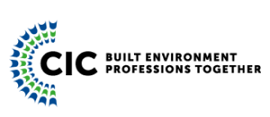 The Construction Industry Council's (CIC's) 'CIC Coronavirus Digest – Issue 8' surveys the latest government advice with updates from the construction industry.
---