Archaeological officer
To help develop this article, click 'Edit this article' above.
---
A great deal of damage was done to the UK's archaeological heritage by construction works in the 1960's. As a consequence, in the 1970's, local planning authorities began to appoint archaeologists to provide guidance and advice on the protection and management of archaeological sites and the impact of proposed developments on archaeological remains.
All local planning authorities now employ, or retain the services of, archaeological officers. Sometimes this role may be combined with that of conservation officer, although they are very different, albeit related, functions.
Archaeological officers ensure that archaeological remains are identified, recorded, protected, managed, promoted and interpreted.
Their role might include.
Maintaining a database of archaeological remains, known as the 'Historic Environment Record' (HER) (or Sites and Monuments Record (SMR) or Urban Archaeological Database (UAD)).
Commenting on draft proposals to ensure that they properly consider the conservation of archaeological remains.
Assessing planning applications and considering whether proposed developments are likely to affect archaeological remains.
If they believe there is a reasonable risk that proposed developments will affect archaeological remains, requiring that applicants undertake desk-based studies, and if necessary further evaluations such as site investigations.
Proposing conditions that might be attached to planning consents to help protect or manage archaeological remains.
Assessing the competence and suitability of archaeological contractors appointed to undertake archaeological projects.
Monitoring archaeological projects. This requires that they are given adequate notice of proposed works commencing.
Providing advice on agricultural an forestry schemes.
Providing advice on the conservation of ancient monuments and historic landscapes.
Promoting awareness and understanding through education and outreach programmes.
Where archaeological evaluation of proposed developments is considered necessary, this can be analogous to geotechnical site investigation with comparable costs, duration and lead-in times. Because of the time required, it can somtimes be appropriate to begin evaluations even before they have been required by the planning authority.
Managed intelligently and with foresight, archaeology need not inconvenience any construction project. However, this often requires engagement with the local planning authority's archaeological officer as soon as possible if it is suspected that proposals may affect archaeological remains. This will help identify the procedures that must be followed and avoid abortive work.
NB All historic buildings embody interpretable archaeological information about the people who designed and used those buildings, much of it not available from other sources. That information is embodied in the layout, structure and fabric of the building and can be recorded and analysed archaeologically. In the UK this is referred to as 'buildings archaeology'. The National Planning Policy Framework (NPPF) requires assessment and / or evaluation of a building's archaeological potential. Where it cannot be preserved, a detailed record survey should be made.
[edit]
External references.
Featured articles and news
IHBC NewsBlogs now open for comments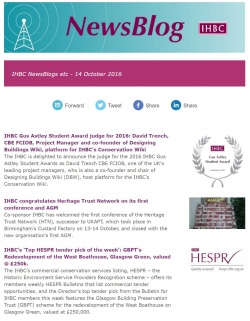 The IHBC has now opened its celebrated NewsBlog service to user comments, so members and users can open, join and extend the discussions around our news items.
---
IHBC HESPR tender pick of the week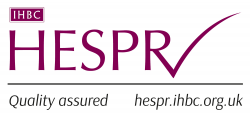 This week's Director's top pick for IHBC members features a call from Fenland District Council for archaeology, building investigation and community engagement.
---
IHBC Context CPD tale of two traumas - The importance of conservation expertise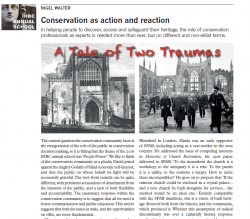 In helping people to discover, access and safeguard their heritage, the role of conservation professionals as experts is needed more than ever, says Nigel Walter.
---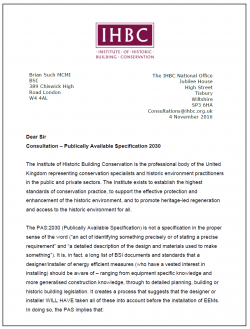 The BSI consulted on two Publically Available Specifications on energy efficiency measure (EEM) installation.
---
Churchill Barriers to be listed

Second World War structures at Scapa Flow have been recognised as being of national importance by Historic Environment Scotland.
---
Neighbourhood Planning Bill 2016 - 2017 – Committee Stage amendments
The Bill was amended during its Committee stage in the House of Commons, and a number of Government new clauses were added in relation to local plan making.
---
Complete Historic Environment Scotland survey
Historic Environment Scotland (HES) has announced a national campaign to find out what heritage means to the people of Scotland as part of the 2017 Year of History, Heritage and Archaeology.
---
Heating and energy-related reports for retro-fit projects
The UK government has published several reports on retro-fit issues for historic buildings.
---
US Embassy scheme receives conditional planning permission
Qatari-backed hotel scheme for the Grade II listed building in Mayfair will include 137 bedrooms, additional restaurants, retail and events space.
---
The pros and cons of crowdfunding architectural projects
A CLAD magazine feature discusses how crowdfunding can help get projects started and allow architects to be proactive.
---
Hidden paintings found at the Guild Chapel in Stratford upon Avon
Conservators have conclude it is one of the few places in Europe to have an almost complete medieval decorative scheme still in situ.
---
ebulletin&utm_campaign=c19f6a8b87-EMAIL_CAMPAIGN_2016_11_16&utm_medium=email&utm_term=0_56a3992b07-c19f6a8b87-129752081 Scottish Civic Trust calls for entries to My Place Awards
Community groups have been asked to nominate favourite new buildings, conservation projects and people in its annual awards (closing date 31 January 2017).
---
The Design Museum - regenerating a 1960s architectural icon
Museums Heritage says that after almost five years of restoration and refurbishment, the Grade II* Design Museum has been transformed into a modern multi-purpose space.
---
Property Flood Resilience Action Plan out
An independent report has been issued relating to flood protection, aiming to help with flood resilience.