Conservation practice survey 2016
A joint survey between the Institute of Historic Building Conservation (IHBC) and Historic Towns Forum (HTF) into current issues in conservation practice from January to February 2016 elicited responses from 103 people from a wide range of backgrounds and professional areas.
A series of statements were given and respondents were asked to say how much they agreed with the statement. The respondents agreed very strongly with statements such as;
Managing and enabling appropriate change is fundamental to conservation practice.
Heritage protection requires an understanding of traditional building construction.
Professional conservation practice is about reconciling 'significance' or special architectural interest' with using and adapting heritage buildings and places.
Heritage has social and economic value in addition to cultural value.
In general most statements suggested were agreed with by respondents. The only one generating any major disagreement was 'Historic environment legislation and procedures can be an impediment to growth'. The other statement that generated a degree of disagreement was 'Heritage conservation is mainly about understanding significance'.
The key current challenges and issues in conservation practice identified by respondents were:
Practice:
Shortage of professional skills and capacity in local government.
Lack of technical and craft skills in the construction sector.
Lack of political support and understanding in local government.
Inflexible application of health, highways, building and other legislation and standards.
Values:
Misconceptions that heritage is a barrier to growth.
Vagueness of the term 'harm' in the National Planning Policy Framework in England.
Differing legal interpretations of the term 'significance' in policy, guidance and practice.
Funding and economics:
Lack of mainstream funding for heritage projects.
Limited heritage specialist funding for projects.
Dave Chetwyn, HTF Chair and IHBC past Chair said: 'The survey demonstrates the wide and complex context against which conservation professionals operate. The overwhelming consensus appears to be that heritage is a positive force for delivering growth, not a barrier, as is often portrayed.'
IHBC Director Sean O'Reilly said: 'Clearly there are serious failings in the current heritage landscape, as it should be about helping to integrate conservation practice and policy into an accessible and coherent process suitable for public use and scrutiny. Instead the evidence seems to suggest that practice and policy are increasingly going down separate paths. This can only make the entire process of heritage care, management and change even more challenging for all players: practitioners, clients, users and stakeholders.'
Fiona Newton, IHBC's Projects Officer, said: 'Respondents from all professional backgrounds agreed that lack of suitable skills in both local government and construction and lack of funding were key challenges for building conservation practice'.
You can access the survey report on the IHBC website.
---
--Institute of Historic Building Conservation 11:56, 21 Jun 2016 (BST)
IHBC NewsBlog
IHBC London Branch Conference 4 Oct 2018 – save the date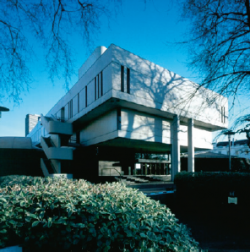 'Creative Conservation: Partnerships and Public Value'. London Branch's celebrated annual conference takes place in the Royal College of Physicians, Regents Park.
---
IHBC free MATE sessions - supporting accreditation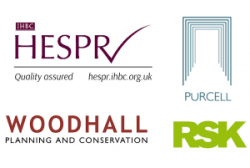 HESPR members' staff from Woodhall Conservation, Purcell and RSK take part in Membership Application Training Event sessions on the accreditation process.
---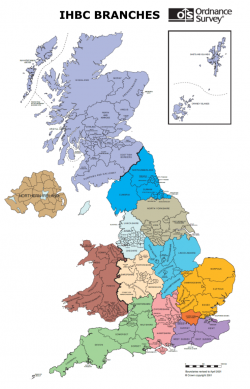 IHBC Branch & partner CPD & more, across the UK - our new NewsBlog resource lets you browse the wide range of CPD events on the IHBC Calendar and pass them on.
---
IHBC spotlights EPCs Call for Evidence – responses by 19 Oct 2018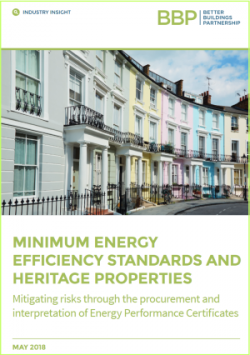 Responses needed to 'Call for Evidence on Energy Performance Certificates', while comments and copies of responses may be sent to [email protected]
---
IHBC CPD boost and checkup from DBW


Critical learning from DBW on 'Rights to light' using references such as the RICS Rights of light: Practical guidance for chartered surveyors in England and Wales.
---
IHBC Heritage from the doorstep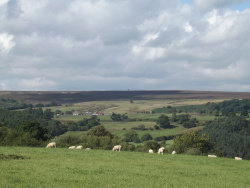 Cash boost helps preserve historic North York Moors monuments, reports The Darlington and Stockton Times.
---
IHBC CPD - Context article on lime and stone and reopening historic quarries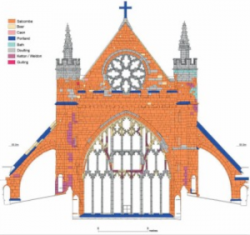 Even within environmentally sensitive areas planning permission is possible, as Emily Harper and Sue Penaluna explain in their article on the repair of Exeter Cathedral.
---
IHBC HESPR top pick from £250M+ costed work this week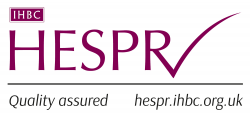 East Herts seeks regeneration developer for Bishop's Stortford site; closing 28/08,
contract values ranging from: £25M- £200M.
---
RTPI proposal for post-Brexit environmental watchdog fundamentally flawed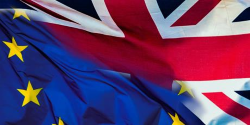 The Government's proposal for a post-Brexit environmental watchdog that only has jurisdiction for England is deeply flawed, says the RTPI.
---
World Heritage UK report out - Commercial Best Practice in World Heritage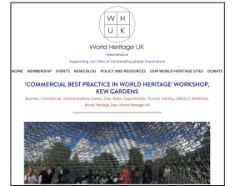 The report, following a meeting in March 2018, details the discussions and future actions and includes an appendix on visitor numbers and characteristics.
---
Planning Portal and Federation of Master Builders sign partnership agreement


The Memorandum of Understanding signals their intent to work more closely together for the benefit of their joint customers and members.
---
Scottish Planning Bill changes marks a point of no return for Scotland's heritage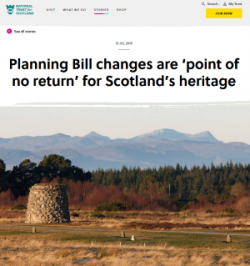 The National Trust for Scotland has called on the Scottish Government to save Scotland's heritage by overhauling the planning system.