Loss of senior conservation staff and posts in England March 2010 to April 2011
This article was created by the Institute of Historic Building Conservation (IHBC). It was written by Fiona Newton, IHBC Projects Officer and published in December 2012. You can see the original article on the IHBC website.
Executive summary
Concern for the age and experience profile of conservation staff across England and absence of succession planning has led IHBC to enumerate the nature and scale of the problem. This paper serves to set out the emerging deficit and to help inform any action.
Introduction
Numbers of Conservation staff in England fell in 2011 by 6%, according to the figures collected by the IHBC and published in conjunction with English Heritage and The Association of Local Government Archaeological Officers (ALGAO). In addition to the published headline figures for 2011 we have also examined the survey material to look at the impact of recent staff cuts on older staff at senior levels in local authorities. The senior staff referred to here are those at Principal level and above and mainly known to be over 55.
Headline figures:
| | |
| --- | --- |
| Total number of conservation staff at end of 2011 | 568 |
| Total loss of conservation staff for 2011 | 39 |
|  % loss of total conservation staff for 2011 | 6% |
| Total loss of senior staff for 2011 | 16.3 |
|  % loss of senior staff as percentage of all staff for 2011 | 2.6% |
| | |
| --- | --- |
| Loss of senior staff (posts of principal or above) | |
| Senior staff made redundant and not replaced (FTE) | 2.5 |
| Senior staff left voluntarily and not replaced (FTE) | 1.6 |
| Senior staff retired and not replaced (FTE) | 4.7 |
| Reduced hours of senior staff (FTE) | 4 |
| Total | 13.3 |
| | |
| --- | --- |
| Loss of senior posts but retention of staffing levels | |
| Senior staff left and replaced by downgraded post, reduced experience post-holders or more junior staff (FTE) | 3 |
In 2008 the IHBC survey of conservation staffing also took a snap shot survey of the age profiles of the staff. This showed that just over 30% of conservation staff were aged between 50 and 59. Some of these staff will have reached 60 by 2011 and have been looking towards retirement. Others may have hoped to continue working for some years more.
Loss of staff is caused by compulsory redundancies or severance packages, by staff leaving for unspecified reasons and from retirement, including early retirement and, critically of course, then the failure to replace them.
A number of older staff work to reduced hours (in easing the way to retirement) but the time is not backfilled, and this leads to a decrease in general capacity and, specifically, a reduction in the experience of those over 55. This is a relatively common pattern where staff approach retirement and phased retirement may be the chosen route by the current post-holder but once they retire entirely it is possible that, if not lost completely, the post will only be filled on the reduced hours latterly funded. Not all reductions of senior staff hours have been the chosen path of post-holders, some have been enforced by the Local Authority as part of cuts.
Those who are senior, both in organizational status and in age, generally have more experience and knowledge both of the wider conservation role and of their geographical area of work: their loss to conservation services is considerable. They often leave sometime before any replacement is in place (if indeed one is made), leading to a lack of continuity of knowledge and practice. Younger and more junior staff appointed after such hiatus are not able to inherit the skills and knowledge from those with the experience.
---
This is one of a series of occasional Research Notes published by The Institute of Historic Building Conservation (IHBC). The Notes necessarily reflect knowledge and practice at the time they were developed, while the IHBC always welcomes new case examples, feedback and comment to [email protected] for future revisions and updates.
--Institute of Historic Building Conservation 12:34, 24 Jun 2016 (BST)
IHBC NewsBlog
COVID-19: Advice and Updates collated from the Heritage Sector
Organisations with conservation links have been collating resources on COVID-19 impacts, including Built Environment Forum Scotland (BEFS), Historic Environment Forum, The Heritage Alliance (THA), and Historic England, on cleaning surfaces.
---
Councils considering 'executive powers' as measures to avoid planning gridlock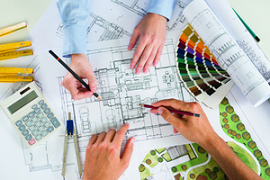 Councils are reported to be considering taking up rarely-used executive powers to keep the planning and development system moving during the coronavirus pandemic.
---
Historic England provides updated flood recovery advice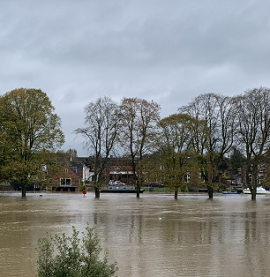 Historic England's 'After a Flood' provides timely advice on how to dry walls properly and avoid further damage to the building fabric.
---
Conservation of Timber Buildings: an example of evolving conservation techniques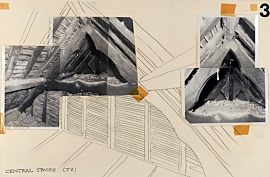 Context Issue 162 offers a peek into an archive of timber conservation history through the records of the practice of FWB and Mary Charles Chartered Architects.
---
Call for VAT rates for Refurbishment to be Reduced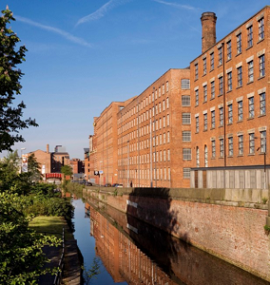 To meet the government's target of being carbon neutral by 2050, we must recycle, reuse and responsibly adapt our existing historic buildings, according to this year's Heritage Counts report, so Historic England and partners are calling for a reduction in VAT rates to incentivise this more sustainable option.
---
Grade II Edwardian swimming baths in Birmingham restored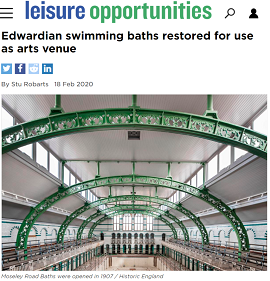 Donald Insall Associates, with the help of Historic England, has completed restoration work of Moseley Road Baths, being converted for use as an arts and culture venue.
---
IHBC Marsh Award Nominations – Closing Date 30 March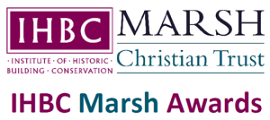 Celebrate your local 'retired members' and 'successful learners' with £500 cash prizes and 2020 Brighton School places!
---
Biodiversity Net Gain through UK Construction Projects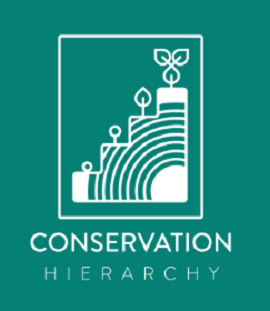 The Conservation Hierarchy is a new framework developed by the University of Oxford to help construction projects achieve Biodiversity Net Gain.
---
How Project Managers for Town Centre Developments can Balance Risk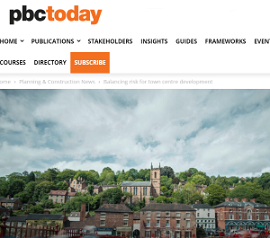 Jacqueline Hughes, senior risk analyst at Equib, in pbctoday discusses how project managers for town centre developments can get their risk management strategies right.
---
Red Tape is Strangling our High Streets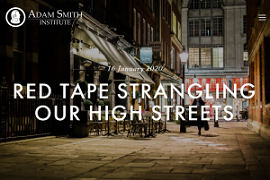 A new paper from the Adam Smith Institute argues that the problem with the High Street has been totally misunderstood, saying that we need to reform restrictive planning rules and reject a policy of managed decline to reinvigorate our town centres.
---
Calculating the full cost of energy used by buildings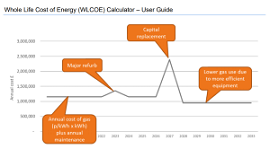 The Whole Life Cost of Energy (WLCoE) calculator – issued by government in BETA form – is intended to help building owners and operators to understand the full financial cost of the energy their buildings use, and welcomes feedback
---
England's heritage worth £31Bn: New Historic England report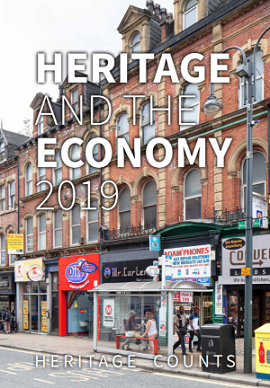 New research published by Historic England (HE) shows the value of heritage to England's economy as it contributes to economic prosperity and growth through jobs in the heritage and construction sectors and from tourism.
---