Loss of senior conservation staff and posts in England March 2010 to April 2011
This article was created by the Institute of Historic Building Conservation (IHBC). It was written by Fiona Newton, IHBC Projects Officer and published in December 2012. You can see the original article on the IHBC website.
Executive summary
Concern for the age and experience profile of conservation staff across England and absence of succession planning has led IHBC to enumerate the nature and scale of the problem. This paper serves to set out the emerging deficit and to help inform any action.
Introduction
Numbers of Conservation staff in England fell in 2011 by 6%, according to the figures collected by the IHBC and published in conjunction with English Heritage and The Association of Local Government Archaeological Officers (ALGAO). In addition to the published headline figures for 2011 we have also examined the survey material to look at the impact of recent staff cuts on older staff at senior levels in local authorities. The senior staff referred to here are those at Principal level and above and mainly known to be over 55.
Headline figures:
| | |
| --- | --- |
| Total number of conservation staff at end of 2011 | 568 |
| Total loss of conservation staff for 2011 | 39 |
| % loss of total conservation staff for 2011 | 6% |
| Total loss of senior staff for 2011 | 16.3 |
| % loss of senior staff as percentage of all staff for 2011 | 2.6% |
| | |
| --- | --- |
| Loss of senior staff (posts of principal or above) | |
| Senior staff made redundant and not replaced (FTE) | 2.5 |
| Senior staff left voluntarily and not replaced (FTE) | 1.6 |
| Senior staff retired and not replaced (FTE) | 4.7 |
| Reduced hours of senior staff (FTE) | 4 |
| Total | 13.3 |
| | |
| --- | --- |
| Loss of senior posts but retention of staffing levels | |
| Senior staff left and replaced by downgraded post, reduced experience post-holders or more junior staff (FTE) | 3 |
Context
In 2008 the IHBC survey of conservation staffing also took a snap shot survey of the age profiles of the staff. This showed that just over 30% of conservation staff were aged between 50 and 59. Some of these staff will have reached 60 by 2011 and have been looking towards retirement. Others may have hoped to continue working for some years more.
Loss of staff is caused by compulsory redundancies or severance packages, by staff leaving for unspecified reasons and from retirement, including early retirement and, critically of course, then the failure to replace them.
A number of older staff work to reduced hours (in easing the way to retirement) but the time is not backfilled, and this leads to a decrease in general capacity and, specifically, a reduction in the experience of those over 55. This is a relatively common pattern where staff approach retirement and phased retirement may be the chosen route by the current post-holder but once they retire entirely it is possible that, if not lost completely, the post will only be filled on the reduced hours latterly funded. Not all reductions of senior staff hours have been the chosen path of post-holders, some have been enforced by the Local Authority as part of cuts.
Those who are senior, both in organizational status and in age, generally have more experience and knowledge both of the wider conservation role and of their geographical area of work: their loss to conservation services is considerable. They often leave sometime before any replacement is in place (if indeed one is made), leading to a lack of continuity of knowledge and practice. Younger and more junior staff appointed after such hiatus are not able to inherit the skills and knowledge from those with the experience.
---
This is one of a series of occasional Research Notes published by The Institute of Historic Building Conservation (IHBC). The Notes necessarily reflect knowledge and practice at the time they were developed, while the IHBC always welcomes new case examples, feedback and comment to [email protected] for future revisions and updates.
--Institute of Historic Building Conservation 12:34, 24 Jun 2016 (BST)
IHBC NewsBlog
Heritage Collective IHBC 2018 School Principal Sponsor to focus on welcoming delegates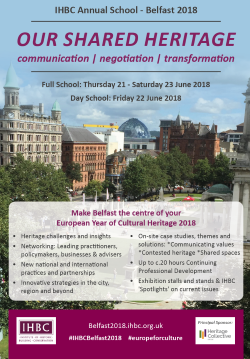 Heritage Collective, principal sponsor and one of 38 IHBC HESPR members, reports that its 11 staff attending the School look forward to offering personal welcomes to delegates.
---
Update for IHBC 2018 School study tour in Derry-Londonderry on Saturday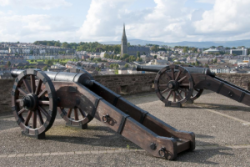 New Derry Walls Management Plan launched complementing the Conservation Plan of 2015.
---
Another IHBC CPD Boost for the 2018 School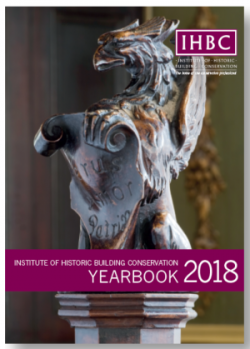 NI Branch Chair and School lead Andrew McClelland explores social takes on shared heritage in IHBC's 2018 Yearbook.
---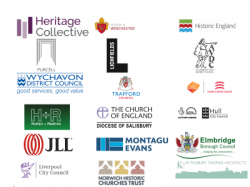 From Historic England's 'Taylor Review' pilot posts to HESPR member Heritage Collective's 'Heritage Consultant' opportunity the IHBC now offers regular reviews.
---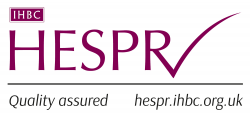 Birmingham CC seeks conservation professional architectural services for GII* listed Highbury Hall, closing 22/06, value £400k.
---
Glasgow Art school- Mackintosh building extensively damaged in recent fire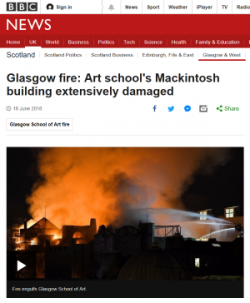 Glasgow's world-renowned School of Art has been gutted by another huge blaze, four years after part of the building was destroyed by fire.
---
RTPI challenges apprenticeship body on assessment plan ruling
The RTPI has challenged the Institute for Apprenticeships' (IfA) ability in assessing professional standards.
---
English government departments - heritage thread highlighted in plans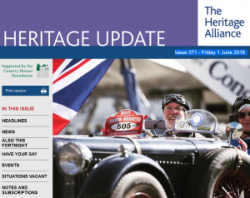 An update from the link body for England's heritage bodies – The Heritage Alliance (THA) - has summarised the heritage threads in recent departmental plans.
---
DCMS Areas of Research Interest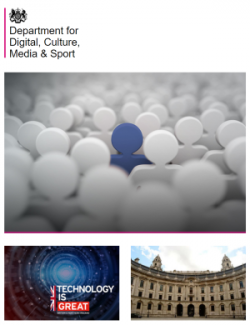 The first Areas of Research Interest (ARI) publication has been issued, summarising the most important research questions facing DCMS.
---
SAVE 2018 to 2019 Buildings at Risk Catalogue due 27 June 2018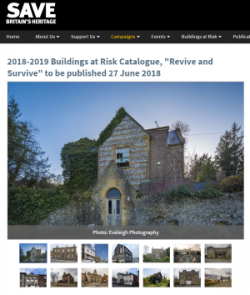 The 2018-2019 Buildings at Risk Catalogue, 'Revive and Survive' will be published by SAVE on 27 June 2018.