The Institute of Historic Building Conservation
The Institute of Historic Building Conservation (IHBC) is the professional body for building conservation practitioners and historic environment experts working in the United Kingdom, with connections to the Republic of Ireland.
The Institute exists to establish, develop and maintain the highest standards of conservation practice, to support the effective protection and enhancement of the historic environment, and to promote heritage-led regeneration and access to the historic environment for all. There is a network of regional and national branches around the UK.
Historic places attract people, activity and investment, giving new life to their communities and helping make places more competitive. They play a central role in regenerating towns, cities and rural areas all around the UK, especially helping to repopulate inner-city areas.
Using internationally-recognised standards, IHBC assesses and regulates conservation practitioners. IHBC members come from a range of professional disciplines in the public, private and voluntary sectors, including conservation officers, planners, architects, regeneration practitioners and academics. The work of members varies from overseeing small-scale traditional repairs to managing multi-million pound area regeneration projects.
IHBC's values include:
Managing change: Helping historic places thrive by accommodating change and adapting for the future while providing continuity with the past.
Heritage-led regeneration: Assisting tourism and promoting local economic diversity through developing the historic environment.
Sustainable development: Preserving resources and minimising carbon emissions associated with demolition and redevelopment.
Design: Appreciating that historic places are the inspiration for the great architecture of the future.
Valuing heritage: Caring for historic buildings and places that have their own intrinsic cultural, social, educational and spiritual value.
The IHBC works to provide regular training, continuing professional development (CPD) and education events, as well as lobbying at international, national, regional and local levels.
Its publications include:
The IHBC also partners with, and assesses, various conservation courses across the UK to encourage training and professional development in the sector.
For more information, see the IHBC's website.
Also see a list of articles by IHBC on Designing Buildings Wiki.
--Institute of Historic Building Conservation 15:56, 20 Jun 2016 (BST)
IHBC NewsBlog
IHBC President reminds on nominations for 2018 Marsh Awards – closing 28 Feb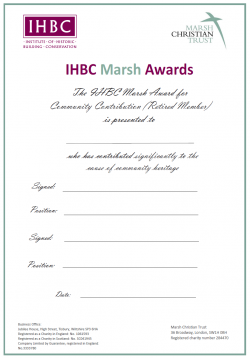 IHBC President David McDonald is encouraging members to consider nominations for the newly launched Marsh Awards.
---
IHBC - Heritage from the doorstep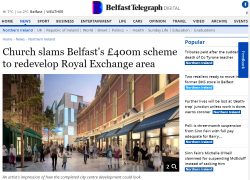 Church slams Belfast's £400m regen scheme due to 'lack of attention to… preserving or enhancing character'.
---
IHBC CPD reminder – Historic England Heritage Planning Case Database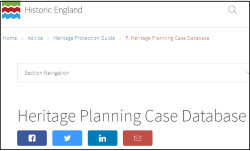 HE publishes database to search for appeal and call-in decisions on planning permission affecting heritage assets and listed building consent in England.
---
Cadw research update on preservation of listed buildings in disrepair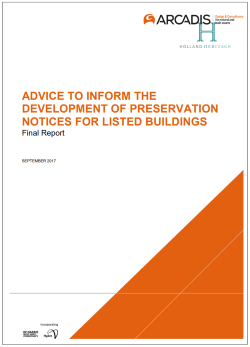 The research relates to how the Historic Environment (Wales) Act 2016 can allow Welsh Ministers make regulations to give LAs new powers to issue 'preservation notices'.
---
Scottish Government publish key findings from the SHCS 2016

Key findings from the Scottish House Condition Survey (SHCS) 2016, include energy efficiency ratings, carbon emissions, Scottish Housing Quality Standard and disrepair.
---
Threat of legal action leads NP to defer planning decision on new homes for locals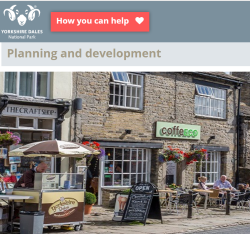 Yorkshire Dales National Park Authority has deferred a decision on whether to grant planning permission for five new, affordable homes in Bainbridge for local people.
---
Latest SPAB Briefing series available to download - Disaster and Recovery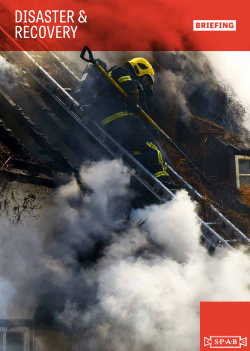 Briefings offer cutting-edge information to help both owners and building professionals.
---
Income cannot plug gaps from funding cuts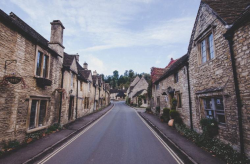 England's Local Government Association has responded to the provisional Local Government Finance Settlement published recently.