The Institute of Historic Building Conservation
The Institute of Historic Building Conservation (IHBC) is the professional body for building conservation practitioners and historic environment experts working in the United Kingdom, with connections to the Republic of Ireland.
The Institute exists to establish, develop and maintain the highest standards of conservation practice, to support the effective protection and enhancement of the historic environment, and to promote heritage-led regeneration and access to the historic environment for all. There is a network of regional and national branches around the UK.
Historic places attract people, activity and investment, giving new life to their communities and helping make places more competitive. They play a central role in regenerating towns, cities and rural areas all around the UK, especially helping to repopulate inner-city areas.
Using internationally-recognised standards, IHBC assesses and regulates conservation practitioners. IHBC members come from a range of professional disciplines in the public, private and voluntary sectors, including conservation officers, planners, architects, regeneration practitioners and academics. The work of members varies from overseeing small-scale traditional repairs to managing multi-million pound area regeneration projects.
Managing change: Helping historic places thrive by accommodating change and adapting for the future while providing continuity with the past.
Heritage-led regeneration: Assisting tourism and promoting local economic diversity through developing the historic environment.
Sustainable development: Preserving resources and minimising carbon emissions associated with demolition and redevelopment.
Design: Appreciating that historic places are the inspiration for the great architecture of the future.
Valuing heritage: Caring for historic buildings and places that have their own intrinsic cultural, social, educational and spiritual value.
The IHBC works to provide regular training, continuing professional development (CPD) and education events, as well as lobbying at international, national, regional and local levels.
Its publications include:
The IHBC also partners with, and assesses, various conservation courses across the UK to encourage training and professional development in the sector.
For more information, see the IHBC's website.
Also see a list of articles by IHBC on Designing Buildings Wiki.
--Institute of Historic Building Conservation 15:56, 20 Jun 2016 (BST)
Featured articles and news
IHBC asks you to contribute to the debate on gentrification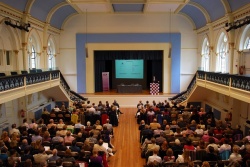 The Guardian reports on the dangers of gentrification - join the debate at IHBC NewsBlogs
---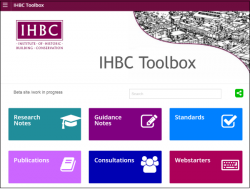 Our Toolbox offers easy access to the essential tools in conservation practice including links to Standards, 22 Practice notes, Consultations and much more.
---
Churchill Barriers to be listed

Second World War structures at Scapa Flow have been recognised as being of national importance by Historic Environment Scotland (HES).
---
Historic brick reservoir image wins award
The image of a covered reservoir in London's Finsbury Park has won the best architecture photograph of the year at the Arcaid Images Architectural Photography Awards 2016.
---
Westminster City Council gains approval for Special Policy Areas
The London Council's plans are given the go-ahead to management development in five unique specialist clusters.
---
Property Flood Resilience Action Plan out
An independent report has been issued relating to flood protection, aiming to help with flood resilience.