Historic England

English Heritage (or the Historic Buildings and Monuments Commission for England) was created by the National Heritage Act 1983 when it took on heritage functions previously carried out by the Department of the Environment (DOE), the Ancient Monuments Board for England and the Historic Buildings Council for England. Subsequently it also took on the functions of the Royal Commission on the Historical Monuments of England (RCHME).
On 14 October 2014, the Department for Culture, Media & Sport (DCMS), Ed Vaizey MP and English Heritage confirmed that the government would split English Heritage into two organisations:
Historic England, the new official name for The Historic Buildings and Monuments Commission for England previously known as English Heritage, which will provide planning and conservation services.
A new charity, officially called the English Heritage Trust, which took the name of English Heritage and will manage the National Heritage Collection (state-owned historic properties that are open to the public) under a licence from Historic England that runs until 2023. Historic England is the sole member of English Heritage who will appoint trustees to its board.
This change took place on 1 April 2015.
Historic England describes itself as '…the public body that looks after England's historic environment. We champion historic places, helping people understand, value and care for them.'
It is funded by grant-in-aid from the Department for Culture, Media and Sport and a small amount of other funding, such as research grants and lottery funding.
Its purpose is to:
Secure the preservation of ancient monuments and historic buildings.
Promote the preservation and enhancement of the character and appearance of conservation areas.
Promote the public's enjoyment and knowledge of, ancient monuments and historic buildings.
It does this by:
Historic England is overseen by the governing board of the Historic Buildings and Monuments Commission for England. It is run by a Chief Executive supported by an Executive Board comprising the Executive Directors of Historic England's five operational groups.
It has three non-executive committees that advise on strategy, policy and casework and four committees to help manage internal business. It also has five non-executive panels to advise staff on policy and practice in specialist fields.
Featured articles and news
IHBC asks you to contribute to the debate on gentrification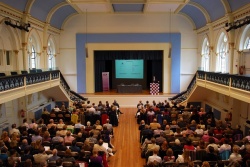 The Guardian reports on the dangers of gentrification - join the debate at IHBC NewsBlogs
---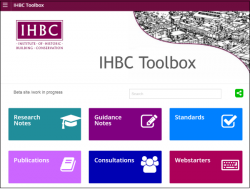 Our Toolbox offers easy access to the essential tools in conservation practice including links to Standards, 22 Practice notes, Consultations and much more.
---
Churchill Barriers to be listed

Second World War structures at Scapa Flow have been recognised as being of national importance by Historic Environment Scotland (HES).
---
Historic brick reservoir image wins award
The image of a covered reservoir in London's Finsbury Park has won the best architecture photograph of the year at the Arcaid Images Architectural Photography Awards 2016.
---
Westminster City Council gains approval for Special Policy Areas
The London Council's plans are given the go-ahead to management development in five unique specialist clusters.
---
Property Flood Resilience Action Plan out
An independent report has been issued relating to flood protection, aiming to help with flood resilience.