Scottish Natural Heritage
[edit]
Introduction
Scottish Natural Heritage (SNH) is the public body responsible for advising the Scottish government on its natural heritage, which includes its wildlife, habitats, landscapes and natural beauty. It describes its mission as: 'All of nature for all of Scotland'.
[edit]
Purpose
The purpose of Scottish Natural Heritage is to:
Promote the care for and improvement of the natural heritage.
Help people enjoy the natural heritage responsibly.
Enable a greater understanding and awareness of the natural heritage.
Promote the sustainable use of the natural heritage, now and for future generations.
[edit]
Corporate plan
The Scottish Natural Heritage Corporate plan for 2012 to 2015 sets out 12 objectives for supporting the Government Economic Strategy, with the intention of focusing '…the Government and public services on creating a more successful country, with opportunities for all of Scotland to flourish, through increasing sustainable economic growth', and in particular the benefits of securing '…a high quality environment and a sustainable legacy for future generations'.
The Business Plan for 2014/15 describes how Scottish Natural Heritage will deliver the Corporate Plan.
Scottish Natural Heritage is run by a Chief Executive with three directors who manage the key work streams:
Operations.
Policy and advice.
Corporate services.
[edit]
Development advice
Scottish Natural Heritage plays a key role in the planning process and has produced a range of documents and other guidance for planners and developers.
[edit]
External references
Featured articles and news
IHBC Gus Astley Student Award 2017 now open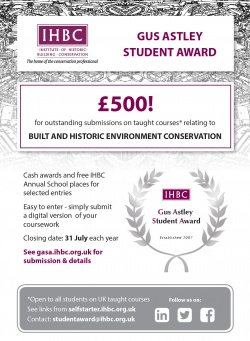 Send in your coursework on a taught course by 31 July for a chance to win a prize and attend the IHBC's Annual School in Belfast in June 2018.
---
Can Wellington (NZ) save its heritage buildings before it's too late?

---
Local military heritage at risk
The Daily Telegraph reports that many small regimental museums are to lose Ministry of Defence (MoD) funding by the end of next decade.
---
Heritage Open Days festival 2016 attended by millions
The Heritage Open Days (HODs) 2016 Impact Report shows an estimated 3 million visitors attending 5293 events with £10m for local economies.
---
International News - Cultural Protection Fund projects announced
The British Council has announced the initial projects to be supported by the Cultural Protection Fund, which will protect heritage overseas.