Designated areas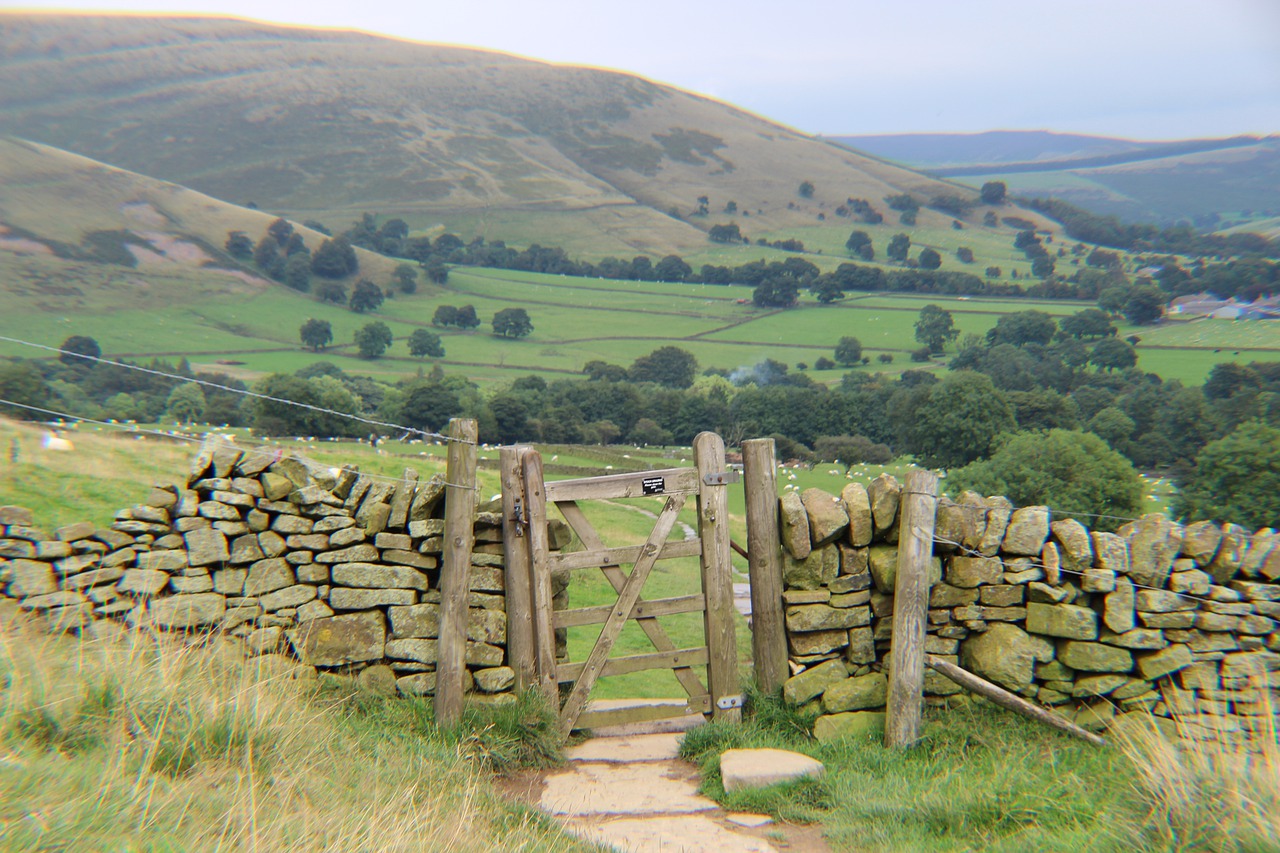 [edit]
Introduction
Designation can be used to protect areas of value and scientific interest and to ensure that such areas are properly managed. This includes areas of particular value for the conservation of species, habitats, historic and cultural assets and landscapes of great value or beauty.
Designation is driven by a goal to conserve and enhance such areas and is underpinned by UK and international legislation. Development within or near designated areas is subject to additional controls.
There are two types of designation in the UK, Statutory Designation and Non-Statutory Designation.
Approximately 28% of England is designated as Sites of Special Scientific Interest, Areas of Outstanding Natural Beauty or National Parks.
SSSIs were first established in 1949 by the Nature Conservancy so the conservation of important sites of natural habitat, wildlife and geological heritage could be taken into account during the planning process. Today, Natural England has responsibility for identifying and protecting SSSIs in England under the provisions of the Wildlife and Countryside Act.
For more information see: Sites of Special Scientific Interest
SACs are areas designated under the European Union's Habitats Directive to be of value for species, plants and habitats. They comprise marine and terrestrial SACs.
For more information see: Special Areas of Conservation
SPAs are designated under the Birds Directive to protect internationally valuable populations of bird species. They comprise inshore marine SPAs and terrestrial SPAs.
For more information see: Special Protection Areas
National parks are areas of the countryside designated to conserve and enhance their natural beauty, wildlife and cultural heritage and the open air recreation they facilitate.
For more information see: National parks
ANOBs are designated to conserve natural beauty in England, Wales and Northern Ireland.
For more information see: Areas of Outstanding Natural Beauty
In Scotland, a National Scenic Area (NSA) is an area of countryside with high scenic value of national importance and interest that has statutory protection to conserve and enhance the natural beauty of its landscape.
National Scenic Areas (NSAs) include:
For more information see: National Scenic Area
NNRs are areas managed in England by Natural England for the preservation of flora, fauna, geological and physiological features of special interest.
For more information see: National Nature Reserves
Ramsar sites are wetlands of international importance designated under the Ramsar Convention.
For more information see: Ramsar sites
Marine protected areas include Special Areas of Conservation (SACs) for habitats of European importance, Special Protection Areas (SPAs) for birds, Marine Conservation Zones (MCZs) and Marine Nature Reserves designated to conserve marine flora and fauna and features of special interest.
National trails are long-distance trails through National Parks or Areas of Outstanding Natural Beauty.
For more information see: National Trails
Heritage coasts are areas of coastline managed to conserve and enhance their natural beauty, facilitate appreciation by the public, and maintain and improve their environmental health. They are defined areas rather than designated and so establishing them does not require the statutory designation process, they are protected by planning through development control.
For more information see: Heritage coast
World heritage sites are sites with internationally important cultural or national heritage.
For more information see: World Heritage Sites
LNRs are areas of special local wildlife or geological interest.
Local sites are designated by Local Planning Authorities. They include Sites of Importance for Nature Conservation (SINCS), Sites of Nature Conservation Importance (SNCIs) and County Wildlife Sites.
Other local sites where restrictions might apply include registered common land and registered town or village greens. In addition, conservation areas, tree preservation orders and listed buildings require additional consent for development.
Global Geoparks are part of the Global Geopark Network supported by UNESCO.
Biosphere reserves are designated under UNESCO's Man and the Biosphere Programme.
[edit]
External references
IHBC NewsBlog
Part of historic Old Courthouse in Cockermouth collapses into river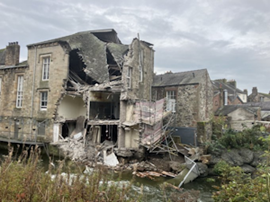 A section has fallen away and landed in the River Cocker below, including the back walls over three floors, sections of flooring and parts of the roof.
---
Scaffolding removed from Salisbury Cathedral after 37 years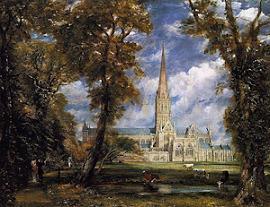 Starting with a survey in 1986, the 'topping out' ceremony took place 7 Sep 2023.
---
Demolition of Kirkcaldy's Category B former Kitty's nightclub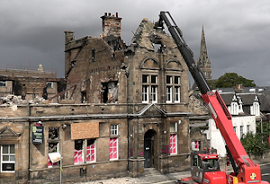 Following a fire, engineers confirmed that the building faced complete demolition.
---
Irreplaceable Welsh castle saved from collapse thanks to £2.2m grant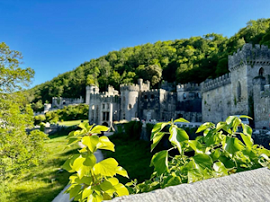 Wales' Gwrych Castle has a funding lifeline from the National Heritage Memorial Fund (NHMF) as part of its Covid-19 Response Fund
---
New interactive models of the 'Dinosaurs' sculptures in Crystal Palace Park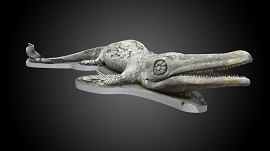 Interactive 3D models have been created of the 29 surviving 'dinosaurs' in Palace Park, South London.
---
How was it built – the Iconic Forth Bridge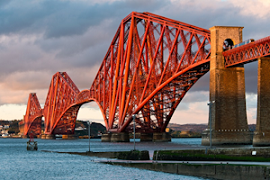 The Forth Bridge is one of the engineering wonders of the world. From the Engine Shed HES, find out more about how this incredible structure was built and what the conservation challenges are today.
---
Stirling's Christie Clock Tower demolition 'over safety' sparks Council investigation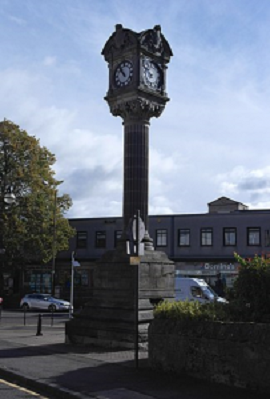 A clock tower which stood in Stirling for 117 years has been controversially and dramatically demolished by the local council over safety fears
---
The Natural Stone Source Book 2023-24 Specifiers Guide published

This guide is designed to be both inspirational and educational, providing the information and creative stimulation needed for successful completion of a natural stone project.
---
Context C176 published - World Heritage Sites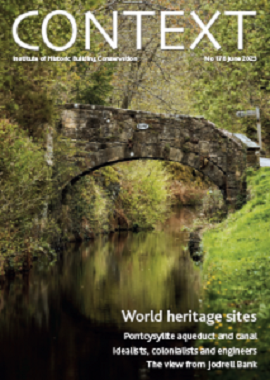 The issue explores the diverse facets of conservation of World Heritage Sites from across our globe.
---
Historic Environment Scotland unveils plans for new Archive House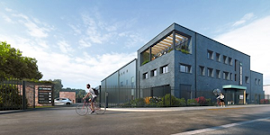 The innovative project will be an exemplar of reuse and retrofit of an existing building.