World heritage site
[edit]
Introduction
A World Heritage Site is a site that has been inscribed by UNESCO (the United Nations Educational, Scientific and Cultural Organisation) on its World Heritage List. In order to qualify, it must be of outstanding universal cultural or natural value (or both). The age of a site is irrelevant.
The list was initiated following the World Heritage Convention in 1972 and includes a variety of sites such as landscapes, cities, monuments, technological sites and modern buildings.
[edit]
Current list
As of 2015, there are 1031 sites listed which includes:
802 cultural.
197 natural.
32 mixed.
In the UK, there are 29 listed sites including; 24 for culture, 4 for nature and 1 mixed. This includes Canterbury Cathedral, Hadrian's Wall, the city of Bath and Stonehenge.
[edit]
Inscription process
The first stage to becoming a World Heritage Site is the inscribing of the site on the prospective list held by the government. Each year, every country is eligible to propose a single site from the prospective list for consideration for inscription onto the Wold Heritage List.
This requires extensive preparatory work, as the inscription process means that a site has to demonstrate how it meets one or more of UNESCO's ten criteria for eligibility. If a site is successful, it means that it is recognised as being of outstanding value to humanity as a whole.
Any sites listed on the World Heritage List are monitored by UNESCO to ensure their preservation. If a site is considered to be under threat, for example from neglect or wilful destruction, it can be added to the World Heritage in Danger List. This highlights the site to the international community and also means the site becomes eligible for financial support from the World Heritage Fund. It is also possible, in severe circumstances, that UNESCO can revoke World Heritage status if it has lost the qualities that made it outstanding.
In the UK, according to government policy, all sites must have a World Heritage Site management plan in place to ensure they are managed sustainably.
Through being designated as a World Heritage Site, no additional statutory controls are afforded the site. However, the planning system gives protection, as well as other designations (listed buildings, scheduled monuments etc).
The National Planning Policy Framework (NPPF) defines a World Heritage Site as a designated heritage asset and therefore weight should be given to its conservation and development that results in substantial harm or loss to the site should be avoided wherever possible. It may also be necessary to protect the setting of a site, for example through a buffer zone where there are restrictions on development.
Where a development is proposed that may affect a World Heritage Site, information will be required with an application to enable an assessment of impact on Outstanding Universal Value. This could include a visual impact assessment, archaeological data or historical information. It is often part of an Environmental Statement.
World Heritage Sites are considered to be 'sensitive areas' for the determining whether an Environmental Impact Assessment is required for a development.
[edit]
Find out more
[edit]
External references
IHBC NewsBlog
Find an IHBC HESPR accredited professional using our map-based search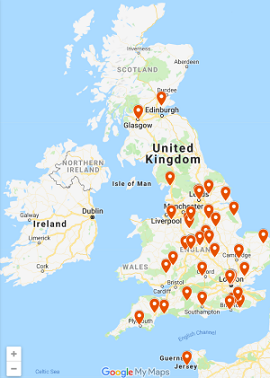 Find the office locations of HESPR members – IHBC's Historic Environment Service Provider Recognition (HESPR) scheme – using our map-based facility.
---
The Liverpool Grade II 'jewel' that lies empty, derelict and vandalised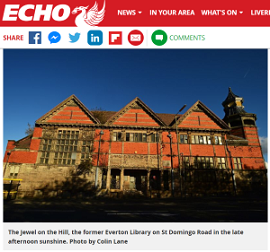 Liverpool landmark the Everton Library, a Grade II (GII) listed building that has been the focus of calls to restore it to its former glory continues to lie leaking, vandalised and derelict, when £5m could renovate the building, reports The Liverpool Echo.
---
Flintshire: Shotton steelworks' John Summers building to be restored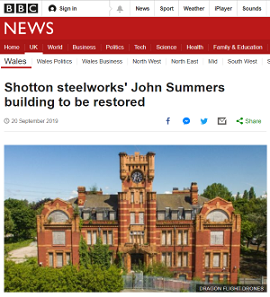 A landmark on a list of the UK's most endangered buildings, Shotton steelworks' Grade II-listed general office and clock tower, is to be brought back to life in Flintshire.
---
Rochdale Market, Manchester, to close as trader numbers and revenue continue to fall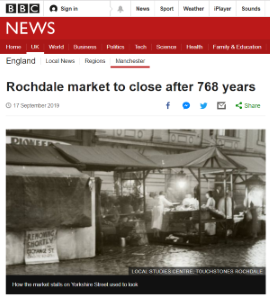 Rochdale Borough Council writes: Over the past year the number of traders regularly attending the market has halved and it is not financially viable.
---
IHBC supports Climate Heritage Network Global Launch: Edinburgh 24-25 Oct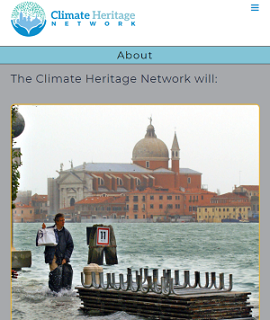 The Climate Heritage Network (CHN) Global Launch is a two-day program devoted to urgently mobilizing the cultural heritage sector for climate action across the globe.
---
Brunel's 'other bridge' in Bristol to be 'saved with £62k grant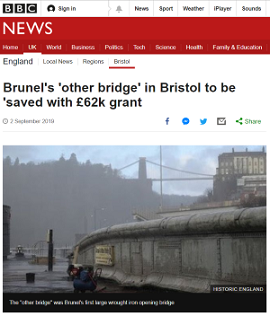 A swing bridge that was designed by Brunel is to be 'saved' with a £62,000 grant from Historic England.
---
Victorian Society announce Top 10 Most Endangered Buildings 2019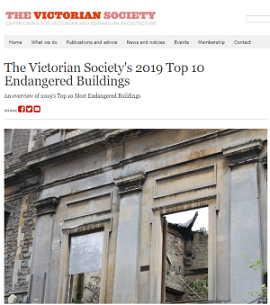 On September 13th the Victorian Society announced its Top 10 Endangered buildings list.
---
American Cities Then & Now: See How New York, Los Angeles & Detroit Look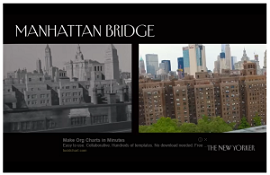 An Open Culture article takes a look at the American Cities of New York, Los Angeles and Detroit comparing how they look now compared to the 1930s and 1940s.
---
Great Yarmouth's Venetian Waterways to recapture former glories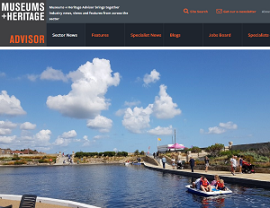 Great Yarmouth's 91 year old Venetian Waterways has been re-opened to the public following a £2.7 million regeneration project.
---
Fire engulfs Grade II-listed Horncliffe Mansion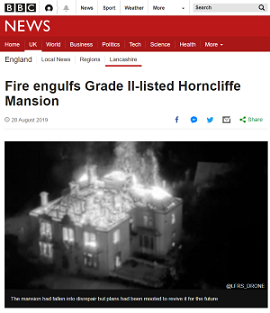 BBC news has reported on how the Grade II-listed mansion, Horncliffe Mansion in Rawtenstall has been 'completely gutted' after a fire tore through the derelict building.
---