Conservation in the heritage cities of Venice and Liverpool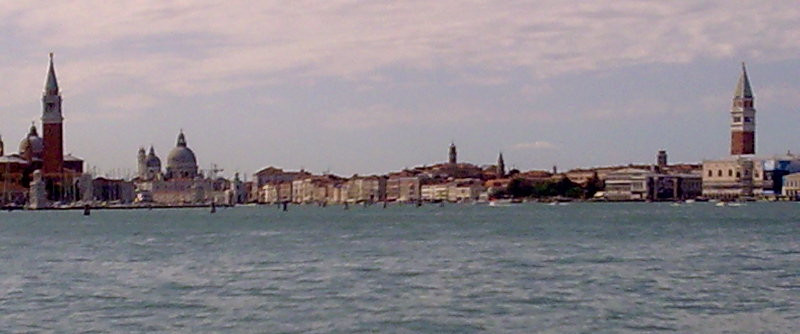 On a very crowded vaporetto heading for the station, my then six-year-old daughter was found to be weeping. The reason, it transpired, was 'I don't want to leave Venice'. She spoke for all of us and, I dare say, a goodly number of the other passengers. It is a sentiment expressed in a myriad of elegant ways by scores of literary figures over the years.
The appeal of Venice is indisputable; it is the embodiment of the concept that people enjoy being in historic environments; it was a destination for its own sake long before it was found by the romantic poets. Their enthusiasm was kindled by Wordsworth's 1802 sonnet 'On the Extinction of the Venetian Republic', which refers to the events of 1797 when supposedly neutral Venice antagonised Napoleon and, after many years of decline, finally had to surrender its sovereignty.
During a recent week there I found myself repeatedly musing on two major issues that have dogged Venice for centuries which encapsulate the problems of the historic environment everywhere: to what use can a post-imperial city be put – use being the key to the preservation of fabric – and how do you deal with the ravages of the environment?
Venice is constructed on many millions of timber piles driven into the mud of the lagoon. (In the city's heyday they gave rise to the near deforestation of Dalmatia.) That such foundations are liable to subsidence is no surprise and is remarked on by Lord Byron (who lived in Venice from 1816 to 1819) in the fourth Canto of Childe Harold's Pilgrimage, his epic semi-autobiographical poem: 'Venice, lost and won,/ Her thirteen hundred years of freedom done,/ Sinks, like a seaweed, into whence she rose!" Not only does this condition continue today, it is worsened by the threat of rising global sea levels. Several times a month the acqua alta results in flooding of some streets, sometimes severely enough that tourists are strongly advised to check the tide tables. An alleviation project is in the offing: the controversial Modulo Sperimentale Elettromeccanico (MoSE). But this has been more than 50 years in the making and it is not certain how effective it will be when it finally comes into operation later this year. One hopes that it will reduce the water erosion of the fabric of Venice, and that it will not have too much impact on the ecology of the lagoon, which is also of international importance.
Of course the 'new use' to which Venice has de facto been put is tourism, although this is as much a problem as an answer. Far be it from me to wish to deny anyone the experience of Venice. But turismo mordi e fuggi (hit-and-run tourism) requires considerable public management yet does little for Venice's economy and even less for the upkeep of its fabric which, like historic fabric elsewhere, is expensive to conserve authentically. Nor is this new: Henry James, in his 1882 essay on Venice, remarks wryly: 'It is possible to dislike Venice… and those who are not of this opinion often find themselves wishing that the others were only more numerous.' The world heritage listing for Venice remarks on the efforts that have been made in introducing new arts and education establishments to the city to diversify its economy, but the underlying problem is intractable. The high cost of maintenance and restoration is not compatible with affordable housing or many of the lower value uses that a city needs to function properly. And the resident population is still in decline.
In the Church of the Frari stands the enormous monument to Doge Giovanni Pesaro (died 1659). The typical free-style Venetian baroque of Baldassarre Longhena seats Pesaro aloft in the position normally occupied by the Virgin Mary, surrounded by eight allegories of his supposed virtues, a bit of a whitewash by all accounts. This stands on an entablature which is itself supported by four gigantic telamones of black Africans in ragged clothing, additionally burdened with sacks of produce. The imagery is a glorification of Pesaro and La Serenissima (the Venetian Republic) that placed him at its head. To my 21st-century eyes a more apt satire on the abuse of empires could scarcely be devised. I would like to think that this slant was not lost on the sculptor, the German Melchiorre Barthel, who gave the Africans a strength and dignity absent in the rest of the composition. The monument has not passed unobserved over the years. John Ruskin in The Stones of Venice (1851–3) perhaps predictably has it as the second worst in Venice. Mark Twain describes it in some detail in his travelogue The Innocents Abroad (1868). He also describes his Venice guide, whom he lamentably omits to name: an impeccably dressed, well-educated, erudite and polyglot son of former South Carolina slaves, who has, Twain says, 'no desire to go back to his native land. His judgement is correct.' Oh to have had a conversation with these men about this imagery!
Mention of South Carolina contrives a link, via the trade in cotton and tobacco, to another world heritage site and maritime city founded on the fruits of empire: Liverpool. Like Venice, Liverpool has much historic fabric in need of new uses. Over the past 35 years or so a great deal of regeneration has involved the city's considerable portfolio of historic buildings and docks. But whereas in Venice the very strict planning rules mean that the biggest danger to the world heritage site is lack of action, in Liverpool it is the impact of the positive actions of regeneration projects themselves, to the extent that Unesco currently has it flagged with a red marker. A real estate of derelict docks with few remaining unconverted buildings of quality means regeneration must be in a reimagined spirit of the place. This is not always easy.
The principal issue is the extent to which the zeitgeist of the place is visual, and it is this that forms the nub of the controversy over the future of the Maritime City World Heritage Site. When I commuted daily to Liverpool from Birkenhead on the Mersey Ferry in the early 1980s, part of the appeal was the buzz of the Pier Head, which was then the city's principal transport – and the departure point for the Isle of Man ferry. It seems to me that this was as much part of Liverpool's heritage as the adjacent 'Three Graces', and that its pseudo-replacement with cultural activities such as funfairs leaves it a shadow of its former self, however tastefully landscaped.
A heritage place must be valued for what it is in the round, not just what it is physically. This issue cropped up in another recent world heritage site designation: the English Lake District. There is a school of thought, led by George Monbiot of The Guardian, that it should not have been designated because of its long history of ecological degradation. But this misses the point that historic agricultural practice, the call of the wild for walkers and the romanticisation of the place by the lake poets are all part of the designated heritage. Erosion by three-peak challengees, as with New Zealand's Milford Trail and other bucket-list adventures, is a matter for management, just as it is for historic cities. So I have some sympathy with the views of Liverpool's Lord Mayor, Joe Anderson, in wanting heritage to be a driver and not an inhibitor of regeneration. Of course, the opposing perspectives of the city and Unesco should be capable of resolution. One hopes that the recently established task force will be able to achieve this, whether or not its formation was driven by the dogged campaigning of the late Gavin Stamp writing as Piloti in Private Eye.
Back in Venice, the vast and out-of-scale Mulino Stucky received planning permission in 1895, despite much public disquiet, only because the city council was threatened with job losses if it did not. But this building (now a Hilton Hotel) is now just part of the place. Without it, and the other trappings of tourism, Venice would have none of the exciting buzz of its zenith years. So if it takes a new Goodison Park on a filled-in Bramley Moore Dock to bring the long-absent buzz back to Liverpool's northern dockland, that might not be much different from the filling in of the 18th-century St George's Dock in 1900 to provide the site for the Three Graces themselves. History's 'mistakes' have this uncanny way of becoming today's heritage.
Liverpool quite properly has no intention of going the way Mark Twain saw Venice: 'To-day her piers are deserted, her warehouses are empty… she sits… forlorn and beggared, forgotten of the world.' Forgotten of the world? Hardly! To quote Henry James again: 'if you are wise you will step back there presently.' And to Liverpool too.
---
This article originally appeared as 'When history's mistakes become today's heritage' in IHBC's Context 153, published in March 2018. It was written by IHBC Chair James Caird.
--Institute of Historic Building Conservation
Find out more
IHBC NewsBlog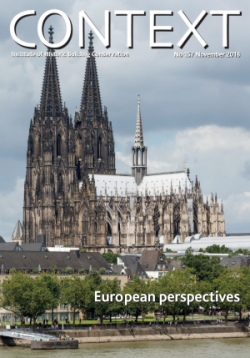 'European Perspectives' in Context 157, includes Jokilehto on 'Concerning Heritage', 'Brexit' takes and more.
---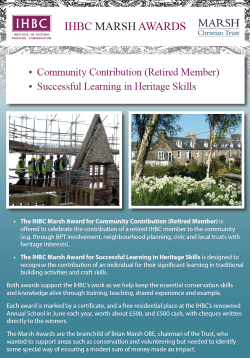 Nominate for the IHBC Marsh Awards 2019 – Celebrate OUTSTANDING retired IHBC members, and SUCCESSFUL new Heritage Learners – Closing 28 Feb!
---
IHBC HESPR top pick from £200K+ costed work this week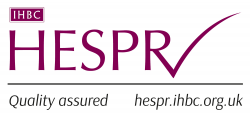 The National Heritage Memorial Fund (NHMF) seeks 'Parks for People' impact assessment, closing 28/01, value £55-60k.
---
Locally-driven approach is needed to rejuvenate town centres
Expert retail industry panel, the Town Centres Expert Panel, calla for a community-focused approach to tackling the challenges facing high streets and town centres.
---
BEIS Committee energy efficiency inquiry - deadline of 17 January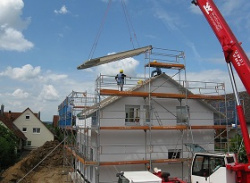 Business, Energy & Industrial Strategy Committee inquiry into Government's approach to delivering energy efficiency improvements to buildings – submissions deadline 17/1.
---
Heritage Lottery Fund: 'Updated Policy Directions' issued by DCMS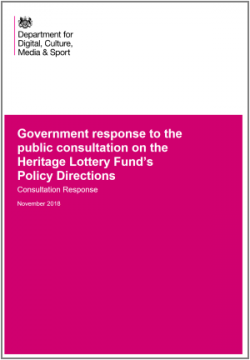 Following consultation, updated policy directions have been issued to the Heritage Lottery Fund (HLF) in its role as a distributing body of National Lottery funds.
---
BSI: UK to maintain European standards position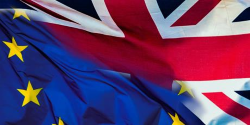 European Standards Organizations have approved a plan to secure BSI's membership post-Brexit.
---
CIOB Parliamentary Reception launches call for improving quality in the built environment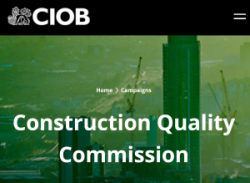 The Chartered Institute of Building's parliamentary reception on 12 Dec launched its report 'Improving Quality in the Built Environment'.
---
Programme to support placemaking in England at local level launched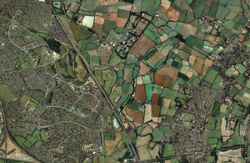 RIBA, Chartered Institute of Housing (CIH), Local Government Association (LGA) and RTPI's 'Future Place' will recognise, reward and encourage high quality placemaking.
---
SPAB awards for new design in historic settings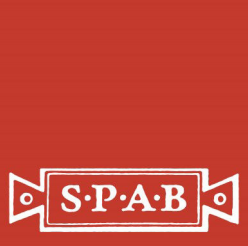 3 young architecture graduates have won the SPAB's, Philip Webb Award, for schemes proving that with imagination and sensitivity you don't need to demolish historic buildings.
---
Dounreay nuclear reactor demolition contract awarded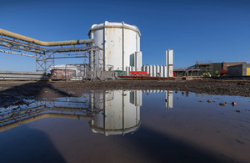 The decommissioning of Dounreay's oldest nuclear reactor in Scotland has taken a major step forward with the award of a multi-million pound demolition contract.
image: Open Government Licence v3.0
---
Civic Voice plans for 2019 - more Conservation Area advocacy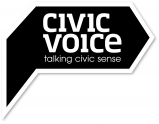 Civic Voice has highlighted how 'hundreds of conservation areas mark their 50th anniversary' in 2019, as it continues its Big Conservation Conversation.
---
Launch of a new strategic framework for heritage science in the UK: 2018-2023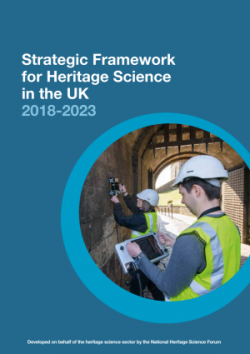 A new strategic framework for heritage science in the UK has been launched.
---
Planning Awards 2019 open - deadline 24 Jan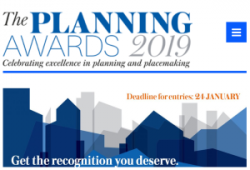 The 2019 Planning Awards have been launched, with categories including an award for 'best use of heritage in placemaking' among 25 linked categories.