Restoration
Restoration is the process of returning a building to its former state. Historic England define this state as being '...a known earlier state, on the basis of compelling evidence, without conjecture.'
Restoration work is most commonly undertaken on historic buildings; accurately recreating its form, features and character as it appeared at a particular time, while protecting its heritage value. Decay or alterations made to the building can be reversed as part of restoration works.
Restoration aims to achieve a high level of authenticity, replicating materials and techniques as closely as possible. Where necessary, modern works, such as replacing outdated utilities, or installing climate controls, alarm systems, and so on, are undertaken in a concealed manner where they will not compromise historic character.
Criteria that might be used to assess whether restoration works are acceptable include:
The weight of evidence for need for the work.
The implications of the work in terms of ongoing maintenance requirements.
The basic principles that should be taken into consideration, particularly for structural restoration:
Having sufficient respect for the original materials.
Respecting the valid contributions of all periods on the building.
Replacement of missing parts must integrate harmoniously with the whole.
Additions should not detract from the building, its setting or relation with surroundings.
Use of traditional techniques and materials.
Modern techniques and materials are admissible where traditional alternatives are not feasible.
Restoration techniques can be classified as either reversible or irreversible. Reversible actions may be preferable as they can be subsequently replaced without damage to the original fabric, for example if further restoration is required, or if better techniques or materials are developed in the future. Typical examples of reversible techniques include:
External buttresses.
Ties at arch springings.
Rings at the base of domes.
Prestressed unbonded stitches.
Anastylosis of stone or marble monuments with dry joints.
External ties.
Improvement of the strength, stiffness and ductility of existing diaphragms.
However, it may not be possible to use reversible methods for interventions, and some interventions cannot be easily undone without causing damage to the existing structure. Typical examples of irreversible techniques include:
The compatibility and durability of the replacement materials should be considered carefully. They should be compatible with the existing building in terms of chemical, mineralogical, physical and mechanical properties, as well as being aesthetically harmonious. Other points to consider are the strength, stiffness, bonding, thermal expansion, and permeability as well as problems such as efflorescence.
Common types of non-metallic materials for irreversible interventions are as follows:
Where high tensile strength or prestressing forces are required, steel is often used, as well as fibre composite cables.
Paintwork and renderings can degrade due to air pollution, acid rain, UV radiation, and so on. Historic paint analysis of old paint layers can determine the original pigmentation and enable a chemical recipe to be reproduced. Often, modern substitutes have to be used, as some paints were originally manufactured using harmful materials such as arsenic and lead.
[edit]
Find out more
IHBC NewsBlog
IHBC's HESPR Pick this week: Scottish THI seeks 'creative(s)' in community engagement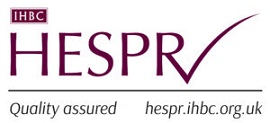 The IHBC's heritage business register HESPR emails members weekly 'News and Tender Alerts', and the IHBC Director's top pick this week features a call from a Scottish authority for 'creative(s)' to deliver 'community engagement projects', closing 28 October.
---
Banksy graffiti taken off Grade II listed Yorkshire bridge facing dismantling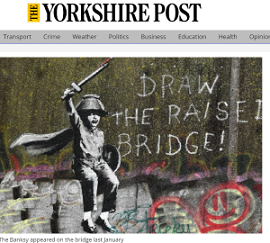 Graffiti by Banksy has been taken off a bridge in Hull as the Grade II (GII) listed Scott Street bridge itself faces dismantling.
---
The Liverpool Grade II 'jewel' that lies empty, derelict and vandalised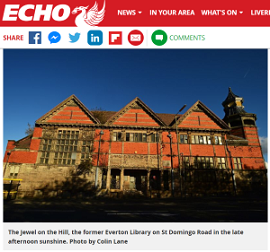 Liverpool landmark the Everton Library, a Grade II (GII) listed building that has been the focus of calls to restore it to its former glory continues to lie leaking, vandalised and derelict, when £5m could renovate the building, reports The Liverpool Echo.
---
Flintshire: Shotton steelworks' John Summers building to be restored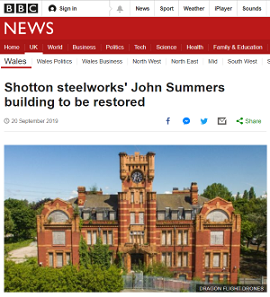 A landmark on a list of the UK's most endangered buildings, Shotton steelworks' Grade II-listed general office and clock tower, is to be brought back to life in Flintshire.
---
Rochdale Market, Manchester, to close as trader numbers and revenue continue to fall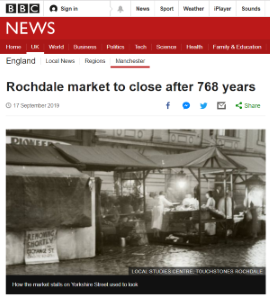 Rochdale Borough Council writes: Over the past year the number of traders regularly attending the market has halved and it is not financially viable.
---
IHBC supports Climate Heritage Network Global Launch: Edinburgh 24-25 Oct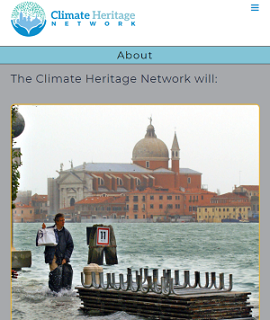 The Climate Heritage Network (CHN) Global Launch is a two-day program devoted to urgently mobilizing the cultural heritage sector for climate action across the globe.
---
Brunel's 'other bridge' in Bristol to be 'saved with £62k grant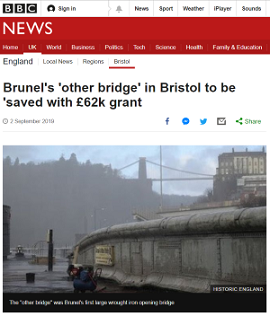 A swing bridge that was designed by Brunel is to be 'saved' with a £62,000 grant from Historic England.
---
Victorian Society announce Top 10 Most Endangered Buildings 2019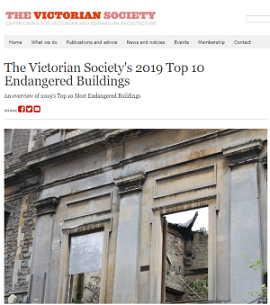 On September 13th the Victorian Society announced its Top 10 Endangered buildings list.
---
American Cities Then & Now: See How New York, Los Angeles & Detroit Look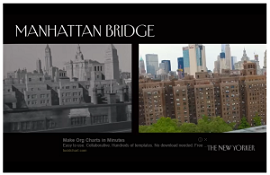 An Open Culture article takes a look at the American Cities of New York, Los Angeles and Detroit comparing how they look now compared to the 1930s and 1940s.
---
Great Yarmouth's Venetian Waterways to recapture former glories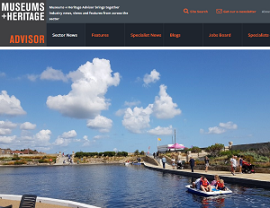 Great Yarmouth's 91 year old Venetian Waterways has been re-opened to the public following a £2.7 million regeneration project.
---