Restoration
Restoration is the conservation process of returning a building to its former state. Historic England define this state as being 'a known earlier state, on the basis of compelling evidence, without conjecture.'
Restoration work is most commonly applied to historic buildings; accurately depicting its form, features and character as it appeared at a particular time, while protecting its heritage value. Decay or alterations made to the building can be reversed as part of restoration works.
Restoration aims for a high level of authenticity, replicating materials and techniques as closely as possible. Modern techniques should be used in a concealed manner where they will not compromise the historic character, such as replacing outdated utilities to modern, or installing climate controls, alarm systems, and so on.
Some criteria are often used to assess whether restoration works are acceptable:
The basic principles that should be taken into consideration, particularly for structural restoration, include the following:
Restoration techniques can be classified as either reversible or irreversible. Reversible actions may be preferable in case they are proven inefficient or of low durability, as they can then be replaced without damage to the original fabric. Also, in case that better techniques or materials are developed at some point in the future. Typical examples of reversible techniques include:
Often it may not be possible to use reversible methods for interventions, and it may prove the case that interventions cannot be easily undone without causing damage to the existing structure. Typical examples of irreversible techniques include:
The compatibility and durability of the replacement materials should be considered carefully. They should be compatible to the existing building in terms of chemical, mineralogical, physical and mechanical properties, as well as being aesthetically harmonious. Other points to consider are the strength, stiffness, bonding, coefficient of thermal expansion, permeability and problem of efflorescence.
Common types of non-metallic materials for irreversible interventions are as follows:
Where high tensile strength or prestressing forces are required, steel is often used, as well as fibre composite cables.
Problems can be posed to paintwork and renderings due to air pollution, acid rain, UV radiation, and so on. Historic paint analysis of old paint layers can determine the original pigmentation and enable a chemical recipe to be reproduced. Often, substitutes will need to be provided, as some paints were manufactured using harmful materials such as arsenic and lead.
Featured articles and news
IHBC Gus Astley Student Award 2017 now open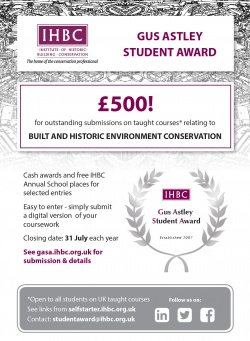 Send in your coursework on a taught course by 31 July for a chance to win a prize and attend the IHBC's Annual School in Belfast in June 2018.
---
Can Wellington (NZ) save its heritage buildings before it's too late?

---
Local military heritage at risk
The Daily Telegraph reports that many small regimental museums are to lose Ministry of Defence (MoD) funding by the end of next decade.
---
Heritage Open Days festival 2016 attended by millions
The Heritage Open Days (HODs) 2016 Impact Report shows an estimated 3 million visitors attending 5293 events with £10m for local economies.
---
International News - Cultural Protection Fund projects announced
The British Council has announced the initial projects to be supported by the Cultural Protection Fund, which will protect heritage overseas.