Restoration
Restoration is the process of returning a building to its former state. Historic England define this state as being '...a known earlier state, on the basis of compelling evidence, without conjecture.'
Restoration work is most commonly undertaken on historic buildings; accurately recreating its form, features and character as it appeared at a particular time, while protecting its heritage value. Decay or alterations made to the building can be reversed as part of restoration works.
Restoration aims to achieve a high level of authenticity, replicating materials and techniques as closely as possible. Where necessary, modern works, such as replacing outdated utilities, or installing climate controls, alarm systems, and so on, are undertaken in a concealed manner where they will not compromise historic character.
Criteria that might be used to assess whether restoration works are acceptable include:
The basic principles that should be taken into consideration, particularly for structural restoration:
Having sufficient respect for the original materials.
Respecting the valid contributions of all periods on the building.
Replacement of missing parts must integrate harmoniously with the whole.
Additions should not detract from the building, its setting or relation with surroundings.
Use of traditional techniques and materials.
Modern techniques and materials are admissible where traditional alternatives are not feasible.
Restoration techniques can be classified as either reversible or irreversible. Reversible actions may be preferable as they can be subsequently replaced without damage to the original fabric, for example if further restoration is required, or if better techniques or materials are developed in the future. Typical examples of reversible techniques include:
External buttresses.
Ties at arch springings.
Rings at the base of domes.
Prestressed unbonded stitches.
Anastylosis of stone or marble monuments with dry joints.
External ties.
Improvement of the strength, stiffness and ductility of existing diaphragms.
However, it may not be possible to use reversible methods for interventions, and some interventions cannot be easily undone without causing damage to the existing structure. Typical examples of irreversible techniques include:
The compatibility and durability of the replacement materials should be considered carefully. They should be compatible with the existing building in terms of chemical, mineralogical, physical and mechanical properties, as well as being aesthetically harmonious. Other points to consider are the strength, stiffness, bonding, thermal expansion, and permeability as well as problems such as efflorescence.
Common types of non-metallic materials for irreversible interventions are as follows:
Where high tensile strength or prestressing forces are required, steel is often used, as well as fibre composite cables.
Paintwork and renderings can degrade due to air pollution, acid rain, UV radiation, and so on. Historic paint analysis of old paint layers can determine the original pigmentation and enable a chemical recipe to be reproduced. Often, modern substitutes have to be used, as some paints were originally manufactured using harmful materials such as arsenic and lead.
[edit]
Find out more
IHBC NewsBlog
Historic England's '21 Fascinating Places Listed in 2019'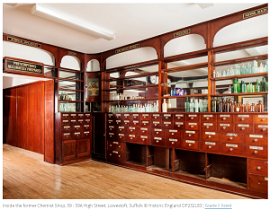 Over 500 historic places have been added to the National Heritage List for England (NHLE) in 2019 and Historic England (HE) has showcased 21 highlights.
---
UK's iconic first red public telephone box upgraded to GII*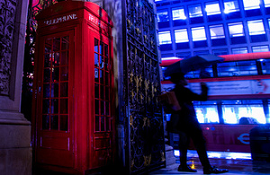 The K2 prototype telephone box situated outside the Royal Academy in London – built as part of the 1924 competition that gave rise to the iconic design and first listed at Grade II in 1986 – has had its listing upgraded to Grade II*.
---
Historic England publishes guidance on BIM for Heritage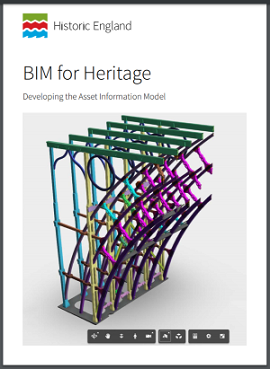 The second in a series focusses on developing the Asset Information Model (AIM).
---
High Streets Face a Bleak Future Without Rethinking Regeneration Strategies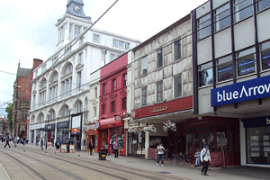 Reflecting issues that will be encountered across the IHBC's June 2020 Brighton School, think tank Centre for Cities argues for High Street success.
---
Take a look inside the first flat in the iconic Battersea Power Station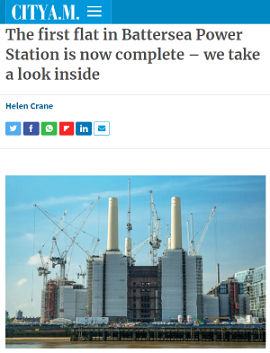 City A.M took a tour of the first apartment to be completed within the original grade II*-listed power station with designer Tim Boyd of Michaelis Boyd – which also designed the interiors for Soho House and the Groucho Club – and Battersea Power Station's UK sales director Georgia Siri.
---
Retrofit scheme named World Building of the Year at WAF 2019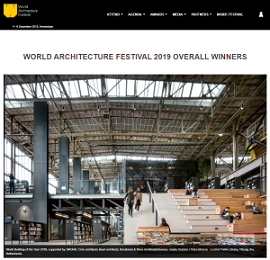 A conversion of a locomotive hangar into a public library is the first retrofit to win the top prize at the World Architecture Festival (WAF).
---
Historic England Updates Technical Conservation Guidance and Research Doc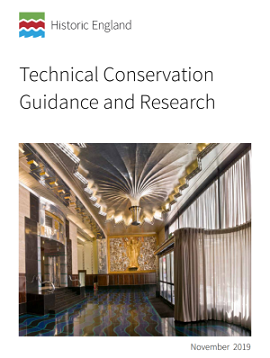 New guidance and research includes: Lightning Protection, Church Roof Replacement using Terne-coated SS, the conservation of Fibrous Plaster, and more.
---
Heritage Declares launched to urge more quick and effective response to climate change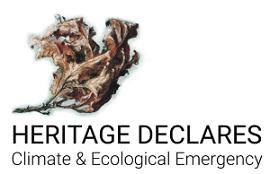 The non-affiliated group aims to galvanise climate action in the heritage sector.
---
Methodology for Moisture Investigations in Traditional Buildings agreed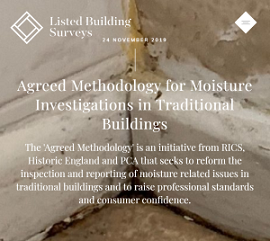 A 'Methodology for Moisture Investigations in Traditional Buildings ' has been agreed between RICS, Historic England and the service provider PCA, a trade body, which should help raise professional standards and consumer confidence.
---
Drinkers toast the future after historic Leeds pub granted GII listed heritage status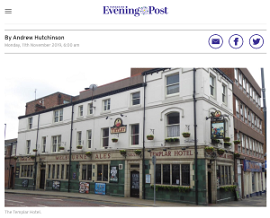 The Templar Hotel on Vicar Lane has been listed at Grade II by the Department for Digital, Culture, Media and Sport on the advice of Historic England.
---
Housing Minister announces new champion for modern 'MMC' housebuilding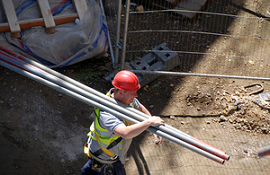 Government has announced a new Champion for Modern Methods of Construction as part of the government's drive to make the UK the global leader in housing standards.
---
RTPI on 'Why planning needs better outcome measurement'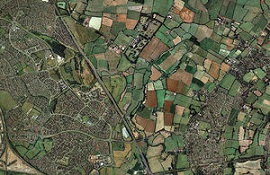 Planning is about so much more than the number of applications approved and the speed of processing them so the RTPI is commissioning research aimed at producing a toolkit that can demonstrate a wider range of outcomes.
---