Library of Celsus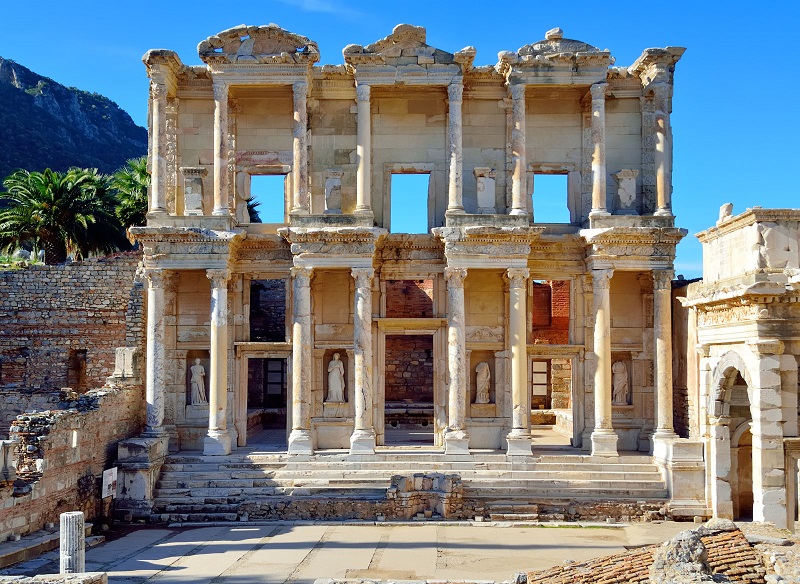 [edit]
Introduction
The Library of Celsus is an ancient Roman building in the historic city of Ephesus, Turkey. It is considered one of the most beautiful surviving structures of its time.
The well-planned, balanced and ornate style of the library reveals the influence ancient Greek architecture had on Roman designs. As well as this, the materials – brick, concrete, mortared rubble – were those that were first used c. 2nd century AD.
The Library was built from 114-117 AD as a monumental tomb for the Roman Senator Tiberius Julius Celsus Polemaeanus, governor of the province of Asia, who financed the construction using his considerable wealth. His grave was interred beneath the ground floor of the library with a statue of Athena (goddess of wisdom) positioned over it.
As one of the most impressive buildings in the Roman Empire, the library was capable of storing 12,000 scrolls, making it the third largest library in the ancient world, behind Alexandria and Pergamum.
The library was designed by Roman architect Vitruoya, and is typical of the architectural style prevalent in the period 76-138 AD under Emperor Hadrian. It was built on a platform with nine steps spanning the full 21 m width of the building leading up to three front entrances. The surviving façade is two storeys in height and decorated with relief carvings.
Four pairs of marble columns flank the entrances. They are a composite of the Ionic and Corinthian orders (each based on a separate quadrilateral pedestal and ending in complex capitals). Corinthian columns stand directly above, framing the windows. The columns at either side of the façade are slightly shorter than those in the centre, creating an illusion that the building is bigger than it actually is.
As was typical of ancient Greek theatre architecture, the columns create niches which house copies of the four original statues representing wisdom, intelligence, knowledge, and virtue.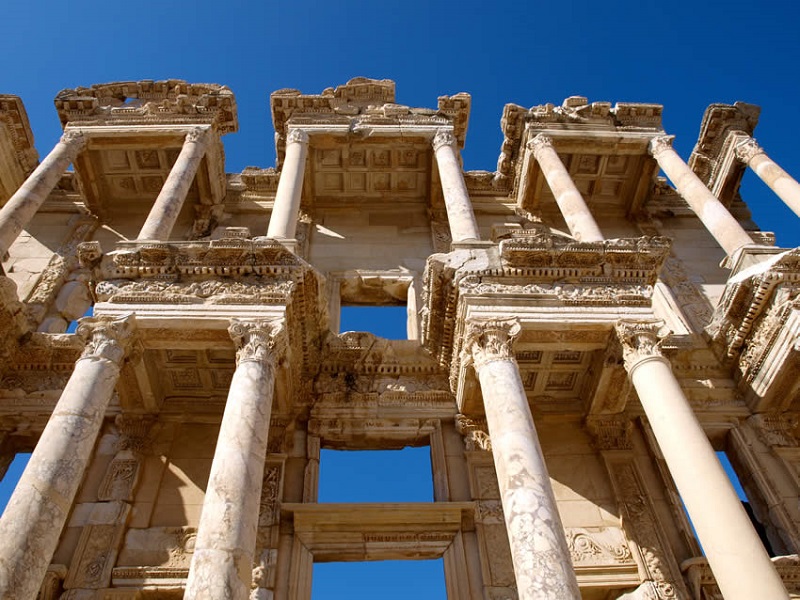 The building's interior housed a single rectangular room, 17 x 11 m, with a central apse framed by a large arch, all paved with decorated marble. The three sides were fitted with rectangular recesses for shelving to hold the scrolls.
At the second-storey level, a railed balcony ran around the interior wall, providing access to higher level recesses that could be reached using a set of stairs built into the walls. The ceiling was flat but it is thought there may have been a central square oculus to provide natural light.
[edit]
Reconstruction
The library interior was destroyed in 262 AD, either by earthquake or by a fire during a Gothic invasion. The façade was the only part of the library to survive, but this too was destroyed by an earthquake in the 10th or 11th century.
It lay in ruins for many centuries until 1970-78, when the German archaeologist Volker Michael Strocka led a reconstruction campaign. Using the process of anastylosis, the façade was successfully rebuilt, replacing missing fragments (such as the statues which had been acquired by a Viennese museum) with copies or leaving them absent.
[edit]
Find out more
IHBC NewsBlog
The rise of 'facadism' in London, from the BBC and 'The Gentle Author'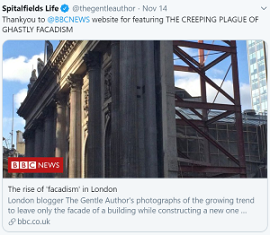 London blogger The Gentle Author has been photographing the changing face of London, focusing on what is known as 'facadism', the practice of destroying everything apart from the front wall and constructing a new building behind it.
---
Great Yarmouth Winter Gardens Facing Off Dilapidation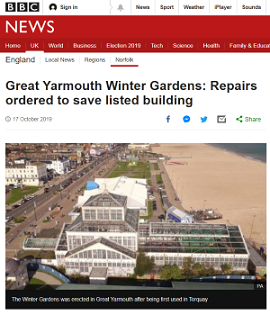 Urgent repairs have been ordered to save one of the country's most endangered buildings from dilapidation while Great Yarmouth Borough Council seeks an investor.
---
Construction urged to do more for butterflies and bees, via SNH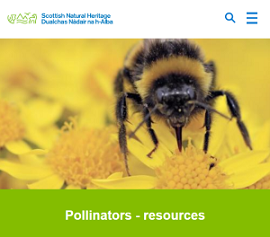 SNH has published new guidance on how best to fit pollinators into urban design and construction with a series of easy steps to suit all project budgets and sizes.
---
Applications now open for the Sustainability Scholarship for 2020: Closing 29/11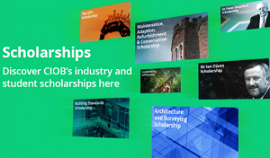 Applications are invited for the Sustainability Scholarship 2020, with successful applicants to receive £3000, support and mentoring from experts, and closing 29 November.
---
Government asked to save plans for Queensbury tunnel cycle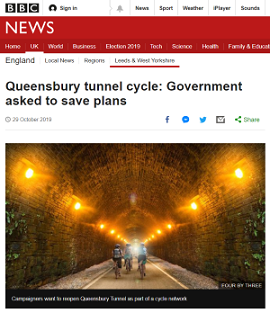 It was hoped the 1.4 mile (2.3km) Victorian Queensbury Tunnel could be used by cyclists travelling between Bradford and Halifax, but plans have been threatened.
---
Case Study in Durham Cathedral: Project Managment and Building Services Challenges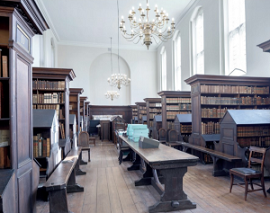 Completing works that widened public access to the hidden architectural spaces and collections of Durham Cathedral showcases exceptional project management.
---
Autumn clamp down on dust by HSE – site visits planned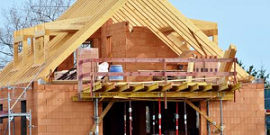 This month HSE is carrying out its latest construction inspection initiative with a focus in particular on measures in place to protect workers from occupational lung disease caused by asbestos, silica, wood and other dusts when carrying out common construction tasks.
---
Public property hubs to be delivered in Birmingham and Peterborough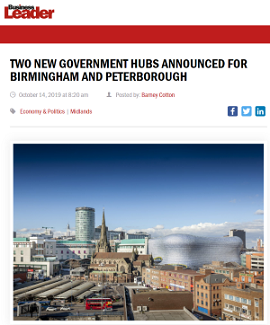 Peterborough and Birmingham are the latest places to benefit from the Government Hubs programme to regenerate city centre sites.
---
Banksy graffiti taken off Grade II listed Yorkshire bridge facing dismantling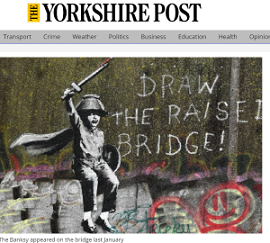 Graffiti by Banksy has been taken off a bridge in Hull as the Grade II (GII) listed Scott Street bridge itself faces dismantling.
---
The Liverpool Grade II 'jewel' that lies empty, derelict and vandalised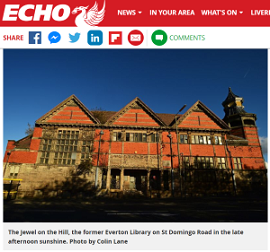 Liverpool landmark the Everton Library, a Grade II (GII) listed building that has been the focus of calls to restore it to its former glory continues to lie leaking, vandalised and derelict, when £5m could renovate the building, reports The Liverpool Echo.
---
Flintshire: Shotton steelworks' John Summers building to be restored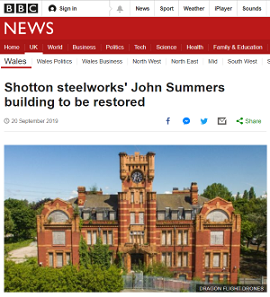 A landmark on a list of the UK's most endangered buildings, Shotton steelworks' Grade II-listed general office and clock tower, is to be brought back to life in Flintshire.
---