Elements of classical columns
[edit]
Introduction
A column is a structural element that transmits load from above to a supporting structure below. The word 'column' is associated in particular with elements that have a central shaft that is round in section.
Classical columns were generally constructed from stone. There are five basic styles of architecture that determine the form and decoration of classical columns;
[edit]
Greek orders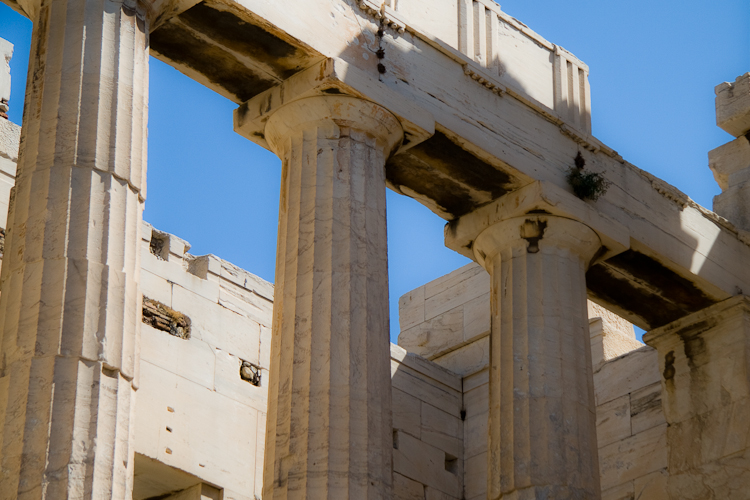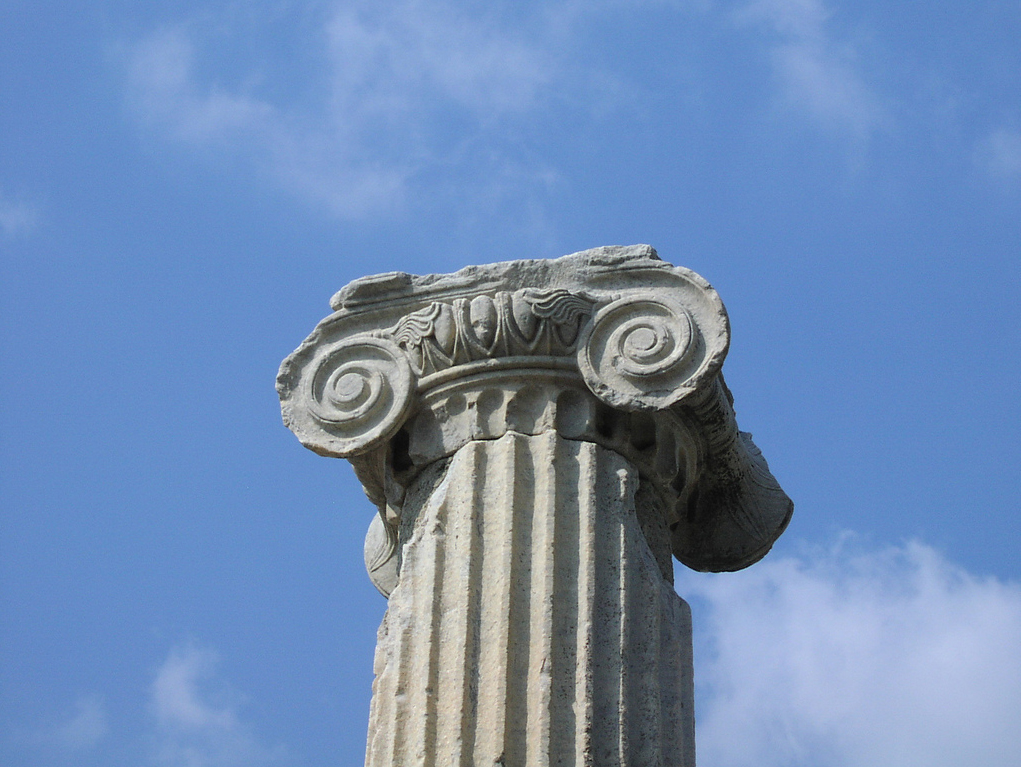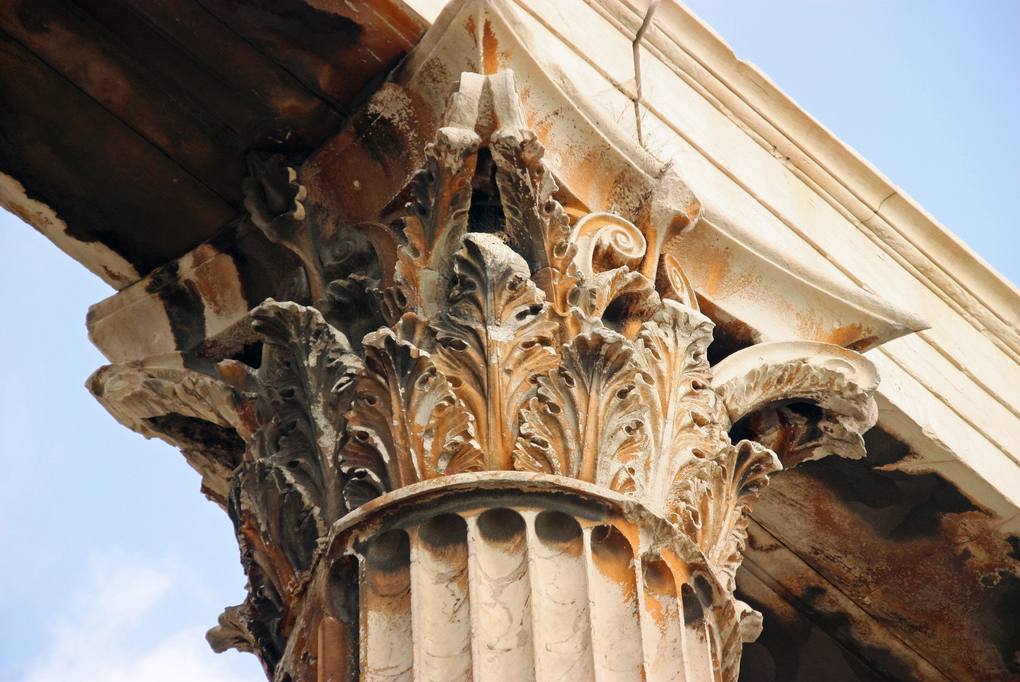 [edit]
Roman orders
For more information, see Classical orders in architecture.
Traditionally, a column is made up of a base, a shaft and a capital.
The base is the lowest part or division of a column. Egyptian and Greek Doric columns were typically placed directly on the floor without a base. In contrast to this, Ionic columns had an elaborate base made up of groups of mouldings (decorative strips) and fillets (narrow bands with vertical faces).
An attic base for example is made up of:
Columns may sit on a more complex pedestal, usually having a die (a square block between the column and base), a base and cornice. This may sit on a plinth giving a more even distribution of the column weight.
The shaft is the portion of a column between the base and the capital:
The Doric order is usually identified by its stout columns compared to the other orders. In Greece, Doric columns rested directly on the floor without a pedestal or base moulding. Roman Doric columns tend to be slimmer and sit on an Attic base.
Ionic are generally thinner, and generally fluted.
Corinthian columns are typically slender and fluted.
Tuscan columns are unfluted with a simple base and unadorned capital and entablature.
The term 'drum' is used to describe the individual circular sections places, one on top of another, to construct the shaft of the column.
The 'entasis' describes the subtle curved profile of classical columns.
[edit]
Capital
The capital comprises the uppermost elements of a column. While capitals differ according to the classical order, they usually include the following elements:
Astragal. A small convex moulding around the bottom of the capital and the top of the shaft, below the necking layer.
Necking: On a Doric column, the necking appears as a plain section beneath the capital and above the astragal.
Bell: This is common to Corinthian columns and is the part of the capital between the neck moulding and the abacus that is shaped like a bell. It is usually decorated with acanthus leaves.
Echinus: The decorative moulding that sits below the abacus and above the necking.
Abacus: A square slab that sits on top of the column's capital and supports the architrave or arch. The function of an abacus is to broaden the support provided by the column.
Volutes: A spiral form which is a distinctive element of the Ionic capitals.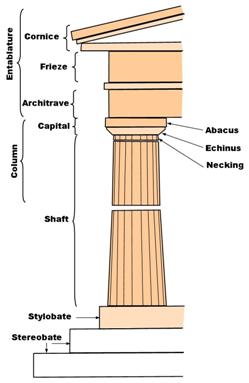 [edit]
External references
IHBC NewsBlog
IHBC update on MATE - Membership Application Training Events
Kate Kendall, lead on our Membership Application Training Events, offers her update on progress in supporting applications for conservation accreditation.
---
IHBC welcomes HE Conservation Principles update consultation - closes 2 Feb 2018
Historic England's Conservation Principles, offers guidance on its approach to its own research and advice on designation, planning and conservation.
---
IHBC welcomes update of environment website for Scotland
Scotland's environment newly launched website reflects how technology, design and user needs are constantly evolving as has their website since its creation in 2009.
---
Icon launches next five-year strategy - 2017-21
Institute of Conservation's (Icon's) next five-year strategy 2017-21 has been launched.
---
£1Million restoration boost from Europe for Rothesay Pavilion
More than £1 Million of European funding for the restoration of Rothesay Pavilion will help create new jobs, according to Economy Secretary Keith Brown.
---
London landmark Admiralty Arch to become luxury Waldorf Astoria hotel
Admiralty Arch, designed by Sir Aston Webb (completed in 1912) as part of the Queen Victoria memorial scheme, is being transformed into a luxury hotel, apartments and club.
---
Radical plans unveiled to pedestrianise Oxford Street
Radical plans to pedestrianise London's Oxford Street have been unveiled in a move intended to address air quality concerns and lessen problems of overcrowding in London.
---
Post Trauma Recovery and Reconstruction for World Heritage Cultural Properties
ICOMOS is pleased to share the 'ICOMOS Guidance on Post Trauma Recovery and Reconstruction for World Heritage Cultural Properties document.'
---
2017 Senior Managers' Risk Report from Zurich Municipal – the role of the public sector
The Report examines changing attitudes about the role of the public sector in an era of austerity with commentator noting: 'The danger is if councils lose their moral purpose'.
---
£450m development at Ayrshire leisure and tourism complex at Loudoun Castle
Developer behind Belfast's Titanic Quarter is in talks re a major role in the leisure, tourism and residential development planned for SW Scotland creating a possible 1,000 jobs.