Elements of classical columns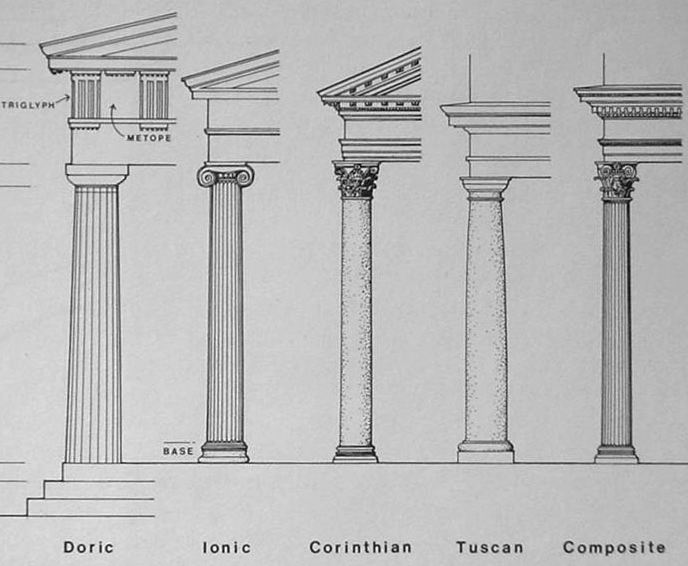 [edit]
Introduction
A column is a structural element that transmits load from above to a supporting structure below. The word 'column' is associated in particular with elements that have a central shaft that is round in section.
Classical columns were generally constructed from stone. There are five basic styles of architecture that determine the form and decoration of classical columns;
[edit]
Greek orders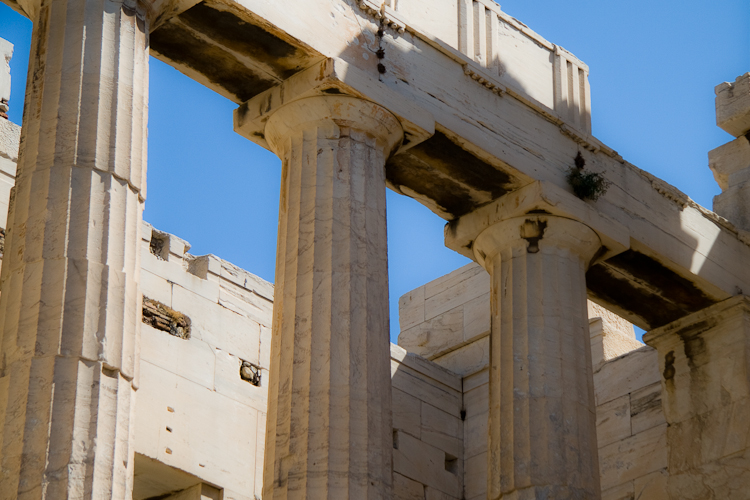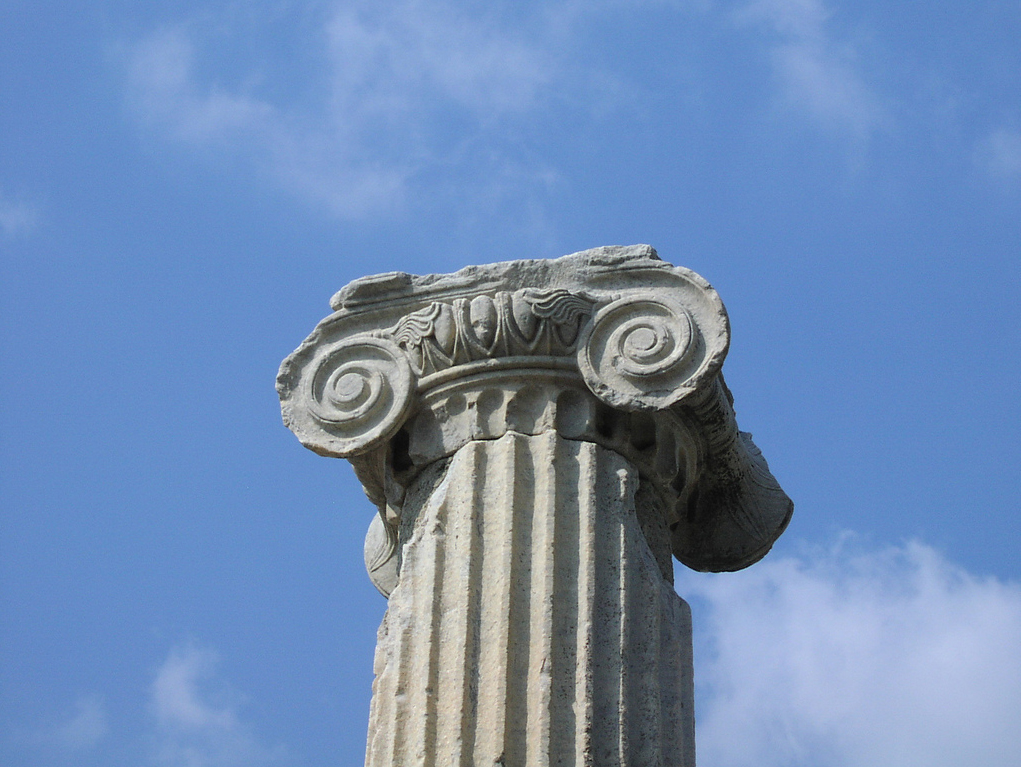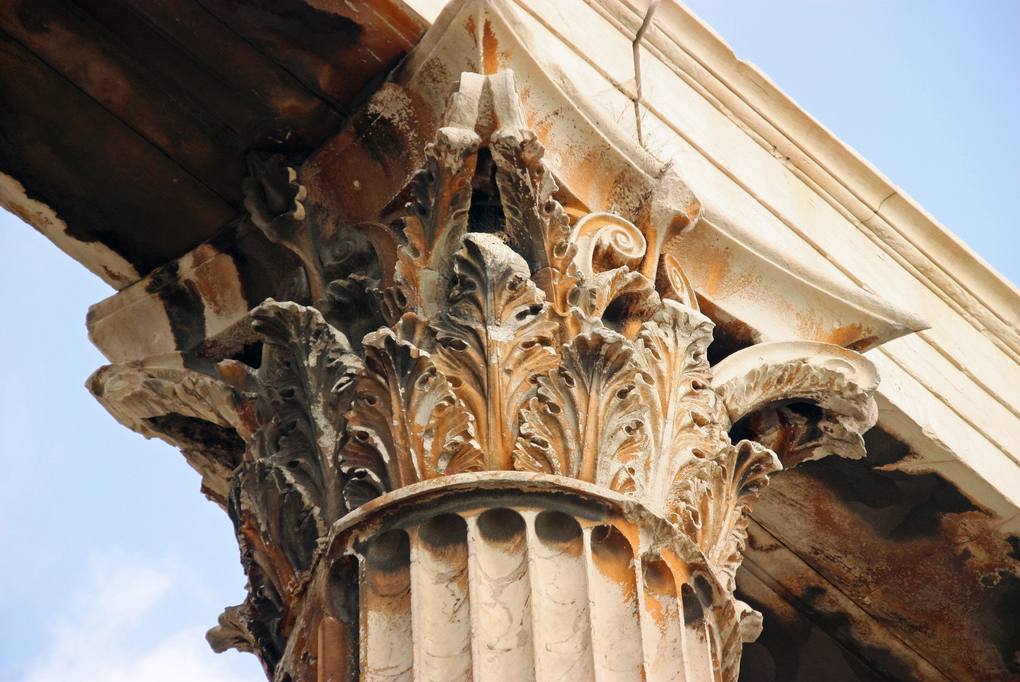 [edit]
Roman orders
For more information, see Classical orders in architecture.
Traditionally, a column is made up of a base, a shaft and a capital.
The base is the lowest part or division of a column. Egyptian and Greek Doric columns were typically placed directly on the floor without a base. In contrast to this, Ionic columns had an elaborate base made up of groups of mouldings (decorative strips) and fillets (narrow bands with vertical faces).
An attic base for example is made up of:
Columns may sit on a more complex pedestal, usually having a die (a square block between the column and base), a base and cornice. This may sit on a plinth giving a more even distribution of the column weight.
The shaft is the portion of a column between the base and the capital:
The Doric order is usually identified by its stout columns compared to the other orders. In Greece, Doric columns rested directly on the floor without a pedestal or base moulding. Roman Doric columns tend to be slimmer and sit on an Attic base.
Ionic are generally thinner, and generally fluted.
Corinthian columns are typically slender and fluted.
Tuscan columns are unfluted with a simple base and unadorned capital and entablature.
The term 'drum' is used to describe the individual circular sections places, one on top of another, to construct the shaft of the column.
The 'entasis' describes the subtle curved profile of classical columns.
[edit]
Capital
The capital comprises the uppermost elements of a column. While capitals differ according to the classical order, they usually include the following elements:
Astragal. A small convex moulding around the bottom of the capital and the top of the shaft, below the necking layer.
Necking: On a Doric column, the necking appears as a plain section beneath the capital and above the astragal.
Bell: This is common to Corinthian columns and is the part of the capital between the neck moulding and the abacus that is shaped like a bell. It is usually decorated with acanthus leaves.
Echinus: The decorative moulding that sits below the abacus and above the necking.
Abacus: A square slab that sits on top of the column's capital and supports the architrave or arch. The function of an abacus is to broaden the support provided by the column.
Volutes: A spiral form which is a distinctive element of the Ionic capitals.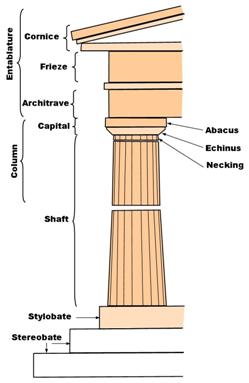 [edit]
External references
IHBC NewsBlog
Conservation Areas go 'Back to the future' at the Royal College of Physicians on 3 Oct as revolutionary historic placeshaping looks ahead to the next 50 years.
---
Join IHBC Yorkshire in Hull Old Town walking tour on 4 Oct
The Yorkshire Branch's walking tour around Hull's Old Town is part of the linked Heritage Trust Network (HTN) Conference on 3-4 October - special rates to IHBC members.
---
HESPR top pick from over £132,000 costed work this week
National Archives support for establishing fundraising charity - though only HESPR members have been notified before the opportunity closed on 22 September.
---
IHBC-ALGAO-HE Local Authority conservation and archaeology staffing stats published
Historic England has issued the latest figures collated by the IHBC and ALGAO which highlights ongoing reductions in capacity even as workload continues to grow.
---
Historic England National Capacity Building Programme 2018-2020 - call for applications
On 25 September applications open for the programme, supporting projects that run for a maximum of 2 years, with funding starting from 1 April 2018.
---
Owner of Kensington Square stripey house gets green light to demolish
The conservation area house that generated its own IHBC ToolBox Guidance Note on the use of S.215 Notices may now be demolished and a new one built in its place.
---
Funding call for projects related to the European Year for Cultural Heritage 2018
Creative Europe Call - offering support for cooperation projects related to EYCH 2018 and targeting projects with a start date between January and September 2018 closes 22 Nov.
---
Britain ratifies Hague convention on protecting treasures in war zones
John Glen, Minister for Arts, Heritage and Tourism has pledged the UK to helping save historic and artistic artefacts under threat in conflict-torn countries.
---
Entries to EAA awards open until 5pm Friday 27th October 2017
Entries to The European Association Awards (EAA) are now open and the deadline for entries is 5pm Friday 27th October 2017.
---
DCLG package of £22.8M – a boost for communities until 2022
Parliamentary copyright images are reproduced with the permission of Parliament
England's DCLG the package of support worth £22.8 million to help communities develop plans to give them a real say in the development of their area.
---
Ministers asked to intervene in Edinburgh luxury hotel dispute
City councillors rejected plans to a build 'six-star' hotel around the Category-A listed Royal High School after public objections - the developers ask Scottish ministers to intervene.