Frieze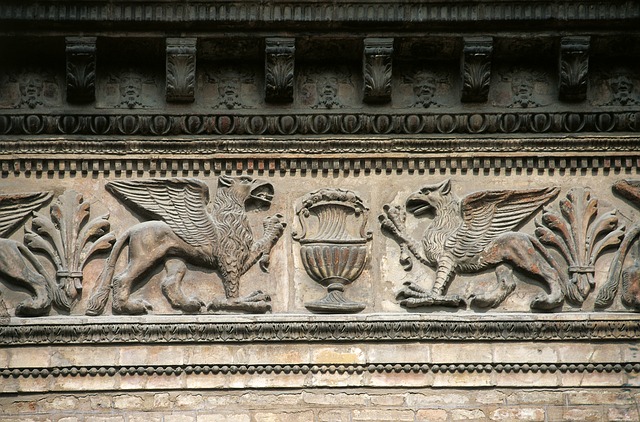 In the classical architecture of Ancient Greece and Rome, a frieze is a long and narrow sculptural band that runs along the middle of an entablature, used for decorative purposes. It sits on top of the column capitals, in between the architrave on the lowest level and the cornice at the top.
In buildings using the Doric architectural order, the frieze is usually consists of alternate triglyphs (projecting rectangular blocks with three vertical channels), and metopes (spaces). In buildings using the Ionic, Corinthian or Composite orders, the frieze is usually ornamented with relief figures. Friezes seen on Roman buildings are usually decorated with plant motifs. Late Roman and many Renaissance structures feature a pulvinated frieze, in which the frieze's profile is a convex curve.
In the Doric order, triglyphs often appear regularly-spaced on the frieze. These are rectangular details, representative of the beams used to post and beam construction. The spaces between triglyphs are called metopes.
The most famous example of a frieze is that carved on the outer wall of the Parthenon temple in Athens, Greece, which is a representation of a ritual festival procession.
In interior design, a frieze can also refer to any long, narrow, horizontal panel or band used for decorative purposes on the walls of a room.
Featured articles and news
IHBC NewsBlogs now open for comments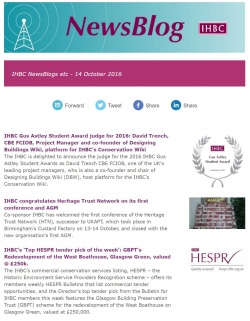 The IHBC has now opened its celebrated NewsBlog service to user comments, so members and users can open, join and extend the discussions around our news items.
---
IHBC HESPR tender pick of the week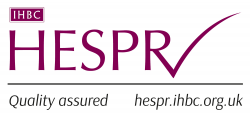 This week's Director's top pick for IHBC members features a call from Fenland District Council for archaeology, building investigation and community engagement.
---
IHBC Context CPD tale of two traumas - The importance of conservation expertise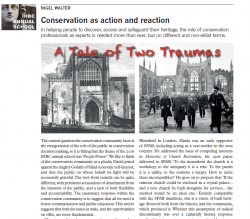 In helping people to discover, access and safeguard their heritage, the role of conservation professionals as experts is needed more than ever, says Nigel Walter.
---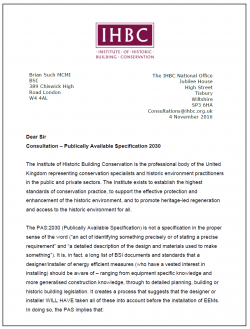 The BSI consulted on two Publically Available Specifications on energy efficiency measure (EEM) installation.
---
Churchill Barriers to be listed

Second World War structures at Scapa Flow have been recognised as being of national importance by Historic Environment Scotland.
---
Neighbourhood Planning Bill 2016 - 2017 – Committee Stage amendments
The Bill was amended during its Committee stage in the House of Commons, and a number of Government new clauses were added in relation to local plan making.
---
Complete Historic Environment Scotland survey
Historic Environment Scotland (HES) has announced a national campaign to find out what heritage means to the people of Scotland as part of the 2017 Year of History, Heritage and Archaeology.
---
Heating and energy-related reports for retro-fit projects
The UK government has published several reports on retro-fit issues for historic buildings.
---
US Embassy scheme receives conditional planning permission
Qatari-backed hotel scheme for the Grade II listed building in Mayfair will include 137 bedrooms, additional restaurants, retail and events space.
---
The pros and cons of crowdfunding architectural projects
A CLAD magazine feature discusses how crowdfunding can help get projects started and allow architects to be proactive.
---
Hidden paintings found at the Guild Chapel in Stratford upon Avon
Conservators have conclude it is one of the few places in Europe to have an almost complete medieval decorative scheme still in situ.
---
ebulletin&utm_campaign=c19f6a8b87-EMAIL_CAMPAIGN_2016_11_16&utm_medium=email&utm_term=0_56a3992b07-c19f6a8b87-129752081 Scottish Civic Trust calls for entries to My Place Awards
Community groups have been asked to nominate favourite new buildings, conservation projects and people in its annual awards (closing date 31 January 2017).
---
The Design Museum - regenerating a 1960s architectural icon
Museums Heritage says that after almost five years of restoration and refurbishment, the Grade II* Design Museum has been transformed into a modern multi-purpose space.
---
Property Flood Resilience Action Plan out
An independent report has been issued relating to flood protection, aiming to help with flood resilience.