Gargoyle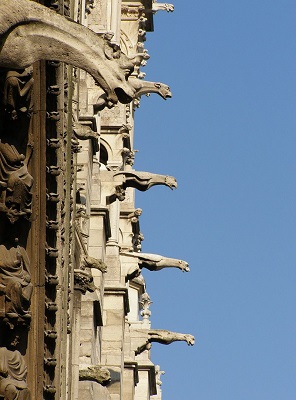 Gargoyles are carvings of grotesque figures, faces or creatures perching along the roofs and battlements of buildings and projecting from roof gutters. The gargoyle is one of the most recognisable characteristics of Gothic architecture.
The etymology of the word derives from the French 'gargouille' meaning throat. The precise purpose of gargoyles was to act as a spout to convey water from the upper part of a building or roof gutter and away from the side of walls or foundations, thereby helping to prevent water from causing damage to masonry and mortar. The gargoyle would have a trough carved into its back down which rainwater would run and exit through the characteristically large open mouth.
While common parlance uses the term 'gargoyle' to mean any fantastical or mythical figure used for ornamental purposes, the strict architectural usage only applies to those serving a waterspout function. Purely decorative varieties are known as grotesques, chimera or boss. See Grotesque for more information.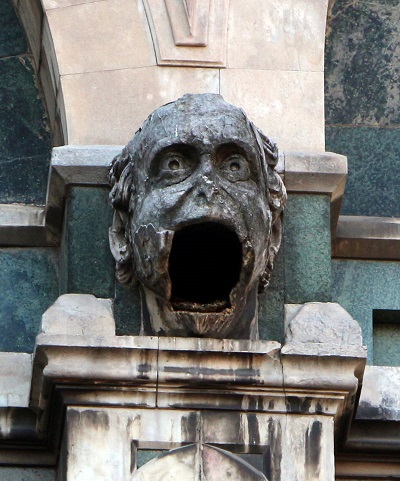 The earliest forms of gargoyle were found in Ancient Egyptian architecture and were typically in the form of a lion's head. Similar features were also carved in the marble cornices of Greek temples.
However, gargoyles are most commonly associated with the Gothic and Medieval architecture from the Middle Ages. Whilst gargoyles were included in the construction of many medieval buildings, such as fortresses and castles, they were most prevalent on churches and cathedrals; famous examples including those of Notre Dame de Paris [see top image].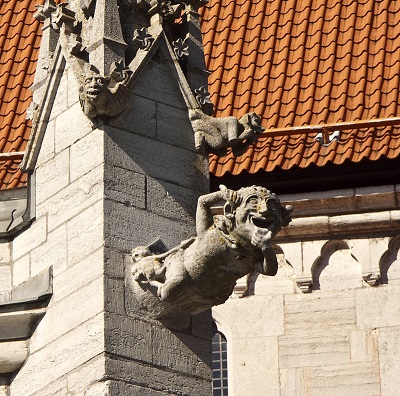 Early gargoyles were carved from wood or terracotta, but from the Medieval period onwards they were typically sculpted from stone. They were sometimes painted or even gilded with metals such as lead.
Some of the features that would typically be depicted by gargoyles include:
Ugly human faces.
Animals.
Mythical and imaginary creatures.
Anthropomorphised creatures.
Chimeras (those combining several animals).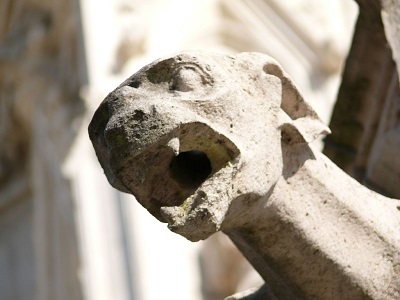 In addition to the practical function of projecting water away from a building, gargoyles were also intended to symbolise 'guardianship' of the building and to ward off evil spirits. Their open mouths were symbolic of them devouring giants.
From the early-18th century onwards, buildings began to move away from ornamented and unornamented waterspouts in favour of rainwater downpipes. In 1724, the London Building Act made the use of downpipes a compulsory feature on all new construction, and subsequently the inclusion of gargoyles in architecture fell into decline. However, in an ornamental form they were revived by the Art Deco period in the early-20th century, most notably on the Chrysler Building in New York.
[edit]
Find out more
[edit]
External resources
IHBC NewsBlog
IHBC's 2019 'Yearbook' Now Released "Extending the Reach of the IHBC"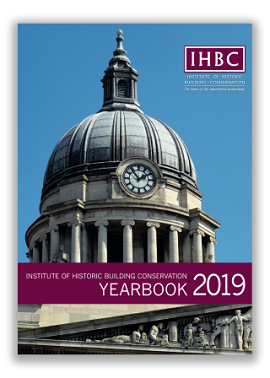 The IHBC's Yearbook for 2019 includes regular IHBC reviews, updates and listings, from IHBC's HESPR listing to our Recognised Conservation Courses and member directory.
---
IHBC 2019 Marsh Awards now out: at the IHBC's 2019 School, Nottingham 4 – 6 July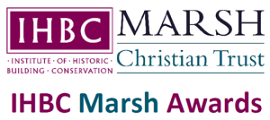 The judges are delighted to confer the 2019 IHBC Marsh Awards for Successful Learning in Heritage Skills and Community Contribution (Retired Member).
---
Rail stations in line for £300 million funding boost to improve disabled access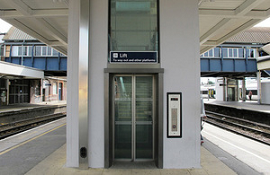 Disabled rail passengers across Britain will benefit from better access at stations and newly accessible stations will open up routes across the country.
---
A historical take on the future of Notre Dame, from IHBC's former Membership Secretary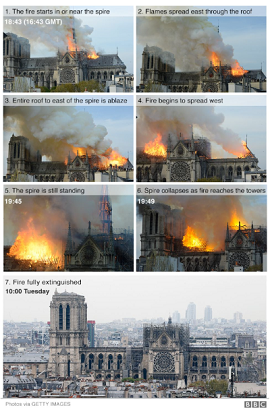 The IHBC asked former Membership Secretary Paul Butler for a take on some critical and historical issues around the modern response to Notre Dame.
---
CPRE's State of Brownfield 2019 report: Enough land for more than 1M homes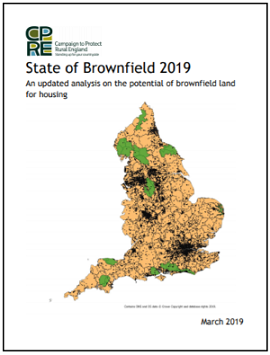 CPRE shows there is enough suitable brownfield land available in England for more than 1 million homes across over 18,000 sites and over 26,000 hectares.
---
BBC on 'The grief that comes from lost buildings'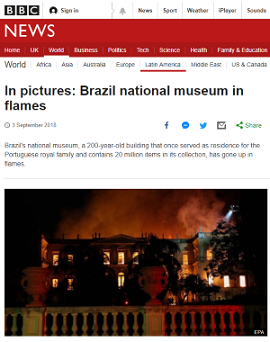 BBC News has reported on how, across the world, destruction of cultural attractions causes a specific sort of communal grief.
---
Enter the Brick Awards 2019: Closing 31 May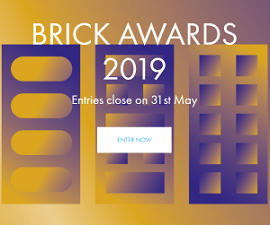 The Brick Development Association (BDA) has highlighted the opportunity to compete at the industry's highest level and be recognised by top-tier trade and national press.
---
STBA-SPAB Conference – 11 June 2019, London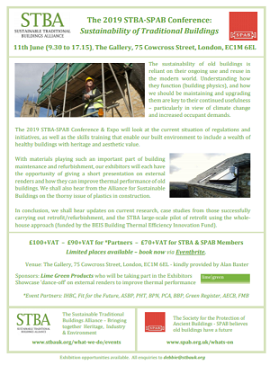 The 2019 STBA-SPAB Conference & Expo will look at the current situation of regulations and initiatives, as well as the skills training that enable our built environment to include a wealth of healthy buildings with heritage and aesthetic value.
---
Historic buildings on fire – Fisons Victorian factory near Ipswich destroyed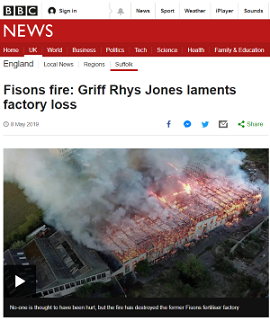 The former Fisons warehouse in Bramford, near Ipswich, was the victim on another fire affecting our heritage. Listed Grade II and dating back to 1858 the building was destroyed by a fire thought to be arson.
---
Highways England pours £4 million into canal restoration scheme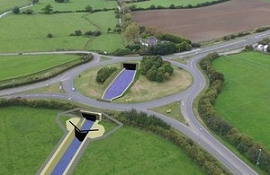 A mile-long stretch of canal in Gloucestershire that disappeared more than half a century ago is closer to being restored, thanks to £4 million of funding from Highways England.
---
Westminster: Legislative plans for Olympics-style body to oversee restoration works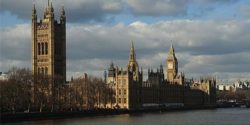 MPs vote on proposals for Houses of Parliament refurbishment, as the restoration and renewal of the Palace of Westminster reaches a major milestone.
---
Ever wondered 'How Venice Works', with 124 Islands, 183 Canals & 438 Bridges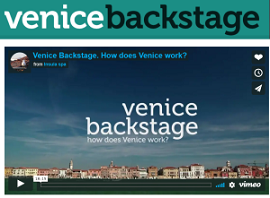 Open Culture has featured the Venice Backstage exploration of Venice and how, when the tourists leave the city, 60,000 year-round residents stay behind.
---
---