Gargoyle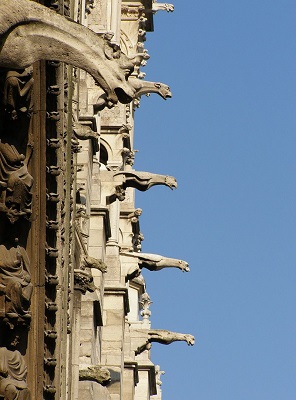 Gargoyles are carvings of grotesque figures, faces or creatures perching along the roofs and battlements of buildings and projecting from roof gutters. The gargoyle is one of the most recognisable characteristics of Gothic architecture.
The etymology of the word derives from the French 'gargouille' meaning throat. The precise purpose of gargoyles was to act as a spout to convey water from the upper part of a building or roof gutter and away from the side of walls or foundations, thereby helping to prevent water from causing damage to masonry and mortar. The gargoyle would have a trough carved into its back down which rainwater would run and exit through the characteristically large open mouth.
While common parlance uses the term 'gargoyle' to mean any fantastical or mythical figure used for ornamental purposes, the strict architectural usage only applies to those serving a waterspout function. Purely decorative varieties are known as grotesques, chimera or boss. See Grotesque for more information.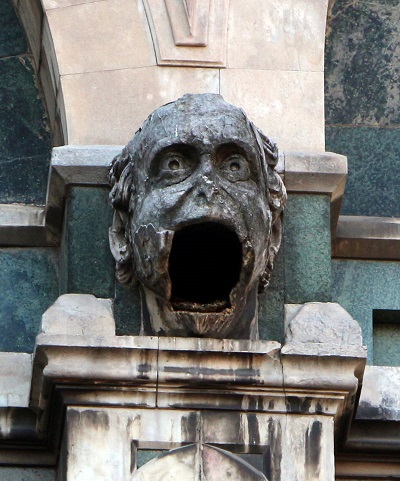 The earliest forms of gargoyle were found in Ancient Egyptian architecture and were typically in the form of a lion's head. Similar features were also carved in the marble cornices of Greek temples.
However, gargoyles are most commonly associated with the Gothic and Medieval architecture from the Middle Ages. Whilst gargoyles were included in the construction of many medieval buildings, such as fortresses and castles, they were most prevalent on churches and cathedrals; famous examples including those of Notre Dame de Paris [see top image].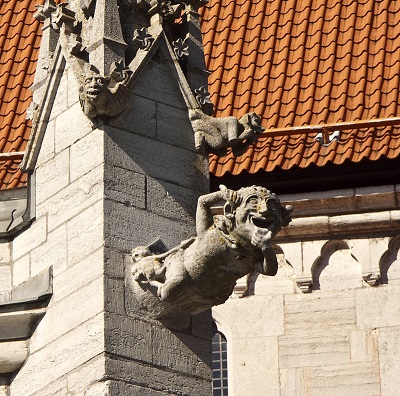 Early gargoyles were carved from wood or terracotta, but from the Medieval period onwards they were typically sculpted from stone. They were sometimes painted or even gilded with metals such as lead.
Some of the features that would typically be depicted by gargoyles include:
Ugly human faces.
Animals.
Mythical and imaginary creatures.
Anthropomorphised creatures.
Chimeras (those combining several animals).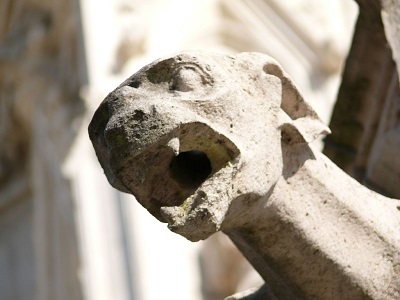 In addition to the practical function of projecting water away from a building, gargoyles were also intended to symbolise 'guardianship' of the building and to ward off evil spirits. Their open mouths were symbolic of them devouring giants.
From the early-18th century onwards, buildings began to move away from ornamented and unornamented waterspouts in favour of rainwater downpipes. In 1724, the London Building Act made the use of downpipes a compulsory feature on all new construction, and subsequently the inclusion of gargoyles in architecture fell into decline. However, in an ornamental form they were revived by the Art Deco period in the early-20th century, most notably on the Chrysler Building in New York.
[edit]
Find out more
[edit]
External resources
IHBC NewsBlog
How Project Managers for Town Centre Developments can Balance Risk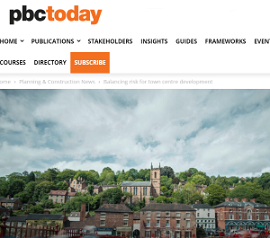 Jacqueline Hughes, senior risk analyst at Equib, in pbctoday discusses how project managers for town centre developments can get their risk management strategies right.
---
Red Tape is Strangling our High Streets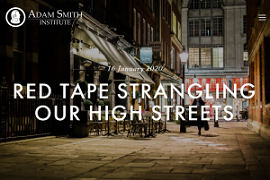 A new paper from the Adam Smith Institute argues that the problem with the High Street has been totally misunderstood, saying that we need to reform restrictive planning rules and reject a policy of managed decline to reinvigorate our town centres.
---
Calculating the full cost of energy used by buildings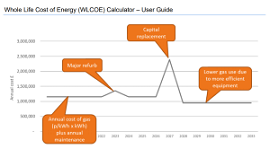 The Whole Life Cost of Energy (WLCoE) calculator – issued by government in BETA form – is intended to help building owners and operators to understand the full financial cost of the energy their buildings use, and welcomes feedback
---
England's heritage worth £31Bn: New Historic England report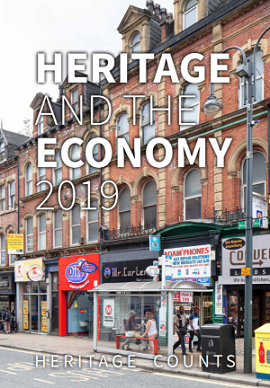 New research published by Historic England (HE) shows the value of heritage to England's economy as it contributes to economic prosperity and growth through jobs in the heritage and construction sectors and from tourism.
---
Part of Roman wall in Chester Collapses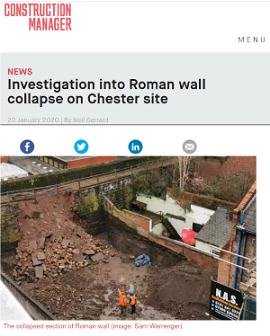 Investigations have begun into what caused part of Chester's Roman city wall to collapse during construction work.
---
Audit on new housing in England: Design overwhelmingly 'mediocre' or 'poor'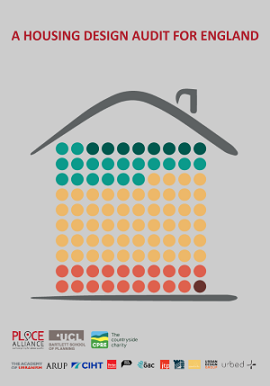 Though conservation professionals' skills in understanding, defining and explaining local character and architecture can help inform new residential design.
---
Historic England's '21 Fascinating Places Listed in 2019'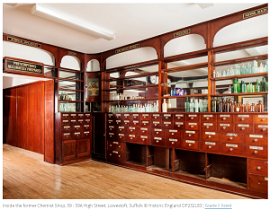 Over 500 historic places have been added to the National Heritage List for England (NHLE) in 2019 and Historic England (HE) has showcased 21 highlights.
---
UK's iconic first red public telephone box upgraded to GII*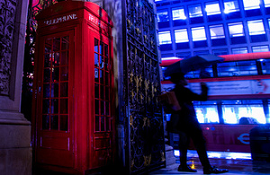 The K2 prototype telephone box situated outside the Royal Academy in London – built as part of the 1924 competition that gave rise to the iconic design and first listed at Grade II in 1986 – has had its listing upgraded to Grade II*.
---
Historic England publishes guidance on BIM for Heritage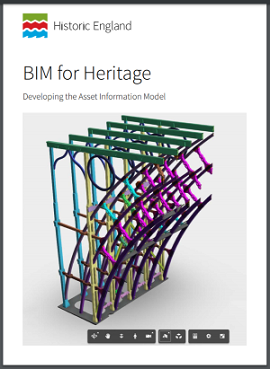 The second in a series focusses on developing the Asset Information Model (AIM).
---
High Streets Face a Bleak Future Without Rethinking Regeneration Strategies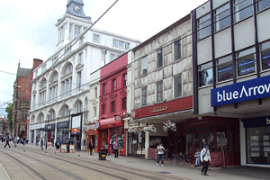 Reflecting issues that will be encountered across the IHBC's June 2020 Brighton School, think tank Centre for Cities argues for High Street success.
---
Take a look inside the first flat in the iconic Battersea Power Station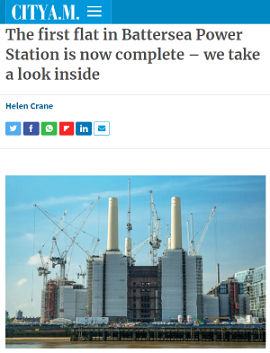 City A.M took a tour of the first apartment to be completed within the original grade II*-listed power station with designer Tim Boyd of Michaelis Boyd – which also designed the interiors for Soho House and the Groucho Club – and Battersea Power Station's UK sales director Georgia Siri.
---
Retrofit scheme named World Building of the Year at WAF 2019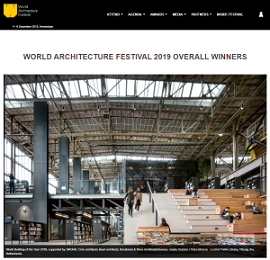 A conversion of a locomotive hangar into a public library is the first retrofit to win the top prize at the World Architecture Festival (WAF).
---