Castle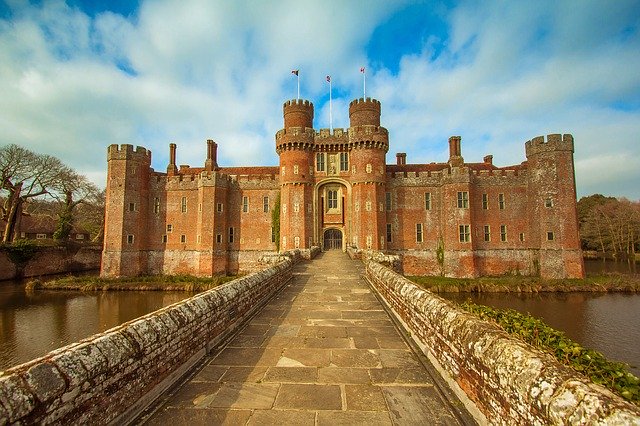 Herstmonceux in Sussex (begun 1460) is a brick-built castle.
[edit]
Introduction
A castle is a fortified structure typically constructed by royalty or nobility for defensive and administrative purposes. As prime examples of military architecture, castles as they are known today in the UK, developed after the Norman invasion and from the late eleventh century were to become, along with the cathedral, a defining component of the architecture of the Middle Ages.
They vary tremendously in shape, form and luxury, ranging from small family dwelling towers with just a few rooms, to great complexes resembling a walled town. During the Middle Ages, castles dominated landscapes throughout Europe.
From the early mottes (flat-topped earthen mounds) with simple timber towers, rectangular keeps (main tower) and bailey walls (concentric walls around the keep), the castle developed into a complex defensive structure capable of repelling attack.
Primarily originating as defensive structures, some castles were also used for offensive purposes, allowing raids to be launched into the surrounding countryside. They could also control adjacent travel routes and important local amenities, such as water sources, fertile land and mills.
The castle was typically the centre of an estate, the seat of a local lord, baron or duke and was often the catalyst for the development of a settlement around it. With time, this would often grew to become a town and later a city. Warwick is a prime example.
In addition to fulfilling their defensive functions, castles changed though the ages to accommodate administrative duties and also to become the home of the area's nobility. By the mid-15th century, castles metamorphosed into country houses with domestic and administrative functions. In France, the great castles would eventually become chateaux.
Typically, castles comprise a fortified tower (keep) – the most strongly defended part of the castle – surrounded by a ring (one or more) of high masonry walls. The tower may be topped by crenelated battlements and turrets with arrow slits and machicolations from which to shower attackers below with arrows, spears and boiling oil. Some castles have a moat (a ditch full of water) encircling the settlement to make it more difficult to get into a position to scale the walls.
To increase their defensive capabilities, castles may have had two or more concentric rings of walls around them (curtain walls), each creating a circuitous area of land called a bailey. Although the forms of castles vary according to the conditions which shaped them, another feature that was more or less constant was the portcullis – a vertically sliding timber or metal grating used to control the main entry point into the castle. This could be raised quickly and lowered even more quickly thanks to the action of gravity.
Various disparate functions might be accommodated by a castle, such as dungeons (places of incarceration) at one extreme, to entertaining friends and other nobles at the other.
Prior to the Norman invasion of 1066, timber was used to build the keep and surrounding stockade, an arrangement known as motte and bailey. After 1066, stone became more important for building castles. However, from the fifteenth century, numerous castles, such as Tattershall, Lincolnshire (begun 1434) and Herstmonceux, Sussex (b. 1460) were built of brick. This emerged principally in those localities where good building stone was either non-existent or in short supply.
The development of gunpowder-based artillery in the 14th century gradually affected castle design as it provided the means to breakthrough thick masonry walls. This made castles undesirable places to live, and as a result, they went into decline, although they continued to be built right up to the 16th century. Eventually, they were replaced by fortresses which had a purely defensive role with no civil administration functions. Castles then became more important as residences which could also express the power and prestige of the occupant. Eventually, castles morphed into country houses and stately homes.
IHBC NewsBlog
Hammersmith Bridge illuminated red in Valentine's Day message to Government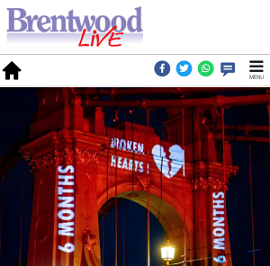 The stunt aimed at highlighting ongoing delays to its repair, as the 133-year-old west London bridge has been closed to traffic since April 2019 when cracks appeared in its pedestals.
---
Drone Surveying a London Landmark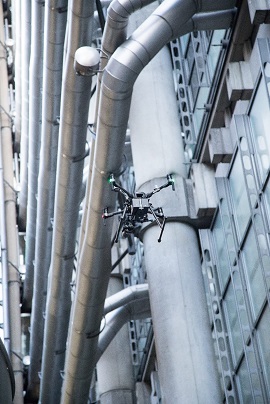 Uninhabited Aerial Vehicles (UAVs) have been used to undertake a survey of the Lloyd's building's external façade in the heart of the City of London.
---
Green Party calls for no VAT on refurbishment in new Parliamentary petition
The petition calls on the government to remove VAT on refurbishment projects and raise VAT on non-Passivhaus new-build construction to 20 per cent. Retrofitting is carbon-efficient but the current VAT regime privileges new build over refurbishment.
---
Conservation Professionals Concerned about Future Planning Policy

Directors of the IHBC and the Victorian Society are among those whose opinions are featured in the RICS in-house publication Modus as it explores heritage impacts in England's planning proposals.
---
Learn all about the Professions in Building Conservation at upcoming Conference

Glasgow City Heritage Trust (GCHT) 3-day online conference aimed at anyone working, or interested in working, within the building and heritage sectors.
---
New use for abandoned oil rigs: Offshore reefs!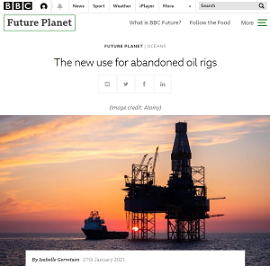 One way in which these old rigs can be remarkably useful is that the subsurface rig can provide the ideal skeleton for coral reefs, allowing the remarkable ecosystems beneath the waves come into their own.
---
Birnbeck Pier, in Weston-super-Mare, to undergo Restoration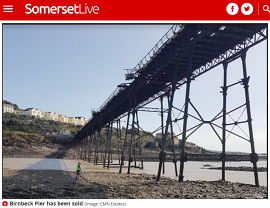 A new company – Birnbeck Holdings Limited – has now been set up by CNM Estates which has purchased Birnbeck Island and the historic pier.
---
Ecclesiastical Heritage Risk Barometer 2020 Published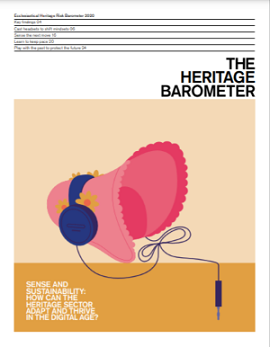 The publication offers research to help answer the question: 'How can the heritage sector adapt and thrive in the digital age'?
---
Victorian Bath House dug up from under a Manchester Car Park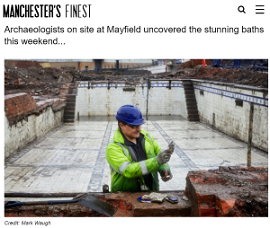 A stunning Victorian Bath House has been uncovered during works on creating the city's first public park in over 100 years.
---
APPG on 'Conservation, Places and People' Opens first Parliamentary Inquiry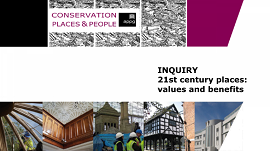 The Inquiry is into '21st Century Places – Values & Benefits.