Ljubljana Castle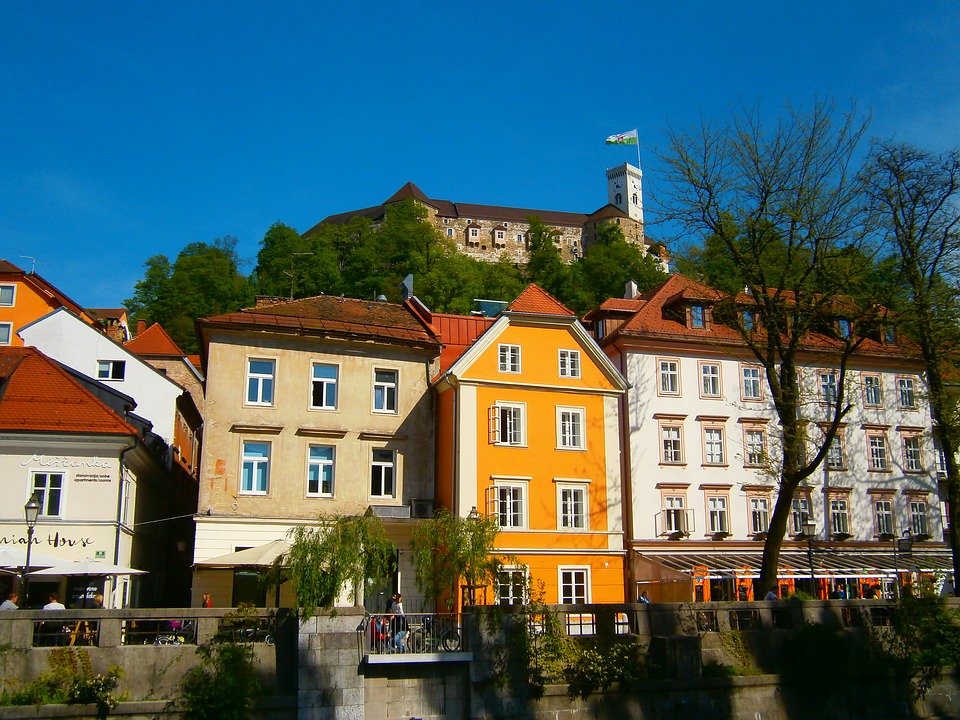 [edit]
Introduction
Ljubljana Castle is a medieval castle complex overlooking Ljubljana, the capital of Slovenia. Located on Castle Hill, the dominant feature of the city skyline, it dates from the 11th century, although archaeologists believe the site was settled as far back as 1200 BC.
The original castle was believed to have been a wooden and stone fortification used for defensive purposes. In the 13th century, this was replaced with a stone fort and renamed Sponheim Castle.
In the 15th century, the castle structures were almost completely demolished and rebuilt. A new wall and towers were constructed at the entrance, along with a drawbridge. The chapel was also built at this time.
All the main buildings of the surviving castle were built or rebuilt in the 16th and 17th centuries after a devastating earthquake. The exception is the outer wall of the Chapel of St. George.
Expanding on its role as a defensive structure against Ottoman invasion as well as peasant revolt, the castle was used as an arsenal.
From 1815 to 1895, during which time Slovenia was part of the Austrian Empire, the castle was used as a prison; a role it resumed temporarily during the Second World War. The viewing tower was constructed in 1848, replacing the wooden tower, and completing the architectural structure of the castle.
Towards the end of the 19th century, the castle began to fall into serious disrepair. This was, in part, because of its age, but also because maintenance work had been neglected over the years as it gradually lost its importance as either a home of a nobleman or a fortification.
In the 1930s, the famous Slovenian architect Joe Plenik proposed building a new conical parliament to replace the castle. However, his work was only realised in relation to the redesigned remains of the fortifications.
In the late-1960s, extensive renovation works began which were to last more than 35 years. Architects oversaw the construction of a new and steeper roof, a higher watchtower, new access routes, and a defensive corridor around the perimeter of the former fortified walls, which linked the renovated structures together.
In the 1990s, the castle found a new use as a place for weddings and cultural events. In 2006, as the castle grew in popularity, it was connected with the historic city centre by a funicular railway.
IHBC NewsBlog
IHBC update on MATE - Membership Application Training Events
Kate Kendall, lead on our Membership Application Training Events, offers her update on progress in supporting applications for conservation accreditation.
---
IHBC welcomes HE Conservation Principles update consultation - closes 2 Feb 2018
Historic England's Conservation Principles, offers guidance on its approach to its own research and advice on designation, planning and conservation.
---
IHBC welcomes update of environment website for Scotland
Scotland's environment newly launched website reflects how technology, design and user needs are constantly evolving as has their website since its creation in 2009.
---
Icon launches next five-year strategy - 2017-21
Institute of Conservation's (Icon's) next five-year strategy 2017-21 has been launched.
---
£1Million restoration boost from Europe for Rothesay Pavilion
More than £1 Million of European funding for the restoration of Rothesay Pavilion will help create new jobs, according to Economy Secretary Keith Brown.
---
London landmark Admiralty Arch to become luxury Waldorf Astoria hotel
Admiralty Arch, designed by Sir Aston Webb (completed in 1912) as part of the Queen Victoria memorial scheme, is being transformed into a luxury hotel, apartments and club.
---
Radical plans unveiled to pedestrianise Oxford Street
Radical plans to pedestrianise London's Oxford Street have been unveiled in a move intended to address air quality concerns and lessen problems of overcrowding in London.
---
Post Trauma Recovery and Reconstruction for World Heritage Cultural Properties
ICOMOS is pleased to share the 'ICOMOS Guidance on Post Trauma Recovery and Reconstruction for World Heritage Cultural Properties document.'
---
2017 Senior Managers' Risk Report from Zurich Municipal – the role of the public sector
The Report examines changing attitudes about the role of the public sector in an era of austerity with commentator noting: 'The danger is if councils lose their moral purpose'.
---
£450m development at Ayrshire leisure and tourism complex at Loudoun Castle
Developer behind Belfast's Titanic Quarter is in talks re a major role in the leisure, tourism and residential development planned for SW Scotland creating a possible 1,000 jobs.