Sagrada Familia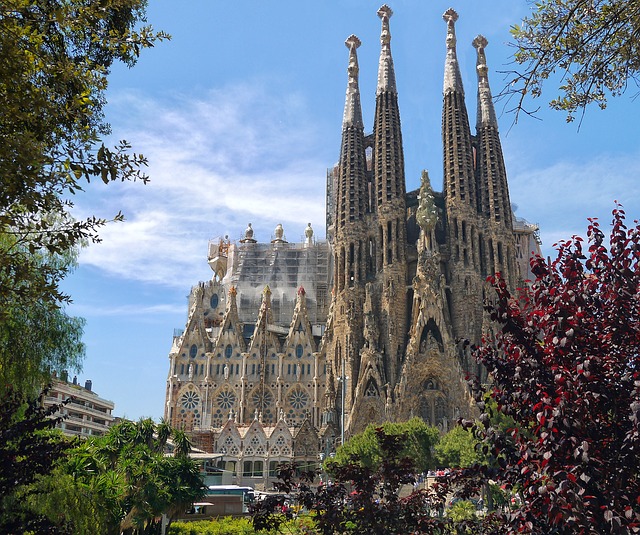 [edit]
Introduction
The Sagrada Familia is a monumental Roman Catholic church in Barcelona, Spain. It was designed by the architect Antoni Gaudi. Construction work has been ongoing, intermittently, since 1882, and it is perhaps the most famous incomplete building in the world. It is listed as a UNESCO World Heritage Site and is an iconic symbol of Spain.
The Spiritual Association of Devotees of Saint Joseph was founded in 1874, and began campaigning for the construction of an expiatory temple dedicated to the Holy Family. The Association purchased a plot of land in Barcelona and the first stone was laid on St. Joseph's Day, March 1882.
Gaudi became involved a year later and transformed the original neo-gothic design into his trademark style, combining elements of gothic and byzantine cathedrals, and curvilinear Art Nouveau forms. Gaudi continued to work on the project until his death in 1926, when less than a quarter of his grand vision had been realised.
Today, the Sagrada Familia is one of the largest testing grounds for construction methods in the world, and one of Spain's most popular tourist attractions, with visitor entrance fees financing the annual construction budget of around 25 million euros.
Gaudi wanted to express Christian belief through the architecture of the cathedral, and to capture the essence of transcendence with the lofty forms, geometry and the interplay of light and colour. His original design consisted of 18 towers, each with its own significance. The central tower would be dedicated to Jesus Christ and was intended to reach 172 m in height.
The temple is made up of a central nave flanked by aisles and transepts forming a Latin cross. At the head of the cross is a semi-circular apse. Three monumental facades represent Christ's birth, his Passion, Death and Resurrection, and future Glory.
A model of Gaudi's finished design: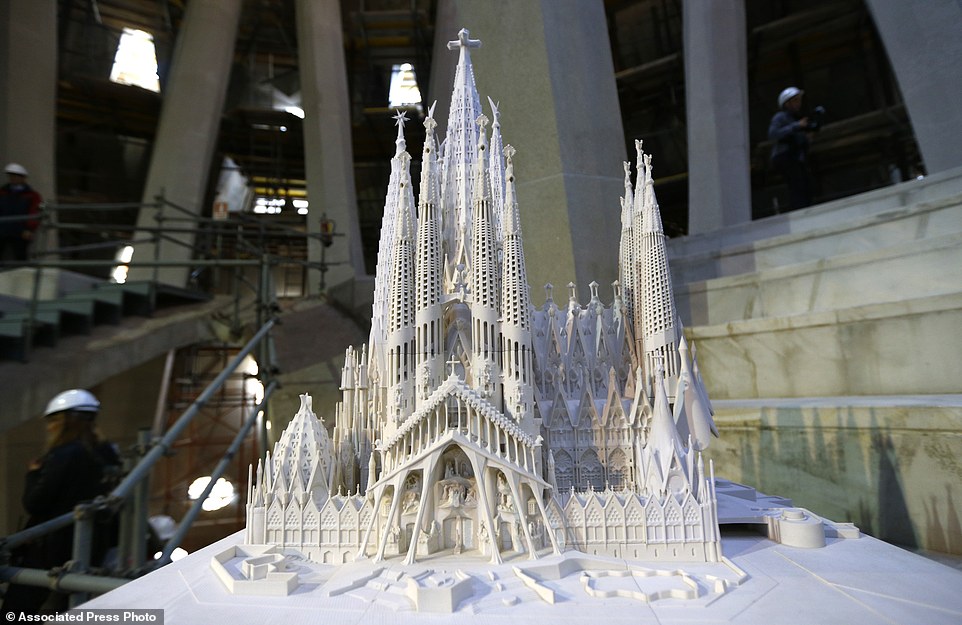 Knowing he would not be alive to see the temple completed, Gaudi planned the construction in modules, starting with the apse and first façade. Seeking to overcome traditional Gothic structural systems, Gaudi began experimenting with balanced and self-supporting structures using inverted models and graphical calculation. He was inspired by the idea of a 'forest' structure of leaning columns that would branch out like trees, and create an organised and hierarchical system to support a light and airy vault.
Some of the structural forms Gaudi introduced to the Sagrada Familia include:
The stone material used includes various sandstones and granite, as well as reinforced concrete for the naves. Thin masonry timbrel makes up much of the vaulting. This is a traditional Catalonian construction, consisting of 2-3 layers of overlapping tiles or flat bricks woven together with fast-setting mortar, creating a highly-resistant structure. All the stone used in the construction work is now cut using state-of-the-art computer-controlled systems.
To reduce the roofing load and to allow more light into the building, Gaudi designed lucarnes (skylights) between the columns, based on hyperboloids. These are built using gold and green glass and tiles. The apse's stained glass conforms to a plan of graduated tones to create an introspective atmosphere.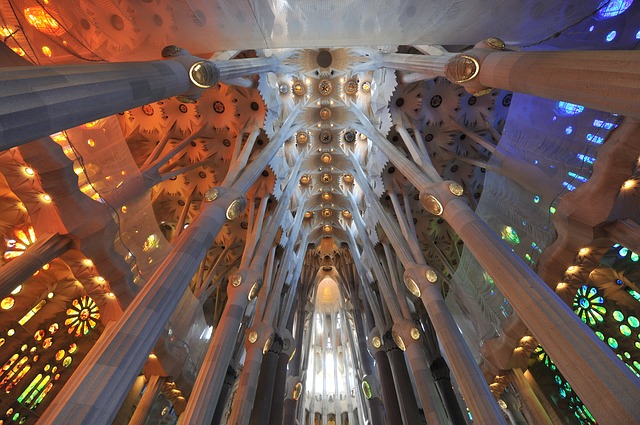 After Gaudi's death in 1926, construction work was continued by architects and craftsmen from his workshops. The reliance on private donations and the outbreak of the Spanish Civil War in the late-1930s, meant that construction progressed slowly, only becoming more steady in the 1950s.
The central nave vaulting was completed in 2000, with the focus since then turning to the construction of the transept vaults and aspe. In 2006, work focused on the crossing and supporting structure of the main Jesus Christ tower as well as the southern Glory façade.
The midpoint was reported to have been reached in 2010, with 8 of the spires having been built, leaving 6 of the largest towers remaining. The current chief architect Jordi Fauli announced in October 2015, that the construction was 70% complete. The towers and most of the structure are planned for completion by 2026, the centenary of Gaudi's death, with decorative elements complete by 2030-2032.
On 7 June 2019, the Basilica of the Sagrada Família had its building permit approved, 137 years after the original application for a license from the City Council of Sant Martí de Provençals. The monumental porch remains pending, and will allow work to start on the second phase of the unfinished part of the narthex.
IHBC NewsBlog
COVID-19: Advice and Updates collated from the Heritage Sector
Organisations with conservation links have been collating resources on COVID-19 impacts, including Built Environment Forum Scotland (BEFS), Historic Environment Forum, The Heritage Alliance (THA), and Historic England, on cleaning surfaces.
---
Councils considering 'executive powers' as measures to avoid planning gridlock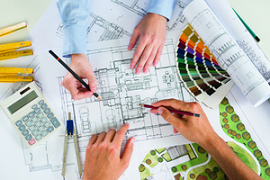 Councils are reported to be considering taking up rarely-used executive powers to keep the planning and development system moving during the coronavirus pandemic.
---
Historic England provides updated flood recovery advice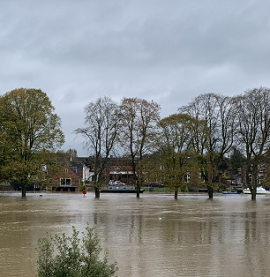 Historic England's 'After a Flood' provides timely advice on how to dry walls properly and avoid further damage to the building fabric.
---
Conservation of Timber Buildings: an example of evolving conservation techniques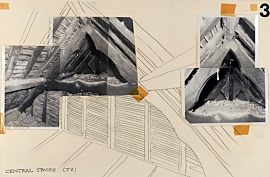 Context Issue 162 offers a peek into an archive of timber conservation history through the records of the practice of FWB and Mary Charles Chartered Architects.
---
Call for VAT rates for Refurbishment to be Reduced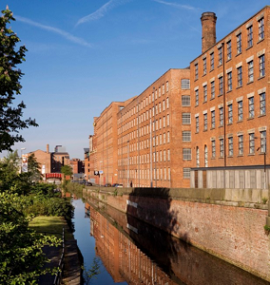 To meet the government's target of being carbon neutral by 2050, we must recycle, reuse and responsibly adapt our existing historic buildings, according to this year's Heritage Counts report, so Historic England and partners are calling for a reduction in VAT rates to incentivise this more sustainable option.
---
Grade II Edwardian swimming baths in Birmingham restored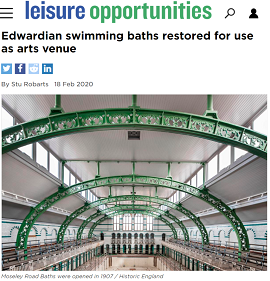 Donald Insall Associates, with the help of Historic England, has completed restoration work of Moseley Road Baths, being converted for use as an arts and culture venue.
---
IHBC Marsh Award Nominations – Closing Date 30 March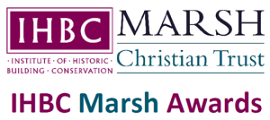 Celebrate your local 'retired members' and 'successful learners' with £500 cash prizes and 2020 Brighton School places!
---
Biodiversity Net Gain through UK Construction Projects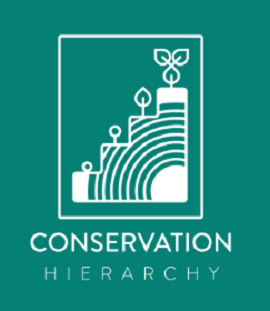 The Conservation Hierarchy is a new framework developed by the University of Oxford to help construction projects achieve Biodiversity Net Gain.
---
How Project Managers for Town Centre Developments can Balance Risk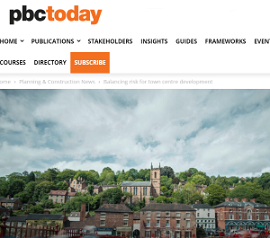 Jacqueline Hughes, senior risk analyst at Equib, in pbctoday discusses how project managers for town centre developments can get their risk management strategies right.
---
Red Tape is Strangling our High Streets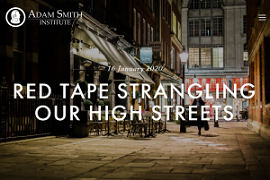 A new paper from the Adam Smith Institute argues that the problem with the High Street has been totally misunderstood, saying that we need to reform restrictive planning rules and reject a policy of managed decline to reinvigorate our town centres.
---
Calculating the full cost of energy used by buildings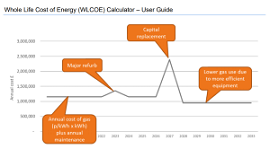 The Whole Life Cost of Energy (WLCoE) calculator – issued by government in BETA form – is intended to help building owners and operators to understand the full financial cost of the energy their buildings use, and welcomes feedback
---
England's heritage worth £31Bn: New Historic England report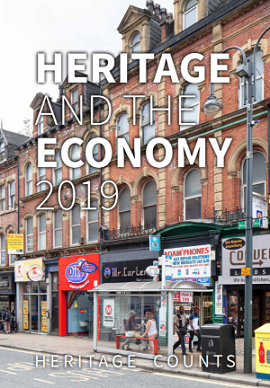 New research published by Historic England (HE) shows the value of heritage to England's economy as it contributes to economic prosperity and growth through jobs in the heritage and construction sectors and from tourism.
---