Hagia Sophia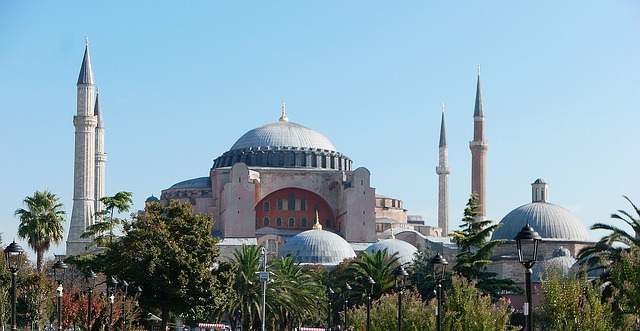 [edit]
Introduction
Hagia Sophia is a religious monument of the Byzantine empire, located in Istanbul, Turkey. It is considered to be one of the most important architectural achievements in the world, and is an iconic example of Byzantine architecture due in large part to its dome which was a significant innovation at the time.
It was the world's largest cathedral for nearly a thousand years until the completion of Seville Cathedral in 1520.
Dating back to A.D. 532, the Hagia Sophia originally served as a Greek Orthodox Christian church and seat of the Patriarch of Constantinople. When Constantinople was invaded by the Ottomans in 1453 it was converted into an imperial mosque. In 1935, the founder of the Republic of Turkey, President Ataturk, transformed it into a secular museum, a role it maintains to this day. It was listed by UNESCO as a World Heritage Site in 1985.
In A.D. 532, Emperor Justinian I built a basilica on the site of two previous churches that originated from around A.D. 346 but had been destroyed by fire.
The church was constructed using ashlar and brick. It is rectangular in shape with a vast square nave measuring 31 m (102 ft). The nave is covered by a central dome, which at its highest is 55.6 m (182.5 ft) above floor level, making it one of the largest in the world. The dome rests on four pendentives. This construction element was an innovative development for the architects of the time. For more information, see Pendentive dome.
The original construction was completed after only 5 years, in A.D. 537. However, it was flawed due to more mortar being used than brick, which weakened the walls. The weight of the dome then caused the walls to lean outward and eventually to collapse following an earthquake in A.D. 558. When it was rebuilt five years later, the dome was raised by around 6 m so that the lateral forces would be less and the weight could be transferred more easily down into the walls. In total, 40 ribs were incorporated that extend from the top to the base, allowing the load of the structure to transmit between the windows to the pendentives.
The distinctive illumination of the nave interior is achieved by the 40 arched windows that are built around the arcade at the base of the dome. Arched openings at the west and east side of the church are extended by half domes. The building has two levels – a ground floor and a gallery, a common feature of Byzantine churches.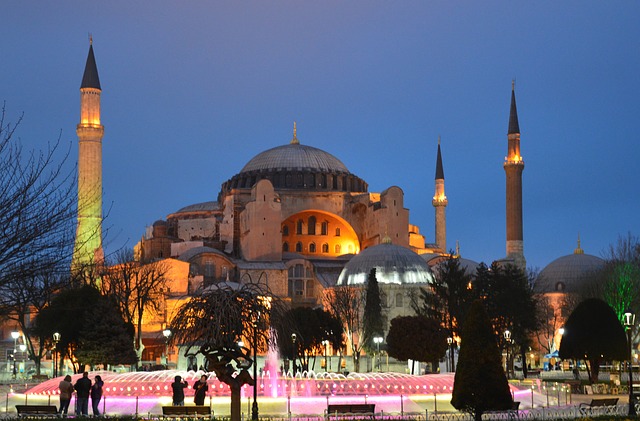 Four 60 m (200 ft)-tall minarets were added at each corner after the 15th century mosque conversion, one of which was constructed using red brick, and the other three using white limestone and sandstone. Over the centuries, the interior was adorned with many elaborate golden mosaics and decorations.
A large-scale restoration of Hagia Sophia was carried out between 1847 and 1849, in which columns were straightened, the dome and vaults consolidated, the decorative features revised, and the minarets repaired and altered to make them of equal height. When the building was converted into a museum in 1935, white plaster was removed from the interior, revealing many concealed mosaics and marble decorations.
By the 1990s, the structure was in need of further repair due to rising ground water and moisture penetration that was rendering the brick and stonework unstable. By 2006, the dome had been fully repaired and the mosaics preserved under the guidance of the World Monuments Fund.
Today, the Hagia Sophia is one of the most iconic religious monuments in the world and a popular tourist attraction, with approximately 3.3 million visitors a year.
[edit]
Find out more
[edit]
External references
IHBC NewsBlog
IHBC FREE CPD Boost - Easy Access Webinar from Historic England and the IHBC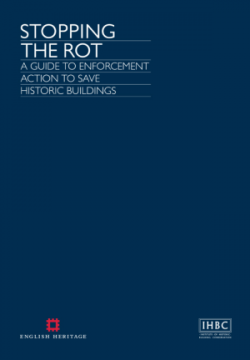 'Enhancing conservation areas & townscapes with S.215s', 13 December - numbers limited so book now!
---
IHBC Out of Context - CPD check-up and prize


'Who said that and what would you say back? FREE BS7913 for the best responses…
---
IHBC CPD boost: bite-sized briefings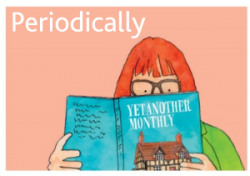 'Periodically', Bob Kindred's bite-sized briefings from the best of current heritage handbooks.
---
IHBC CPD Green Issue QuickQuiz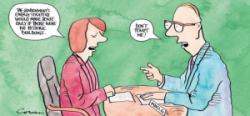 Do you know the ABCs of EPCs?
---
IHBC CPD Green Issue QuickQuiz Part 2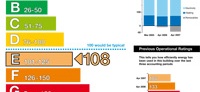 Do you know the ABCs of EPCs? - The answers! You tested your knowledge on energy performance certificates (EPC's) in the last Newsblog so now see how well you did!
---
IHBC at Listed Property Show London 2019 – FREE CPD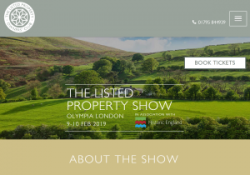 4 hours free CPD via IHBC and partners + lots more at the show in association with Historic England, on 9-10 February 2019 at London's Olympia.
---
IHBC launches new Toolbox Guidance Note for small traders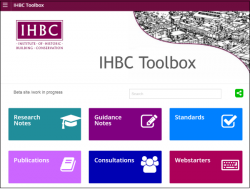 IHBC's latest Guidance Note in our Toolbox aims to provide sole practitioners and small traders with advice on taking on new work, offering 'Ten Red Flags' to watch out for.
---
Scotland - Historic Environment Audit (SHEA) 2018 is now out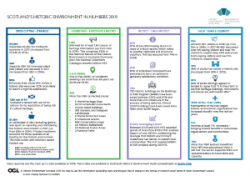 HES lead officer, Karen Robertson, has offered her personal blog looking at the trends and findings.
---
Slate Landscape of North-West Wales - preferred UNESCO World Heritage Site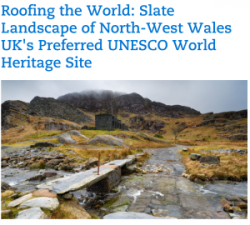 The Slate Landscape of North-West Wales will be the UK's next preferred nomination for UNESCO World Heritage Site status, Heritage Minister Michael Ellis announced recently.
---
Draft Parliamentary Buildings (Restoration and Renewal) Bill for Palace of Westminster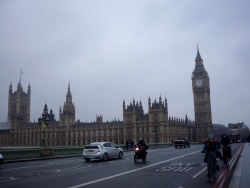 The draft Bill has been presented to allow 'interested parties the opportunity to consider the approach taken to the governance of the Restoration and Renewal Programme'.
---
APPG for Healthy Homes & Buildings White Paper published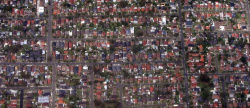 The White Paper highlights 'the need for a holistic approach to building design and renovation'.
---
Register English Community Assets on CAsE and you could win £100 gift voucher
The Architectural Heritage Fund (AHF) asks if you own or manage a community asset that you register it on the new Community Assets Exchange - you could win £100 gift voucher.
---
North of Tyne gets £600m devolution deal
Northern Powerhouse minister Jake Berry has confirmed a £600 million devolution deal for the North of Tyne. It is expected to generate £1.1 billion for the local economy.
---
Fifteen projects reach final of Heritage Angel Awards Wales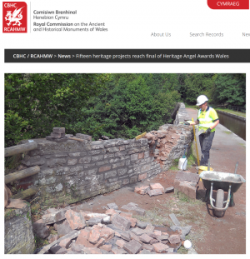 Fifteen outstanding examples of heritage achievement have been selected for a Heritage Angel Award by a panel of judges headed by Baroness Kay Andrews.
---
Entries open for 2019 John Betjeman award: Closing 26 Feb 2019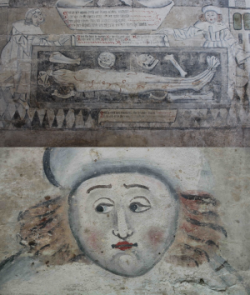 SPAB invites nominations for the award celebrating excellence in the repair to specific elements of places of worship of all denominations and faiths in England and Wales.
---
Civic Voice: Guidance tool for communities to identify local heritage assets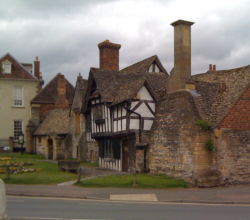 A resource developed as part of Civic Voice's Big Conservation Conversation and their 'Local Heritage List' campaign.
---
The economic value of culture - a benefit transfer study on museums in England
New research has been published to help understand the visitor and non-visitor value of cultural engagement at 4 cultural institutions in England – is this transferrable?
---
Former housing minister Nick Raynsford issues warning on planning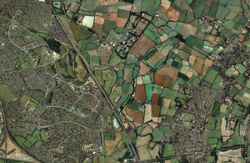 He writes that it has been reduced to a 'chaotic patchwork' of responsibilities which is not compatible with promoting the health, wellbeing and civil rights of communities.
---
DCMS revises - Principles of Selection for Listed Buildings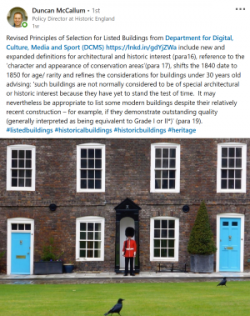 The Department for Digital, Culture, Media and Sport (DCMS) has issued its revised 'Principles of Selection for Listed Buildings' with new dates, definitions and more.
---
Specialist contractors call for government regulation of the construction industry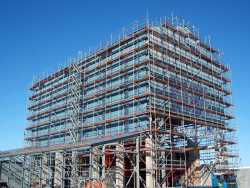 The chairman of the Specialist Engineering Contractors' (SEC) Group wants to government to set up a statutory authority to regulate construction industry practice.
---
Brexit skills shortages - survey

Add your company's take to the largest-ever poll on Brexit skills shortages.
---
Slow progress on encouraging female apprentices to construction industry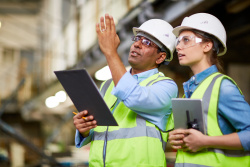 With 88% male in 2016/17 industry initiatives to encourage young women to join the construction industry do not appear to be making much headway.
---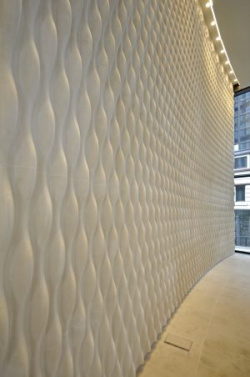 Water-jet cutting of stone changes the industry, but only so far!
---
Nuclear archive wins Andrew Doolan Best Building in Scotland Award for 2018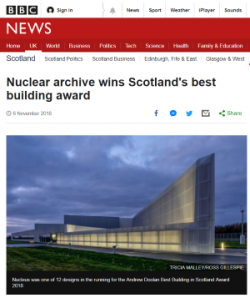 A national archive for the civil nuclear industry by Reiach & Hall Architects has won a top Scottish architecture prize: the Andrew Doolan Best Building in Scotland Award for 2018.