Angkor Wat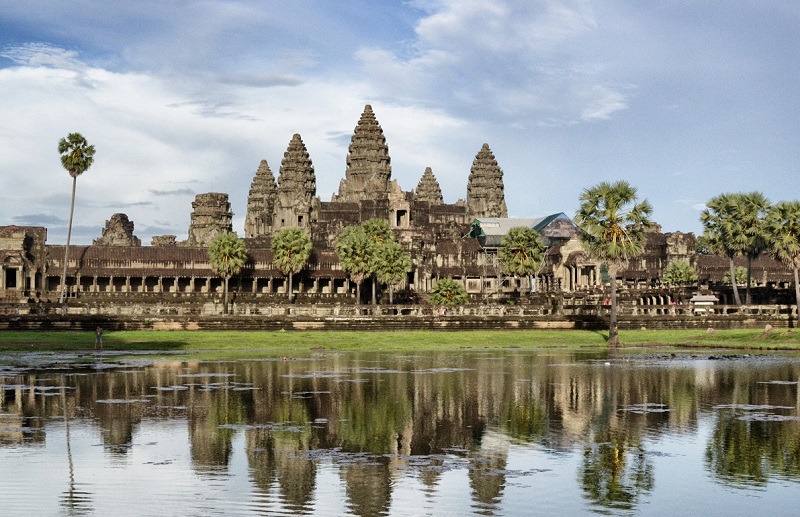 [edit]
Introduction
Angkor Wat is a religious temple complex in Cambodia. At 402 acres, it is the largest religious monument in the world, and is considered to be the finest classical example of Khmer architecture, a building tradition that spanned the 9th and 15th centuries AD during the reign of the Khmer Empire.
King Suryavarman II began the construction after ascending to the throne in 1113. It is not known who the architects or designers were. Originally, it was built as a Hindu temple of the god Vishnu. Reflecting this, the temple faces west in contrast with many of the other temples at Angkor. However, towards the end of the 12th century it was transformed into a Buddhist temple.
Over the course of the 20th century, Angkor Wat became more well-known globally as a symbol of Cambodia, and today it is the country's main tourist attraction.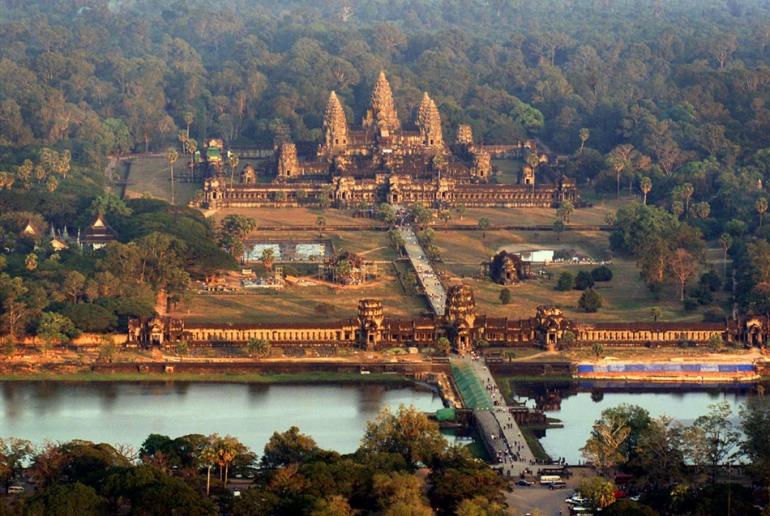 The temple complex is surrounded by a 190m-wide moat forming a 1.5km by 1.3km rectangle. A sandstone causeway crosses the moat on its western side. The stylistic elements of the complex are characteristic of Khmer architecture and include the ogival, lotus bud-shaped towers, half-galleries, axial galleries, connecting enclosures and cruciform terraces.
The main pyramid takes the form of three stepped terraces with covered galleries bordering all sides of each step. The corners of the second and third steps are punctuated by towers, the highest of which rises to 55m.
At the time of its construction, Khmer architects were proficient in the use of sandstone as a building material, and the complex was constructed using 5-10 million sandstone blocks, each weighing up to 1.5 tons. These blocks were quarried from the mountain of Phnom Kulen, more than 50km away, and were floated on rafts down the Siem Reap River. Inscriptions record that the construction involved 300,000 workers and 6,000 elephants.
The sandstone blocks form the most visible elements of the structure, while a type of clay local to the area, laterite, was used for the outer wall and concealed structural elements. The precise binding agent for the blocks is unknown, although it is believed to be natural resin or slaked lime.
Internally, the smooth stones were laid with very tight joints without mortar, held together instead by mortise and tenon joints, or by dovetails and gravity. It is believed the blocks were assembled using a combination of elephants, coir ropes and pulleys, and bamboo scaffolding.
Angkor Wat is famous for its vast array of symbolic detailing. Nearly 2,000 sq.m of bas reliefs are intricately carved into the sandstone,as well as extensively carved lintels, friezes and pediments, and nearly 2,000 depictions of apsaras (celestial dancers).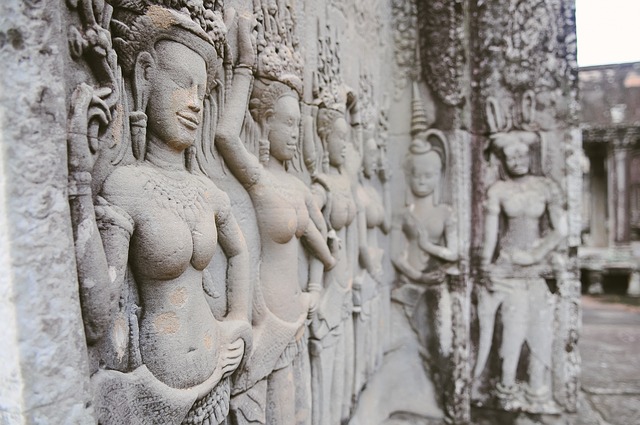 After King Suryavarman II's death, the temple was converted to Buddhist use by King Jayavarman VII. Western interest in the temple only really began with the writings of the French naturalist Henri Mouhot in the 1860s.
Conservation work was started by the French in the early-20th century and continued over the decades in an attempt to preserve the structure from damage caused by plant growth, fungi, ground movement, war and looting. Conservation efforts were halted for around 20 years during the Cambodian civil war and the rise to power of the Khmer Rouge.
In 1992, Angkor Wat became a UNESCO World Heritage Site, and teams from around the world have returned to stabilise and preserve it. In particular, they have worked to tackle microbial biofilms which degrade sandstone. Extensive conservation works have replaced and restored some of the sculptures which were lost or damaged.
IHBC NewsBlog
IHBC Virtual School 19 June: Heritage Reflections & Speculations from a Pandemic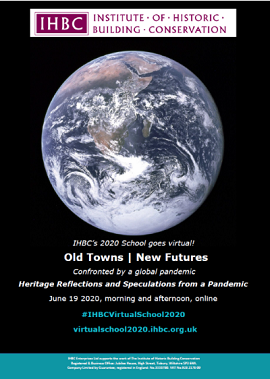 How the current pandemic will shape historic urban areas and their surrounding communities across the globe is impossible to tell. Join us to reflect on the implications for our current approaches to caring for valued places, and even speculate on future strategies and responses.
---
How to Enjoy Heritage from Home, from the Heritage Fund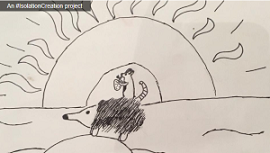 The Heritage Fund has put together a list of heritage-inspired activities to be done from home.
---
Listed Property Owners Club's Spring Checklist for Buildings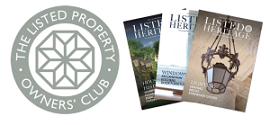 Spring is a good time to stand back and consider any building repairs that are required over the next 12 months, notes the LPOC, and regular inspection and maintenance is the key to keeping homes in good repair, as per its accessible step-by-step guidance.
---
Firefighters tackle blaze at converted Grade II listed former mill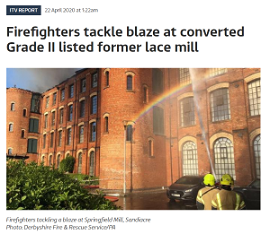 Derbyshire Fire and Rescue Service said "rapid and effective firefighting" had saved three quarters of the mill – which is now apartments.
---
Thieves take advantage of lockdown to steal lead from church roof in Halsham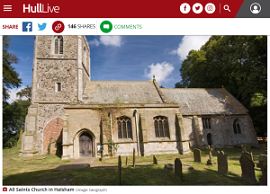 Police have appealed for witnesses after thieves stole lead from the roof of All Saints Church in Halsham near Hedon during the coronavirus lockdown.
---
IHBC's CPD Circular provides info on digital CPD opportunities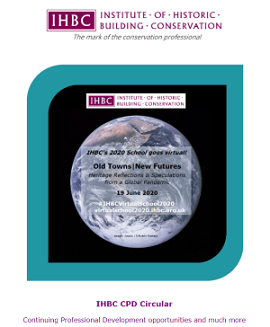 The regular newsletter showcases the IHBC's own Continuing Professional Development (CPD) content as well as online opportunities from 'IHBC Recognised CPD Providers' and other conservation related training and events.
---
Frank Lloyd Wright houses offer virtual tours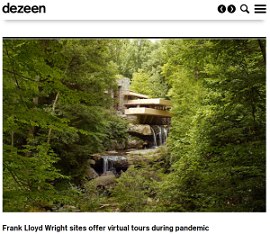 To make sure the public still has access to twelve of those famous works, #WrightVirtualVisits has been launched, which offers virtual tours of 12 iconic houses.
---
CIC's Coronavirus Digest review and survey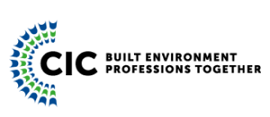 The Construction Industry Council's (CIC's) 'CIC Coronavirus Digest – Issue 8' surveys the latest government advice with updates from the construction industry.
---
COVID-19: Advice and Updates collated from the Heritage Sector
Organisations with conservation links have been collating resources on COVID-19 impacts, including Built Environment Forum Scotland (BEFS), Historic Environment Forum, The Heritage Alliance (THA), and Historic England, on cleaning surfaces.
---
Councils considering 'executive powers' as measures to avoid planning gridlock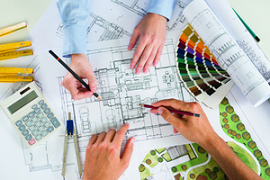 Councils are reported to be considering taking up rarely-used executive powers to keep the planning and development system moving during the coronavirus pandemic.
---
Historic England provides updated flood recovery advice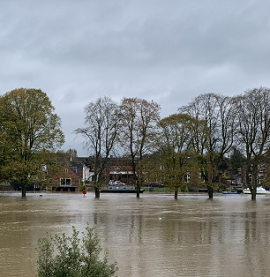 Historic England's 'After a Flood' provides timely advice on how to dry walls properly and avoid further damage to the building fabric.
---
Conservation of Timber Buildings: an example of evolving conservation techniques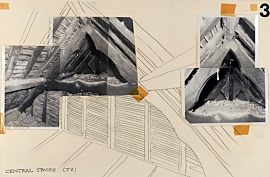 Context Issue 162 offers a peek into an archive of timber conservation history through the records of the practice of FWB and Mary Charles Chartered Architects.
---
Call for VAT rates for Refurbishment to be Reduced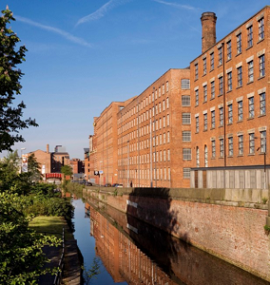 To meet the government's target of being carbon neutral by 2050, we must recycle, reuse and responsibly adapt our existing historic buildings, according to this year's Heritage Counts report, so Historic England and partners are calling for a reduction in VAT rates to incentivise this more sustainable option.
---