Angkor Wat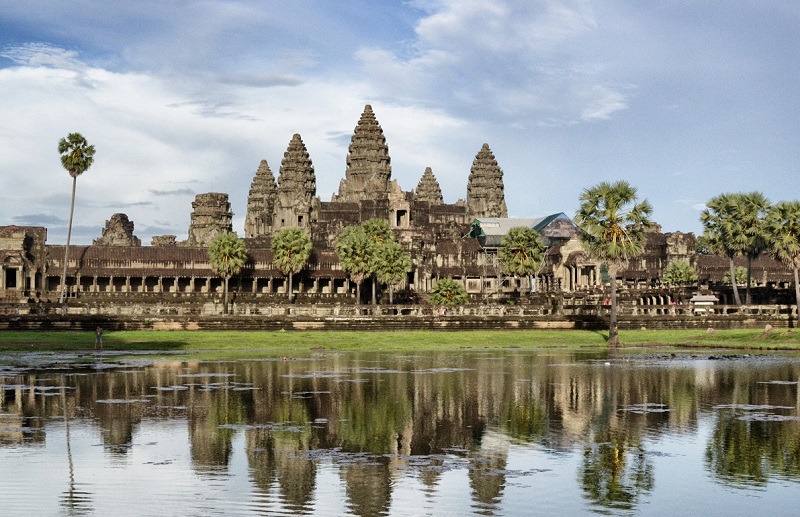 [edit]
Introduction
Angkor Wat is a religious temple complex in Cambodia. At 402 acres, it is the largest religious monument in the world, and is considered to be the finest classical example of Khmer architecture, a building tradition that spanned five centuries during reign of the Khmer Empire.
King Suryavarman II began the construction after ascending to the throne in 1113. It is not known who the architects or designers were. Originally, it was built as a Hindu temple of the god Vishnu. Reflecting this, the temple faces west in contrast with many of the other temples at Angkor. However, towards the end of the 12th century it was transformed into a Buddhist temple.
Over the course of the 20th century, Angkor Wat became more well-known globally as a symbol of Cambodia, and today it is the country's main tourist attraction.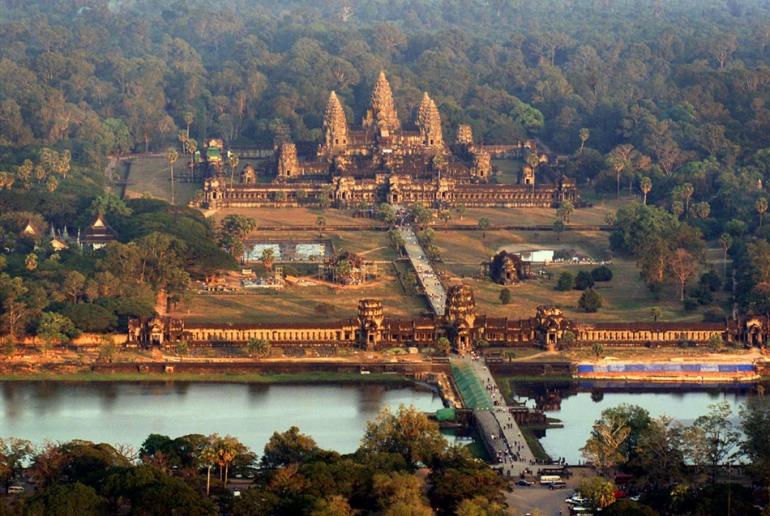 The temple complex is surrounded by a moat 190 m wide, which forms a rectangle 1.5 km by 1.3 km. A sandstone causeway crosses the moat on its western side. The stylistic elements of the complex characteristic of Khmer architecture include; the ogival, lotus bud-shaped towers, half-galleries, axial galleries connecting enclosures and cruciform terraces.
The main pyramid takes the form of three stepped terraces, with covered galleries bordering all sides of each step. The corners of the second and third steps are punctuated by the towers, the highest of which tower rises to 55 m.
At the time of its construction, Khmer architects were proficient in the use of sandstone as a building material, and the complex was constructed using 5-10 million sandstone blocks, weighing up to 1.5 tons. These blocks were quarried from the mountain of Phnom Kulen, more than 50 km away, and were floated on rafts down the Siem Reap River. Inscriptions record that the construction involved 300,000 workers and 6,000 elephants.
The sandstone blocks form the most visible elements of the structure, while a type of clay local to the area, laterite, was used for the outer wall and concealed structural elements. The precise binding agent for the blocks is unknown, although it is believed to be natural resins or slaked lime.
Internally, the smooth stones were laid with very tight joints without mortar, held together instead by mortise and tenon joints, or by dovetails and gravity. It is believed the blocks were assembled using a combination of elephants, coir ropes and pulleys, and bamboo scaffolding.
Angkor Wat is famous for its vast array of symbolic detailing. Nearly 2,000 sq. m of bas reliefs are intricately carved into the sandstone,as well as extensively carved lintels, friezes and pediments, and nearly 2,000 depictions of apsaras (celestial dancers).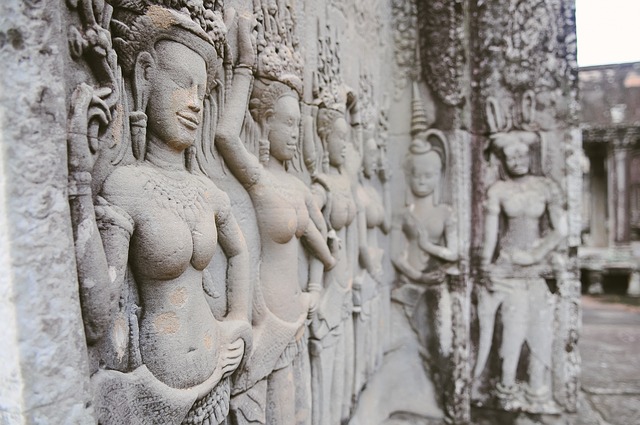 After King Suryavarman II's death, the temple was converted to Buddhist use by King Jayavarman VII. Western interest in the temple only really began with the writings of the French naturalist Henri Mouhot in the 1860s.
Conservation work was started be the French in the early-20th century and continued over the decades in an attempt to preserve the structure from damage caused by plant growth, fungi, ground movement, war and looting. Conservation efforts were halted for around 20 years with the onset of the Cambodian Civil War and the rise to power of the Khmer Rouge.
In 1992, Angkor Wat became a UNESCO World Heritage Site, and teams from around the world have returned to stabilise and preserve it. In particular, they have worked to tackle microbial biofilms which degrade sandstone. Extensive conservation works have replaced and restored some of the sculptures which were lost or damaged.
IHBC NewsBlog
IHBC Jobs etc - latest skills review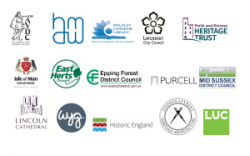 Heritage specialisms from regulation and regeneration to project management, design and more all featured in our 'Jobs etc.' service, with many posts still open!
---
Reminder - IHBC fees were due in April but remember money is not a barrier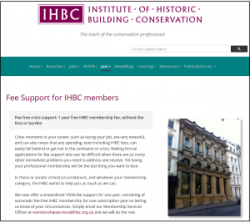 With low fees to no fees IHBC membership offers great value for the progression of your heritage career, job or trade.
---
IHBC HESPR top pick from £160K+ costed work this week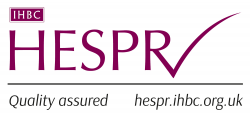 NHMF seeks suppliers for 'baseline survey' of register of support services among grantees; closing 07/09, value £15,000.
---
IHBC supports Civic Voice 2018 conference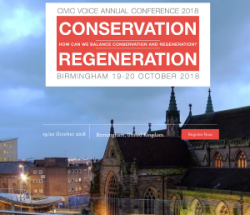 'How can we balance conservation and regeneration?' takes place in Birmingham on 19/20 Oct and the IHBC is delighted to host a stand for delegates across both days.
---
IHBC - Heritage from the doorstep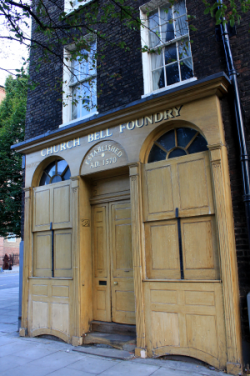 Charity hopes to buy back historic Whitechapel Bell Foundry from developers.
image: By Mramoeba – Own work, CC BY-SA 4.0, https://commons.wikimedia.org/w/index.php?curid=53705569
---
IHBC CPD Boost 1 - DBW on Prefabrication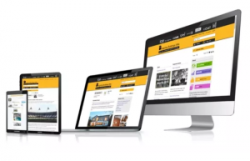 IHBC's Conservation Wiki re-posts from our membership journal on post-war mass housing with DBW offering a briefing on prefabrication.
---
IHBC CPD Boost 2 - EMPs for building design and construction
DBW offers a new briefing on environmental management plans which are an essential tool for setting and managing environmental objectives for a project.
---
Court of Appeal on principles in considering the setting of listed building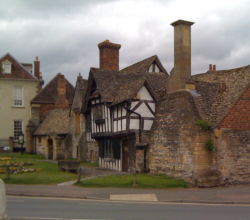 Local Government Lawyer reports on the Court of Appeal's judgement on the general principles of considering the setting of listed buildings and the effect of developments.
---
BEFS calls for case studies for next Historic Environment Audit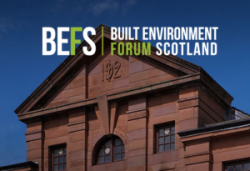 Built Environment Forum Scotland (BEFS) is seeking data and case studies for the next Scottish Historic Environment Audit.
---
House of Lords Select Committee Inquiry seeks views on regenerating seaside towns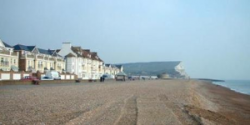 Written submissions are invited, with a deadline of 1pm on Tuesday 9 October 2018.
image: Parliamentary copyright images are reproduced with the permission of Parliament
---
HES Consultation: Conservation of historic plasterwork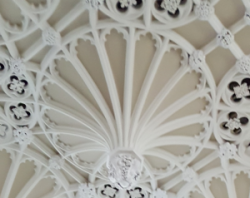 Historic Environment Scotland is seeking assistance with views on conserving historic plasterwork in Scotland, in a survey commissioned from Adams Napier Partnership.
---
Government strategy for Civil Society in England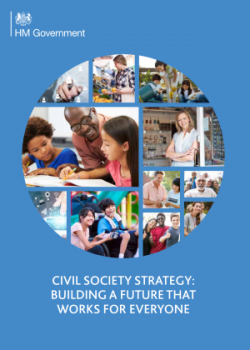 England's DCMS and Office for Civil Society have issued a strategy setting out long term plans to create a country that works for everyone', the first such strategy in 15 years.
---
LI new president launches #ChooseLandscape careers campaign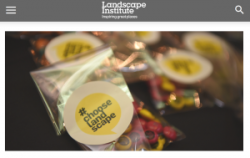 A careers campaign launched by the new president of the Landscape Institute(LI), Adam White, aims to address urgent skills shortages in the landscape profession.
---
Alan Jones elected RIBA President 2019-21
Alan Jones will take over the two-year presidential term from Ben Derbyshire next year (1/09/2019) while from 1/09/2018 he will officially become RIBA President Elect.
image: RIBA website
---
Architecture Apprenticeships in England: update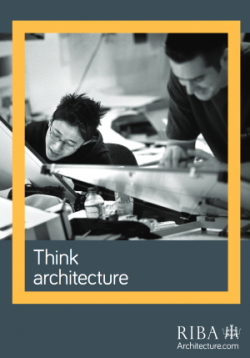 The RIBA has announced that the first standards for architecture apprenticeships have been approved, for both architectural assistant and architect roles.
---
SAVE on local legal challenge to 40 storey tower block in Manchester launched
Manchester Civic Society, through Steve Speakman, chairman, is issuing a legal challenge to planning permission for the tower block within a conservation area, supported by SAVE.
---
ICE on making cities more gender inclusive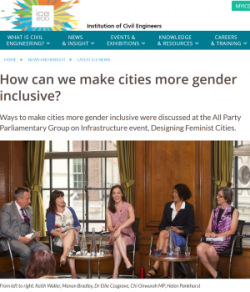 Ways to make cities more gender inclusive were discussed at the APPG event, 'Designing Feminist Cities', on 19 July at ICE's London headquarters.