Pediment
In classical, neoclassical and baroque architecture, a pediment is the triangular gable that forms the end of a pitched roof. It is placed above the horizontal entablature which is typically supported by columns. It is also sometimes seen as the top element of a portico. In classical Greek temples, the pediment was the crowning feature of the front elevation, with the tympanum (the area within the pediment) being decorated with relief sculptures depicting mythological figures and scenes.
The Romans later adapted the pediment as a decorative finish for doors, windows and niches.
There are a number of variations of the traditional pediment:
The segmental or arch form in which the angular slopes of the cornice are replaced by a circle segment.
The broken pediment in which the raking cornice is left open at the apex.
The open pediment in Georgian architecture, in which the pediment is open along the base.
The 'swan-necked pediment', where the raking cornice takes the form of two S-shaped brackets facing one another.
[edit]
External references
Featured articles and news
IHBC Gus Astley Student Award 2017 now open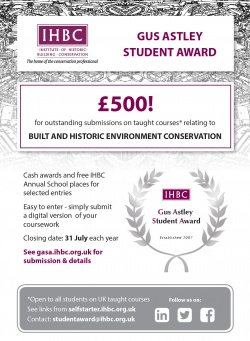 Send in your coursework on a taught course by 31 July for a chance to win a prize and attend the IHBC's Annual School in Belfast in June 2018.
---
Can Wellington (NZ) save its heritage buildings before it's too late?

---
Local military heritage at risk
The Daily Telegraph reports that many small regimental museums are to lose Ministry of Defence (MoD) funding by the end of next decade.
---
Heritage Open Days festival 2016 attended by millions
The Heritage Open Days (HODs) 2016 Impact Report shows an estimated 3 million visitors attending 5293 events with £10m for local economies.
---
International News - Cultural Protection Fund projects announced
The British Council has announced the initial projects to be supported by the Cultural Protection Fund, which will protect heritage overseas.