Portico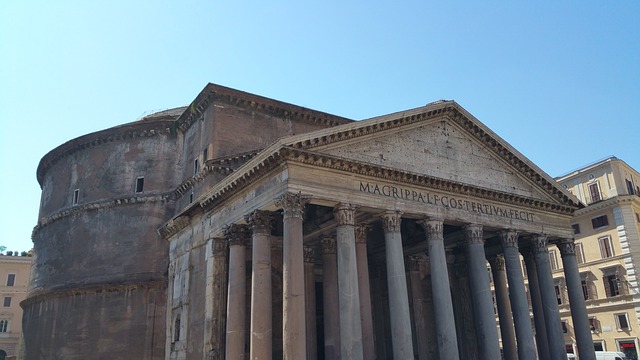 In classical architecture, a portico is a colonnaded porch leading to a building's entrance, or a covered walkway which is enclosed by walls and supported by regularly-spaced columns.
Porticos were a widely-adopted feature of temple architecture in Ancient Greece and were subsequently adopted in many other cultures, particularly Roman architecture.
There are two general types of portico in plan form.
The first is where a temple's walls extend beyond the cella (inner chamber) and form side walls of the porch or anteroom. Generally, these long walls would terminate with antas (corner post or pilaster). The portico, or open end of the porch, is supported by between 1 and 4 columns in antis (between the antas).
The second is where a temple terminates with a porch, open at the front but also at the sides. The temple is referred to as 'prostyle', with freestanding columns across the entire portico. The different types of temple are referred to as:
Amphiprostyle: Porticoes in front and back.
Peripteral: Colonnade running all the way around.
Dipteral: Double line of columns running all the way around.
Pediments were sometimes used to top porticos.
The terminology for porticos dependent on the number of columns they have is:
The city with the most porticos is Bologna in northern Italy, where they are part of a UNESCO World Heritage site. Most of the city's porticos were constructed from timber until a city ordinance in 1567 decreed that 'wooden pillars be replaced by brick or stone'.
Bologna also boasts the world's longest portico, stretching approximately 2 miles (3.5 km) from the edge of the city to the Sanctuary of the Madonna di San Luca. With 666 arches it represents civic mindedness, built by contributions from Bologna's citizens.
[edit]
Find out more
IHBC NewsBlog
IHBC's first Virtual School a Marked Success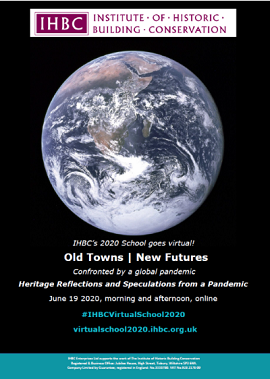 The first 'Virtual School' hosted by the IHBC was launched on 19 June with lead speakers covering pandemic-related topics shaping valued places over two sessions.
---
MPs are Asked for Views on £4bn Parliament Restoration Plan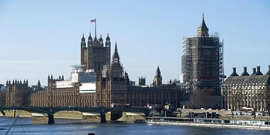 MPs and peers are being asked for their views on the planned restoration and renewal of the Houses of Parliament.
---
Ireland National Heritage Week: 15-23 August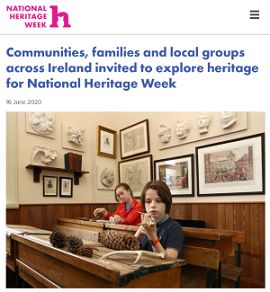 Plans are in place for a modified National Heritage Week for Ireland, which take into account ongoing restrictions on events and gatherings due to COVID-19.
---
Grimsby's historic Ice Factory thrown new survival lifeline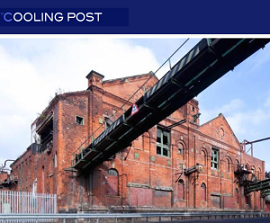 Opened in 1901, and derelict for the last 30 years, the Grimsby Ice Factory is the earliest and largest known surviving ice factory in the world. It still contains an array of historic ice making equipment including four J&E Hall ammonia compressors installed in 1931.
---
Risk Assessments and Contractual Impact from CIAT

A note on contractual obligations under the current COVID-19 pandemic has been issued by The Chartered Institute of Architectural Technologists(CIAT).
---
RTPI calls on government to issue planning guidance to prevent development delays

The Royal Town Planning Institute (RTPI) has called on the government to urgently issue planning guidance to prevent unnecessary delays to development from the pandemic.
---
How to Enjoy Heritage from Home, from the Heritage Fund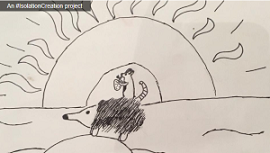 The Heritage Fund has put together a list of heritage-inspired activities to be done from home.
---
Listed Property Owners Club's Spring Checklist for Buildings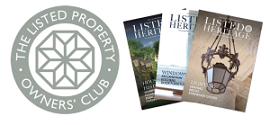 Spring is a good time to stand back and consider any building repairs that are required over the next 12 months, notes the LPOC, and regular inspection and maintenance is the key to keeping homes in good repair, as per its accessible step-by-step guidance.
---
Firefighters tackle blaze at converted Grade II listed former mill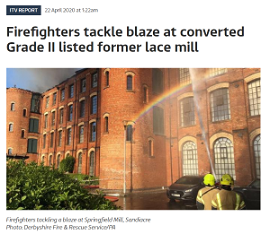 Derbyshire Fire and Rescue Service said "rapid and effective firefighting" had saved three quarters of the mill – which is now apartments.
---
Thieves take advantage of lockdown to steal lead from church roof in Halsham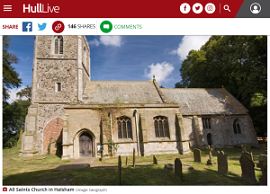 Police have appealed for witnesses after thieves stole lead from the roof of All Saints Church in Halsham near Hedon during the coronavirus lockdown.
---
IHBC's CPD Circular provides info on digital CPD opportunities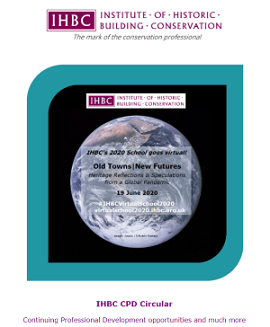 The regular newsletter showcases the IHBC's own Continuing Professional Development (CPD) content as well as online opportunities from 'IHBC Recognised CPD Providers' and other conservation related training and events.
---
Frank Lloyd Wright houses offer virtual tours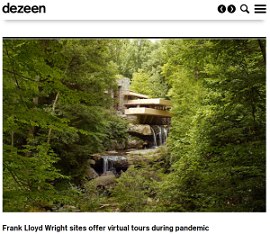 To make sure the public still has access to twelve of those famous works, #WrightVirtualVisits has been launched, which offers virtual tours of 12 iconic houses.
---