Pitched roof
[edit]
Introduction
A pitched roof is a roof that slopes downwards, typically in two parts at an angle from a central ridge, but sometimes in one part, from one edge to another. The 'pitch' of a roof is its vertical rise divided by its horizontal span and is a measure of its steepness.
A pitched roof is in contrast to a flat roof which, technically, is any roof with a slope less than 10°; however, in practise they tend to be much shallower, commonly being expressed as a gradient and can be anywhere from 1:40 to 1:80. For more information, see Flat roof.
The two basic construction methods of pitched roofs are:
There are also a number of other framed constructions, such as portal frame roofs.
[edit] Types of pitched roof
There are several different types of pitched roof:
A mono pitch roof is one which slopes from one side of a building (or part of it) to another. The mono pitch roof was commonly used to form extensions in Victorian times and is still used in a similar fashion today. In domestic construction, it typically comprises a series of rafters fixed to walls at either end of the roof span which support battens to which the roof covering is fixed.
For more information, see Mono pitch roof.
Often referred to as the simplest form of pitched roof, the couple roof comprises two lengths of timber (rafters) leaning against one another, tied where they meet at the top.
For more information, see Couple roof.
By adding ceiling joists, a length of timber running horizontally between the rafter feet, to the couple roof form, the structure becomes much more secure. The joist acts as a tie preventing the outward deflection of the wall and increases the potential roof-span. they can also be used to support a flat ceiling.
For more information, see Closed couple roof.
By raising the height of the ceiling joists higher than the bottom of the rafters, the collar roofa llows upper rooms to be constructed partly in the roof space, leading to some economies by slightly reducing the height of the external walls and therefore the amount of brickwork needed.
For more information, see Collar roof.
In order to increase potential roof spans without compromising wall stability, increasing rafter sizes or attracting extra costs, purlins can be introduced. By installing a purlin into the roof structure, rafters are given extra support and no longer needed to be as thick and heavy.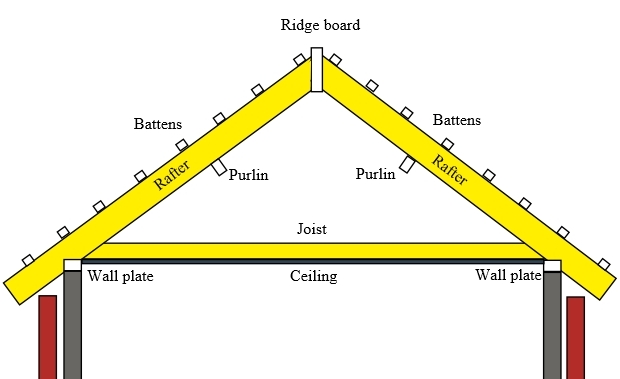 For more information, see Purlin roof.
Trusses enable wider spans to be achieved than previous methods. Until the 1920's, it was common to have two trusses in a typical dwelling, however more could be used, depending on the load.
For more information, see Large section truss.
In modern house construction the most common form of trussed rafter is known as the fink or 'w' truss. This consists of a rafter incorporating tension and compression members in the shape of a W. This trussed rafter is capable of spans up to 12 m and can be designed to accommodate many different pitch angles.
For more information, see Trussed rafter.
[edit]
Coverings
The most common types of covering for pitched roofs are:
For more information, see Roof coverings.
IHBC NewsBlog
---
Stay 'in the know' about recent job and trainee openings with IHBC's latest 'Jobs, etc.'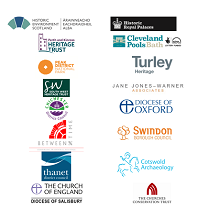 March updates include Scottish trainee opportunities in HES, and QS and PM openings in HRP. Sign up for free alerts today.
---
IHBC HESPR top pick from £400k+ costed work this week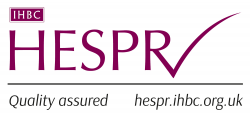 NE Lincs seeks appraisal and business planning team for regen, Port of Grimsby 08/04, value £50k
---
Tailored Review of Historic England: Closing 9 May

The Department for Digital, Culture Media and Sport (DCMS) is conducting a tailored review of Historic England – so to help inform this review, DCMS seeks feedback through an online survey closing on 9 May.
---
Degree apprenticeship for town planners gets green light from Government


The first degree-level apprenticeship to train Chartered Town Planners in England has been approved by the Government, with employers in England able to recruit candidates.
---
Councils fear Swansea construction giant's collapse could be 'Welsh Carillion'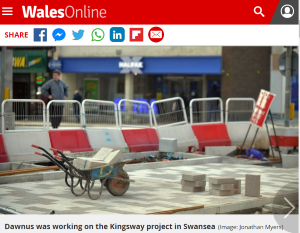 LocalGov new has reported on how the collapse of Dawnus Construction could be a 'Welsh Carillion'.
---
Civic Voice provides evidence to the England's Building Better Commission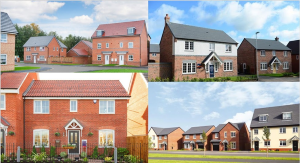 Civic Voice has presented evidence to the Government's Building Better, Building Beautiful Commission.
---
Find HESPR members' offices using the IHBC's new map-based search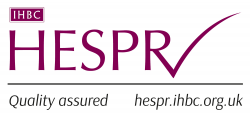 IHBC members, colleagues and client bodies can now find the office locations of HESPR members using our new map-based facility.
---
IHBC Gus Astley Student Awards update - See the benefits through online testimonials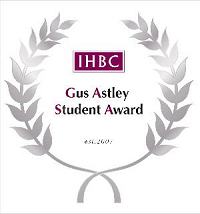 See how 2018 winners have secured places on Nottingham's 2019 School: 'Heritage, Risk and Resilience', 4-6 July, while entries for 2019 close on July 31.
---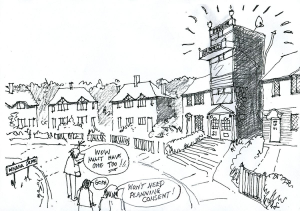 As the government plans to bring forward most of its controversial package of new permitted development rights (PDR) and use class uses Civic Voice raises the deep concerns of local communities.
---
RICS highlights the 'High Street' dilemma: How to save the UK high street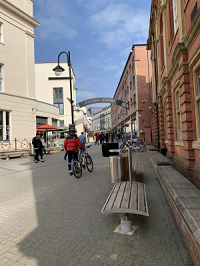 RICS has featured an article from its Modus publication on town centres that asks if there is 'any purpose in 'defending' something once its economic purpose fades?'.
---
Committee calls for public inquiry into GSA fires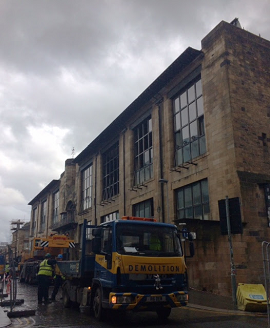 The circumstances surrounding the two fires at the Glasgow School of Art's Mackintosh Building should be the subject of a public inquiry with judicial powers argued an inquiry into the issue by MSPs on the Culture, Tourism, Europe and External Affairs Committee.
---
Appointment of new BRE Group CEO: Gillian Charlesworth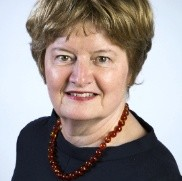 BRE Group has appointed a new Group Chief Executive, Gillian Charlesworth, currently a member of the Global Executive team of the RICS, to succeed Niall Trafford.
---