Taj Mahal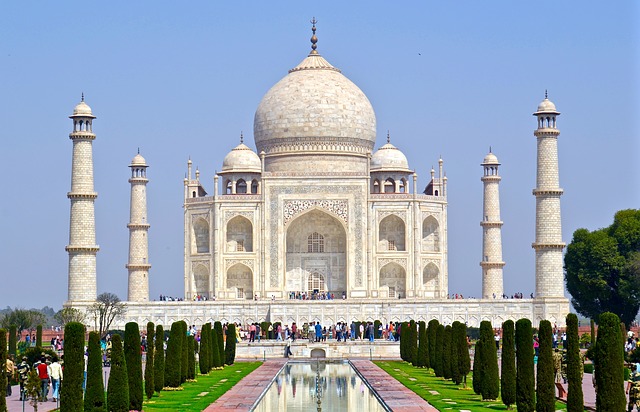 [edit]
Introduction
The Taj Mahal is an ivory-white marble mausoleum located on the south bank of the Yamuna river in the Indian city of Agra. As a national symbol of India it is one of the most recognisible buildings in the world. The complex is actually made up of several buildings and gardens extending over 55.5 acres.
It was commissioned in 1632 by the Mughal emperor Shah Jahan to house the tomb of his favourite wife Mumtaz Mahal who died during childbirth. It was designed by Ustad Ahmad Lahauri, and is generally regarded as the best example of Mughal architecture, which is a blend of Indian, Persian and Islamic styles.
The architectural principles the Taj Mahal encapsulates include:
Rational and strict geometry.
Perfect symmetrical planning.
Hierarchical grading of materials, forms and colours.
Triadic divisions bound together in proportional formulas.
Uniformity of shapes.
Sensuous attention to detail.
Selective use of naturalism.
Symbolism.
The construction of the mausoleum was completed in 1643, with the rest of the complex taking a further ten years and a cost estimated to be 32 million rupees (equivalent to approx. $827 m in 2015).
It was designated as a UNESCO World Heritage Site in 1983, described as 'the jewel of Muslim art in India and one of the universally admired masterpieces of the world's heritage'. It attracts around 7-8 million visitors a year and frequently tops polls listing the world's most admired or beautiful building.
The translucent white Makrana marble tomb of the Taj Mahal is positioned on a square plinth 7 m (23 ft) high. Its four facades are almost identical, each with a wide central arch rising to 33 m (108 ft) at its apex. The central dome is 73 m (240 ft) high and its finial and is surrounded by four smaller domes. Four minarets are positioned on each corner of the square plinth.
The mausoleum interior is organised around an octagonal marble chamber with low-relief carvings and precious stones.
Flanking the mausoleum are two symmetrically identical buildings, the east-facing mosque and its west-facing jawab. Both are built of red Sikri sandstone with marble-necked domes and architraves.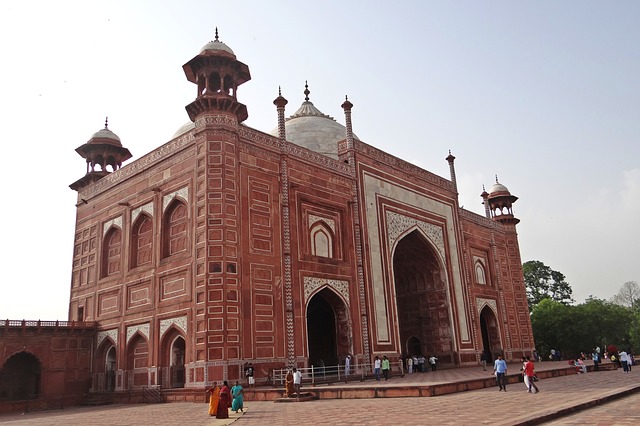 The garden is set out as a square quartered by long watercourses with walking paths, fountains and ornamental trees.
The southern end of the complex is marked by a wide red sandstone gateway with a recessed central arch that reaches a height of two-storeys.
Verses from the Quran are inscribed in calligraphy across many sections of the Taj Mahal, including the soaring arched entrance to the mausoleum. The size of the lettering increases according to its relative height and distance from the observer. This was used as a means of achieving a uniform appearance from the vantage point of the terrace.
The construction process involved 22,000 workers and artisans from all over central Asia and beyond. It is thought that over 1,000 elephants were used to transport building materials. Precious and semi-precious stones inlaid into the white marble include jade and crystal from China, turquoise from Tibet, Lapis lazuli from Afghanistan, sapphire from Sri Lanka, and carnelian from Arabia.
Common legend has it that the emperor had wanted an identical black marble mausoleum to be built in the complex, although this failed to transpire.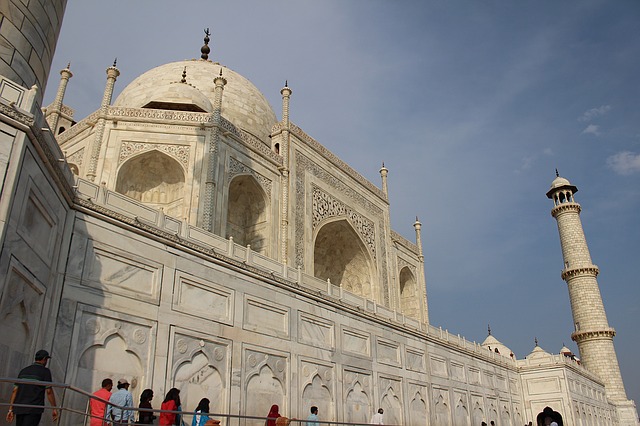 Over the centuries, the Taj Mahal was neglected and allowed to fall into disrepair. At the time of the 1857 Indian rebellion, British soldiers and government officials chiselled out many of the precious stones from its walls.
However, at the beginning of the 20th century, a major restoration project was carried out under the direction of the British Viceroy of India, Lord Curzon.
The building faced several threats during the 20th century, from Japanese air attacks during the Second World War which prompted the government to disguise it with scaffolding, and from anticipated air attacks during the India-Pakistan wars of 1965 and 1971.
Environmental pollution also became a threat. Air pollution and acid rain caused by nearby factories, oil refineries and traffic was discolouring the marble façade. The Indian government acted by establishing the Taj Trapezium Zone (TTZ), a 4,000 sq. mile area around the complex with strict emissions standards, forcing the closure of some foundries and the banning of motor vehicles.
More recently, the decline in groundwater level in the Yamuna river basin has raised concerns about the tomb's structural integrity. Cracks began to appear in 2010 and the minarets showed signs of tilting, leading to fears that the wooden foundation may be rotting due to water deficit.
The conservation debate continues in India, with tighter restrictions being put in place to prevent pollution damaging the complex further.
In May 2018, it was reported that the Indian Supreme Court had suggested that the Indian government and the Utter Pradesh state government seek international help to reverse the Taj Mahal's marble discolouration. This problem has been caused by insects that secrete a green substance, which have been attracted by algae from the Yamuna River.
Speaking to the Archaeological Survey of India, two members of the Indian Supreme Court were quoted as saying, "it is very serious. It seems you are helpless. It has to be saved. You can get help from experts from outside to assess the damage done and restore it."
[edit]
Find out more
[edit]
External references
IHBC NewsBlog
IHBC FREE CPD Boost - Easy Access Webinar from Historic England and the IHBC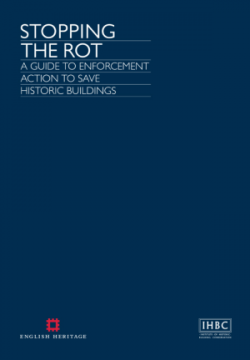 'Enhancing conservation areas & townscapes with S.215s', 13 December - numbers limited so book now!
---
IHBC Out of Context - CPD check-up and prize


'Who said that and what would you say back? FREE BS7913 for the best responses…
---
IHBC CPD boost: bite-sized briefings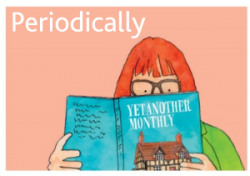 'Periodically', Bob Kindred's bite-sized briefings from the best of current heritage handbooks.
---
IHBC CPD Green Issue QuickQuiz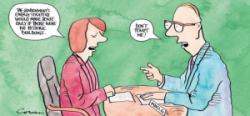 Do you know the ABCs of EPCs?
---
IHBC CPD Green Issue QuickQuiz Part 2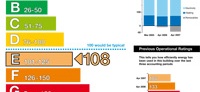 Do you know the ABCs of EPCs? - The answers! You tested your knowledge on energy performance certificates (EPC's) in the last Newsblog so now see how well you did!
---
IHBC at Listed Property Show London 2019 – FREE CPD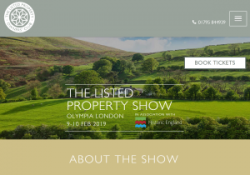 4 hours free CPD via IHBC and partners + lots more at the show in association with Historic England, on 9-10 February 2019 at London's Olympia.
---
IHBC launches new Toolbox Guidance Note for small traders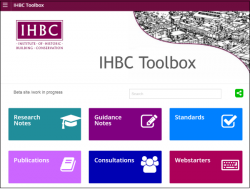 IHBC's latest Guidance Note in our Toolbox aims to provide sole practitioners and small traders with advice on taking on new work, offering 'Ten Red Flags' to watch out for.
---
Scotland - Historic Environment Audit (SHEA) 2018 is now out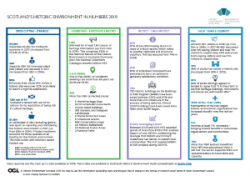 HES lead officer, Karen Robertson, has offered her personal blog looking at the trends and findings.
---
Slate Landscape of North-West Wales - preferred UNESCO World Heritage Site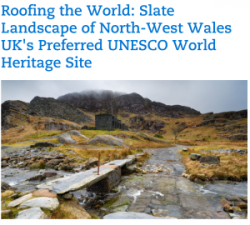 The Slate Landscape of North-West Wales will be the UK's next preferred nomination for UNESCO World Heritage Site status, Heritage Minister Michael Ellis announced recently.
---
Draft Parliamentary Buildings (Restoration and Renewal) Bill for Palace of Westminster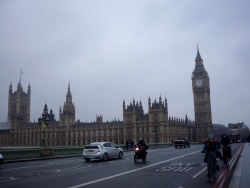 The draft Bill has been presented to allow 'interested parties the opportunity to consider the approach taken to the governance of the Restoration and Renewal Programme'.
---
APPG for Healthy Homes & Buildings White Paper published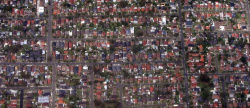 The White Paper highlights 'the need for a holistic approach to building design and renovation'.
---
Register English Community Assets on CAsE and you could win £100 gift voucher
The Architectural Heritage Fund (AHF) asks if you own or manage a community asset that you register it on the new Community Assets Exchange - you could win £100 gift voucher.
---
North of Tyne gets £600m devolution deal
Northern Powerhouse minister Jake Berry has confirmed a £600 million devolution deal for the North of Tyne. It is expected to generate £1.1 billion for the local economy.
---
Fifteen projects reach final of Heritage Angel Awards Wales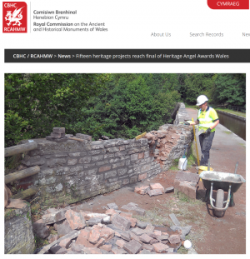 Fifteen outstanding examples of heritage achievement have been selected for a Heritage Angel Award by a panel of judges headed by Baroness Kay Andrews.
---
Entries open for 2019 John Betjeman award: Closing 26 Feb 2019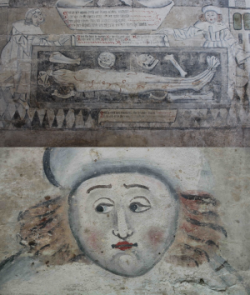 SPAB invites nominations for the award celebrating excellence in the repair to specific elements of places of worship of all denominations and faiths in England and Wales.
---
Civic Voice: Guidance tool for communities to identify local heritage assets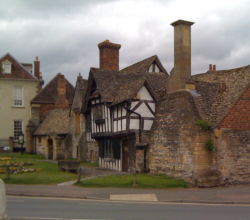 A resource developed as part of Civic Voice's Big Conservation Conversation and their 'Local Heritage List' campaign.
---
The economic value of culture - a benefit transfer study on museums in England
New research has been published to help understand the visitor and non-visitor value of cultural engagement at 4 cultural institutions in England – is this transferrable?
---
Former housing minister Nick Raynsford issues warning on planning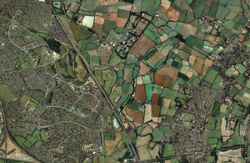 He writes that it has been reduced to a 'chaotic patchwork' of responsibilities which is not compatible with promoting the health, wellbeing and civil rights of communities.
---
DCMS revises - Principles of Selection for Listed Buildings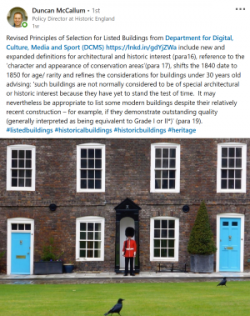 The Department for Digital, Culture, Media and Sport (DCMS) has issued its revised 'Principles of Selection for Listed Buildings' with new dates, definitions and more.
---
Specialist contractors call for government regulation of the construction industry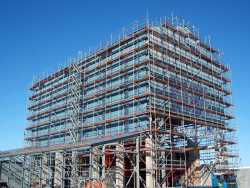 The chairman of the Specialist Engineering Contractors' (SEC) Group wants to government to set up a statutory authority to regulate construction industry practice.
---
Brexit skills shortages - survey

Add your company's take to the largest-ever poll on Brexit skills shortages.
---
Slow progress on encouraging female apprentices to construction industry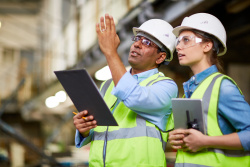 With 88% male in 2016/17 industry initiatives to encourage young women to join the construction industry do not appear to be making much headway.
---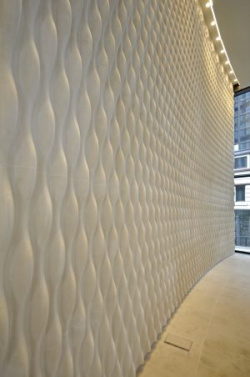 Water-jet cutting of stone changes the industry, but only so far!
---
Nuclear archive wins Andrew Doolan Best Building in Scotland Award for 2018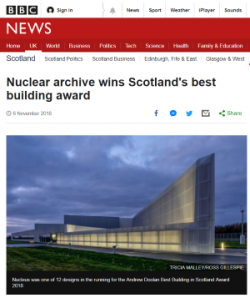 A national archive for the civil nuclear industry by Reiach & Hall Architects has won a top Scottish architecture prize: the Andrew Doolan Best Building in Scotland Award for 2018.