The British Mosque: an architectural and social history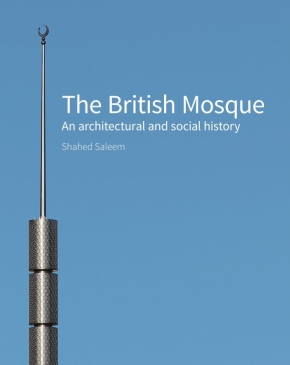 The British Mosque: an architectural and social history.
Shahed Saleem, Historic England, 2018, 340 pages, 350 illustrations, hardback.
This is the story of some 1,500 mosques in Britain, their history, evolution, numbers, geographic distribution, architectural typologies, styles, patterns of growth and urban settings. As a result of an English Heritage / Historic England project, the book skilfully tells an intriguing narrative that goes beyond the dry comprehensive survey.
What is a mosque? What happens between the walls of one? Why do some mosques have domes and minarets, while others do not? What is the difference between Sunni and Shi'ah Muslims? How are differences among Muslim sects reflected in the architecture of their mosques?
Saleem's book answers all these questions and more by contextualising the British mosque. It tells the stories of Muslims' 130 years search for their identity as Brits. Some were migrants from Muslim countries. Others were British-born white, or people of colour who converted to Islam. Besides housing their religious, cultural and social needs, the mosque expressed Muslims' identity and announced their presence by adding a new layer to the diversity of the British cityscape.
The appearance of the mosque in British cities was not always a smooth process. Most mosques were not built before going through various adaptations of design proposals and tough negotiations because of objections by non-Muslim local communities, or in response to refusals by local authorities' architects and planners. The 70 years it took to realise Regent Park Mosque is perhaps an extreme example of such a complicated and lengthy process.
Purpose-built mosques express the different phases and generations of British Muslims' search for their identity as both British and Muslim. On the other hand, mosques that were adaptations of existing buildings tell a rich story of organic growth of Muslim communities' confidence and endeavours to establish their place in Britain.
British mosques are a fascinating catalogue of adaptive reuse of houses, churches, synagogues, schools, warehouses, nightclubs, public houses, dance halls, bingo halls, cinemas, casinos, libraries and fire stations, among other buildings. It is also a catalogue of conservation practices. Brick Lane Mosque is an interesting example of interventions in a Grade II listed building that observed conservation ethics: 'Through its positioning and its contemporary styling, the minaret carefully negotiates the issue of not altering a historic and listed building to such a degree that its original character is compromised, while nevertheless identifying the Islamic use of the building. It functions, therefore, as street sculpture as much as specifically a signifier of the mosque.'
Brick Lane Mosque is a wonderful example of the diversity of religious faiths and immigrant histories in London. It used to be a Huguenot church, a Christian missionary school, a Wesleyan Methodist chapel, and a Jewish school and synagogue, before it became a mosque in 1976. Understandably, a photograph of its minaret is chosen for the book jacket.
---
This article originally appeared as 'A search for identity' in IHBC's Context 157 (Page 62), published in November 2018. It was written by Hossam Mahdy, international freelance consultant on the conservation of Islamic built heritage.
--Institute of Historic Building Conservation
IHBC NewsBlog
IHBC's first Virtual School a Marked Success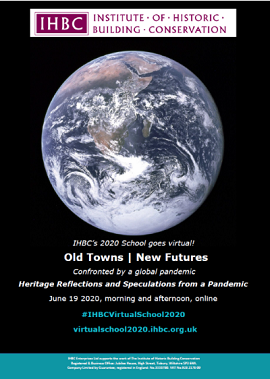 The first 'Virtual School' hosted by the IHBC was launched on 19 June with lead speakers covering pandemic-related topics shaping valued places over two sessions.
---
MPs are Asked for Views on £4bn Parliament Restoration Plan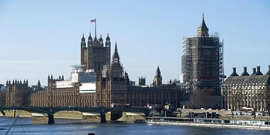 MPs and peers are being asked for their views on the planned restoration and renewal of the Houses of Parliament.
---
Ireland National Heritage Week: 15-23 August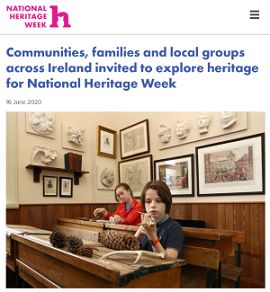 Plans are in place for a modified National Heritage Week for Ireland, which take into account ongoing restrictions on events and gatherings due to COVID-19.
---
Grimsby's historic Ice Factory thrown new survival lifeline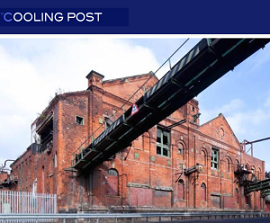 Opened in 1901, and derelict for the last 30 years, the Grimsby Ice Factory is the earliest and largest known surviving ice factory in the world. It still contains an array of historic ice making equipment including four J&E Hall ammonia compressors installed in 1931.
---
Risk Assessments and Contractual Impact from CIAT

A note on contractual obligations under the current COVID-19 pandemic has been issued by The Chartered Institute of Architectural Technologists(CIAT).
---
RTPI calls on government to issue planning guidance to prevent development delays

The Royal Town Planning Institute (RTPI) has called on the government to urgently issue planning guidance to prevent unnecessary delays to development from the pandemic.
---
How to Enjoy Heritage from Home, from the Heritage Fund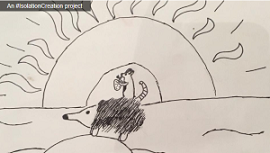 The Heritage Fund has put together a list of heritage-inspired activities to be done from home.
---
Listed Property Owners Club's Spring Checklist for Buildings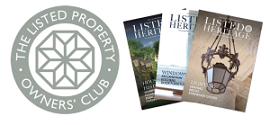 Spring is a good time to stand back and consider any building repairs that are required over the next 12 months, notes the LPOC, and regular inspection and maintenance is the key to keeping homes in good repair, as per its accessible step-by-step guidance.
---
Firefighters tackle blaze at converted Grade II listed former mill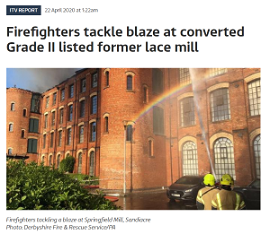 Derbyshire Fire and Rescue Service said "rapid and effective firefighting" had saved three quarters of the mill – which is now apartments.
---
Thieves take advantage of lockdown to steal lead from church roof in Halsham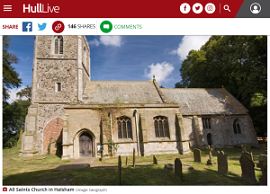 Police have appealed for witnesses after thieves stole lead from the roof of All Saints Church in Halsham near Hedon during the coronavirus lockdown.
---
IHBC's CPD Circular provides info on digital CPD opportunities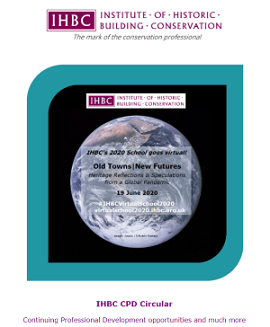 The regular newsletter showcases the IHBC's own Continuing Professional Development (CPD) content as well as online opportunities from 'IHBC Recognised CPD Providers' and other conservation related training and events.
---
Frank Lloyd Wright houses offer virtual tours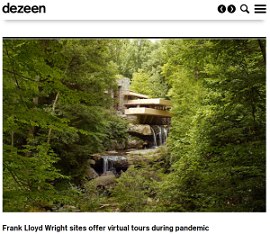 To make sure the public still has access to twelve of those famous works, #WrightVirtualVisits has been launched, which offers virtual tours of 12 iconic houses.
---