Hunky punk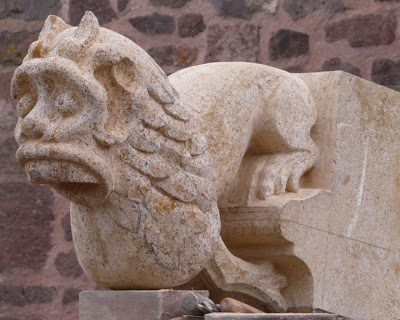 A hunky punk is a colloquial variation of a grotesque carving, specific to the West Country of England, particularly Somerset.
A hunky punk is often a short squatting figure, usually an animal, carved in stone. The name apparently derives from a combination of the old English terms 'hunkers' meaning haunches, and 'punchy' meaning short-legged.
They are typically found on late-Gothic churches, although they can be found from middle-to-late medieval architecture onwards. They are typically positioned at the corner of a church tower, along the coping ridge below any crenellations.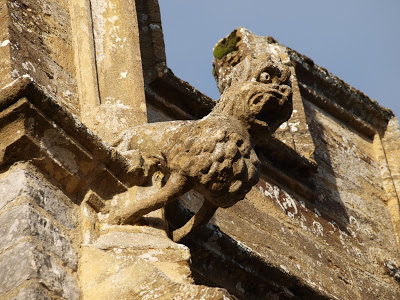 While similar in appearance to gargoyles, a hunky punk is actually a grotesque in that it is a purely ornamental architectural feature rather than having the function of draining water. However, Victorians did punch holes through some hunky punks to create rainwater downpipes.
The theory behind hunky punks and grotesques in general, was that churches were designed to reflect the balance between good and evil, reminding worshippers of the narrow path leading through life. As a result, for every saint or animal that was intended to signify purity and 'goodness', there was also an ugly creature to signify evil and 'badness'.
IHBC NewsBlog
Conservation Areas go 'Back to the future' at the Royal College of Physicians on 3 Oct as revolutionary historic placeshaping looks ahead to the next 50 years.
---
Join IHBC Yorkshire in Hull Old Town walking tour on 4 Oct
The Yorkshire Branch's walking tour around Hull's Old Town is part of the linked Heritage Trust Network (HTN) Conference on 3-4 October - special rates to IHBC members.
---
HESPR top pick from over £132,000 costed work this week
National Archives support for establishing fundraising charity - though only HESPR members have been notified before the opportunity closed on 22 September.
---
IHBC-ALGAO-HE Local Authority conservation and archaeology staffing stats published
Historic England has issued the latest figures collated by the IHBC and ALGAO which highlights ongoing reductions in capacity even as workload continues to grow.
---
Historic England National Capacity Building Programme 2018-2020 - call for applications
On 25 September applications open for the programme, supporting projects that run for a maximum of 2 years, with funding starting from 1 April 2018.
---
Owner of Kensington Square stripey house gets green light to demolish
The conservation area house that generated its own IHBC ToolBox Guidance Note on the use of S.215 Notices may now be demolished and a new one built in its place.
---
Funding call for projects related to the European Year for Cultural Heritage 2018
Creative Europe Call - offering support for cooperation projects related to EYCH 2018 and targeting projects with a start date between January and September 2018 closes 22 Nov.
---
Britain ratifies Hague convention on protecting treasures in war zones
John Glen, Minister for Arts, Heritage and Tourism has pledged the UK to helping save historic and artistic artefacts under threat in conflict-torn countries.
---
Entries to EAA awards open until 5pm Friday 27th October 2017
Entries to The European Association Awards (EAA) are now open and the deadline for entries is 5pm Friday 27th October 2017.
---
DCLG package of £22.8M – a boost for communities until 2022
Parliamentary copyright images are reproduced with the permission of Parliament
England's DCLG the package of support worth £22.8 million to help communities develop plans to give them a real say in the development of their area.
---
Ministers asked to intervene in Edinburgh luxury hotel dispute
City councillors rejected plans to a build 'six-star' hotel around the Category-A listed Royal High School after public objections - the developers ask Scottish ministers to intervene.