Hunky punk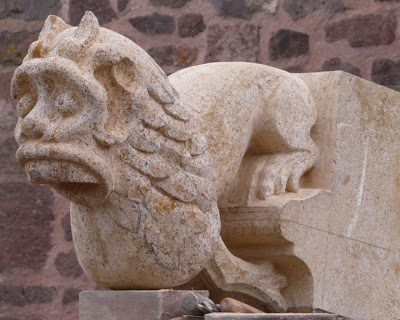 A hunky punk is a colloquial variation of a grotesque carving, specific to the West Country of England, particularly Somerset.
A hunky punk is often a short squatting figure, usually an animal, carved in stone. The name apparently derives from a combination of the old English terms 'hunkers' meaning haunches, and 'punchy' meaning short-legged.
They are typically found on late-Gothic churches, although they can be found from middle-to-late medieval architecture onwards. They are typically positioned at the corner of a church tower, along the coping ridge below any crenellations.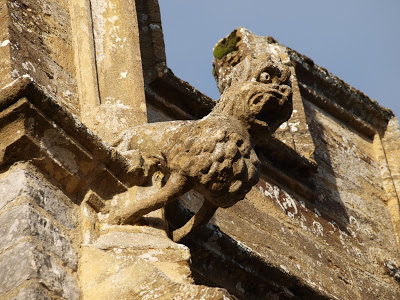 While similar in appearance to gargoyles, a hunky punk is actually a grotesque in that it is a purely ornamental architectural feature rather than having the function of draining water. However, Victorians did punch holes through some hunky punks to create rainwater downpipes.
The theory behind hunky punks and grotesques in general, was that churches were designed to reflect the balance between good and evil, reminding worshippers of the narrow path leading through life. As a result, for every saint or animal that was intended to signify purity and 'goodness', there was also an ugly creature to signify evil and 'badness'.
IHBC NewsBlog
IHBC welcomes Historic England support for 2017 Annual School
Historic England has extended its decade-long support for the Annual School and the accessible, sector-wide CPD opportunities it offers.
---
IHBC launches web page resource for our bespoke PI Insurance scheme
The IHBC has launched a dedicated web page advising on the suite of insurance products and services on offer to support the work of IHBC members.
---
Changes in Wales for the Environmental Impact Assessment regime
The Chief Planner for Wales, Neil Hemington, has written to all heads of planning in Wales about changes to the regime.
---
London Skyline Campaign launches petition
The Skyline Campaign has launched a petition against proposed change to Westminster Council's policy on tall buildings, arguing it would be the 'kiss of death to conservation'.
---
Nominations are now open, with 15 different categories celebrating brick in every aspect of design and construction - closing on 9 June.
---
Opinion on World Heritage Site status for the Lake District
George Monbiot, writing in the Guardian, argues that this would lock the Lake district into its 'current shocking state', ensuring that 'recovery becomes almost impossible'.
---
Discover Edinburgh in 101 extraordinary objects
A new visitor experience 'Edinburgh 101' is launched as part of a plan to connect as many people as possible from all backgrounds to the heritage of the city, as party of Scotland's Year of History Heritage and Archaeology.