Hunky punk
A hunky punk is a colloquial variation of a grotesque carving, specific to the West Country of England, particularly Somerset.
A hunky punk is often a short squatting figure, usually an animal, carved in stone. The name apparently derives from a combination of the old English terms 'hunkers' meaning haunches, and 'punchy' meaning short-legged.
They are typically found on late-Gothic churches, although they can be found from middle-to-late medieval architecture onwards. They are typically positioned at the corner of a church tower, along the coping ridge below any crenellations.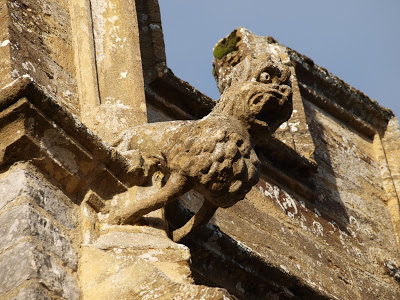 While similar in appearance to gargoyles, a hunky punk is actually a grotesque in that it is a purely ornamental architectural feature rather than having the function of draining water. However, Victorians did punch holes through some hunky punks to create rainwater downpipes.
The theory behind hunky punks and grotesques in general, was that churches were designed to reflect the balance between good and evil, reminding worshippers of the narrow path leading through life. As a result, for every saint or animal that was intended to signify purity and 'goodness', there was also an ugly creature to signify evil and 'badness'.
IHBC NewsBlog
IHBC update on MATE - Membership Application Training Events
Kate Kendall, lead on our Membership Application Training Events, offers her update on progress in supporting applications for conservation accreditation.
---
IHBC welcomes HE Conservation Principles update consultation - closes 2 Feb 2018
Historic England's Conservation Principles, offers guidance on its approach to its own research and advice on designation, planning and conservation.
---
IHBC welcomes update of environment website for Scotland
Scotland's environment newly launched website reflects how technology, design and user needs are constantly evolving as has their website since its creation in 2009.
---
Icon launches next five-year strategy - 2017-21
Institute of Conservation's (Icon's) next five-year strategy 2017-21 has been launched.
---
£1Million restoration boost from Europe for Rothesay Pavilion
More than £1 Million of European funding for the restoration of Rothesay Pavilion will help create new jobs, according to Economy Secretary Keith Brown.
---
London landmark Admiralty Arch to become luxury Waldorf Astoria hotel
Admiralty Arch, designed by Sir Aston Webb (completed in 1912) as part of the Queen Victoria memorial scheme, is being transformed into a luxury hotel, apartments and club.
---
Radical plans unveiled to pedestrianise Oxford Street
Radical plans to pedestrianise London's Oxford Street have been unveiled in a move intended to address air quality concerns and lessen problems of overcrowding in London.
---
Post Trauma Recovery and Reconstruction for World Heritage Cultural Properties
ICOMOS is pleased to share the 'ICOMOS Guidance on Post Trauma Recovery and Reconstruction for World Heritage Cultural Properties document.'
---
2017 Senior Managers' Risk Report from Zurich Municipal – the role of the public sector
The Report examines changing attitudes about the role of the public sector in an era of austerity with commentator noting: 'The danger is if councils lose their moral purpose'.
---
£450m development at Ayrshire leisure and tourism complex at Loudoun Castle
Developer behind Belfast's Titanic Quarter is in talks re a major role in the leisure, tourism and residential development planned for SW Scotland creating a possible 1,000 jobs.