Principles of conservation
[edit]
Introduction
Conservation is concerned with the integrated informed understanding, sustainable care and appropriate renewal and development of the historic environment.
'Conservation Principles, Policies and Guidance' is a document produced by Historic England, which provides information for local authorities, property owners, developers and professional advisers.
It identifies six 'high-level' principles of conservation:
This principle proposes that the historic environment is valued by people as part of their shared cultural and natural heritage. The value of this heritage represents the public interest in places, regardless of ownership. In safeguarding the historic environment, and thereby protecting public interest, the use of law, policy and public investment is justified.
Public awareness and understanding of their shared heritage should be achieved through learning about sustaining the historic environment by informed and active participation.
Different generations and communities will perceive heritage's values in different ways, and awareness and understanding of this should be raised through learning. Specialist knowledge and skills should be developed, maintained and passed on as a means of sustaining the historic environment.
[edit] The significance of places must be understood
A place can be considered as such if it is a fixed part of the historic environment with a distinctive identity that is perceived by people. The significance of a place in terms of values tends to grow in strength and complexity over time, as understanding and perceptions evolve.
Decisions about a place's future can only be informed by understanding and articulating its values and significance. Any protection, such as statutory designation, is determined by the degree of significance.
Change in the historic environment is inevitable. Conservation is the process of managing change so as to best sustain its heritage values.
If understanding of the past is increased, or particular heritage values are revealed or reinforced, then intervention may be justified. It is important though that any resulting harm is decisively outweighed by the benefits.
[edit]
Change decisions should be reasonable, consistent and transparent
The exercise of statutory controls should be governed by proportionality. The least harmful means of accommodating conflicting interests should be sought. Where conflict is unavoidable, the weight given to heritage values in making the decision should be proportionate to the place's significance and the impact of the proposed change on that significance.
[edit] It is essential to document and learn from decisions
It is crucial that records of decision justifications and actions are accessible for analysis and reference. The effects of, and responses to, change should be regularly evaluated by managers of significant places, with the results used to inform future decisions.
Where any loss is the direct result of intervention, the costs of the work should be borne by those who benefit from the change, or, if it is in the public interest, whose role it is to initiate such change.
[edit] 'Significance' and 'historic values'
Historic England suggests that at the core of these principles lies the idea of 'significance'. This is the collective term for all the heritage values attached to a place, i.e. the sum total. There are four different categories to describe how people value historic places:
[edit]
External resources
IHBC NewsBlog
IHBC's first Virtual School a Marked Success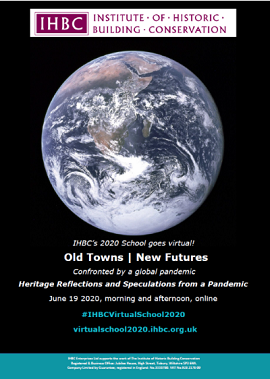 The first 'Virtual School' hosted by the IHBC was launched on 19 June with lead speakers covering pandemic-related topics shaping valued places over two sessions.
---
Ireland National Heritage Week: 15-23 August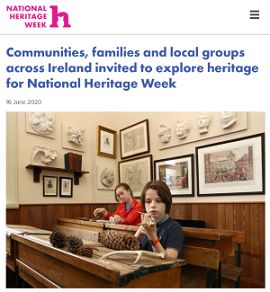 Plans are in place for a modified National Heritage Week for Ireland, which take into account ongoing restrictions on events and gatherings due to COVID-19.
---
Grimsby's historic Ice Factory thrown new survival lifeline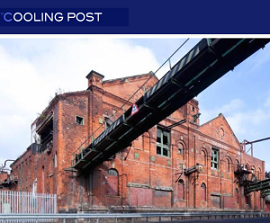 Opened in 1901, and derelict for the last 30 years, the Grimsby Ice Factory is the earliest and largest known surviving ice factory in the world. It still contains an array of historic ice making equipment including four J&E Hall ammonia compressors installed in 1931.
---
Risk Assessments and Contractual Impact from CIAT

A note on contractual obligations under the current COVID-19 pandemic has been issued by The Chartered Institute of Architectural Technologists(CIAT).
---
RTPI calls on government to issue planning guidance to prevent development delays

The Royal Town Planning Institute (RTPI) has called on the government to urgently issue planning guidance to prevent unnecessary delays to development from the pandemic.
---
How to Enjoy Heritage from Home, from the Heritage Fund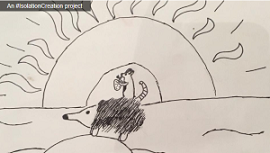 The Heritage Fund has put together a list of heritage-inspired activities to be done from home.
---
Listed Property Owners Club's Spring Checklist for Buildings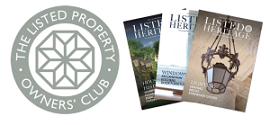 Spring is a good time to stand back and consider any building repairs that are required over the next 12 months, notes the LPOC, and regular inspection and maintenance is the key to keeping homes in good repair, as per its accessible step-by-step guidance.
---
Firefighters tackle blaze at converted Grade II listed former mill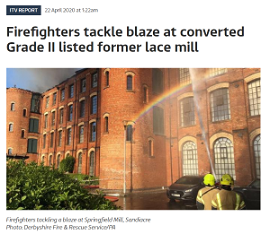 Derbyshire Fire and Rescue Service said "rapid and effective firefighting" had saved three quarters of the mill – which is now apartments.
---
Thieves take advantage of lockdown to steal lead from church roof in Halsham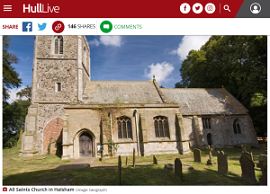 Police have appealed for witnesses after thieves stole lead from the roof of All Saints Church in Halsham near Hedon during the coronavirus lockdown.
---
IHBC's CPD Circular provides info on digital CPD opportunities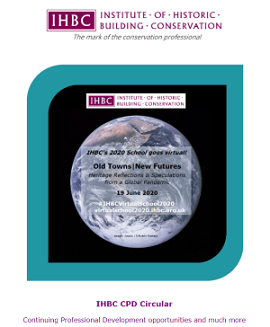 The regular newsletter showcases the IHBC's own Continuing Professional Development (CPD) content as well as online opportunities from 'IHBC Recognised CPD Providers' and other conservation related training and events.
---
Frank Lloyd Wright houses offer virtual tours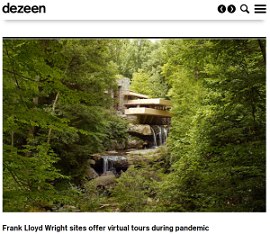 To make sure the public still has access to twelve of those famous works, #WrightVirtualVisits has been launched, which offers virtual tours of 12 iconic houses.
---
CIC's Coronavirus Digest review and survey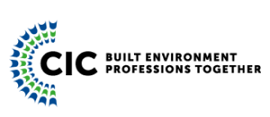 The Construction Industry Council's (CIC's) 'CIC Coronavirus Digest – Issue 8' surveys the latest government advice with updates from the construction industry.
---