The history of conservation areas
Conservation areas were pioneered in the USA; France's later example probably encouraged government support in the UK for the private member's bill that became the Civic Amenities Act.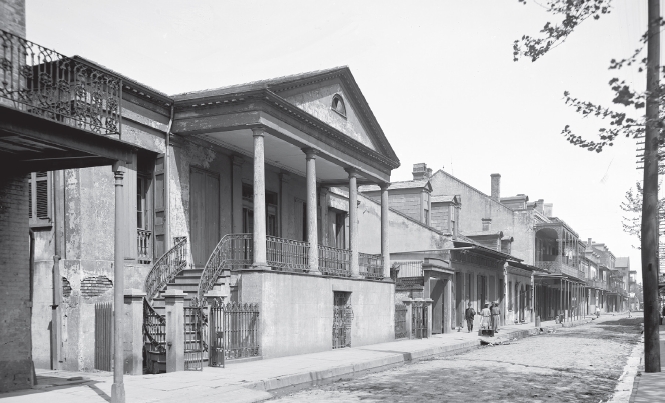 [Photograph courtesy of Library of Congress. Chartres Street, Vieux Carré,New Orleans, around 1900]
Jazz, paddle steamers and floods are not all that New Orleans should be famous for. It deserves renown for the protective designation of an area of the city – the first in the USA and almost certainly in the western world.
An amendment to the Louisiana Constitution of 1921 laid the groundwork for the creation of the Vieux Carré Commission in 1925. The aim was the preservation of the 'quaint' traditional architecture in New Orleans' Vieux Carré, the so-called French Quarter, the only intact Spanish and French colonial settlement remaining in the USA. The commission's powers increased in the 1930s and 1940s, and by the 1960s were strong enough to resist two powerful threats. One was the plan to construct an elevated Riverfront Expressway between the Mississippi River levee and the French Quarter – a decade-long battle that went as far as the federal court led to the cancellation of the freeway in 1969.
The other was the proliferation of new hotels, often replacing sections of the French Quarter. The commission approved these structures as long as their designers adhered to prevailing exterior styles (a view of conservation resting on appearance, not significance, that still has echoes in the UK). Eventually, a municipal ordinance to forbid new hotels within the district ensued – in 1969 again (a partial victory, however, as high-rise hotels went up just outside its boundaries).
The Vieux Carré Statement of Significance speaks of historic buildings reflecting the blending of cultures which created a truly cosmopolitan metropolis, the scene of many important historic events through French, Spanish and American rule, and the role it played in the war of 1812, the Civil War and the era of steamboat transportation.
New Orleans was the first to create a historic district. Others were not far behind. The old town in Charleston, South Carolina, gained area status a little later than the Vieux Carré, but as the latter's powers evolved slowly it is Charleston that claims the nation's first historic preservation ordinance, in 1930. Georgetown (now within DC, but a port in Maryland well before the federal district and the City of Washington were established) followed in 1950. All three were city and state initiatives. The first national historic site in the US was the Salem Maritime National Historic Site, designated in 1938, consisting of 12 historic structures, a replica (sic) tall-ship, and about nine acres of waterfront in Salem, Massachusetts.
Thus, New Orleans by 46 years, Charleston by 37, Salem by 29 and Georgetown by 17 predate the first conservation areas in Britain. The equivalent in the USA of our Civic Amenities Act 1967, and almost contemporary with it, was the National Historic Preservation Act 1966 that set up the national registers of places and landmarks. This act not only prompted many fresh designations but also gave retrospective national recognition to the Vieux Carré and others.
It is interesting to note that in the early years of area conservation in America the pioneers were largely in the South. Where were Boston, Philadelphia and New York City? Greenwich Village, for example, can trace its history back to the 17th century, when it was a Dutch hamlet a little to the north of the (then small) city of New York. Yet the earliest preservation efforts seem to have come only in the 1960s, in defence of the Jefferson Market Courthouse (later reused as Jefferson Market Library) and to keep traffic out of Washington Square Park. Jane Jacobs used the Village as an example of a vibrant urban community and the Greenwich Village Historic District was designated in 1969. But, oddly, there is no trace of area-wide initiatives before the 60s.
Voluntary energy and determination were important, as has so often been the case in the UK. It was the bohemian artistic community, attracted by the Quarter's cheap rents and air of decay in the 1920s, that mounted the first preservation efforts in the Vieux Carré. And the Preservation Society of Charleston, founded in 1920, the oldest community-based historic preservation organisation in America, engendered the designation of the 138-acre Old and Historic District.
If area conservation was so notably pioneered across the Atlantic, why did it take Britain so long to catch up? Perhaps, even as late as the 1960s, there was a British reluctance to acknowledge that the 'new world' had history. Some thought the 'group value' note in the lists of listed buildings was adequate to signal that an area should receive attention. And some saw the very idea of protecting areas as a brake on progress. The Ministry of Housing and Local Government (MHLG) 'was run as her personal domain' by Dame Evelyn Sharp (permanent secretary 1955–66) according to the diaries of Richard Crossman (minister [equivalent to secretary of state] 1964–66). She 'counted herself a modern iconoclast' who saw a conflict 'between "modern" planning and "reactionary" preservation' (a stance not entirely eradicated half a century on).
Little surprise, then, that when Crossman suggested protecting townscapes, he was immediately advised that this was 'not possible' and the notion was omitted from a paper on the forthcoming Civic Amenities Bill drafted for the government's home affairs committee. It took the enthusiasm and vigour of two ministers, Crossman and Lord Kennet, to battle the concept through the MHLG.
Kennet, parliamentary secretary (junior minister) 1966–70, deserves a place in preservation history for the listed building consent provisions enacted in 1968 but he also had a role in the origins of conservation areas. He did not publish a diary of his time at MHLG but did write a book, Preservation, shortly after. He recounts there how he wanted 'to have a look at what was being done in other countries'. America is not mentioned but he did look at some European countries, especially France, which he visited in 1966.
Kennet admired the zone protégé, an area within a radius of 0.5 km of a listed building, introduced as early as 1943. Inside this circle, demolition and new build has to be approved by central government. 'Since there are no historic towns and few historic villages,' commented Kennet, 'without a church or chateau or other monument classé, this gives the state negative planning control of virtually the entire architectural heritage.' The observation was a little optimistic since development beyond could intrude on longer views into and out of historic areas.
Kennet further found that a law of 1962 (usually referred to as Malraux's law, after Andre Malraux, novelist, art theorist and minister of cultural affairs 1959–1969) had gone beyond the zones protégés. Malraux had instituted secteurs sauvegardés (areas often called 'Malraux') and Kennet visited three: the Marais in Paris, the Quartier St Jean in Lyon and the Quartier de la Balance in Avignon. He described the areas and conservation schemes then under way in each under development companies using public as well as private investment, and chaired by the mayor. He praised the 'verve and comprehensiveness' of their approach but was cautious about copying their procedures as Britain lacks 'those powerful extensions of central government who sit beside a local authority and guide and control all its proceedings'.
What the junior minister might not have expected in 1966 was the vast difference in numbers between secteurs sauvegardés and conservation areas. There are just 97 'Malraux' and even adding the 650 zones de protection du patrimoine architectural, urbain et paysager (ZPPAUP) introduced in 1983 and aires de mise en valeur de l'architecture et du patrimoine (AVAP) that superseded ZPPAUPs from 2010, the total is tiny against the over 9,000 conservation areas in the UK.
The Crossman/Kennet (not to mention Duncan Sandys, MP and president of the Civic Trust, who introduced the bill) route with local designation proved hugely popular. The relatively few French areas are more likely to be surveyed and evaluated and to have improvement programmes, but the more profuse British areas at least exist with a measure of protection, even if many have not progressed from boundaries on a map.
Any discussion of European antecedents of conservation areas should give an honourable mention to the former Czechoslovakia, which designated 40 urban conservation sites as early as 1950 (30 in what is now the Czech Republic and 10 in what is now Slovakia). Fourteen of the Czech 30 formed the Association of Historical Settlements in Bohemia, Moravia and Silesia (SHS CMS) in 1990.
How influential American and European antecedents were in the introduction of conservation areas is hard to gauge. In the debate of over four hours on the Second Reading of the Civic Amenities Bill (8 July 1966) there was no reference to the Vieux Carré, the Malraux or any other precedent – not even from Sandys, an avowed European. But it seems likely that Kennet's French studies would have strengthened his and Crossman's hand in winning over MHLG and government support for the private members' bill, and convincing doubters that area conservation was feasible and worthwhile.
---
This article originally appeared in IHBC's Context 148, March 2017. It was written by Timothy Cantell, a planner, writer and design review manager who worked at the Civic Trust under Duncan Sandys' presidency.
--Institute of Historic Building Conservation
Find out more
External references
Crossman, Richard (1975) The Diaries of a Cabinet Minister, Vol 1, Hamish Hamilton, London.
Kennet, Wayland (1972) Preservation, Temple Smith, London.
Pickard, Richard (ed) (2001) Policy and Law in Heritage Conservation, Spon Press, London.
IHBC NewsBlog
IHBC FREE CPD Boost - Easy Access Webinar from Historic England and the IHBC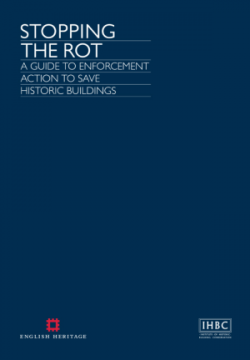 'Enhancing conservation areas & townscapes with S.215s', 13 December - numbers limited so book now!
---
IHBC Out of Context - CPD check-up and prize


'Who said that and what would you say back? FREE BS7913 for the best responses…
---
IHBC CPD boost: bite-sized briefings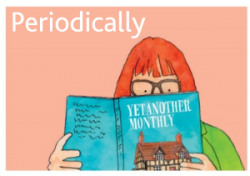 'Periodically', Bob Kindred's bite-sized briefings from the best of current heritage handbooks.
---
IHBC CPD Green Issue QuickQuiz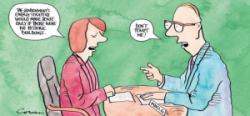 Do you know the ABCs of EPCs?
---
IHBC CPD Green Issue QuickQuiz Part 2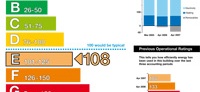 Do you know the ABCs of EPCs? - The answers! You tested your knowledge on energy performance certificates (EPC's) in the last Newsblog so now see how well you did!
---
IHBC at Listed Property Show London 2019 – FREE CPD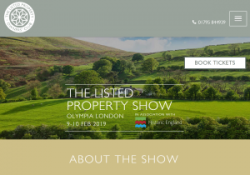 4 hours free CPD via IHBC and partners + lots more at the show in association with Historic England, on 9-10 February 2019 at London's Olympia.
---
IHBC launches new Toolbox Guidance Note for small traders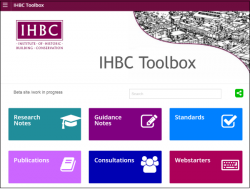 IHBC's latest Guidance Note in our Toolbox aims to provide sole practitioners and small traders with advice on taking on new work, offering 'Ten Red Flags' to watch out for.
---
Scotland - Historic Environment Audit (SHEA) 2018 is now out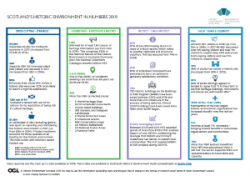 HES lead officer, Karen Robertson, has offered her personal blog looking at the trends and findings.
---
Slate Landscape of North-West Wales - preferred UNESCO World Heritage Site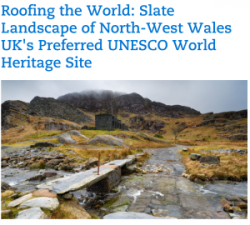 The Slate Landscape of North-West Wales will be the UK's next preferred nomination for UNESCO World Heritage Site status, Heritage Minister Michael Ellis announced recently.
---
Draft Parliamentary Buildings (Restoration and Renewal) Bill for Palace of Westminster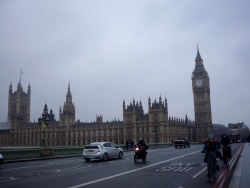 The draft Bill has been presented to allow 'interested parties the opportunity to consider the approach taken to the governance of the Restoration and Renewal Programme'.
---
APPG for Healthy Homes & Buildings White Paper published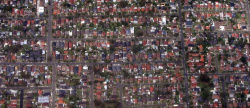 The White Paper highlights 'the need for a holistic approach to building design and renovation'.
---
Register English Community Assets on CAsE and you could win £100 gift voucher
The Architectural Heritage Fund (AHF) asks if you own or manage a community asset that you register it on the new Community Assets Exchange - you could win £100 gift voucher.
---
North of Tyne gets £600m devolution deal
Northern Powerhouse minister Jake Berry has confirmed a £600 million devolution deal for the North of Tyne. It is expected to generate £1.1 billion for the local economy.
---
Fifteen projects reach final of Heritage Angel Awards Wales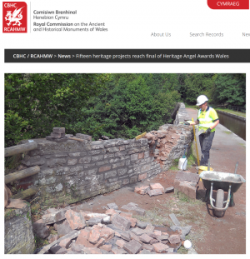 Fifteen outstanding examples of heritage achievement have been selected for a Heritage Angel Award by a panel of judges headed by Baroness Kay Andrews.
---
Entries open for 2019 John Betjeman award: Closing 26 Feb 2019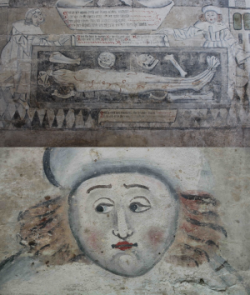 SPAB invites nominations for the award celebrating excellence in the repair to specific elements of places of worship of all denominations and faiths in England and Wales.
---
Civic Voice: Guidance tool for communities to identify local heritage assets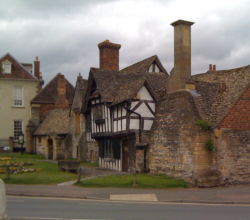 A resource developed as part of Civic Voice's Big Conservation Conversation and their 'Local Heritage List' campaign.
---
The economic value of culture - a benefit transfer study on museums in England
New research has been published to help understand the visitor and non-visitor value of cultural engagement at 4 cultural institutions in England – is this transferrable?
---
Former housing minister Nick Raynsford issues warning on planning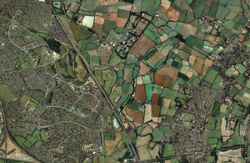 He writes that it has been reduced to a 'chaotic patchwork' of responsibilities which is not compatible with promoting the health, wellbeing and civil rights of communities.
---
DCMS revises - Principles of Selection for Listed Buildings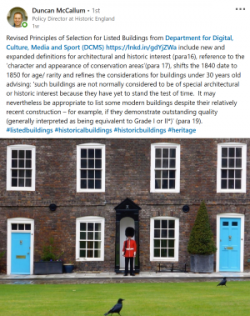 The Department for Digital, Culture, Media and Sport (DCMS) has issued its revised 'Principles of Selection for Listed Buildings' with new dates, definitions and more.
---
Specialist contractors call for government regulation of the construction industry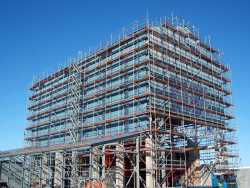 The chairman of the Specialist Engineering Contractors' (SEC) Group wants to government to set up a statutory authority to regulate construction industry practice.
---
Brexit skills shortages - survey

Add your company's take to the largest-ever poll on Brexit skills shortages.
---
Slow progress on encouraging female apprentices to construction industry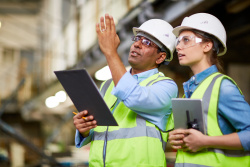 With 88% male in 2016/17 industry initiatives to encourage young women to join the construction industry do not appear to be making much headway.
---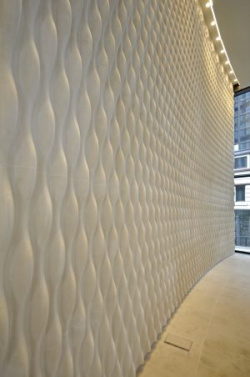 Water-jet cutting of stone changes the industry, but only so far!
---
Nuclear archive wins Andrew Doolan Best Building in Scotland Award for 2018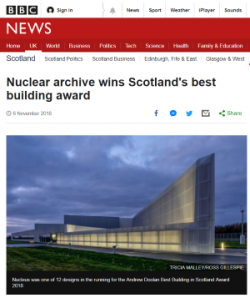 A national archive for the civil nuclear industry by Reiach & Hall Architects has won a top Scottish architecture prize: the Andrew Doolan Best Building in Scotland Award for 2018.