Trees in conservation areas
Trees in conservation areas that are protected by tree preservation orders (TPO's) are subject to the normal controls for any tree with a TPO. This prohibits the cutting down, topping, lopping, uprooting, willful damage to or willful destruction of protected trees.
Trees in a conservation area that are not protected by a TPO are protected by provisions in section 211 of the Town and Country Planning Act 1990. This requires that the local planning authority is notified of certain work on such trees using a section 211 notice, six weeks before the work is carried out. This gives the local planning authority time to consider whether to make a TPO on the tree.
Notice is not an application for consent, so the authority cannot refuse consent; or grant consent subject to conditions, they may only:
Make a TPO if it is justified in the interests of amenity.
Not to make a TPO and inform the notifier that the work can go ahead.
Carrying out work without notice is an offence which can result in a fine of up to a £20,000. For a serious offence, a person can be committed for trial in the Crown Court and if convicted, can be liable to an unlimited fine. In any case, the landowner has a duty to plant another tree of an appropriate size and species at the same place as soon as they reasonably can.
A section 211 notice is not required for:
Cutting down, topping, lopping or uprooting a tree whose diameter does not exceed 75mm.
Cutting down or uprooting of a tree, whose diameter does not exceed 100 millimetres, for the sole purpose of improving the growth of other trees.
The diameter of the tree should be measured over the bark of the tree at 1.5 metres above ground level.
These exemptions do not apply where a tree has more than one stem at a point 1.5 metres above ground level if any stem when measured over its bark at that point exceeds the relevant minimum.
[edit]
Find out more
IHBC NewsBlog
IHBC Virtual School 19 June: Heritage Reflections & Speculations from a Pandemic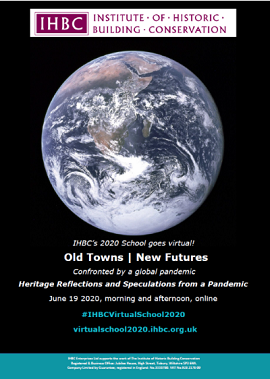 How the current pandemic will shape historic urban areas and their surrounding communities across the globe is impossible to tell. Join us to reflect on the implications for our current approaches to caring for valued places, and even speculate on future strategies and responses.
---
How to Enjoy Heritage from Home, from the Heritage Fund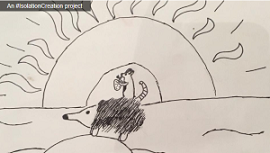 The Heritage Fund has put together a list of heritage-inspired activities to be done from home.
---
Listed Property Owners Club's Spring Checklist for Buildings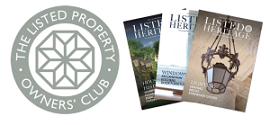 Spring is a good time to stand back and consider any building repairs that are required over the next 12 months, notes the LPOC, and regular inspection and maintenance is the key to keeping homes in good repair, as per its accessible step-by-step guidance.
---
Firefighters tackle blaze at converted Grade II listed former mill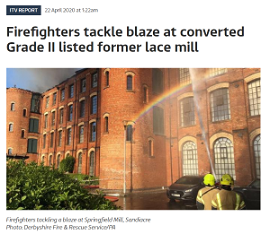 Derbyshire Fire and Rescue Service said "rapid and effective firefighting" had saved three quarters of the mill – which is now apartments.
---
Thieves take advantage of lockdown to steal lead from church roof in Halsham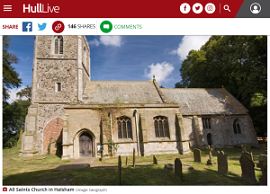 Police have appealed for witnesses after thieves stole lead from the roof of All Saints Church in Halsham near Hedon during the coronavirus lockdown.
---
IHBC's CPD Circular provides info on digital CPD opportunities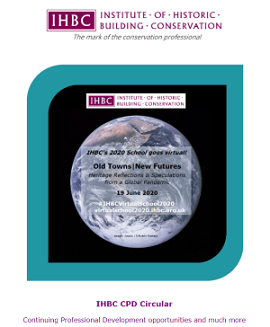 The regular newsletter showcases the IHBC's own Continuing Professional Development (CPD) content as well as online opportunities from 'IHBC Recognised CPD Providers' and other conservation related training and events.
---
Frank Lloyd Wright houses offer virtual tours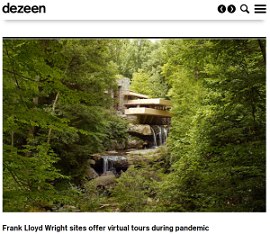 To make sure the public still has access to twelve of those famous works, #WrightVirtualVisits has been launched, which offers virtual tours of 12 iconic houses.
---
CIC's Coronavirus Digest review and survey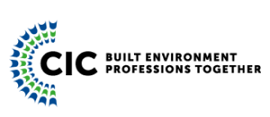 The Construction Industry Council's (CIC's) 'CIC Coronavirus Digest – Issue 8' surveys the latest government advice with updates from the construction industry.
---
COVID-19: Advice and Updates collated from the Heritage Sector
Organisations with conservation links have been collating resources on COVID-19 impacts, including Built Environment Forum Scotland (BEFS), Historic Environment Forum, The Heritage Alliance (THA), and Historic England, on cleaning surfaces.
---
Councils considering 'executive powers' as measures to avoid planning gridlock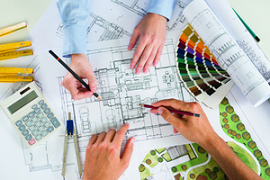 Councils are reported to be considering taking up rarely-used executive powers to keep the planning and development system moving during the coronavirus pandemic.
---
Historic England provides updated flood recovery advice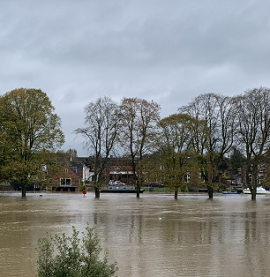 Historic England's 'After a Flood' provides timely advice on how to dry walls properly and avoid further damage to the building fabric.
---
Conservation of Timber Buildings: an example of evolving conservation techniques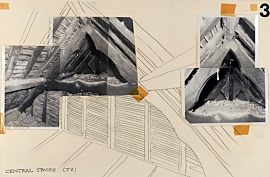 Context Issue 162 offers a peek into an archive of timber conservation history through the records of the practice of FWB and Mary Charles Chartered Architects.
---
Call for VAT rates for Refurbishment to be Reduced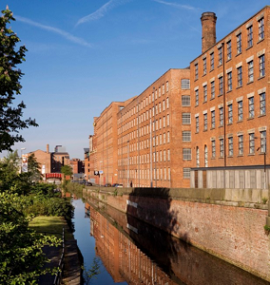 To meet the government's target of being carbon neutral by 2050, we must recycle, reuse and responsibly adapt our existing historic buildings, according to this year's Heritage Counts report, so Historic England and partners are calling for a reduction in VAT rates to incentivise this more sustainable option.
---