Surrey Hills Signage
[edit]
Introduction
Signage plays a vital part in promoting and reinforcing the rural character of the Surrey Hills area.
These signs work very effectively to show that a particular village is within the Surrey Hills boundary and help to re-inforce the rural character of a village. An individual village emblem encourages the distinctiveness of each village.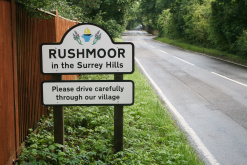 Village gateway signs consist of four components which are constructed in two parts;

A1 Village Identity/Logo
A2 Village Name
A3 in the Surrey Hills message
B1 please drive carefully message (optional)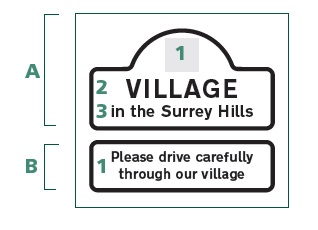 View the Surrey Rural Highways Design Guidelines document at http://www.surreyhills.org/board/country-lanes-2/ for exact specifications.
Surrey Hills directional finger posts should contain the following elements;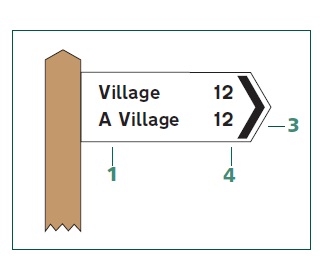 1 Village Name
2 Mileage
3 Chevron (optional)

Surrey Hills Finger Posts are designed using 6 x 6inch wooden oak posts which are generally 3.5m long of which 0.8m is in the ground. The white directional sign is constructed from hard wearing lightweight foamex which is 19mm thick. The finger posts come in three lengths, standard, medium and long to accommodate the number of characters in village names.

Example of standard, medium & long length finger posts;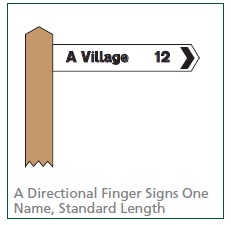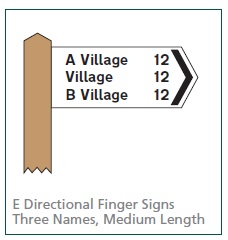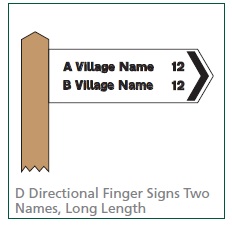 These directional posts are used on country lanes with lower speed limits (not on principal roads).
Verge Posts are useful for indicating the edges of roads and potential hazards, and contain reflective areas which increase their visibility to motorists both in the day and at night. Surrey Hills verge posts are made from 4 x 4 inch wooden oak posts. These are generally 1.6m long with a reflective circle on the front and back and can be sourced from local sawmills.

Diagram shows that a red reflector should be sited on the front of the post and a white reflector on the back.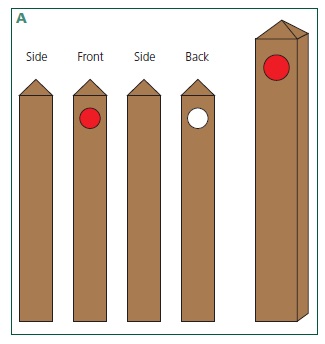 For further information on signage in the Surrey Hills Area of Outstanding Natural Beauty please visit
https://www.surreyhills.org/board/country-lanes-2/ or email [email protected].