Cruck
Cruck is the term applied to a pair of curving timber members that meet at their tops to produce a rough arch. The two timbers (sometimes called 'blades') were traditionally formed by sawing a tree trunk with a natural curve in half. This would give a symmetrical affect and also mean that they would be lighter to transport than a complete tree trunk. When a house comprises several of these crucks it is called a 'cruck-framed' structure.
Cruck houses can be found in Scotland and Wales but they seem to have proliferated in England from the 12th century, mainly in the West, Midlands and North. In some parts of the country they continued to be constructed well into the 18th century.
The English county with the highest number of externally-visible cruck frames is Herefordshire. Although other counties may have similar numbers, they may be hard to find, due to the insertion of floors, party walls and chimneys, and the fact that many cruck frames were plastered over or masked under a stone or brick facing.
The construction method was practical and straight forward. Cruck pairs typically 5m-long, would be spaced somewhere between 12ft (3.6m) and 16ft (4.8m) apart to form bays – a typical small cottage might comprise just one, or possibly two bays.
A cruck house for a more wealthy family might comprise three or four bays, with the middle two bays forming a central hall. One end bay might house private family rooms while the other end might house a pantry and buttery. Both ends might also have had upper floor accommodation.
Assembly of the cruck pair would take place on the ground, using wooden pegs to join them together; they would then be hoisted into position. The cruck lower ends would first have been scorched to provide a degree of water- and rot-resistance, then rammed into the ground by about a foot (305mm). They would be linked at the top with a ridge pole and lower down by slender poles or purlins.
In between, connecting the cruck pairs, would be lighter timber frame (usually cob in northern areas) that would be clad with wattle and daub panels, or even mud, to form the walls. Alternatively, branches would have been used covered with straw thatch, brushwood or heather which may have extended down to the ground. In areas where stone was easily accessible, this might have been used in place of cob for the lower walling.
Eventually cruck construction was replaced by the box- or timber frame developed throughout Saxon and Norman periods.
IHBC NewsBlog
Discover webinars, lectures, training, and other events via IHBC's CPD Circular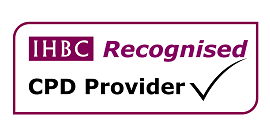 The IHBC lists quality providers of education and learning in the historic built environment, and emails a monthly recap of their upcoming events.
---
Denmark's 300-year-old homes of the future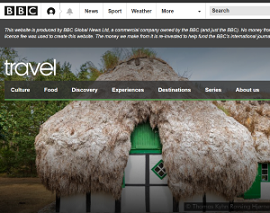 On Læsø, houses are thatched with thick, heavy bundles of silvery seaweed that have the potential to be a contemporary building material around the world.
---
Upcoming Heritage Open Days to feature in-person and online events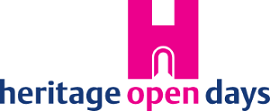 For the first time in its history, England's largest festival of heritage and culture will feature online events as well as in-person activities. Heritage Open Days (HODs) returns in September, thanks to support from players of People's Postcode Lottery.
---
RSA report 'Heritage for inclusive growth' published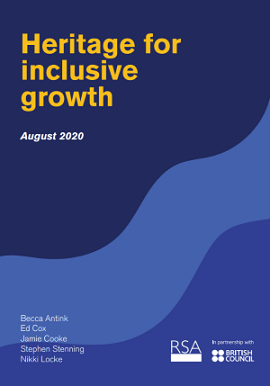 The Royal Society for the encouragement of Arts, Manufactures and Commerce (RSA) shows the scale of the 'missed opportunity' if we continue to separate heritage policymaking and economic policymaking.
---
UKGBC creating new 'Policy Playbook' covering retrofit of the existing housing stock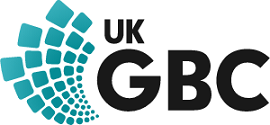 The resource format has proved to be a successful way of providing guidance for local authorities on crucial policy topics.
---
Over-engineered buildings nullify the green benefits, from pbctoday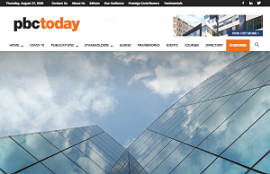 Insight into the smart ways to design building services to ensure they perform as designed without being over-engineered
---
World's oldest operational vehicular suspension bridge receives restoration funding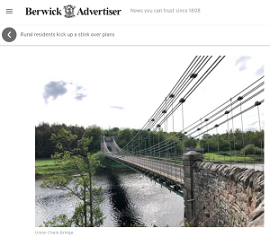 Historic England (HE) has awarded £250,000 towards the restoration of the Union Chain Bridge, built in 1820, spanning the River Tweed near Berwick.
---
'Restoration' and 'Repair': what's the difference?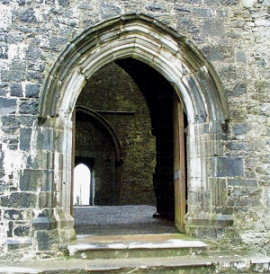 One of Ireland's most distinguished architectural historians explores the differences between 'restoration' and 'repair' and Conservation ethics in issue 163 of CONTEXT.
---
Don't demolish old buildings, urge architects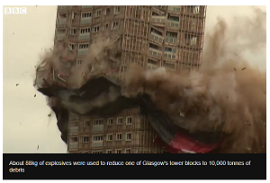 Architects say buildings should be protected – to fight climate change, reports the BBC on recent evidence given to the Commons Environmental Audit Committee (EAC).
---
IHBC's latest issue of CONTEXT explores issues with Damp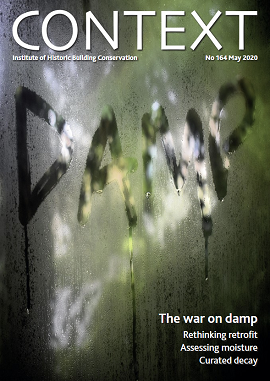 It includes articles on Rethinking Retrofit to not waste carbon and not damage buildings, Assessing Moisture in porous building materials, conserving the Burns Monument using lime grout and injection mortars, Curated Decay, and more.
---