Crypt
A crypt (from the Greek 'krypto', which means hidden or concealed) is a vaulted room frequently made of stone and located beneath a building, usually a church or cathedral. Crypts can also be found in cemeteries, mausolea and chapels, as well as public buildings.
A crypt may be entirely or partly below ground. Occasionally, a crypt may be located at ground level, which would result in the entire building being raised.
Crypts may also be referred to as crofts or undercrofts, however, a croft under a house is not usually called a crypt, which over the centuries has taken more of a religious significance.
When under a church, crypts are usually contained within the limits of the choir or chancel and its aisles, but may be smaller in their subterranean extent, typically confined to just under the altar or the main apse.
The decoration and majesty that is often observed in churches and cathedrals is not usually carried through to the crypt, which is often executed in a much plainer style but nevertheless still well constructed.
Crypts originally emerged as part of French Romanesque architecture in the middle of the eighth century and then spread across much of Western Europe.
In the UK, crypts were often used as chapels and contained an altar and other necessary accessories required for the celebration of feasts. Sometimes, a crypt might be used to allow pilgrims a glimpse of a saint's tomb or other holy remains and relics. Later, crypts were used more to contain the coffins of the deceased.
IHBC NewsBlog
Caithness Iron Age Stone Tower Conserved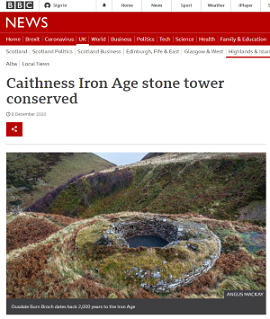 The ruins of Ousdale Burn Broch, north of Helmsdale in Caithness, had fallen into further disrepair over the past 130 years.
---
The American Air Museum at Duxford has been listed Grade II*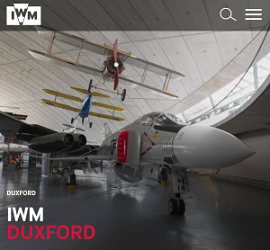 Europe's largest air museum and Britain's best-preserved Second World War airfield – has been included in Grade II* listing, even though technically too recent.
---
West Dean College wins Sussex Heritage Trust Award 2020 for Roof Restoration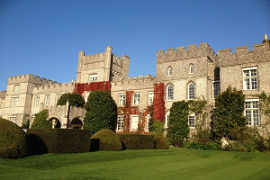 The College of Arts and Conservation has won the award for a for a project which provides or improves facilities for the community, including a £5.8M restoration of the College's 126-year-old roof.
---
Stowe North Hall & WMF: A Step Closer to Completion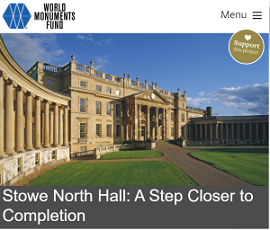 Completion of the restoration of Stowe House's North Hall, largely funded by World Monuments Fund (WMF), came a step closer this summer with the installation of a statue of Mercury opposite the imposing Laocoön group installed last year.
---
IHBC CREATIVE Conservation Fund launched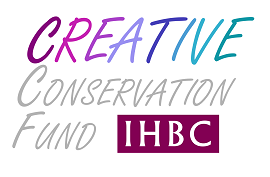 The CREATIVE Conservation Fund helps the IHBC generate and distribute funds exclusively to deserving causes in built and historic environment conservation.
---
The tunnel near Plymouth with a nuclear secret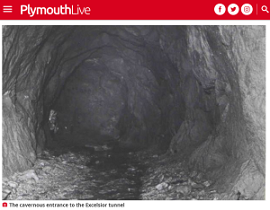 For years, there have been rumours whispered around Plymouth and Cornwall about so-called 'nuclear tunnels' that exist beneath the Tamar Valley.
---
141 bridges with 'very poor' rating remain open to avoid disruption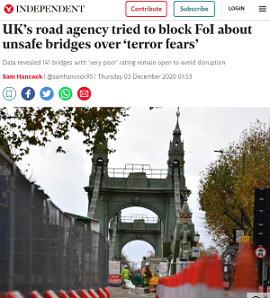 Just under half of England's busiest bridges are severely defected or damaged, but have remained open due to concerns about an influx of traffic should repairs be ordered, it has been revealed.
---
IHBC's new issue of 'Context' released, Oxford themed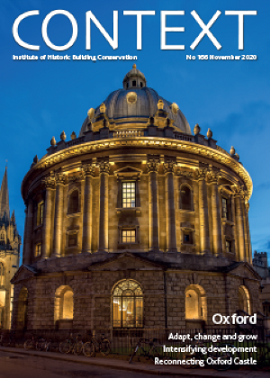 The issue focusses on the future of an historic city – Oxford – and includes an introduction by Layla Moran MP, Chair of the new APPG on Conservation, People and Places which has the IHBC as its Secretariat.
---
Lawyers examine legality of planning approval for Stonehenge Tunnel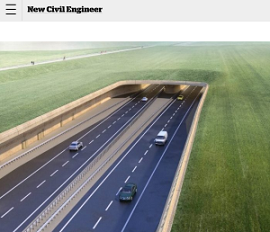 Opponents of the Stonehenge Tunnel have instructed lawyers to examine the legality of transport secretary Grant Shapps' decision to give the scheme the green light.
---
'Unusual' buildings index on DBW shows range of the world's built heritage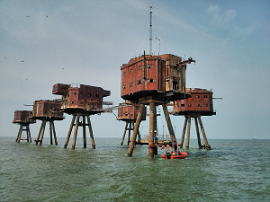 This index presents a range of fantastical, unusual, and bizarre buildings that have featured on Designing Buildings Wiki.
---