Church Heritage Record
On 10 May 2016, the Church of England (CoE) launched the Church Heritage Record, a digital database of church buildings integrated with a Geographic Information System (GIS), which can be used for planning and development control, but also fulfils an educational and engagement role.
The Church Heritage Record (CHR) contains more than 16,000 entries on church buildings in England and Wales, covering topics ranging from architectural history and archaeology, to the natural environment. The information has been developed and added to through desk-based research and fieldwork reports, as well as through local initiatives and projects. A team of volunteers across the country continuously update and develop the record.
More than half of the Church of England's 42 dioceses have signed up to the Church Heritage Record. The online service simplifies the planning process for church alterations (known as the faculty system) and offers heritage information to researchers and heritage professionals.
Sir Laurie Magnus, Chairman of Historic England said, "The new Church Heritage Record will help to modernise navigation of the faculty system. Our churches have long been the centres of community life and simplifying the system of making minor changes to them will mean that they can be more efficiently looked after, now and in the future."
The Rt Revd Dr John Inge, Bishop of Worcester and lead bishop on cathedrals and church buildings said: "It is the first time that such comprehensive information on our churches has been available online and it is expanding all the time. It has been produced in collaboration with Historic England with whom we greatly value our partnership."
Robert Piggott, a PhD student at the University of Huddersfield who spent three months working on the CHR said: 'The Church Heritage Record has the potential to be an unparalleled resource for researchers investigating the religious heritage of England and Wales. Simply by providing the geographical location, approximate dates of construction of church buildings and a search facility, the record provides a powerful tool for researchers. Once further developed, it will be a vital tool to examine trends in social, art historical and liturgical history, as well as to research the history and heritage of a village or town.'
Featured articles and news
IHBC Gus Astley Student Award 2017 now open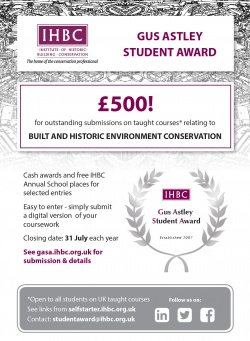 Send in your coursework on a taught course by 31 July for a chance to win a prize and attend the IHBC's Annual School in Belfast in June 2018.
---
Can Wellington (NZ) save its heritage buildings before it's too late?

---
Local military heritage at risk
The Daily Telegraph reports that many small regimental museums are to lose Ministry of Defence (MoD) funding by the end of next decade.
---
Heritage Open Days festival 2016 attended by millions
The Heritage Open Days (HODs) 2016 Impact Report shows an estimated 3 million visitors attending 5293 events with £10m for local economies.
---
International News - Cultural Protection Fund projects announced
The British Council has announced the initial projects to be supported by the Cultural Protection Fund, which will protect heritage overseas.