Quinquennial inspection
[edit]
Introduction
A Quinquennial Inspection (QI) is a detailed, professionally-compiled report of a church which must be carried out at least once every five years (Quin = five (Latin)). Its provisions form part of the Inspection of Churches Measure 1955 (as revised 1991) which has the same force as a statute.
The Church of England has pioneered the regular inspection of church buildings with the aim that houses of worship should be kept in good order architecturally, structurally and, generally in an acceptable state of repair. Under the Measure, every diocesan synod must provide for the inspection and subsequent report on the parish churches in the diocese, as well as any other consecrated buildings which are licensed for public worship.
The quinquennial inspector appointed is always a named individual, not a firm, and they should be either an Architects Registration Board (ARB)-registered member or a Royal Institute of Chartered Surveyors (RICS) chartered building surveyor. The inspector is usually appointed by the parochial church council (PCC) – the executive committee of a C of E parish – usually for one inspection and one report. If a parish fails to instigate an inspection, they may be served a notice by the archdeacon to do so which, if ignored, can lead to direct arrangements made by the archdeacon.
The inspector's training, accreditation and experience in building conservation must be suited to address the complexity and significance of the church in question. Their quinquennial report (QR) will give an overview of the repair needs of the building, and will usually highlight the repairs required according to their priority.
[edit] Typical headings in a quinquennial report
An inspector undertaking a QI may work according to headings which can include:
The fees charged for the QI are generally reimbursed by the diocese or deanery, and many churches submit an annual fee towards the report.
IHBC NewsBlog
APPG on 'Conservation, Places and People' Opens first Parliamentary Inquiry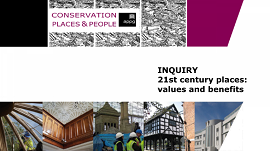 The Inquiry is into '21st Century Places – Values & Benefits'
---
Historic Photographer of the Year 2020 Winners Announced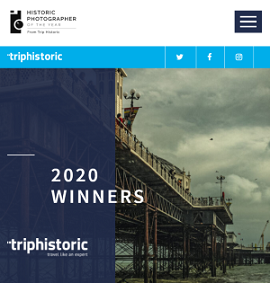 The awards showcase the very best historic places and cultural sites from across the globe.
---
IHBC Launches new 'Guidance Note' on Alterations to Listed Buildings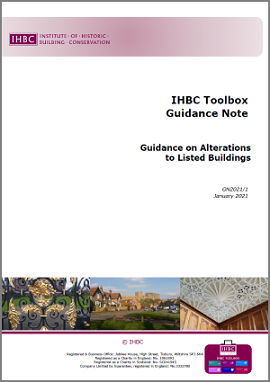 The IHBC's latest Toolbox Guidance Note, on 'Alterations to Listed Buildings' has been issued following UK-wide consultation.
---
Caithness Iron Age Stone Tower Conserved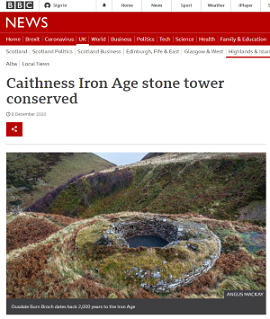 The ruins of Ousdale Burn Broch, north of Helmsdale in Caithness, had fallen into further disrepair over the past 130 years.
---
The American Air Museum at Duxford has been listed Grade II*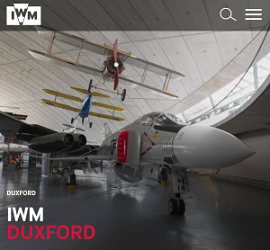 Europe's largest air museum and Britain's best-preserved Second World War airfield – has been included in Grade II* listing, even though technically too recent.
---
West Dean College wins Sussex Heritage Trust Award 2020 for Roof Restoration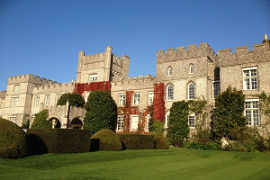 The College of Arts and Conservation has won the award for a for a project which provides or improves facilities for the community, including a £5.8M restoration of the College's 126-year-old roof.
---
Stowe North Hall & WMF: A Step Closer to Completion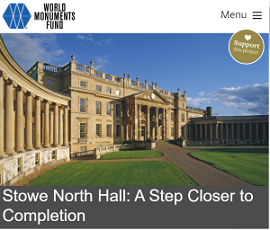 Completion of the restoration of Stowe House's North Hall, largely funded by World Monuments Fund (WMF), came a step closer this summer with the installation of a statue of Mercury opposite the imposing Laocoön group installed last year.
---
IHBC CREATIVE Conservation Fund launched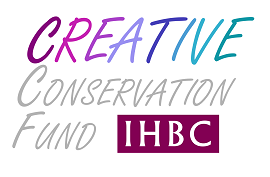 The CREATIVE Conservation Fund helps the IHBC generate and distribute funds exclusively to deserving causes in built and historic environment conservation.
---
The tunnel near Plymouth with a nuclear secret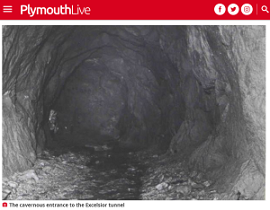 For years, there have been rumours whispered around Plymouth and Cornwall about so-called 'nuclear tunnels' that exist beneath the Tamar Valley.
---
141 bridges with 'very poor' rating remain open to avoid disruption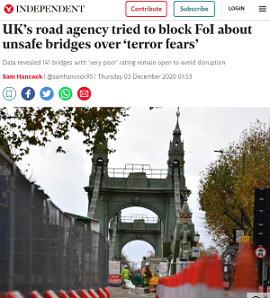 Just under half of England's busiest bridges are severely defected or damaged, but have remained open due to concerns about an influx of traffic should repairs be ordered, it has been revealed.