Chapels of England: buildings of protestant nonconformity
| | |
| --- | --- |
| | Chapels of England: buildings of protestant nonconformity by Christopher Wakeling, Historic England, 2017, 312 pages, profusely illustrated. |
A generation has passed since the late Christopher Stell published the first volume of the magisterial four-volume series of inventories on the chapels and meeting houses of England for the Royal Commission on Historical Monuments (1986-2002). The emphasis of those pioneering volumes was largely on buildings dating from before 1850 and a cut-off date of 1914 was scrupulously observed.
Despite brief regional introductions, they were essentially inventories with succinct descriptions, illustrated by black-and-white photographs and some charming line drawings by Stell himself. They remain important works of reference, as Wakeling fully acknowledges, but they do not claim to provide a coherent narrative of the development of nonconformist belief as expressed in its architecture. That story has now been told in the readable prose of Christopher Wakeling's study for the successor body to the Royal Commission, Historic England.
It is a truly magnificent book with chapters arranged chronologically from the reformation down to the present day, providing a detailed analysis of the development in plan-forms, architectural styles and internal arrangements covering the wide variety of nonconformist congregations across the country. The differences in their beliefs and practices across the 20,000 congregations still active today can be confusing for the non-specialist, and a helpful appendix briefly lists the distinctions between the different nonconformist groups from baptists to Wesleyan reformers. Starting with the adaptation for protestant worship of existing Anglican medieval churches in the 16th century, the survey takes us from the oldest surviving puritan chapel at Toxteth of 1618 down to the strikingly modern form of the Salvation Army corps hall in Chelmsford of 2009.
Although the emphasis throughout is on the architectural response to changing circumstances and beliefs, Wakefield provides a perceptive context for the political and social factors which influenced the forms and styles that were adopted. A distinction is made between rural chapels and meeting houses, often designed by local builders within a vernacular tradition, and the grand urban buildings accommodating enormous congregations, and providing educational and social facilities, which were the product of established architects. The relationship with secular architectural styles is skilfully integrated with the description of an impressive number of individual examples. There is an acknowledgment of the importance of international precedents from both Europe and New England. The chronological narrative is interspersed with short essays which helpfully discuss more general aspects of nonconformist worship, including graveyards and memorials, communion, music, seating and baptism.
The book is beautifully produced. It is a pity that no acknowledgment is made to the name of the designer, apart from a tiny reference to page layout by Pauline Hull. If she was responsible for the overall design she deserves due recognition for the stylish presentation. It is lavishly illustrated in colour and the quality of the photography is quite exceptional. The captions are informative and complement the text. Appropriate references to the Historic England Archive are given for each image. Of particular note is the careful juxtaposition of photographs of interiors with the relevant exterior views. They are placed in close relationship with the descriptive text which makes the scholarly analysis easy to follow. The interiors themselves are a revelation of the importance of the preaching of the Word and the part played by music and communion in nonconformist worship.
The contrast in publishing standards between Stell's monochrome volumes and this delightful book could not be more marked. Historic England deserves high praise for commissioning such a distinguished scholar and presenting his informative analysis in such an attractive form. It deserves a wide readership.
---
This article originally appeared as '20,000 congregations' in IHBC's Context 155, published in July 2018. It was written by Malcolm Airs, Kellogg College, Oxford.
--Institute of Historic Building Conservation
IHBC NewsBlog
Methodology for Moisture Investigations in Traditional Buildings agreed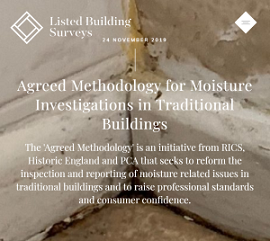 A 'Methodology for Moisture Investigations in Traditional Buildings ' has been agreed between RICS, Historic England and the service provider PCA, a trade body, which should help raise professional standards and consumer confidence.
---
Drinkers toast the future after historic Leeds pub granted GII listed heritage status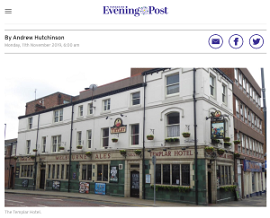 The Templar Hotel on Vicar Lane has been listed at Grade II by the Department for Digital, Culture, Media and Sport on the advice of Historic England.
---
Housing Minister announces new champion for modern 'MMC' housebuilding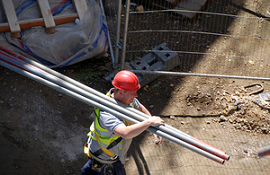 Government has announced a new Champion for Modern Methods of Construction as part of the government's drive to make the UK the global leader in housing standards.
---
RTPI on 'Why planning needs better outcome measurement'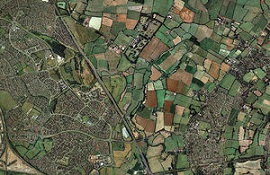 Planning is about so much more than the number of applications approved and the speed of processing them so the RTPI is commissioning research aimed at producing a toolkit that can demonstrate a wider range of outcomes.
---
The rise of 'facadism' in London, from the BBC and 'The Gentle Author'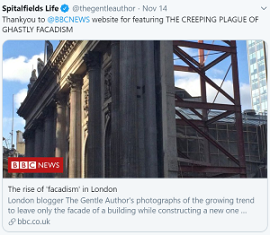 London blogger The Gentle Author has been photographing the changing face of London, focusing on what is known as 'facadism', the practice of destroying everything apart from the front wall and constructing a new building behind it.
---
Great Yarmouth Winter Gardens Facing Off Dilapidation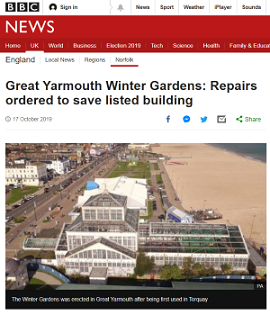 Urgent repairs have been ordered to save one of the country's most endangered buildings from dilapidation while Great Yarmouth Borough Council seeks an investor.
---
Construction urged to do more for butterflies and bees, via SNH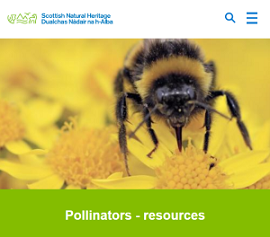 SNH has published new guidance on how best to fit pollinators into urban design and construction with a series of easy steps to suit all project budgets and sizes.
---
Applications now open for the Sustainability Scholarship for 2020: Closing 29/11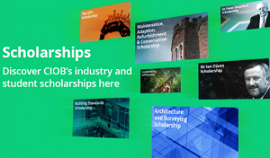 Applications are invited for the Sustainability Scholarship 2020, with successful applicants to receive £3000, support and mentoring from experts, and closing 29 November.
---
Government asked to save plans for Queensbury tunnel cycle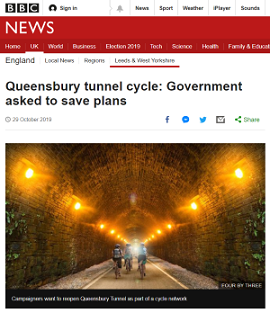 It was hoped the 1.4 mile (2.3km) Victorian Queensbury Tunnel could be used by cyclists travelling between Bradford and Halifax, but plans have been threatened.
---
Case Study in Durham Cathedral: Project Managment and Building Services Challenges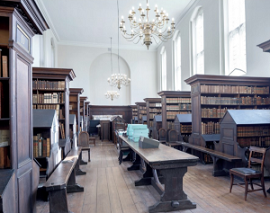 Completing works that widened public access to the hidden architectural spaces and collections of Durham Cathedral showcases exceptional project management.
---
Autumn clamp down on dust by HSE – site visits planned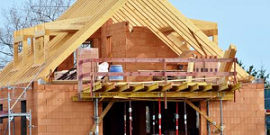 This month HSE is carrying out its latest construction inspection initiative with a focus in particular on measures in place to protect workers from occupational lung disease caused by asbestos, silica, wood and other dusts when carrying out common construction tasks.
---