After the Fire: London churches in the age of Wren, Hooke, Hawksmoor and Gibbs
After the Fire: London churches in the age of Wren, Hooke, Hawksmoor and Gibbs; Angelo Hornak, The Pimpernel Press, 384 pages, approx 400 illustrations, 2016.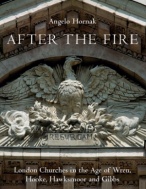 ---
The facts of the Great Fire of London are well known. A fire started in a bakery in Pudding Lane on 2 September 1666 and the flames quickly spread, fanned by an easterly wind, to destroy 13,000 houses, most of the civic and commercial buildings of the city and 87 churches. It was a catastrophe. 'London was, but is no more!' wrote John Evelyn. But from the disaster came one of the most dynamic and prolific architectural periods in English history, guided by Christopher Wren, who reshaped London with a brilliant burst of baroque.
This book sells itself as 'a glorious photographic survey of the London churches built in the 60 years after the Great Fire'. It is certainly that. Each church is wonderfully illustrated, in alphabetical order, with Hornak's own photographs. Not only are there sumptuous images of elevations and whole interiors, but also many details, which are simply not clear to the naked eye. Among them are numerous weather vanes that top the towers and steeples; a cockerel at St Dunstan's, a dragon at St Maryle- Bow and a boat at St Nicholas' are among the most decorative.
Interior details are also well shown, with photographs highlighting the craftsmanship of the plasterwork and woodwork. Grinling Gibbons' woodcarving can be found throughout the book, stealing the show with its skill and virtuosity. His font cover at All Hallows by the Tower and choir stalls at St Paul's are highlights.
Hornak's images are not alone. The book reproduces the most famous of the contemporary maps, paintings and portraits associated with the rebuilding of the churches. Hollar's 'Exact Surveigh of the Streets Lanes and Churches contained within the Ruines of the City of London' (1666–7) is given a fantastic two-page spread, instead of being stuck in a small box as it often is in books about the Great Fire. John Evelyn's plan for rebuilding London is shown alongside the more familiar one by Christopher Wren. The only additional illustration that would have helped is a map of the city showing the position of each church.
The book is much more than just a 'glorious photographic survey' though. Hornak starts the book with a 30-page summary of the history of the rebuilding process, including chapters on Christopher Wren, Robert Hooke, the Rebuilding Acts, the survey of the city and the design of the churches. He writes lucidly and informatively, the chapters forming a good summary of the background to the churches.
Each church is given its own chapter in which Hornak provides a brief history of the building and the site, topping Pevsner on them because there are also beautiful images to illustrate his points. However well you think you know the subject, I assure you that you will learn something new. Hornak has a depth of knowledge formed over 50 years (he first studied Wren's churches as an undergraduate at Oxford in the 1960s).
The churches rebuilt in the aftermath of the Great Fire have commonly come to be known as 'Wren's churches' – he was put in charge of the rebuilding programme – but Hornak's work, along with other books over the last decade or so, seeks to highlight the work of other architects. Hawksmoor's name has long been associated with many of the steeples and towers but others, like Robert Hooke, William Dickinson and John James, have suffered in Wren's architectural shadow. Their designs and contribution are clearly outlined in Hornak's book. It is interesting to note that for many of the churches it is still unclear who designed what, but over time surely Hooke's name will come to more prominence.
I will be returning to this book often, not just to enjoy the wonderful images, but also to use it as a reference book on the London churches. Whether you are interested in the history of London, baroque architecture or specifically Wren, this book will not disappoint you.
---
This article originally appeared in IHBC's Context 148, March 2017. It was written by Kate Judge, freelance architectural historian.
--Institute of Historic Building Conservation
IHBC NewsBlog
IHBC Marsh Awards 2018 launched
Nominations for retired IHBC members and New Heritage Learners - Closing end Feb 2018 with prizes that include £500 and a free place at the IHBC's 2018 Annual School.
---
IHBC CPD boost on current affairs - DBW does Brexit compilation
IHBC's Wiki partner Designing Buildings Wiki, the construction sector's knowledge base, offers readers a 'Brexit compilation'.
---
DBW on Wales - featuring Context 149
Coedtrewernau Mill and pigsty in 2009 (Photo: Powys County Council)

DBW has featured Context's 'A pigsty's hidden history', on small vernacular agricultural buildings in Wales, by Cyllene Griffiths, joining DBW's 5000 articles on offer.
---
National Trust seeks Listed Building Consent for window stickers in Peckover House
The National Trust (NT) has applied for Listed Building Consent (LBC) to install window stickers in the reception area of Peckover House, to enhance visitor experience.
---
Landbeach Tithe Barn Trust – sponsor a sheaf campaign for urgent repairs to thatch
The tithe barn in Cambridgeshire has sheets on the thatch and is urgently awaiting repairs. The Trust's 'Sponsor a Sheaf Campaign' is a way to help this GII Listed thatched barn.
---
Applications for 50 for free Landmark stays now open until midnight 3 December 2017
Applications for 50 for Free Landmark building stays are now open until midnight, Sunday 3 December 2017.
---
London Green Belt Council - green belt sites pegged for development doubles
The number of sites facing development on London's green belt has more than doubled since last year, the campaigning group London Green Belt Council (LGBC) has warned.
---
Guide encourages cooperation between arts and health sector
A new guide aims to encourage people in the arts and health services to work together to prevent illness and improve wellbeing.