Worcester's Georgian churches
This article describes a tour by the Institute of Historic Building Conservation (IHBC) in 2016.
---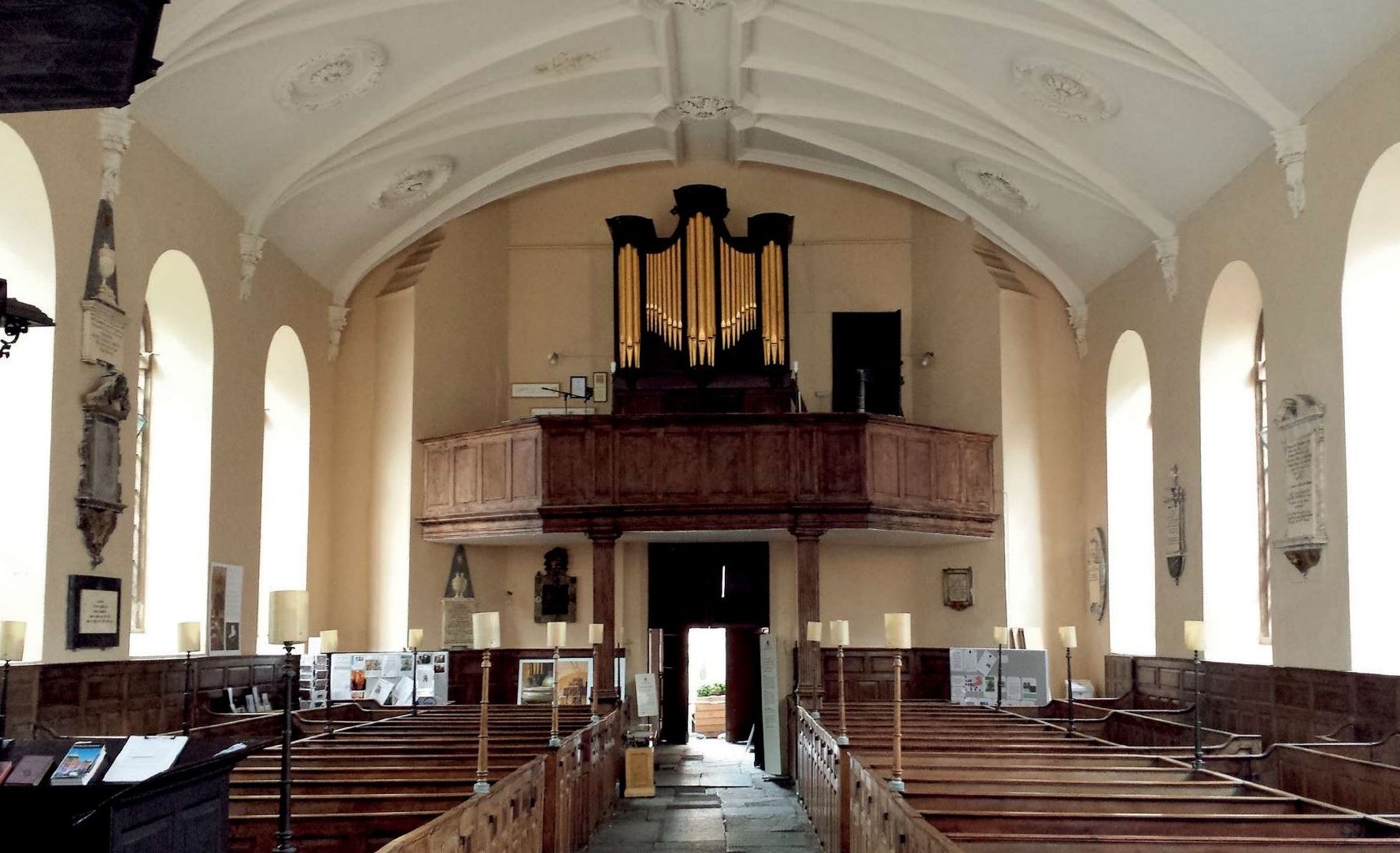 [Image: St Swithun's Church, Worcester. Copyright Carla Pianese.]
A small group was led on a fascinating tour of three of Worcester's Georgian churches by former principal conservation officer, now heritage consultant and chairman of Friends of St Swithun's, Will Scott. The conservation needs of these churches are being addressed through three very different approaches.
St Swithun's Church, completed in 1736 and Grade I listed, is located in the heart of the city centre. The adjacent commercial activity that paid for the original building in the 18th century contributed to it falling out of use as communities moved away from the urban core in the 20th century. In 1977 it passed into the care of the Churches Conservation Trust (CCT).
In 2006 Friends of St Swithun's (FOSS) was formed. It has partnered with the CCT to carry out work on the clock, bell ropes, organ restoration and kitchenette. A series of organ recitals on the 1795/1844 Gray Nicholson organ and reconstructed 'Wetheringsett' Tudor organ are held during the summer months. The church has recently instituted an open-door policy, despite the challenges in an urban environment. Following a successful stage one Heritage Lottery Fund (HLF) bid, FOSS is now embarking on a development project with the CCT's regeneration team to 'take a fresh look at St Swithuns', with plans to create a performance space and hold more community activities.
Old St Martin in the Cornmarket, built in 1772, is still in use for worship by an Anglican Catholic congregation. Despite the challenges of a long interregnum without a priest, the congregation has kept up to date with repairs identified by the inspecting architect, Jane Chamberlain, who showed us around with the church warden, Malcolm Wright. This small faith community has a high level of commitment to its historic building.
Due to limited funds it has decided to phase works through a programme of smaller projects. Recent work has included some reordering to improve level access, and there are plans for a community garden and repairs to the parish hall.
The former parish church of St Nicholas, The Cross, was built in 1735 on Foregate Street. When the diocese decided to close this church for worship in the 1980s, rather than dispose of the impressive Grade II* building, it leased it to a brewery, which is responsible for its repair. This imaginative solution has required the tenants to make adaptations to elements such as the balcony balustrade and pulpit reversible.
St Swithun's and Old St Martin's are both examples of communities that know and care about their buildings, mobilising to find sustainable futures for them, a sign of people power in action. In contrast, St Nicholas' depends on a commercial venture, but gives the opportunity to members of the community to enjoy a landmark building both as a contribution to the streetscape and as a striking venue to dine in.
Angie Creswick.
--Institute of Historic Building Conservation
IHBC NewsBlog
2021 Building Conservation Directory published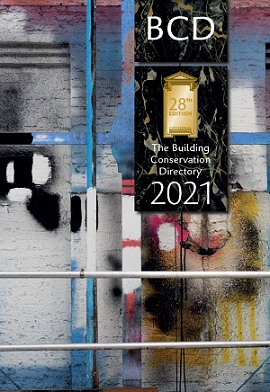 The 2021 edition of the Building Conservation Directory, also available online, has been published. Find skilled trades specialising in work to historic and traditional buildings.
---
BT dials up 'Adopt a Kiosk' scheme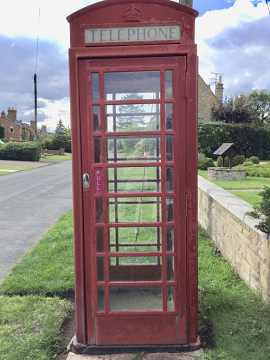 BT has revealed that almost 4,000 of its iconic red phone boxes across the UK are available for local communities to adopt for just £1.
---
Watch IHBC's webinar on 'Retrofit of Traditional Buildings'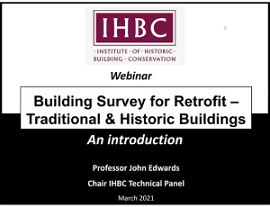 On 26 March the IHBC, led by Prof. John Edwards, hosted a free one-hour CPD webinar 'Introduction to Building Survey for Retrofit' for sector professionals.
---
Has the world left Europe behind?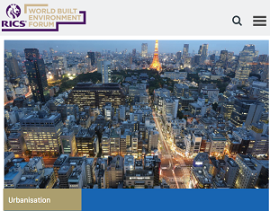 Greg Clark, writing an opinion piece for RICS, explores how good governance in cities pays dividends.
---
AHF on 'Transforming Places through Heritage'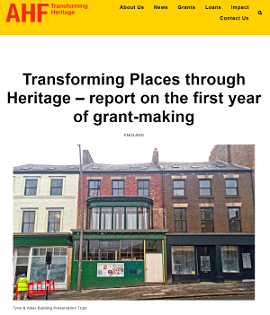 The Architectural Heritage Fund has issued a report on the first year of its 'Transforming Places Through Heritage' grants programme, funded by DCMS.
---
'Star Cities', Marvels of Renaissance Engineering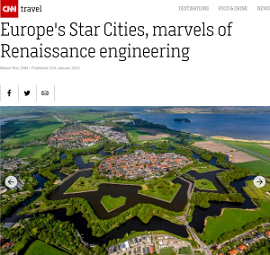 Europe's star cities are scattered all over Europe but their perfect geometrical beauty can only be fully admired when seen from above.
---
COTAC Releases Insight 1 series – The Need to Appreciate the Built Heritage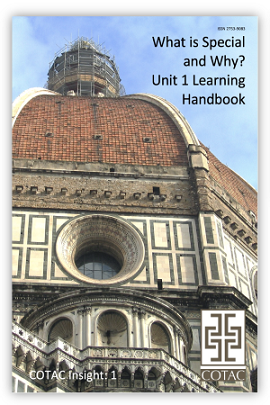 The freely available Insight 1 series targets a wide range of cohorts who wish to gain an appreciation of practical heritage conservation.
---
Palace of Westminster 'deteriorating faster than it can be fixed'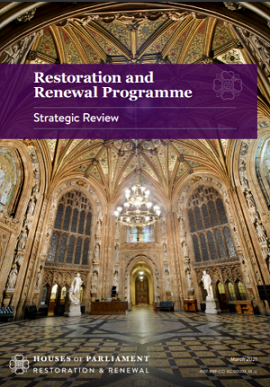 The restoration and renewal of the Palace of Westminster is of 'paramount importance' according to the recent strategic review.
---
Find Webinars and other Events pertaining to Heritage Conservation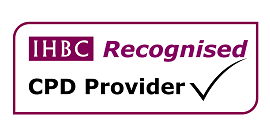 The IHBC's monthly CPD Circular showcases upcoming Events, Awards, Placements, Bursaries & Scholarships, Calls for Papers and more from across the UK and beyond.
---
139-Year-Old Victorian house moves through San Francisco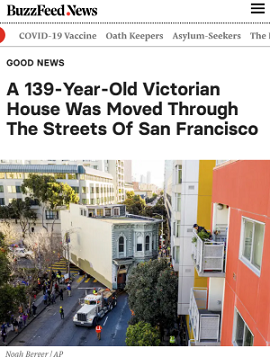 The move of a 139 year old Victorian House through the streets of San Francisco drew an excited crowd of onlookers who came out to watch a truck slowly and carefully pull the historic house through the streets.