Worcester's Georgian churches
This article describes a tour by the Institute of Historic Building Conservation (IHBC) in 2016.
---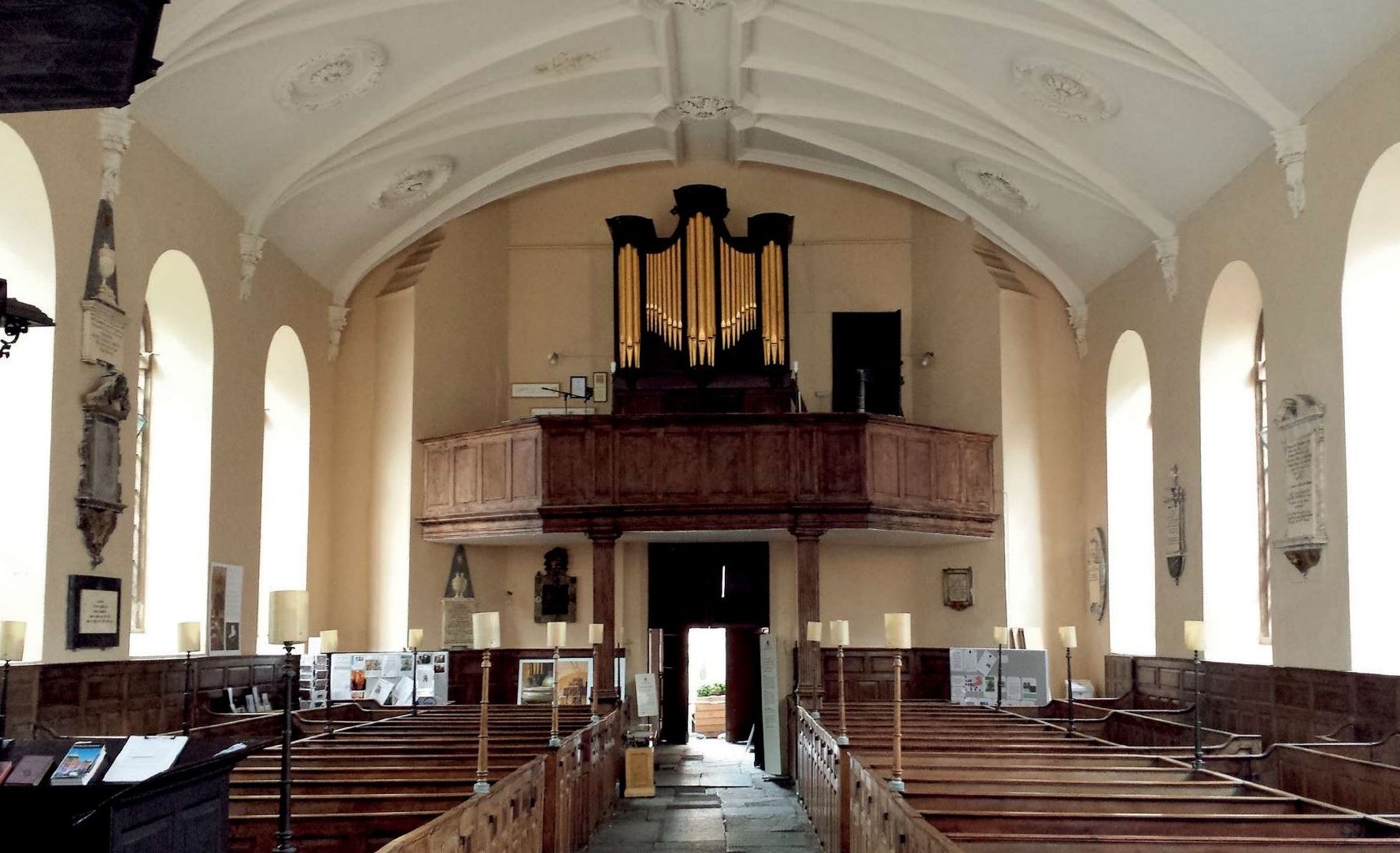 [Image: St Swithun's Church, Worcester. Copyright Carla Pianese.]
A small group was led on a fascinating tour of three of Worcester's Georgian churches by former principal conservation officer, now heritage consultant and chairman of Friends of St Swithun's, Will Scott. The conservation needs of these churches are being addressed through three very different approaches.
St Swithun's Church, completed in 1736 and Grade I listed, is located in the heart of the city centre. The adjacent commercial activity that paid for the original building in the 18th century contributed to it falling out of use as communities moved away from the urban core in the 20th century. In 1977 it passed into the care of the Churches Conservation Trust (CCT).
In 2006 Friends of St Swithun's (FOSS) was formed. It has partnered with the CCT to carry out work on the clock, bell ropes, organ restoration and kitchenette. A series of organ recitals on the 1795/1844 Gray Nicholson organ and reconstructed 'Wetheringsett' Tudor organ are held during the summer months. The church has recently instituted an open-door policy, despite the challenges in an urban environment. Following a successful stage one Heritage Lottery Fund (HLF) bid, FOSS is now embarking on a development project with the CCT's regeneration team to 'take a fresh look at St Swithuns', with plans to create a performance space and hold more community activities.
Old St Martin in the Cornmarket, built in 1772, is still in use for worship by an Anglican Catholic congregation. Despite the challenges of a long interregnum without a priest, the congregation has kept up to date with repairs identified by the inspecting architect, Jane Chamberlain, who showed us around with the church warden, Malcolm Wright. This small faith community has a high level of commitment to its historic building.
Due to limited funds it has decided to phase works through a programme of smaller projects. Recent work has included some reordering to improve level access, and there are plans for a community garden and repairs to the parish hall.
The former parish church of St Nicholas, The Cross, was built in 1735 on Foregate Street. When the diocese decided to close this church for worship in the 1980s, rather than dispose of the impressive Grade II* building, it leased it to a brewery, which is responsible for its repair. This imaginative solution has required the tenants to make adaptations to elements such as the balcony balustrade and pulpit reversible.
St Swithun's and Old St Martin's are both examples of communities that know and care about their buildings, mobilising to find sustainable futures for them, a sign of people power in action. In contrast, St Nicholas' depends on a commercial venture, but gives the opportunity to members of the community to enjoy a landmark building both as a contribution to the streetscape and as a striking venue to dine in.
Angie Creswick.
--Institute of Historic Building Conservation
IHBC NewsBlog
Find an IHBC HESPR accredited professional using our map-based search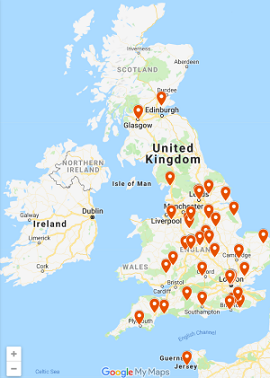 Find the office locations of HESPR members – IHBC's Historic Environment Service Provider Recognition (HESPR) scheme – using our map-based facility.
---
The Liverpool Grade II 'jewel' that lies empty, derelict and vandalised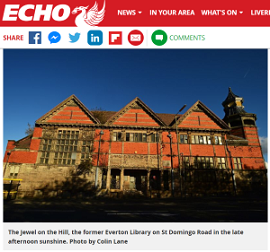 Liverpool landmark the Everton Library, a Grade II (GII) listed building that has been the focus of calls to restore it to its former glory continues to lie leaking, vandalised and derelict, when £5m could renovate the building, reports The Liverpool Echo.
---
Flintshire: Shotton steelworks' John Summers building to be restored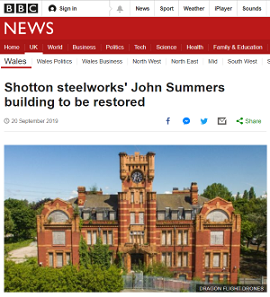 A landmark on a list of the UK's most endangered buildings, Shotton steelworks' Grade II-listed general office and clock tower, is to be brought back to life in Flintshire.
---
Rochdale Market, Manchester, to close as trader numbers and revenue continue to fall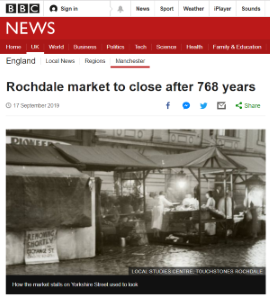 Rochdale Borough Council writes: Over the past year the number of traders regularly attending the market has halved and it is not financially viable.
---
IHBC supports Climate Heritage Network Global Launch: Edinburgh 24-25 Oct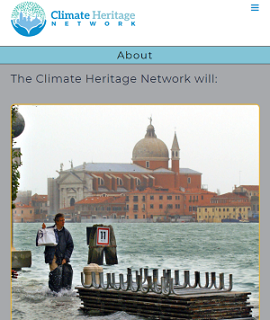 The Climate Heritage Network (CHN) Global Launch is a two-day program devoted to urgently mobilizing the cultural heritage sector for climate action across the globe.
---
Brunel's 'other bridge' in Bristol to be 'saved with £62k grant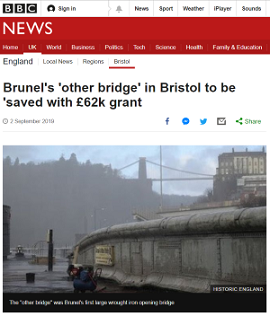 A swing bridge that was designed by Brunel is to be 'saved' with a £62,000 grant from Historic England.
---
Victorian Society announce Top 10 Most Endangered Buildings 2019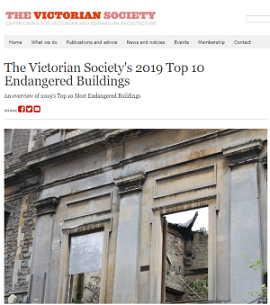 On September 13th the Victorian Society announced its Top 10 Endangered buildings list.
---
American Cities Then & Now: See How New York, Los Angeles & Detroit Look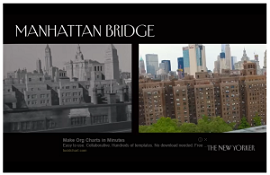 An Open Culture article takes a look at the American Cities of New York, Los Angeles and Detroit comparing how they look now compared to the 1930s and 1940s.
---
Great Yarmouth's Venetian Waterways to recapture former glories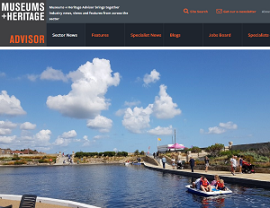 Great Yarmouth's 91 year old Venetian Waterways has been re-opened to the public following a £2.7 million regeneration project.
---
Fire engulfs Grade II-listed Horncliffe Mansion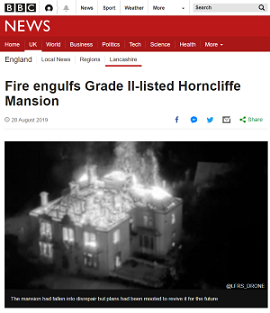 BBC news has reported on how the Grade II-listed mansion, Horncliffe Mansion in Rawtenstall has been 'completely gutted' after a fire tore through the derelict building.
---