Tecton structures at Dudley Zoo
This article describes a visit by The Institute of Historic Building Conservation (IHBC) in 2016. It is based on an article that originally appeared in Context 146, published by IHBC in September 2016 and compiled from reports by Sara Crofts, Claire Gayle and Rosamund Worrall.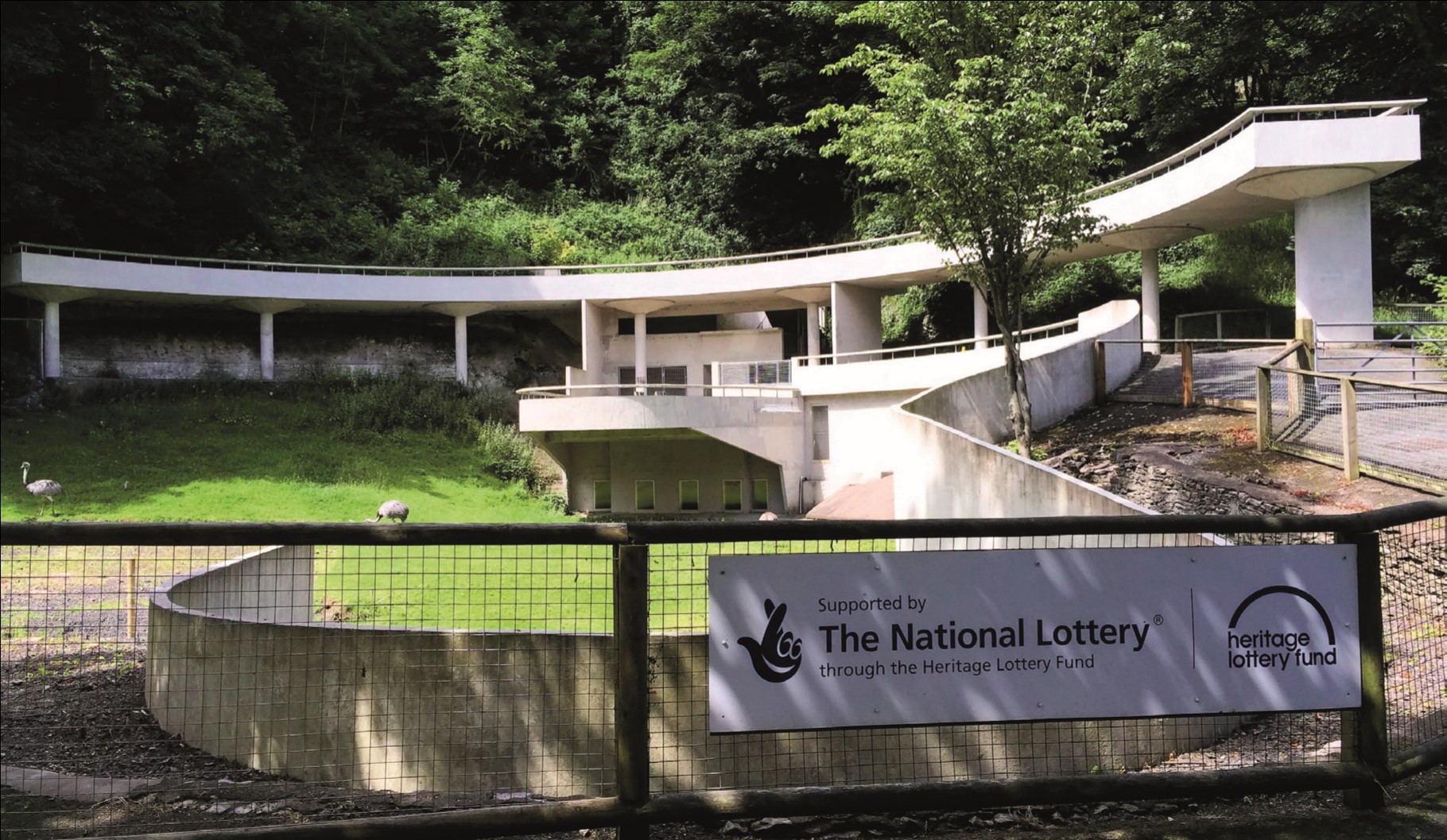 [Image: Tecton structures at Dudley Zoo: The bear pit. Copyright Sara Crofts]
The IHBC visit to Dudley Castle and Zoological Gardens was led by architect Larry Priest with input from construction supervisor Carlo Diponio. Priest talked through the repair of four of the 1935-37 Tecton-designed structures, part of a wider heritage lottery funded £1.15 million project to upgrade the facilities at the zoo.
The visitors were deeply impressed by the team's thoughtful approach to the necessary repairs. Happily, the design team was not under pressure in terms of time, so they could afford to carry out thorough investigative works. The structures were painstakingly cleaned and examined in order to fully understand their construction, including the important use of colour revealed through extensive paint analysis. This allowed detailed specifications for the repair processes to be worked up, and essentially de-risked the project.
Specialist manufacturers were asked for advice on appropriate surface treatments as the team was keen to ensure the Tecton structures retained something close to their original appearance. Innovative thinking was needed to find structural solutions that would allow maximum retention of the existing fabric, leading to the novel use of carbon-fibre as reinforcement.
In every respect this project has been pragmatic – repairs remain visible and the shortcomings of the essentially 'temporary' prototype structures have been fully recognised. Techniques, tools and methodologies have been carefully recorded to ensure the lessons learned can be applied to future phases of repair. In essence this is a work in progress, but the visitors were hugely inspired by the passion and commitment of everyone involved.
Discussions were had about the compatibility of the structures with modern requirements for animal habitats. While the Bear Ravine may no longer be appropriate for bears, it is currently occupied by large birds.
Following exploration of the Tecton structures, Chris Hunt explained the innovative ways in which Purcell has been undertaking condition surveys of impressive castles, such as Harlech, Beaumaris and Dudley, which overlooks the zoo and surrounding area. These methods included mobile elevated work platforms (MEWP) and drones to assess inaccessible places, particularly those where the construction may not be sound enough for professionals to trudge around. The presentation demonstrated how advances in technology can assist heritage professionals in their work.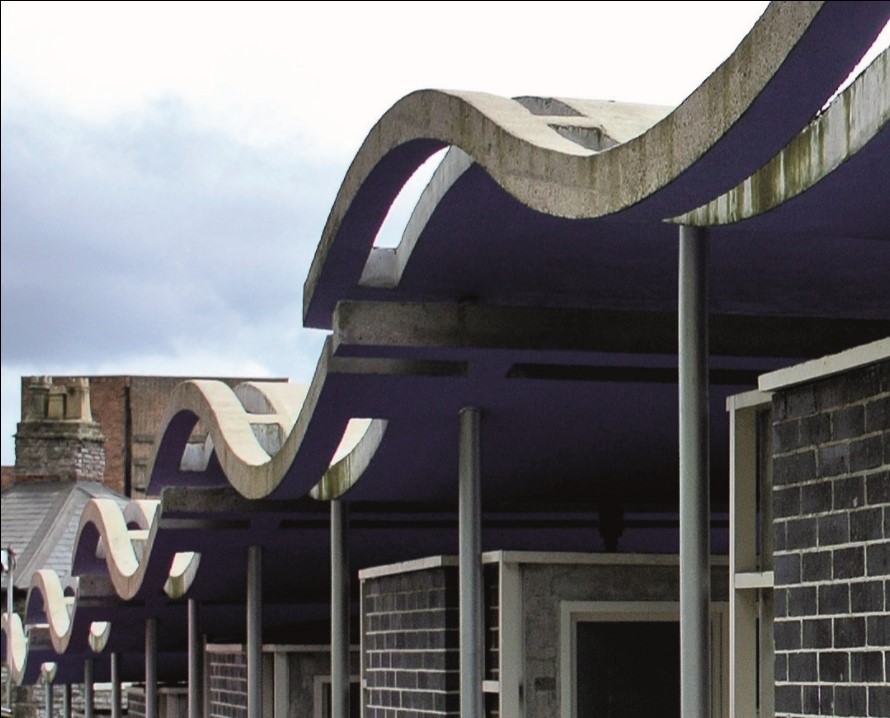 [Image: Tecton structures at Dudley Zoo: The wavy roofs of the entrance booths. Copyright Tom Hunter]
--user:Institute of Historic Building Conservation
IHBC NewsBlog
Last chance to submit for IHBC Student Award 2018
The Gus Astley Student Award closes on 31 July, so if you have relevant coursework submit it online to have a chance to win £500 and a place at Belfast2018.
---
IHBC 2017 Annual School tour features in Liverpool Echo
Among the most enjoyable of the huge variety of tours at the IHBC's Manchester 2017 Annual School was the visit to Liverpool as featured in the Liverpool Echo of 16 July.
---
IHBC on Intervention - SkillBuild competition highlights best in construction crafts
The 'SkillBuild' competition sees the very best in construction talent compete against each other in local heats across the country culminating in the Final at the NEC Birmingham.
---
Civic Voice Design Awards 2017 announced
11 awards to schemes and projects across England were handed out at an event at The Leadenhall Building, London attended by community groups and industry professionals.
---
All Party Parliamentary Group inquiry into the impact of Brexit on future skills
The fifth Inquiry from the APPG for Excellence in the Built Environment looks at Brexit's impact on future skills needs in the construction industry and built environment professions.
---
BBC reports on the youngest Grade I listed structures in England
The BBC reports on how the Humber Bridge has been given Grade I listed status to become one of only six structures built in England since 1961 to be afforded the honour.
---
Contracts awarded for Palace of Westminster refurbishment
BDP and CH2M have been selected for vital work to protect the heritage of the Palace of Westminster from the substantial and growing risk of failure of its essential services.
---
Scotland Planning Review - analysis of consultation responses
The Scottish Government's commissioned independent analysis of responses to the 'Places, People and Planning' consultation has been published with a position statement on proposals it plans on taking forward.
---
Historic Environment Scotland - Bringing a Blackhouse to life
HES offers a blog on creating a series of Digital Stories to help schools learn about blackhouse history and Gaelic, with the help of pupils from Sgoil an Taobh Siar.
---
London Assembly Environment Committee launched report on green spaces
The Committee has launched a report that looks at measures to protect and improve the capital's green spaces 'Park life: ensuring green spaces remain a hit with Londoners'.
---
National Trust DG quits for job at Oxford College
Dame Helen Ghosh has announced she will be stepping down as director general of the National Trust in March next year to become master of Balliol College at Oxford University.