Snowdon Aviary, London Zoo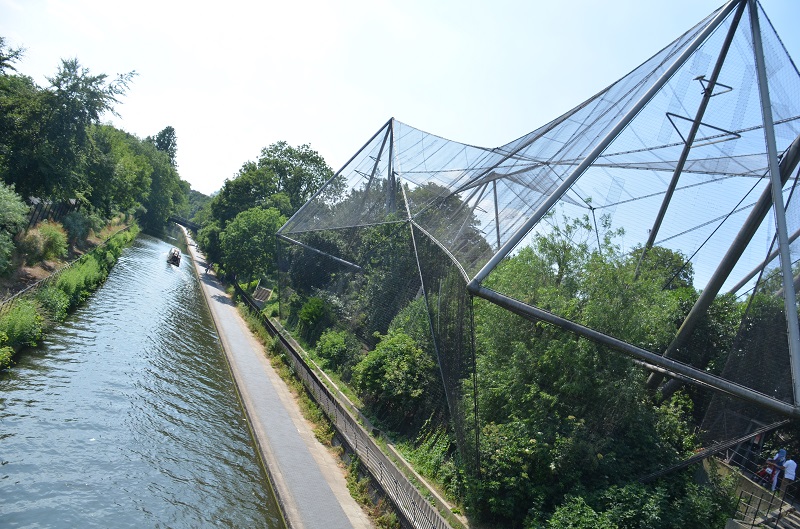 Snowdon Aviary is a Grade II listed structure in London Zoo. It was conceived by Lord Snowdon, designed by Cedric Price, Frank Newby, and Antony Armstrong-Jones, and built in 1964.
When it opened in 1965 it was Britain's first walk-through aviary. The iconic design, which is a prominent feature on the Regent's Canal and from Primrose Hill, was inspired by the graceful movements of birds.
In November 2016, the Zoological Society of London (ZSL) announced that Foster + Partners are to overhaul the aviary, transforming it into a walk-through primate enclosure. This work will remove the aviary from Historic England's At Risk Register.
In September 2017, it was announced that Westminster Council had given their go-ahead for the project.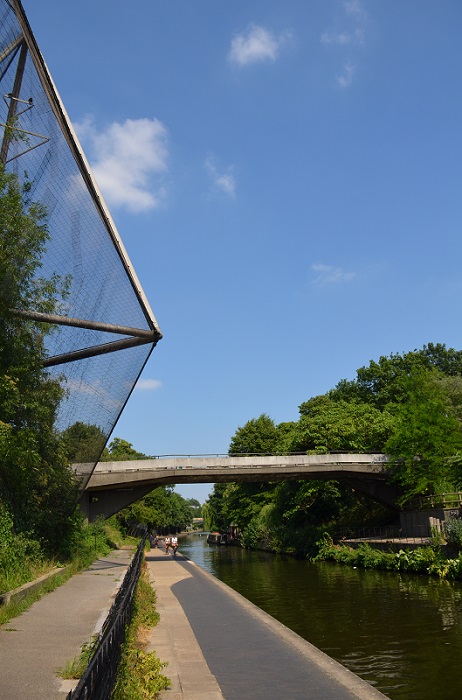 Earlier in 2016, ZSL secured the first stage of a Heritage Lottery Fund (HLF) grant for the initial research and planning phase for modernising the aviary. The total cost of the project is estimated at £7.1 million, and ZSL is offering a range of sponsorship opportunities to enable the build.
ZSL's Zoological Director, Professor David Field said:
"ZSL London Zoo has a long history of leading the way in architecture and design and has many listed buildings that have stood the test of time.
"We're thrilled to have appointed Foster + Partners to work on the landmark Snowdon Aviary. It's fitting that a structure with such a unique history should be given new life by a world-class firm with such a strong heritage. Our most ambitious project to date, the new Aviary will reflect our decades of animal expertise and delivering innovative visitor experiences."
Norman Foster, Chairman and Founder, Foster + Partners said:
"We are honoured and delighted to be working on the redevelopment of the Snowdon Aviary – a rare example of a completed work by Cedric Price. I also have a particular personal affection for it as it shows most strongly the influence of our mutual friend and mentor Buckminster Fuller.
"The redevelopment of the Aviary is a unique opportunity to preserve this exceptional structure and the legacy of pioneering architecture at ZSL London Zoo. It will be a great privilege to be able to contribute to the tradition of contemporary architectural additions at one of London's most cherished institutions."
To donate and keep up to date with the project, visit ZSL.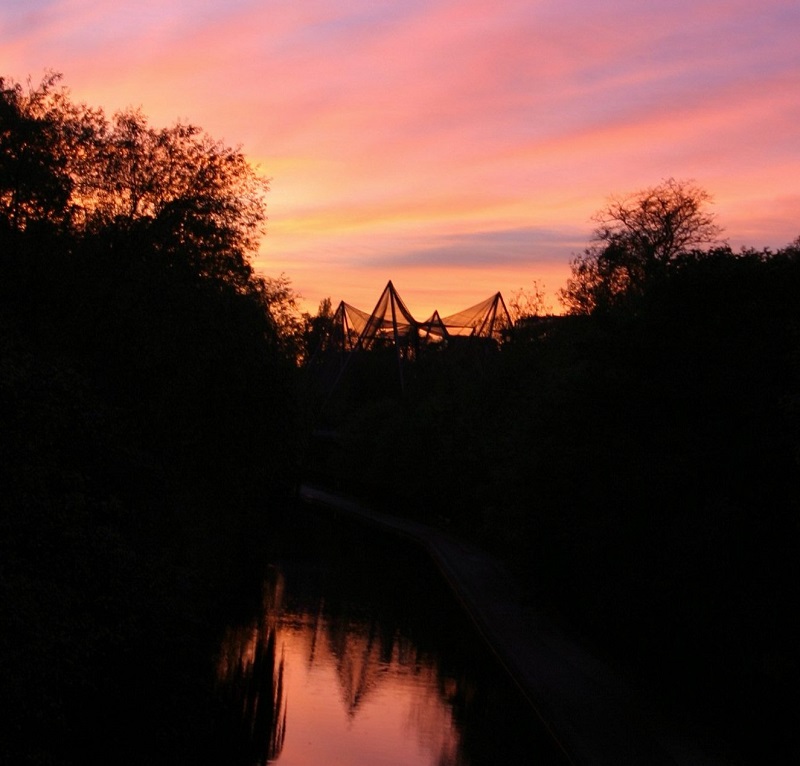 (Images © Daniel Sprawson)
In March 2019, £7m plans to revamp the Aviary went out to tender.
[edit]
Find out more
IHBC NewsBlog
CIC's Coronavirus Digest review and survey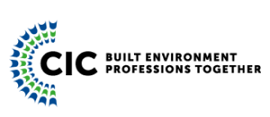 The Construction Industry Council's (CIC's) 'CIC Coronavirus Digest – Issue 8' surveys the latest government advice with updates from the construction industry.
---
COVID-19: Advice and Updates collated from the Heritage Sector
Organisations with conservation links have been collating resources on COVID-19 impacts, including Built Environment Forum Scotland (BEFS), Historic Environment Forum, The Heritage Alliance (THA), and Historic England, on cleaning surfaces.
---
Councils considering 'executive powers' as measures to avoid planning gridlock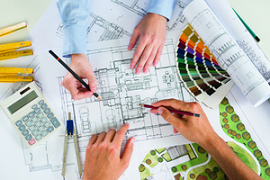 Councils are reported to be considering taking up rarely-used executive powers to keep the planning and development system moving during the coronavirus pandemic.
---
Historic England provides updated flood recovery advice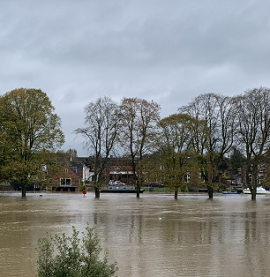 Historic England's 'After a Flood' provides timely advice on how to dry walls properly and avoid further damage to the building fabric.
---
Conservation of Timber Buildings: an example of evolving conservation techniques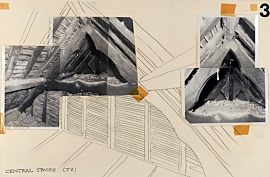 Context Issue 162 offers a peek into an archive of timber conservation history through the records of the practice of FWB and Mary Charles Chartered Architects.
---
Call for VAT rates for Refurbishment to be Reduced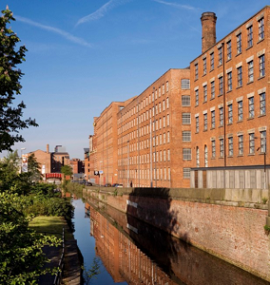 To meet the government's target of being carbon neutral by 2050, we must recycle, reuse and responsibly adapt our existing historic buildings, according to this year's Heritage Counts report, so Historic England and partners are calling for a reduction in VAT rates to incentivise this more sustainable option.
---
Grade II Edwardian swimming baths in Birmingham restored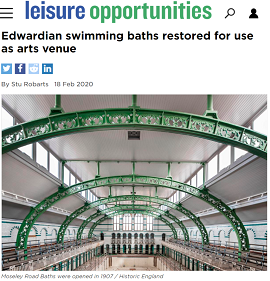 Donald Insall Associates, with the help of Historic England, has completed restoration work of Moseley Road Baths, being converted for use as an arts and culture venue.
---
IHBC Marsh Award Nominations – Closing Date 30 March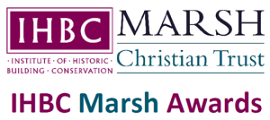 Celebrate your local 'retired members' and 'successful learners' with £500 cash prizes and 2020 Brighton School places!
---
Biodiversity Net Gain through UK Construction Projects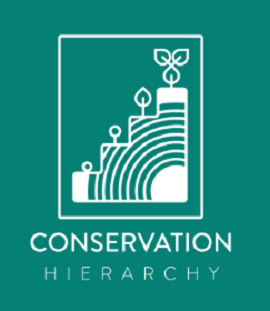 The Conservation Hierarchy is a new framework developed by the University of Oxford to help construction projects achieve Biodiversity Net Gain.
---
How Project Managers for Town Centre Developments can Balance Risk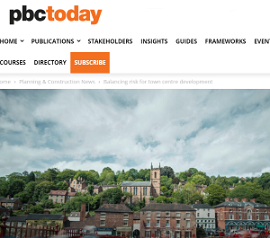 Jacqueline Hughes, senior risk analyst at Equib, in pbctoday discusses how project managers for town centre developments can get their risk management strategies right.
---
Red Tape is Strangling our High Streets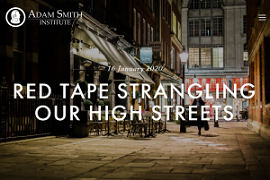 A new paper from the Adam Smith Institute argues that the problem with the High Street has been totally misunderstood, saying that we need to reform restrictive planning rules and reject a policy of managed decline to reinvigorate our town centres.
---
Calculating the full cost of energy used by buildings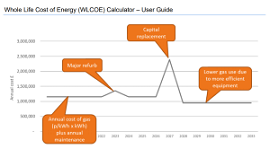 The Whole Life Cost of Energy (WLCoE) calculator – issued by government in BETA form – is intended to help building owners and operators to understand the full financial cost of the energy their buildings use, and welcomes feedback.
---