Malvern station, priory and other buildings
This article describes a tour by the Institute of Historic Building Conservation (IHBC) in 2016.
---
Great Malvern was not a place of much significance until the mid-18th century, when the medicinal qualities of its waters were first widely appreciated (although they had been noted long before by the Benedictines who occupied the priory). And it was not until a century later, with the arrival of Dr Wilson's hydropathic treatment, in 1845, followed a few years later by the Worcester and Hereford Railway, that the place attained its heyday. Fittingly the tour arrived by train.
To sum up in advance, it was a day of architectural oddities, not least because Malvern's leading architect of the late 19th century, EW Elmslie, was a man of eclectic style and vision. The station is his, with its ornate ironwork and The Worm, a long passage, now derelict, enclosed with a barrel-vault of corrugated iron, for transporting luggage unseen to the adjacent hotel. The hotel (1860), also by Elmslie, is a gothic edifice with 100 bedrooms now finding beneficial use as a school. Elmslie's own house, recently restored for family use, is also interesting, with its attached music room and Elgarian associations.
The whole area of the hillside between the station and the former priory, in what is now the town centre, is awash with interesting villas. They generally follow the evolving architectural fashions of the 19th and early 20th centuries, but often with a mixing of styles and with whimsical flourishes, especially in chimneys and bargeboards. It is to be supposed that the architects of these country residences for the well-to-do were encouraged by their clients to let their hair down, or include features that they might have baulked at had the buildings been nearer London and within its critical ambit. But the original 'planning' rules for the area, in which no two villas were to be the same or to face each other, has resulted in a very pleasing and mature suburb that has absorbed a great deal of later infill without any real loss of character.
Further up the hill, nearer the town centre, the notable buildings tend to be from earlier in the 19th century, from a period when Malvern was still promoting its qualities against other spa towns and needed an architectural splendour to match. Hence, for example, the grand, classical Park View hydropathic establishment of 1845, now apartments.
Of the former priory, just two buildings remain. One is the former 15th- century gatehouse, which has survived into the 20th century through a long history of reuse and restorations. Fittingly now housing the town's museum, it has recently emerged from its latest round of restoration. The other survival is the large and magnificent Priory Church. This is, unusually for a monastic church, almost entirely perpendicular (1420-60). To quote Pevsner, 'only the most inquisitive student will discover anything earlier'. The church was saved at the Reformation by being bought for £20 by the town.
We set about being 'inquisitive students' in the garden of the adjacent hotel on the south side, where the cloister once stood, but the all-too-obvious jumbled mass of elements from earlier periods made good in various restorations defeated our casual analysis. The stones of the rest of the priory, one presumes, are now embodied in the many post-Reformation buildings in the town centre.
---
Our thanks to Louisa Davidson, Jacob Rock and Brian Iles for this extremely interesting tour. James Caird.
--Institute of Historic Building Conservation
Find out more.
IHBC NewsBlog
Drinkers toast the future after historic Leeds pub granted GII listed heritage status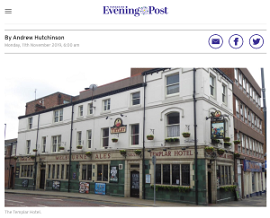 The Templar Hotel on Vicar Lane has been listed at Grade II by the Department for Digital, Culture, Media and Sport on the advice of Historic England.
---
Housing Minister announces new champion for modern 'MMC' housebuilding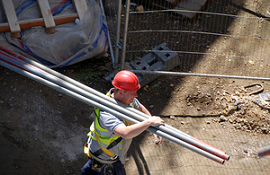 Government has announced a new Champion for Modern Methods of Construction as part of the government's drive to make the UK the global leader in housing standards.
---
RTPI on 'Why planning needs better outcome measurement'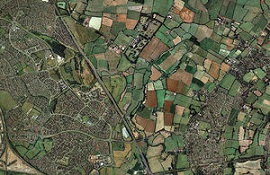 Planning is about so much more than the number of applications approved and the speed of processing them so the RTPI is commissioning research aimed at producing a toolkit that can demonstrate a wider range of outcomes.
---
The rise of 'facadism' in London, from the BBC and 'The Gentle Author'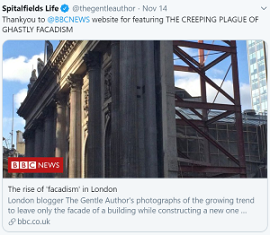 London blogger The Gentle Author has been photographing the changing face of London, focusing on what is known as 'facadism', the practice of destroying everything apart from the front wall and constructing a new building behind it.
---
Great Yarmouth Winter Gardens Facing Off Dilapidation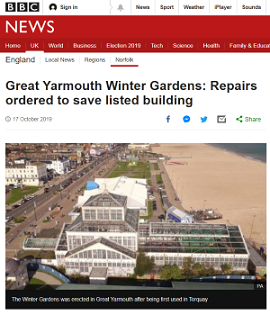 Urgent repairs have been ordered to save one of the country's most endangered buildings from dilapidation while Great Yarmouth Borough Council seeks an investor.
---
Construction urged to do more for butterflies and bees, via SNH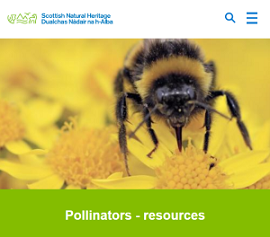 SNH has published new guidance on how best to fit pollinators into urban design and construction with a series of easy steps to suit all project budgets and sizes.
---
Applications now open for the Sustainability Scholarship for 2020: Closing 29/11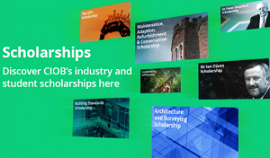 Applications are invited for the Sustainability Scholarship 2020, with successful applicants to receive £3000, support and mentoring from experts, and closing 29 November.
---
Government asked to save plans for Queensbury tunnel cycle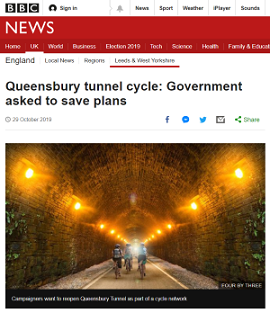 It was hoped the 1.4 mile (2.3km) Victorian Queensbury Tunnel could be used by cyclists travelling between Bradford and Halifax, but plans have been threatened.
---
Case Study in Durham Cathedral: Project Managment and Building Services Challenges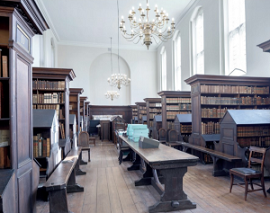 Completing works that widened public access to the hidden architectural spaces and collections of Durham Cathedral showcases exceptional project management.
---
Autumn clamp down on dust by HSE – site visits planned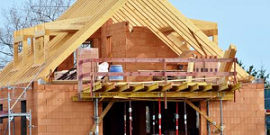 This month HSE is carrying out its latest construction inspection initiative with a focus in particular on measures in place to protect workers from occupational lung disease caused by asbestos, silica, wood and other dusts when carrying out common construction tasks.
---
Public property hubs to be delivered in Birmingham and Peterborough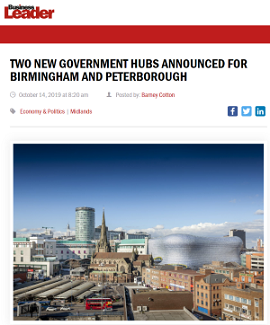 Peterborough and Birmingham are the latest places to benefit from the Government Hubs programme to regenerate city centre sites.
---