Malvern station, priory and other buildings
This article describes a tour by the Institute of Historic Building Conservation (IHBC) in 2016.
---
Great Malvern was not a place of much significance until the mid-18th century, when the medicinal qualities of its waters were first widely appreciated (although they had been noted long before by the Benedictines who occupied the priory). And it was not until a century later, with the arrival of Dr Wilson's hydropathic treatment, in 1845, followed a few years later by the Worcester and Hereford Railway, that the place attained its heyday. Fittingly the tour arrived by train.
To sum up in advance, it was a day of architectural oddities, not least because Malvern's leading architect of the late 19th century, EW Elmslie, was a man of eclectic style and vision. The station is his, with its ornate ironwork and The Worm, a long passage, now derelict, enclosed with a barrel-vault of corrugated iron, for transporting luggage unseen to the adjacent hotel. The hotel (1860), also by Elmslie, is a gothic edifice with 100 bedrooms now finding beneficial use as a school. Elmslie's own house, recently restored for family use, is also interesting, with its attached music room and Elgarian associations.
The whole area of the hillside between the station and the former priory, in what is now the town centre, is awash with interesting villas. They generally follow the evolving architectural fashions of the 19th and early 20th centuries, but often with a mixing of styles and with whimsical flourishes, especially in chimneys and bargeboards. It is to be supposed that the architects of these country residences for the well-to-do were encouraged by their clients to let their hair down, or include features that they might have baulked at had the buildings been nearer London and within its critical ambit. But the original 'planning' rules for the area, in which no two villas were to be the same or to face each other, has resulted in a very pleasing and mature suburb that has absorbed a great deal of later infill without any real loss of character.
Further up the hill, nearer the town centre, the notable buildings tend to be from earlier in the 19th century, from a period when Malvern was still promoting its qualities against other spa towns and needed an architectural splendour to match. Hence, for example, the grand, classical Park View hydropathic establishment of 1845, now apartments.
Of the former priory, just two buildings remain. One is the former 15th- century gatehouse, which has survived into the 20th century through a long history of reuse and restorations. Fittingly now housing the town's museum, it has recently emerged from its latest round of restoration. The other survival is the large and magnificent Priory Church. This is, unusually for a monastic church, almost entirely perpendicular (1420-60). To quote Pevsner, 'only the most inquisitive student will discover anything earlier'. The church was saved at the Reformation by being bought for £20 by the town.
We set about being 'inquisitive students' in the garden of the adjacent hotel on the south side, where the cloister once stood, but the all-too-obvious jumbled mass of elements from earlier periods made good in various restorations defeated our casual analysis. The stones of the rest of the priory, one presumes, are now embodied in the many post-Reformation buildings in the town centre.
---
Our thanks to Louisa Davidson, Jacob Rock and Brian Iles for this extremely interesting tour. James Caird.
--Institute of Historic Building Conservation
IHBC NewsBlog
IHBC's first Virtual School a Marked Success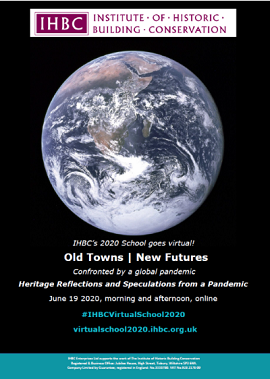 The first 'Virtual School' hosted by the IHBC was launched on 19 June with lead speakers covering pandemic-related topics shaping valued places over two sessions.
---
MPs are Asked for Views on £4bn Parliament Restoration Plan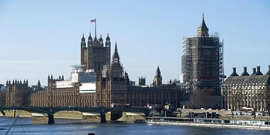 MPs and peers are being asked for their views on the planned restoration and renewal of the Houses of Parliament.
---
Ireland National Heritage Week: 15-23 August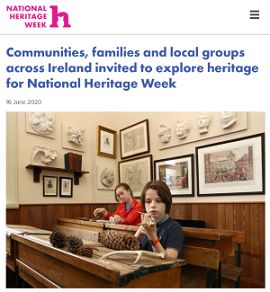 Plans are in place for a modified National Heritage Week for Ireland, which take into account ongoing restrictions on events and gatherings due to COVID-19.
---
Grimsby's historic Ice Factory thrown new survival lifeline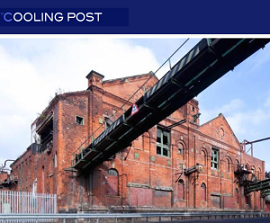 Opened in 1901, and derelict for the last 30 years, the Grimsby Ice Factory is the earliest and largest known surviving ice factory in the world. It still contains an array of historic ice making equipment including four J&E Hall ammonia compressors installed in 1931.
---
Risk Assessments and Contractual Impact from CIAT

A note on contractual obligations under the current COVID-19 pandemic has been issued by The Chartered Institute of Architectural Technologists(CIAT).
---
RTPI calls on government to issue planning guidance to prevent development delays

The Royal Town Planning Institute (RTPI) has called on the government to urgently issue planning guidance to prevent unnecessary delays to development from the pandemic.
---
How to Enjoy Heritage from Home, from the Heritage Fund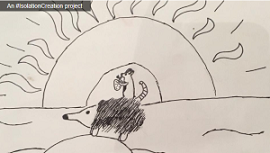 The Heritage Fund has put together a list of heritage-inspired activities to be done from home.
---
Listed Property Owners Club's Spring Checklist for Buildings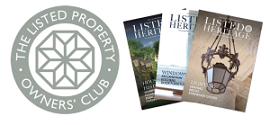 Spring is a good time to stand back and consider any building repairs that are required over the next 12 months, notes the LPOC, and regular inspection and maintenance is the key to keeping homes in good repair, as per its accessible step-by-step guidance.
---
Firefighters tackle blaze at converted Grade II listed former mill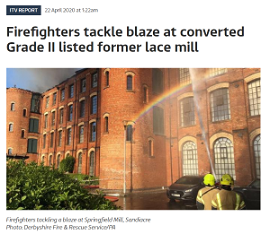 Derbyshire Fire and Rescue Service said "rapid and effective firefighting" had saved three quarters of the mill – which is now apartments.
---
Thieves take advantage of lockdown to steal lead from church roof in Halsham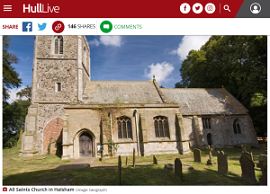 Police have appealed for witnesses after thieves stole lead from the roof of All Saints Church in Halsham near Hedon during the coronavirus lockdown.
---
IHBC's CPD Circular provides info on digital CPD opportunities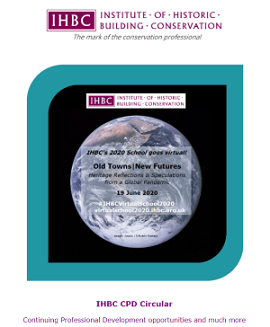 The regular newsletter showcases the IHBC's own Continuing Professional Development (CPD) content as well as online opportunities from 'IHBC Recognised CPD Providers' and other conservation related training and events.
---
Frank Lloyd Wright houses offer virtual tours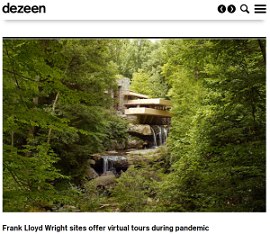 To make sure the public still has access to twelve of those famous works, #WrightVirtualVisits has been launched, which offers virtual tours of 12 iconic houses.
---