Dudley townscape heritage initiative
This article describes a tour by The Institute of Historic Building Conservation (IHBC) in 2016.
---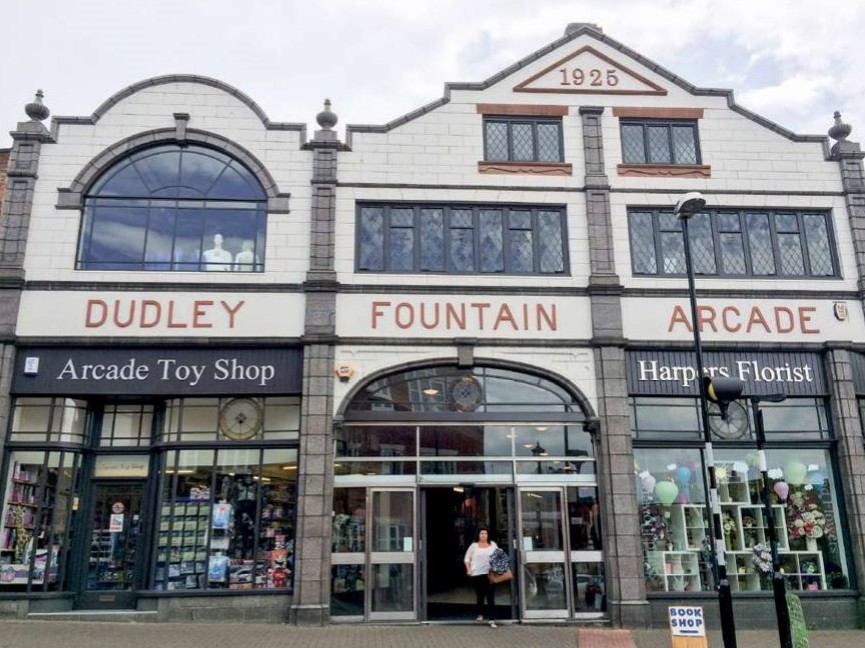 [Image: Dudley Fountain Arcade. Copyright Sara Crofts.]
Visitors to Dudley Zoo could be forgiven for overlooking the architectural delights of this fine Black Country town: the poor physical links between the two were made clear when conservation officer Jayne Pilkington led us out of a hidden back gate to gather at the statue of the first Earl of Dudley at the foot of the Broadway. From this location we were able to admire the high-quality public realm works funded through European Regional Development Fund (ERDF) grants at the beginning of our tour of the recent townscape heritage project. The work included new stone paving to the Market Place and Castle Street, and the refurbishment of the 150-year-old fountain in the Market Place.
It has to be asked what the future could hold for Dudley with Brexit and the subsequent loss of EU funding for projects such as this in areas that have suffered from deindustrialisation. Fortunately, Pilkington was able to tell us about the heritage lottery funding Dudley has been awarded for further regeneration of the town centre.
Pilkington was an excellent guide, and her determined efforts to deliver heritage-led regeneration should be heartily commended. Getting the community and its politicians to appreciate the quality and potential of the town's historic buildings has not been easy. Some bold ideas were needed – punching through a solid brick facade to create a light modern restaurant space in the Old Glasshouse, and accepting facade retention to facilitate the conversion of the fire station, are examples. Key strategic moves are paying dividends: relocating the college to the town centre has brought increased footfall there, and gap sites have been successfully filled with sensitively scaled responses to context.
The much-needed repairs to listed buildings are well judged, but decisions have been pragmatic – accepting that it is not always possible to implement a goldstandard conservation solution, but making sure that works do not jeopardise the potential for a better solution in the future. It was a delight to see such a wealth of high-quality civic buildings and to know that they are in safe conservation hands.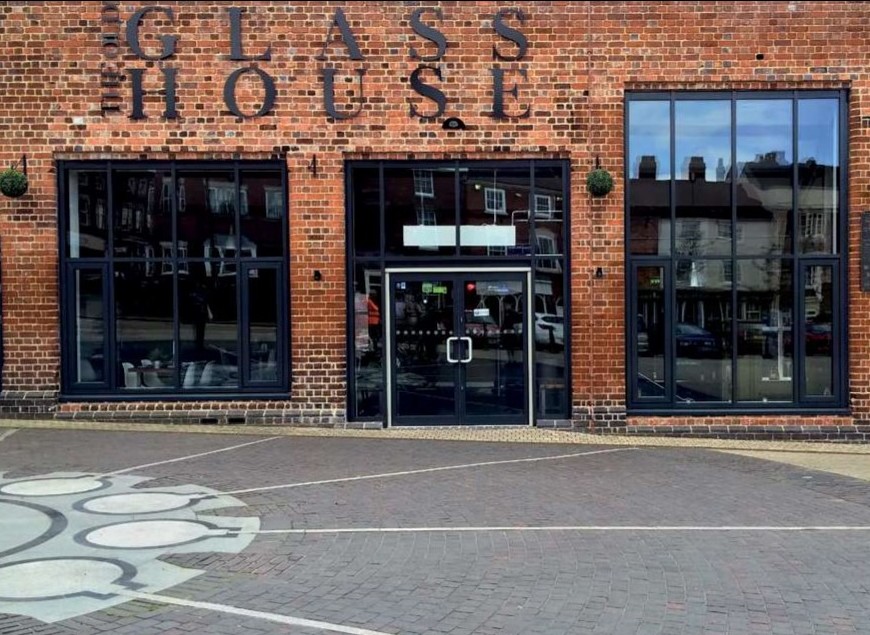 [Image: The Glass House. Copyright Sara Crofts.]
---
Dudley coverage was compiled from reports by Sara Crofts, Claire Gayle and Rosamund Worrall.
--user:Institute of Historic Building Conservation
Find out more.
IHBC NewsBlog
Mapping tool for unused construction materials launched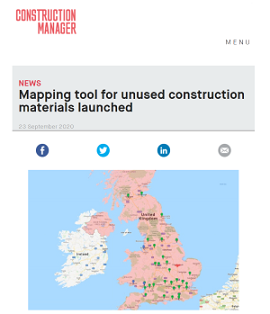 A mapping tool that provides contractors and their suppliers with a central database of local Materials Exchange Platform (MEP) projects to help cut waste by finding a home for unused materials has been launched.
---
'Unusual' WW2 sites listed and upgraded to mark 80th anniversary of Battle of Britain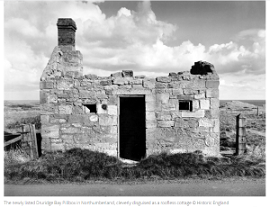 An air raid shelter, a pillbox cleverly disguised as a roofless cottage, a rare Chain Home radar defence tower, and a war memorial have been granted protection.
---
Derby City Council plans to knock down the 43-year old Assembly Rooms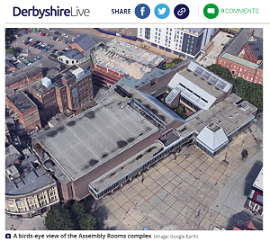 A planning application has been submitted by Derby City Council to knock down the Assembly Rooms – which has played host to the likes of Elton John, Iron Maiden, Take That, etc.
---
RIBA launches new contracts for the provision of conservation architectural services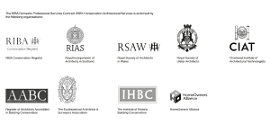 Specifically tailored for conservation projects, the Royal Institute of British Architects (RIBA) has launched two brand new professional services contracts.
---
Liverpool Mayor blocks £5m zip wire plan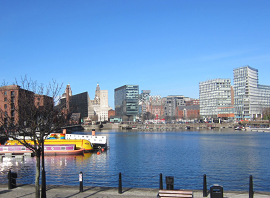 Liverpool Mayor Joe Anderson has made a dramatic intervention into the zip wire row which has divided people, politicians and businesses in the city.
---
Big Ben's roof is revealed as conservation work continues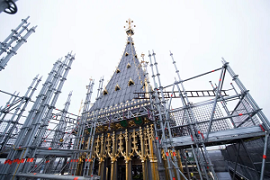 The roof of the Elizabeth Tower (also known as Big Ben) is slowly becoming visible again from 28 September 2020, as part of the scaffolding is removed.
---
Discover webinars, lectures, training, and other events via IHBC's CPD Circular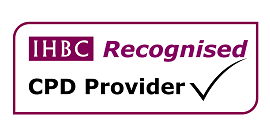 The IHBC lists quality providers of education and learning in the historic built environment, and emails a monthly recap of their upcoming events.
---
Denmark's 300-year-old homes of the future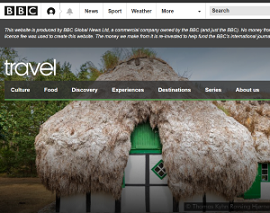 On Læsø, houses are thatched with thick, heavy bundles of silvery seaweed that have the potential to be a contemporary building material around the world.
---
Upcoming Heritage Open Days to feature in-person and online events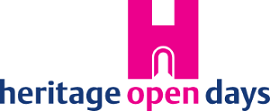 For the first time in its history, England's largest festival of heritage and culture will feature online events as well as in-person activities. Heritage Open Days (HODs) returns in September, thanks to support from players of People's Postcode Lottery.
---
RSA report 'Heritage for inclusive growth' published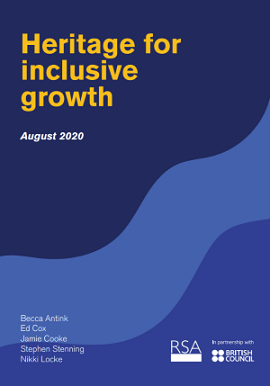 The Royal Society for the encouragement of Arts, Manufactures and Commerce (RSA) shows the scale of the 'missed opportunity' if we continue to separate heritage policymaking and economic policymaking.
---